Comparison of demineralized bone matrix and hydroxyapatite as carriers of Escherichia coli recombinant human BMP-2 – Biomaterials Research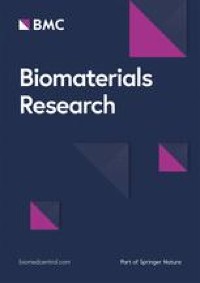 Rat calvarial defect model
The procedures that involved the use of animals for the rat calvarial defect experiment were approved by the international animal care and use committee (SNUH IACUC No.13–0348). For animal welfare and reduction of animal number, a group of data from a previously published article with the same setting as in this study was used [20]. Eight-week-old male Sprague-Dawley rats (200–220 g, total N = 130) were used for the animal experiment, all animals were kept in a 12:12 dark/light cycle, specific-pathogen-free cage and were provided with abundant food and water. The experiments were performed after 1 week of stabilization period. The HA granules with 0.6 mm to 1 mm size were soaked into the 0.15 ml saline containing different dosage of BMP for 5 min. In the groups with DBM as carrier, the BMP was injected into the syringe containing DBM. After the carriers were soaked with BMP-2, the carriers were gently deposited inside the defect. The animals were randomly assigned to following 5 groups: HA (Novosis, CGBio, Korea) 25 mg; DBM 0.05 ml; ErhBMP-2 25 μg (Novosis, CGBio, Korea) + HA 25 mg (Novosis, CGBio, Korea); ErhBMP-2 2.5 μg (Novosis, CGBio, Korea) + HA 25 mg (Novosis, CGBio, Korea); ErhBMP-2 2.5 μg (Novosis, CGBio, Korea) + DBM 0.05 ml (Rafugen DBM gel, Cellmud, Korea). The animals were euthanized in their 4th and 8th weeks after surgery, and each group had 13 animals at each time point.
Animals were anesthetized with intraperitoneal injections of 20 mg/kg Zoletil and 10 mg/kg xylazine. After an 8 mm calvarial defect was made with a high speed trephine burr. The BMP-2 containing carrier was implanted in the defect and the defect was sutured layer by layer [21].
All animals were sacrificed with a CO2 chamber under deep anesthesia at their 4th or 8th week after experiments. The calvaria were harvested and fixed in 10% formalin for micro-CT evaluation and histological assessments.
Micro-CT
The samples were scanned with a Skyscan 1172 micro-CT scanner (Bruker, Belgium) with the following format: pixel size of 11.93 μm, Al filter of 0.5 mm, energy of 70 kV, current of 141 μA, rotation step of 0.4°. The raw images were reconstructed using the NRecon package (Bruker, Belgium) and analyzed with the CT Analyzer software (CT-An, Bruker, Belgium). The threshold values in grayscale of the newly-formed bone were referred to the values of native bone and was set as 110 to 240. Bone morphometric parameters of newly formed bone inside the defect, including percent bone volume (BV/TV), bone surface/volume ratio (BS/BV), trabecular bone pattern factor (Tb.Pf), structure model index (SMI), trabecular bone thickness (Tb.Th), trabecular number (Tb.N), trabecular separation (Tb.Sp), and degree of anisotropy (DA) were analyzed. The data used in the DBM/ErhBMP-2(2.5 μg) group was previously used in another published article [9].
Histology
The samples were fixed in 10% formalin and sequentially dehydrated in 80 to 100% ethyl alcohol, infiltrated, and embedded in Technovit 7200 resin (EXAKT, Germany). The resin was solidified with a polymerization system (EXAKT, Germany), the hardened resin blocks were sectioned by using a cutting system (EXAKT, Germany) to 200 μm thick slices, and the slices were ground to a thickness of 50 μm by using a grinding system (EXAKT, Germany). The ground slices were stained with hematoxylin and eosin and the stained bone formations in the scaffolds were observed with an optical microscope.
Statistic
In the micro-CT analysis, the two rhBMP-2 groups were compared with one-way ANOVA method and followed by Bonferroni post-hoc analysis with SPSS 20 (IBM Corp, Armonk, NY: IBM Corp). P value less than 0.05 was deemed as statistically significant. The data were presented as mean and standard deviation.
Rights and permissions
Open Access This article is licensed under a Creative Commons Attribution 4.0 International License, which permits use, sharing, adaptation, distribution and reproduction in any medium or format, as long as you give appropriate credit to the original author(s) and the source, provide a link to the Creative Commons licence, and indicate if changes were made. The images or other third party material in this article are included in the article's Creative Commons licence, unless indicated otherwise in a credit line to the material. If material is not included in the article's Creative Commons licence and your intended use is not permitted by statutory regulation or exceeds the permitted use, you will need to obtain permission directly from the copyright holder. To view a copy of this licence, visit http://creativecommons.org/licenses/by/4.0/. The Creative Commons Public Domain Dedication waiver (http://creativecommons.org/publicdomain/zero/1.0/) applies to the data made available in this article, unless otherwise stated in a credit line to the data.
Disclaimer:
This article is autogenerated using RSS feeds and has not been created or edited by OA JF.

Click here for Source link (https://www.biomedcentral.com/)