Culture types and period impact gametophyte morphogenesis and sporophyte formation of eastern bracken – Plant Methods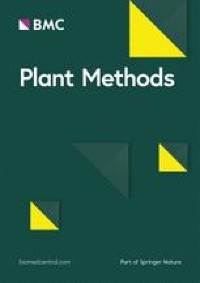 Plant materials
Sporophylls of Pteridium aquilinum var. latiusculum (Desv.) Underw. ex A. Heller (eastern bracken) were collected in a greenhouse at Chungbuk National University, Cheongju, Korea in September 2017. The sporophylls were dried in a paper box at 25 °C for 1 week, and spores and impurities were filtered out using a 100 μm sieve (Chunggye Sieve, Gunpo, Korea).
Spores were surface-sterilized and germinated in accordance with the methods of Jang et al. [41]. The spore solution (30 mg· 15 mL−1) was centrifuged (3 min, 1811×g), and the supernatant was discarded. The spores were sterilized with 1.4% (v/v) sodium hypochlorite (4% NaClO; Yuhanclorox Co., Ltd., Hwaseong, Korea) for 13 min and washed thrice with sterilized water. Finally, the spore solution was diluted to 1 mg· mL−1 of sterilized water and then inoculated in Knop medium [42]; the spores germinated at 25 °C under a 16/8 h photoperiod, with a light intensity of 30 μmol· m−2 ·s−1 photosynthetic photon flux density (PPFD). Gametophytes obtained from the spores were subcultured using double-strength MS [43] medium at eight-week intervals and then used for further experiments. The gametophyte material was transferred to the same medium without homogenization during subculture.
Liquid suspension culture and gametophyte growth curve
The growth curves of eastern bracken gametophytes were assessed under suspension culture conditions. The culture was supplemented with 100 mL double-strength MS liquid medium [3% (w/v) sucrose, pH 5.8] in a 250 mL Erlenmeyer flask and agitated (VS-203D, Vision Scientific Co., Ltd, Daejeon, Korea) at 125 rpm. Gametophytes (1 g) were chopped using a scalpel and then suspension-cultured (1 g· 100 mL−1) [41]. The gametophytes were incubated for 30 days, and the fresh weight was determined at 3-day intervals. Thereafter, all cultures were carried out using this method. All suspension cultures were maintained at 25 °C, under a light intensity of 30 μmol· m−2 ·s−1, and a 16/8 h photoperiod, unless stated otherwise.
To determine the optimal liquid media for gametophyte proliferation, gametophyte fragments were cultured on quarter-, half-, full-, double-, and quadruple-strength MS liquid medium. Thereafter, the selected optimal medium (Fig. 2A, double-strength MS liquid medium) was controlled with various sucrose concentrations (0–5%, w/v), total nitrogen sources (60, 120, and 240 mM), nitrogen ratios (0:120, 40:80, 60:60, 80:40, and 120:0 mM), and activated charcoal (0%–0.8%, w/v) to assess gametophyte proliferation. NH4Cl (CAS 12125–02-9, Samchun Chemicals, Pyeongtaek, Korea) and KNO3 (CAS 7757–79-1, Wako Pure Chemical Industries, Ltd., Osaka, Japan) were used as nitrogen sources. The fresh weight of gametophytes was measured after 18 days. The solid medium was prepared with double-strength MS containing 2% sucrose, NH4+:NO3−, 120 mM (40:80), and 0.8% (w/v) agar (pH 5.8). The solid culture was sowed so that the ratio of gametophyte to medium was 0.3 g· 30 mL−1 and then cultured for 6 weeks.
Responses of ex vitro sporophyte propagation in accordance with culture types
For ex vitro sporophyte propagation, the solid or liquid culture-derived gametophytes were fragmented and homogenized with a hand blender with 25 mL distilled water [27]. Gametophyte (1 g) was fragmented to various culture types and sowed under ex vitro soil conditions. The culture types were as follows (Additional file 1: Figure S1) fragmented gametophyte cultured for 6 weeks in solid medium (GS) and fragmented gametophyte cultured for 2 weeks in liquid medium (GL). Liquid cultured gametophytes were subcultured once or twice at 2-week intervals and then liquid cultured for 2 weeks (GL1st or GL2nd). Liquid cultured gametophytes were subcultured twice at 2-week intervals and then solid cultured for 6 weeks (GL2nd-GS). Soil was mixed using sterilized horticultural substrate (Hanareum no. 2; Shinsung Mineral Co., Ltd., Goesan, Korea) and perlite (Newpershine no. 2; GFC. Co., Ltd., Hongseong, Korea) and filled in pots (75 × 75 × 75 mm). The soil volume was mixed at a 2:1 (v/v) ratio of horticultural substrate and perlite. Pots were placed in a plastic box, covered with a glass plate, and grown for 8 weeks. Water was sprayed on the gametophyte surface every 2-day 2 weeks after sowing. After 8 weeks, the growth of gametophytes and sporophytes was assessed. Thereafter, all ex vitro sporophyte propagations were carried out using the aforementioned method. All ex vitro conditions were maintained at 25 °C, under a light intensity of 43 μmol· m−2 ·s−1, 16/8 h photoperiod, and 85 ± 5% humidity, unless stated otherwise.
Responses of gametophyte morphogenesis in accordance with culture types
Morphogenesis and fresh weight of gametophytes regenerated after culturing were assessed in accordance with the culture type. Regenerated gametophytes in each Erlenmeyer flask were washed with distilled water and enumerated, except for browning gametophytes. The total number of gametophytes was determined [A], and gametophyte morphogenesis (Fig. 4) was classified into three types [B]: globular forms of BG, SG, and S-HG. Morphogenesis (%) was determined as follows: [B – A] × 100%. Gametophytes, whose morphogenesis was classified in accordance with the culture type, were sowed ex vitro. However, morphogenesis types that were not regenerated were excluded from sowing.
Change in gametophyte endogenous phytohormone content in accordance with the culture types
The endogenous phytohormone content in the gametophytes regenerated in accordance with the culture type was analyzed. As a control group, spore-derived gametophyte was analyzed. Gametophyte extraction from each treatment was conducted as indicated below. After freeze-drying, the homogenized 50 mg sample was placed in a 2 mL tube, and 500 μL extraction solvent (2-propanol/H2O/concentrated HCl (2:1:0.002, v/v/v, %) was added. The sample was homogenized at 100 rpm and 4 °C for 30 min. After agitation, 1 mL dichloromethane was added to each sample, agitated for 30 min (100 rpm, 4 °C), and each sample was centrifuged for 5 min (13,000 × g, 4 °C) (Smart R17 Plus; Hanil Scientific Inc., Gimpo, Korea). When the layers separated, 900 μL of the supernatant was transferred into a new 2 mL tube. The supernatant was evaporated using vacuum concentrators, and the recovered sample was finally dissolved in 100 μL methanol for subsequent use. The reference materials used were 2-cis,4-trans-ABA, GA3, IAA, JA, SA, and zeatin. They were dissolved in 1 mL methanol and diluted to 1 mg· mL−1. HPLC was performed using an Agilent 1260 series system (Agilent Technologies, Palo Alto, CA, USA). Chromatographic separation was achieved using an Agilent Eclipse Plus C18 column (4.6 × 50 mm2, 3.5 μm). The HPLC mobile phase was 0.1% formic acid in water (A) and 0.1% formic acid in methanol (B). The gradient was initiated at 5% (B), increased to 95% (B) for 1 min, and maintained at 95% (B) for 4 min. It was rapidly changed to 5% (B) for 0.1 min and retained for 0.9 min. The flow rate was set at 500 μL· min−1. The column oven temperature was set to 30 °C. The injection volume was 10 μL. The mass spectrometer was an API-4000 (AB Sciex, Concord, ON, Canada) equipped with an electrospray ionization source. Analysis was conducted in the negative mode and MRM mode. BioAnalyst version 1.6.1 and analyst software version 1.6.1 programs were used for equipment operation and data analysis, respectively. During ionization, high-purity nitrogen gas was used as the spray and drying gas. The gas pressure was set to 60 psi. Ion spray voltage (−4.5 kV) and an ionization source temperature of 600 °C were used. Q1 and Q3 were analyzed using LC–MS/MS in the multiple reaction monitoring mode with unit resolution. Three replicates were analyzed for each standard solution and sample.
Responses of gametophyte morphogenesis and ex vitro sporophyte propagation in accordance with the culture period and density
Gametophyte morphogenesis and sporophyte formation were assessed in accordance with the liquid culture duration and gametophyte density. The culture duration (2, 4, and 6 weeks) and gametophyte density (fresh weight: 0.1, 0.3, 0.5, and 1.0 g per flask) were varied and evaluated after ex vitro seeding.
Data collection and statistical analysis
Gametophyte morphogenesis was observed, and gametophytes were enumerated using a microscope (SZ61; Olympus, Tokyo, Japan). Gametophyte images were captured using a CMOS camera (eXcope F630; Dixi Sci., Daejeon, Korea) and eXcope 3.7.12277 software. In vitro gametophyte proliferation was evaluated using the fresh weight of cultured gametophytes (n = 4). To investigate the effect of sporophyte production, growth parameters of sporophytes were measured, including the number of sporophytes per pot, number of leaves, leaf length, number of roots, root length, and fresh weight. Triplicate sets were used to determine the levels of ex vitro sporophyte production, and sporophyte growth was investigated using 5 plants per replicate (n = 15). However, when <15 sporophytes were formed, all sporophytes were assessed. SAS version 9.4 (SAS Institute Inc., Cary, NC, USA) was used to determine the mean ± standard error values for each treatment, and factorial analysis was performed using Duncan's multiple range test, with a significance level of P < 0.05. The culture period and gametophyte density data were analyzed using two-way ANOVA with SAS version 9.4.
Rights and permissions
Open Access This article is licensed under a Creative Commons Attribution 4.0 International License, which permits use, sharing, adaptation, distribution and reproduction in any medium or format, as long as you give appropriate credit to the original author(s) and the source, provide a link to the Creative Commons licence, and indicate if changes were made. The images or other third party material in this article are included in the article's Creative Commons licence, unless indicated otherwise in a credit line to the material. If material is not included in the article's Creative Commons licence and your intended use is not permitted by statutory regulation or exceeds the permitted use, you will need to obtain permission directly from the copyright holder. To view a copy of this licence, visit http://creativecommons.org/licenses/by/4.0/. The Creative Commons Public Domain Dedication waiver (http://creativecommons.org/publicdomain/zero/1.0/) applies to the data made available in this article, unless otherwise stated in a credit line to the data.
Disclaimer:
This article is autogenerated using RSS feeds and has not been created or edited by OA JF.

Click here for Source link (https://www.biomedcentral.com/)