Decreased angiotensin receptor 1 expression in ± AT1 Knockout mice testis results in male infertility and GnRH reduction – Reproductive Biology and Endocrinology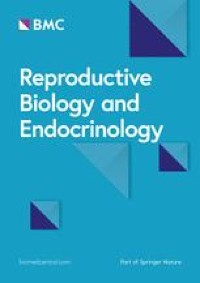 In this study, we demonstrated the decreased AT1 expression in ± AT1KO mice testes, which resulted in reduced GnRH level. These results indicated that AT1 may play role in the male infertility by contributing teratozoospermia in testis. In addition, the reduced GnRH levels in ± AT1KO animals indicate the function of AT1 in spermatogenesis may be related with HPG axis.
AngII is the main effector hormone of the RAS in the male reproductive system, and it exerts its function by binding to specific receptors (AT1 and AT2). The RAS mainly carries out its physiological effects through AngII and regulates sperm function [7]. However, local RAS has been reported to have distinct effects in various tissues from those observed for circulating RAS [17]. Large amounts of various RAS components (ie, renin, angiotensinogen, Ang I, Ang II, and angiotensin-converting enzyme) have also been found in the pituitary, adrenal gland, and male and female reproductive systems [18], suggesting that RAS may play an important role in the reproductive activity of the whole body or local tissues through circulating, paracrine, or autocrine effects. Local RAS activity has been detected in many parts of the male reproductive system such as the testis, epididymis, and prostate, suggesting an association with male reproduction [8]. These potential functions need to be further explored.
Recently, some researchers have indicated AngII could bind to AT1 to regulate various physiological processes such as vasoconstriction, aldosterone release, humoral regulation, and cell growth [14, 19, 20]. Most studies have focused on the effects of AngII on testicular Leydig cells [21], sperm motility [22], acrosome reaction [23], and related processes. However, these mechanisms and effects require further validation. Moreover, a series of studies have proven that AT1 plays a regulatory role in male reproduction [24]. However, in this study, only a small amount of AT1 was detected in the testes of ± AT1KO mice. And it was found in the observation of sperm morphology and fertility that none of the ± AT1KO mice successfully impregnated a female and the ± AT1KO mice also exhibited clear sperm morphology abnormalities. Overall, these results showed that antagonizing the RAS especially the knockout of AT1 receptor could significantly affect the reproductive function of male mice.
Previous study have indicated that HPG axis and GnRH-FSH-LH gonadotropin axis could regulate RAS system [25], while the Ang reverse regulation for the hormone axis is rarely studied. Moreover, Ang/AT1 seems to be unable to regulate FSH or LH [26], but the function of Ang in regulating GnRH is still unclear. In this study, our research results showed that AT1 knockout and ARB seemed to cause the downregulation of GnRH (not statistically significant in ARB group, but there was a trend), but this effect did not affect the downstream FSH and LH levels. Considering the expression of GnRH receptor (GnRH-R) in testis [27], GnRH downregulation after the knockout of AT1 receptor may play a role in production of abnormal sperm through other signaling pathways. As reported, two forms of GnRH (I and II) and two types of receptors (GnRHR-I and -II) are present in the male reproductive system of the human and non-human primate, playing an essential role in the control of reproduction while operating primarily at the HPG axis [28]. However, GnRH may still have direct effects on the testis and lead to sperm anomalies without regulating FSH or LH, which needs further research. The role of Ang in the process of spermatogenesis and its relationship with gonadotropin expression needs further research. And it is necessary to study the effect of AT1 receptor on GnRH levels in neurons and tissues directly to further study the role of Ang in regulating spermatogenesis.
Since the main biological effects of the RAS are largely dependent on AngII and realized through the receptor AT1 [20], knocking out AT1 is an effective method to antagonize the RAS. To further identify the cause of infertility in ± AT1KO male mice, we detected AT1 expression in the testis to explore whether AT1 is associated with teratozoospermia in testis, which most strongly affects the reproductive function of mice. And a small amount of AT1 was detected in the testes of ± AT1KO mice. Nevertheless, the lack of pregnancy from the ± AT1KO mice suggested that the RAS could affect reproduction through AT1 receptors, but that this does not involve the action of AT2 receptor. Since the signal transduction pathway of AT2 is not clear, it needs to be further explored, whether the influence of the RAS on the reproductive system is mediated by AT2.
There are some limitations in this study. mRNA levels of AT1 receptor in the testis, pituitary and hypothalamus of male ± AT1KO mice were detected in this study but we only detect the protein expression levels of AT1 in testes using ELISA. The male infertility of ± AT1KO mice was assessed by pregnancy rate of the female mice mated with ± AT1KO male mice and the teratozoospermia of ± AT1KO mice. However, due to the limitation of experimental conditions, investigation of sperm movement patterns and measurement of sperm relative velocities cannot be fulfilled. Further studies are needed in the future. Moreover, the function of Ang/AT1 in regulating GnRH without affecting the downstream FSH and LH levels, indicating that the GnRH may have direct effects on the testis leading to the sperm anomalies observed, is still unclear.
Rights and permissions
Open Access This article is licensed under a Creative Commons Attribution 4.0 International License, which permits use, sharing, adaptation, distribution and reproduction in any medium or format, as long as you give appropriate credit to the original author(s) and the source, provide a link to the Creative Commons licence, and indicate if changes were made. The images or other third party material in this article are included in the article's Creative Commons licence, unless indicated otherwise in a credit line to the material. If material is not included in the article's Creative Commons licence and your intended use is not permitted by statutory regulation or exceeds the permitted use, you will need to obtain permission directly from the copyright holder. To view a copy of this licence, visit http://creativecommons.org/licenses/by/4.0/. The Creative Commons Public Domain Dedication waiver (http://creativecommons.org/publicdomain/zero/1.0/) applies to the data made available in this article, unless otherwise stated in a credit line to the data.
Disclaimer:
This article is autogenerated using RSS feeds and has not been created or edited by OA JF.

Click here for Source link (https://www.biomedcentral.com/)