Factors associated with bleeding events during catheter ablation with uninterrupted periprocedural edoxaban for atrial fibrillation: a subanalysis of the KYU-RABLE study – Thrombosis Journal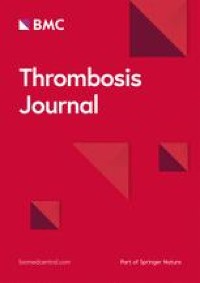 Study design and patients
The details of the KYU-RABLE study, including the ethical considerations of the study, have been published previously [8]. Briefly, the KYU-RABLE study was a prospective, multicenter, single-arm interventional study conducted between 1 December 2017 and 21 September 2018 at 23 institutions in Japan. Eligible patients were those aged ≥20 years who were scheduled to undergo CA for NVAF. Patients were excluded if they had any contraindications for edoxaban treatment or any contraindications for CA, a creatinine clearance (CrCL) < 30 mL/min, history of thromboembolism or myocardial infarction within 2 months before enrollment, history of intracranial, intraocular, spinal, retroperitoneal, or atraumatic intra-articular bleeding, or history of gastrointestinal bleeding or major bleeding per the International Society on Thrombosis and Haemostasis [ISTH] definition within 4 weeks before enrollment.
The study treatment consisted of edoxaban 60 mg administered once daily in the morning for ≥4 weeks before CA and continued for 4 weeks ±7 days after CA. On the day of CA, edoxaban was administered not before but after CA (i.e., one dose delayed administration). A reduced dose of 30 mg was given if patients met the dose adjustment criteria [8]. Investigators at each site selected the type of CA procedure, energy source, and the use of heparin and dosage for maintenance of activated clotting time (ACT) > 300 s during the procedure.
Study outcomes and measures
Data related to patient baseline demographic and background clinical characteristics were collected at enrollment. Details of the CA, CA-related complications, periprocedural treatment, clinical events, and study endpoints were collected during the study period. Edoxaban plasma concentration was measured 1 h before CA and on the day after CA. Bleeding events were collected during the CA procedure period up to the end of the study.
Major bleeding was defined according to the ISTH definition (fatal bleeding; retroperitoneal, intracranial, intraocular, intrathecal, intra-articular, or pericardial bleeding; intramuscular bleeding with symptoms of compartment syndrome; or clinically overt bleeding that required a transfusion). Clinically relevant non-major bleeding was defined as clinically overt bleeding requiring intervention, including laboratory tests, diagnostic imaging, endoscopy, colonoscopy, cystoscopy, bronchoscopy, and compression hemostasis. Minor (not clinically relevant) bleeding was defined as evident bleeding that did not meet the criteria for major bleeding or clinically relevant non-major bleeding.
Statistical analysis
Clinical events were analyzed in the full analysis set. Odds ratios and 95% confidence intervals (CIs) were calculated using a logistic regression model. For the present subanalysis, univariate and multivariate analyses were performed to identify associations between major, minor, and clinically relevant non-major bleeding events with baseline patient demographics and clinical characteristics, including age, sex, AF type, CHADS2 and HAS-BLED scores, renal function by CrCL, CA-related factors, including the type of CA (radiofrequency ablation or cryoballoon ablation), the dose of perioperative heparin, edoxaban dose and plasma concentration of edoxaban 1 h before CA, time from CA termination to restart of edoxaban administration on the CA day, and maximum ACT during CA. Factors included in the final multivariate model were selected based on a two-tailed significance level of 5% as these factors significantly influenced the incidence of events in the univariate model. All statistical analyses were performed using SAS version 9.4 (SAS Institute Inc., Cary, NC, USA).
Rights and permissions
Open Access This article is licensed under a Creative Commons Attribution 4.0 International License, which permits use, sharing, adaptation, distribution and reproduction in any medium or format, as long as you give appropriate credit to the original author(s) and the source, provide a link to the Creative Commons licence, and indicate if changes were made. The images or other third party material in this article are included in the article's Creative Commons licence, unless indicated otherwise in a credit line to the material. If material is not included in the article's Creative Commons licence and your intended use is not permitted by statutory regulation or exceeds the permitted use, you will need to obtain permission directly from the copyright holder. To view a copy of this licence, visit http://creativecommons.org/licenses/by/4.0/. The Creative Commons Public Domain Dedication waiver (http://creativecommons.org/publicdomain/zero/1.0/) applies to the data made available in this article, unless otherwise stated in a credit line to the data.
Disclaimer:
This article is autogenerated using RSS feeds and has not been created or edited by OA JF.

Click here for Source link (https://www.biomedcentral.com/)