Preserving the vitality of teeth adjacent to a large radicular cyst in periapical microsurgery: a case report with 4-year follow-up – BMC Oral Health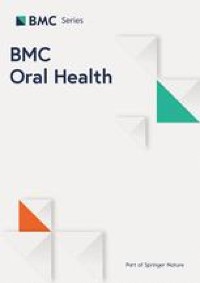 A 41-year-old woman was referred to the endodontic department at Mansoura University, Mansoura, Egypt, for evaluation of a periapical lesion related to the roots of maxillary right anterior teeth. The lesion was discovered inadvertently during routine radiographic examination. The patient had been asymptomatic, and her main complaint was related to difficulties in mastication due to loss of multiple posterior teeth. Prior medical history was non-contributory.
Clinical examination revealed a grossly decayed upper right lateral incisor (FDI tooth no. 12). The labial vestibular mucosa and the palate surrounding the tooth apex were compressible but not tender to palpation, indicating that they were undermined with no underlying cortical bone plates. Panoramic view radiography (Fig. 1) revealed a large well-defined radiolucent area extending from the distal of tooth 13 to the mesial of tooth 11 and resembling a "through-and-through" bone defect. Teeth 13 and 11 were sound and were not sensitive to percussion or palpation. However, they both failed to exhibit responses to repeated sensibility tests performed with an electric pulp tester (EPT) (Denjoy Dental Co, Ltd, Hunan, China) and Endo-Ice (1,1,1,2 tetrafluoroethane; Hygenic Corp, Akron, OH, USA) (contra laterals as control) and were deemed nonvital. None of the examined teeth had any periodontal symptoms. Clinical and radiographic findings were consistent with a representation of a radicular cyst originating from tooth 12. After critical appraisal of the clinical and radiographic findings and discussion with the patient, surgical enucleation was elected to manage the periapical lesion. The patient was scheduled for root canal treatment of the involved teeth in preparation for the surgical intervention.
After informed consent and without anaesthesia, tooth 12 was accessed under rubber dam and emitted pungent odour revealing a necrotic pulp. The root canal was cleaned, and shaped while being irrigated with a frequently refreshed 5.25% sodium hypochlorite. The canal did not discharge cystic fluid despite frequent encouragement of patency file through the apex and a final irrigant activation by manual dynamic agitation. Following dryness, the canal was filled with guttapercha cones and TotalFill biocermaic sealer (FKG Dentaire SA, La Chaux-de-Fonds, Switzerland) (Fig. 1b). When access cavity was initiated for root canal treatment on tooth 11, which was diagnosed with pulpal necrosis, the patient unexpectedly exhibited sudden pain when the bur almost breached the pulpal space. The initial diagnosis of nonvitality for the central incisor and the canine was reconsidered, as both teeth were sound. The cavity was restored, and a decision was taken not to proceed with the planned root canal therapy.
All surgical procedures were performed using a surgical microscope (M320, Leica Microsystems, Heerbrugg, Switzerland), except the incisions, flap elevation, and suturing. 2% lidocaine (with 1:100,000 epinephrine) (Alexandria Co., Alexandria, Egypt) was administered and a full thickness buccal flap was elevated to reveal the cystic lining covering an extensive cortical bone defect. No osteotomy was needed. After identification of tooth 12 root, a 3 mm apical part was cut under copious irrigation with sterile saline. The cystic lining was completely removed by careful dissection starting from the middle craniofacial defect edge and advancing in anteroposterior directions. The cystic membrane was peeled in downward motion along the osseous wall rather than being pulled away from it. Whenever needed, releasing incisions were made in the cystic membrane to facilitate its removal. Following enucleation, the cavity was examined, revealing expansion of the cyst buccally, palatally as well as in the direction of the nasal floor, exposing the nasal mucosa (Fig. 2a).
The neurovascular bundle of tooth 11 was observed running from the apical foramen mesially toward the caudomedial defect wall (Fig. 2b). Due to the geometry of the defect in relation to tooth 13 root, similar observation was not possible. Thus, all subsequent procedures were done cautiously to avoid damages. The resected root surface was inspected, prepared, and then filled with pro root MTA (Dentsply/Tulsa Dental, Tulsa, OK, USA) (Fig. 2c). Prior to flap repositioning, the neurovascular bundle of tooth 11 was rechecked again to ensure its integrity (Fig. 2d). Primary mucoperiosteal closure on solid margins was accomplished with no releasing incisions and the flap was sutured with 4–0 polypropylene suture (International Sutures, Shrkia, Egypt). Postoperative instructions included a twice daily rinse with 0.12% chlorhexidine gluconate (Peridex, 3M ESPE, St Paul, MN, USA) for 1 week. The patient returned to remove the sutures with uneventful soft tissue healing and no reported complications. The histopathologic examination confirmed the initial diagnosis of an inflammatory radicular cyst.
At the 1-year follow-up, clinical examination revealed that teeth 13 and 11 regained normal responsiveness to EPT and cold sensibility tests. Panoramic radiograph demonstrated reduction in the defect size with partial bone fill around apices of teeth 13, 11 and up to the apicoectomy level of tooth 12 root (Fig. 3a). The 2-dimensional (2D) radiographic healing was judged incomplete by two independent and calibrated reviewers as per Molven's criteria [12]. However, it was in disagreement with the 3-dimensional (3D) healing outcome on the cone-beam computed tomography (CBCT) (Fig. 3b), as it was considered uncertain according to modified PENN 3D criteria. [13] As the patient reported absence of any discomfort related to the treated teeth or surgical site since the operation with normal soft tissue (Fig. 3c), a second recall appointment was set at the 4-year mark following the operation.
Teeth 13 and 11 remained responsive to sensibility tests with normal signs of vitality four years after surgery. Periapical radiograph and CBCT demonstrated continued and significant reduction in the lesion size, indicating a change to an agreement between both the 2D and 3D radiographic healing criteria toward incomplete (limited) healing by scar tissue (Fig. 4). Complete regeneration of bone and periodontium around the apices of teeth 13, 11 was evident.
Rights and permissions
Open Access This article is licensed under a Creative Commons Attribution 4.0 International License, which permits use, sharing, adaptation, distribution and reproduction in any medium or format, as long as you give appropriate credit to the original author(s) and the source, provide a link to the Creative Commons licence, and indicate if changes were made. The images or other third party material in this article are included in the article's Creative Commons licence, unless indicated otherwise in a credit line to the material. If material is not included in the article's Creative Commons licence and your intended use is not permitted by statutory regulation or exceeds the permitted use, you will need to obtain permission directly from the copyright holder. To view a copy of this licence, visit http://creativecommons.org/licenses/by/4.0/. The Creative Commons Public Domain Dedication waiver (http://creativecommons.org/publicdomain/zero/1.0/) applies to the data made available in this article, unless otherwise stated in a credit line to the data.
Disclaimer:
This article is autogenerated using RSS feeds and has not been created or edited by OA JF.

Click here for Source link (https://www.biomedcentral.com/)