Processing of progranulin into granulins involves multiple lysosomal proteases and is affected in frontotemporal lobar degeneration – Molecular Neurodegeneration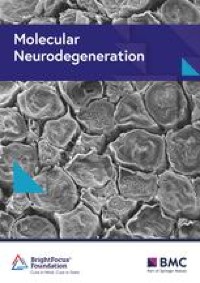 Multiple lysosomal proteases digest human progranulin in vitro
Previous studies have identified CTSL and CTSB as intracellular PGRN proteases [17, 19], however the endo-lysosomal compartment contains many other proteolytic enzymes that belong to distinctive classes with specific but overlapping peptide recognition motifs [28]. We wondered if other lysosomal enzymes also play a role in processing human PGRN. To identify which proteases can and cannot cleave PGRN, we performed extensive in vitro cleavage studies with commercially available recombinant human lysosomal enzymes. Although we were ultimately interested in which of the proteases can liberate individual granulin peptides, we first asked the question of which lysosomal proteases can digest or break down the full-length pro-protein in the inter-granulin linker regions (Fig. 1a). Since different proteases have distinct pH setpoints for optimal activity that can be substrate-dependent [28,29,30], we performed the study across a range of pH settings that represents the stepwise maturation of endo-lysosomal compartments.
Lysosomal proteases are classified based on the amino acid(s) in their active site. We first assayed the largest class of lysosomal proteases, the cysteine protease family [31, 32]. As previously shown [17, 19], the cysteine proteases CTSB and CTSL digested recombinant human PGRN (Fig. 1b). In addition, cathepsins K (CTSK), S (CTSS), V (CTSV) and asparagine endopeptidase (AEP) were also able to digest PGRN within 20 min. At an acidic pH of 4.5 or 5.5, CTSB, CTSL, CTSK, CTSS and CTSV digested most or all of full-length PGRN. AEP only modestly digested PGRN at pH 4.5 and 5.5 within the same time frame. CTSL and CTSV (also known as cathepsin L2), were the only cysteine protease that could digest PGRN at a pH as low as 3.4. Interestingly, CTSS, a lysosomal and secreted enzyme, is the only cysteine protease that can efficiently digest PGRN at both acidic and neutral pH, thereby making it a candidate enzyme to process both intracellular and extracellular PGRN [33]. In contrast, the cysteine cathepsins H (CTSH), C (CTSC), F (CSTF), O (CTSO) and X (CTSX) were unable to digest PGRN at any pH tested (Fig. 1b).
We next tested the aspartic acid family of acid hydrolases, which includes napsin A, cathepsin E (CTSE) and cathepsin D (CTSD). Napsin A, which has been used as a biomarker of human cancers [34, 35], did not degrade PGRN in vitro at any pH tested (Fig. 1c). Cathepsin E (CTSE) is an endo-lysosomal aspartyl protease, highly expressed in immune cells such as microglia [36]. CTSE digested PGRN only at the most acidic pH of 3.4 (Fig. 1c). CTSD has been implicated in multiple neurodegenerative diseases and was previously demonstrated to associate with PGRN, which promotes CTSD maturation and activity [14, 37,38,39,40,41,42,43]. One recent study reported that prolonged incubation (16 h) of PGRN with CTSD at pH 3.5 can lead to PGRN cleavage, although low molecular weight granulin-sized bands were not reported [20]. Typically, proteases act on their substrates rapidly, within minutes. To determine if CTSD plays a role in degrading PGRN at more physiological time scales, we incubated mature CTSD with recombinant PGRN for 20 min. Under these in vitro conditions, CTSD did not degrade PGRN at any pH (Fig. 1c). To ensure that CTSD was indeed active, we tested its activity against a known substrate, BSA [43], incubated for 60 min at pH 3.4 and 4.5. Under these conditions, CTSD cleaved BSA but not PGRN (Fig. S1a). Thus, PGRN is likely not a favored CTSD substrate under physiological conditions. We confirmed [20], however, that with prolonged incubation of 16 h, CTSD can digest PGRN (Fig. S1a).
We then tested the final class of lysosomal proteases, the serine proteases. Pro-X-carboxypeptidase (PRCP) and cathepsin A (CTSA) were unable to digest PGRN at any pH tested (Fig. 1d). However, cathepsin G (CTSG), a lysosomal and secreted serine protease digested PGRN at pH 5.5 and 7.4. Therefore, CTSG, like CTSS, is a candidate protease to process both intracellular and extracellular PGRN.
To determine if the enzymes that do not cleave PGRN in our assay (CTSH, CTSC, CTSF, CTSO, CTSX, CTSD, napsin A, PRCP and CTSA) are active against another control substrate, we performed FRET-based cleavage assays with fluorogenically-tagged casein. The results confirm that all enzymes are active at pH 4.5 and can cleave this universal substrate, although with varied efficiencies (Fig. S1b).
Therefore, in total six cysteine (CTSB, CTSL, CTSK, CTSS, CTSV and AEP), one aspartyl (CTSE) and one serine protease (CTSG) rapidly digested full-length PGRN in vitro in a pH-dependent manner (Table 1). Since protease expression can be cell-type specific [28, 44, 45], these results suggest that PGRN processing can be highly regulated, occurring in a protease-specific, pH-dependent manner and possibly both extracellularly and in multiple intracellular compartments.
PGRN undergoes pH-dependent processing into multi-granulin fragments (MGFs) and individual granulins in vitro
Progranulin is well-known to be a precursor protein for granulins, which are stress-responsive molecules with varying bioactivities [6,7,8,9,10]. Having established a subset of lysosomal proteases that can digest full-length PGRN, we next sought to understand which of these could proteolytically process PGRN into granulin-sized peptides. To do so, we generated custom anti-granulin antibodies raised against the N-terminal paragranulin (p-Gran), a centrally located peptide, granulin F (Gran-F) and C-terminal granulin E (Gran-E) (Fig. 2a and Fig. S2). We then analyzed the results of in vitro cleavage assays for lower molecular weight bands that represent MGFs or individual granulins. Consistent with our previous results, the lysosomal proteases that could not digest PGRN did not release any specific multi-granulin or individual granulin-sized fragments (Fig. S3). Given the large amount of data, we will first discuss the production of the N- and C-terminal granulins, followed by granulin F and finally the MGFs.
The N-terminal paragranulin can be released by a single cleavage after granulin p. Following incubation with CTSL and CTSK, and to a lesser extent in CTSS and CTSV, the anti-p-Gran antibody detected a < 7kD band that likely represents this cleavage event that produces the paragranulin (Fig. 2b and Fig. S4). Similarly, the C-terminal granulin E can be released by a single cleavage after granulin D. Following incubation with CTSL, CTSK, and CTSV, and to a lesser extent CTSB, CTSS and CTSG, the anti-gran-E antibody detected a < 10kD band that likely represents this cleavage and release of Gran-E (Fig. 2d and Fig. S4). Interestingly, the endo-lysosomal aspartyl protease CTSE also had the ability to process PGRN to release an ~12kD peptide containing granulin E, but only at pH 3.4, suggesting that CTSE may have a different cleavage pattern than other proteases (Fig. 2d).
Unlike paragranulin and granulin E, the release of granulin F requires two cleavages (after granulin G and before granulin B.) Most individual proteases were inefficient at cleaving both of these specific linkers. CTSL, CTSK, CTSS and CTV robustly cleaved PGRN into MGFs containing granulin F, but inefficiently released individual granulin F, and only at pH 4.5 (Fig. 2c). AEP was a notable exception, as it could robustly release granulin F at pH 4.5 and 5.5. However, AEP was unable to liberate the N and C-terminal granulins (Fig. 2c and S4). These results suggest that different proteases cleave at different inter-granulin regions in PGRN in a pH-specific manner. This is summarized in Fig. S5.
Given that each intact PGRN molecule contains up to eight granulins and seven inter-granulin linkers, the potential number of different multi-granulin fragments could be quite high (up to 86 potential products). However, when we observed the actual pattern of multi-granulin fragments, we found that their molecular weights were largely similar across both cysteine and serine proteases (Fig. 2b-d). This suggests similar cleavage patterns for the different enzymes, albeit with different abundances. The notable exception to this pattern, once again, was AEP, which exhibited a distinctive pattern of intermediate bands. Interesting differences in MGF production also emerged across pH, including shifts in the size of multi-granulin and individual granulin-sized bands (Fig. 2c-d, red asterisk).
To determine the efficiency of processing PGRN at different inter-granulin domains, we performed time-course experiments for CTSL and CTSB (Fig. S6). Since both these enzymes digest almost all recombinant PGRN within 20 min (Figs. 1b and 2b), we decreased the enzyme concentration by 20-fold to 50 nM and maintained the substrate concentration. Cleavage products were collected at the time points indicated and western blotting performed using anti-p-Gran, Gran-F and Gran-E antibodies. The time-course data suggests that CTSL is highly efficient at releasing paragranulin and Gran-E from PGRN (Fig. S6a). CTSL can cleave the inter-granulin linker between p-G as early as 2.5mins releasing paragranulin and between D-E within 10 min releasing granulin E. In contrast, CTSL does not liberate Gran-F even when incubated up to 60 min at this concentration. This further confirms are results that CTSL can robustly process PGRN to release N-terminus paragranulin and C-terminus granulin E but is unable to liberate granulin F at the same concentration (Fig. 2). Interestingly, at this lower concentration, CTSB, another documented PGRN protease, is unable to process PGRN suggesting a much lower PGRN cleaving efficiency in comparison to CTSL (Fig. S6b). This data suggests that CTSL is more efficient than CTSB at processing PGRN, and primarily releases the N- and C-terminal granulins.
In summary, our results demonstrate that eight lysosomal proteases are capable of digesting full-length human PGRN in vitro. Moreover, these findings demonstrate that each of these enzymes can cleave PGRN into one or more individual granulin (Fig. S5b). When tested in isolation, the majority of cysteine, aspartyl and serine proteases tended to liberate N- and/or C-terminal granulins. In contrast, AEP was unable to liberate the N- and/or C-terminal granulins but robustly liberated granulin F, present in the center of the pro-protein. Furthermore, one cysteine (CTSS) and one serine protease (CTSG) processed PGRN into granulins at neutral pH (7.4) while an aspartyl protease (CTSE) could only process PGRN at highly acidic pH (3.4).
Asparagine endopeptidase is a PGRN protease that liberates granulin F
To assess the specificity of our custom anti-granulin antibodies in cell lysates, we used a pair of previously published, isogenic wild-type and progranulin knockout (KO) iPSC cell lines [22, 23]. The anti-p-gran, gran-F and gran-E antibodies recognized full-length PGRN from iPSC whole cell lysates, but contained many non-specific bands (Fig. S7a). In contrast, the commercially available Invitrogen and Sigma anti-progranulin antibodies robustly recognize full-length progranulin (Fig. S7b). In regards to PGRN cleavage products, the anti-Gran-F antibody and the Sigma antibody both recognized a granulin-sized band, which according to a recent study of all available commercial PGRN antibodies [19], is likely to be granulin F. With all of the antibodies, comparison of Pgrn WT and KO cells revealed many non-specific bands. Given these findings and the limited quantities of the custom antibodies available, we chose to utilize the Invitrogen and the Sigma antibodies to detect full-length endogenous PGRN and granulin F, respectively, in cell-based studies.
To study the processing of PGRN in vivo in cells, we chose SH-SY5Y cells for their ability to be terminally differentiated into neuron-like cells. These cells produce detectable amounts of both endogenous PGRN and granulin F (Fig. 3a). We first determined the expression profile of PGRN-cleaving proteases by qPCR analysis. We found that the lysosomal proteases CTSB, CTSL, CTSK, CTSS, AEP and CTSE were expressed in differentiated SH-SY5Y cells, but CTSV and CTSG were not detected (Fig. S8a).
Since AEP is the only protease that robustly liberated granulin F in vitro, and granulin F is the only granulin that can be reliably detected from cell lysates [19], we next sought to further validate AEP as a PGRN protease in these cells. To determine if AEP cleaves PGRN endogenously in terminally differentiated SH-SY5Y cells, we performed siRNA knock down of AEP and assessed the levels of endogenous PGRN and granulin F in terminally differentiated SH-SY5Y cells. Consistent with our in vitro results, knock down of AEP resulted in a significant decrease in the levels of granulin F compared to scramble-treated controls (Fig. 3a and b). While full-length PGRN was also modestly decreased, the degree to which it declined was less than that of granulin F. In addition, when tested with another anti-progranulin antibody, PGRN levels did not significantly change (Fig. S8b-d).
To further assess AEP cleavage of PGRN, we transiently over-expressed FLAG-tagged AEP or CTSL in HEK293FT cells, which have improved transfection efficiencies. Over-expression of AEP led to a significant decrease in the level of full-length PGRN and a corresponding increase in the granulin F compared to control (Fig. 3c-e). In contrast, over-expression of CTSL, which digests PGRN in vitro but was not shown to release Gran F, led to a significant decrease in full-length PGRN without an increase granulin F (Fig. 3f-h). This suggests that in cells, both AEP and CTSL can cleave full length PGRN but only AEP liberates granulin F.
To determine the specific cleavage sites of AEP, we incubated recombinant human PGRN with and without AEP for 60 min at pH 4.5. Bands corresponding to full-length PGRN, multi-granulin bands, and granulin-sized bands were observed by silver staining (Fig. S9a). These bands were subjected to LC-MS/MS to determine AEP cleavage sites. Consistent with its activity as a protease that cleaves after asparagine residues, we identified three sites for AEP cleavage within three inter-granulin linkers (G-F, F-B, B-A) that would result in the liberation of granulins F and B from PGRN (Fig. 4, Fig. S9b-e). Furthermore, a previous study identified CTSL cleavage sites on PGRN and showed that CTSL cannot liberate granulins F and B due to lack of cleave sites in those inter-granulin domains [17].
Granulins F levels are increased in the degenerating regions of the brains from FTLD-TDP-Pgrn subjects
PGRN haploinsufficiency predisposes to FTLD-TDP. Interestingly, in C. elegans, the processing of progranulin to granulins increases with age [46]. Further, the presence of an MGF containing granulin E is decreased in FTLD-TDP [12]. However, whether PGRN processing into granulin F is affected in FTLD, an age-related disorder, is unclear. To assess whether PGRN processing is altered in FTLD, we measured granulin F levels from brain samples of control individuals or those with FTLD due to Pgrn mutations (FTLD-TDP-Pgrn). As previously described [12], we examined a brain region affected in FTLD (middle frontal gyrus, MFG, defined as gliosis score of 3) as well as an unaffected region (inferior occipital cortex, IOC, defined as gliosis score of 0–1) from both groups. Characteristics of subjects are shown in Table 2.
First, we compared the levels of PGRN and granulin F between the degenerating MFG and the non-degenerating IOC regions of the control and FTLD-TDP-Pgrn brain. No significant difference was noted in the levels of PGRN and Gran-F between IOC and MFG of control subjects (Fig. 5a-b). However, Gran-F levels were significantly elevated in MFG vs IOC of FTLD-TDP-Pgrn subjects (Fig. 5c-d). We also compared the levels of PGRN and granulin F between control and FTLD-TDP-Pgrn subjects in the same regions. As expected, full-length PGRN levels are lower in FTLD-Pgrn cases versus controls, but in this comparison, granulin F is not significantly different (Fig. S10).
Since AEP was the only enzyme that could robustly liberate granulin F in our in vitro assays and affected the levels of granulin F in cells (Figs. 2 and 3), we quantified the activity of AEP in both regions of the brain. These assays revealed a significant increase in AEP activity in disease affected MFG compared to non-affected IOC from the same subjects (Fig. 6a). Furthermore, we see a similar trend towards an increased level of mature AEP in the degenerating MFG region compared to the non-affected IOC regions of FTLD-TDP-Pgrn subjects but not controls (Fig. S11). To determine if the change in levels and activity AEP was also seen for other known PGRN proteases, we assayed the activity of CTSL. Interestingly, there was no significant change to CTSL activity in either regions across groups, suggesting differential effects on lysosomal enzymes in FTLD (Fig. 6b).
These data suggest that increased AEP activity in the degenerating MFG region may alter PGRN processing in a way that leads to an increase in production of granulin F in that region. We were unable to detect other granulin peptides but had previously shown in both FTLD-TDP subjects negative for Pgrn mutations and Alzheimer's disease brain that a multi-granulin fragment containing granulin E was also increased in a diseased brain region [12]. Thus, it may be that these neurodegenerative diseases lead to overall increased processing of PGRN into bioactive granulins.
Rights and permissions
Open Access This article is licensed under a Creative Commons Attribution 4.0 International License, which permits use, sharing, adaptation, distribution and reproduction in any medium or format, as long as you give appropriate credit to the original author(s) and the source, provide a link to the Creative Commons licence, and indicate if changes were made. The images or other third party material in this article are included in the article's Creative Commons licence, unless indicated otherwise in a credit line to the material. If material is not included in the article's Creative Commons licence and your intended use is not permitted by statutory regulation or exceeds the permitted use, you will need to obtain permission directly from the copyright holder. To view a copy of this licence, visit http://creativecommons.org/licenses/by/4.0/. The Creative Commons Public Domain Dedication waiver (http://creativecommons.org/publicdomain/zero/1.0/) applies to the data made available in this article, unless otherwise stated in a credit line to the data.
Disclaimer:
This article is autogenerated using RSS feeds and has not been created or edited by OA JF.

Click here for Source link (https://www.biomedcentral.com/)