Valsartan in combination with metformin and gliclazide in diabetic rat model using developed RP-HPLC method – Future Journal of Pharmaceutical Sciences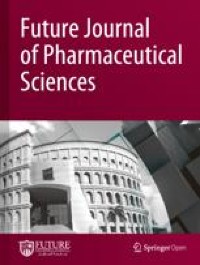 Parameters of chromatography
The HPLC from Waters Company was integrated with XTerra® C18 column of 5 μm (with features 4.6X250 mm) for separation. Mobile phase was fixed to mixture of phosphate buffer and methanol in 60:40 ratio, and the rate of flow was 1 mL.min−1. The filtration of the mobile phase was performed by using a 0.2-μm membrane filter. Chromatographic procedure was performed at RT.
Preparation of standard solutions
To prepare standards, metformin and valsartan were each weighed 100 mg and added into 10 mL of a solvent which is a mixture of phosphate buffer and methanol in 60:40 ratio. By adding another 15 mL of phosphate buffer and methanol solution, the final volume was made up to 25 mL. The stock solution was subjected to sonication for 15 min, and by mixing 75 mL of diluent, the volume was made up to 100 mL to achieve a 1 mg/mL stock solution. Standard stock solution was diluted to achieve 2 to 20 μg.ml−1 as final concentration for valsartan, whereas metformin final concentration was set to 3.12 to 100 μg.ml−1.
Validation of the method
The following RP-HPLC parameters were validated as per ICH guidelines [24].
Linearity
The standard (metformin and valsartan) stock solutions were diluted with mobile phase. The final concentration of valsartan was in the range of 2 to 20 μg.ml−1 whereas the final concentration of metformin was 3 to 100 μg.ml−1. A volume of 20 μL was injected into C18 column. The calibration graph was achieved by peak area on Y-axis versus concentration of valsartan and metformin on X-axis.
Accuracy
Accuracy was validated in triplicate by addition of three different amounts of valsartan and metformin to previously analyzed samples. The quantities of analytes recovered were compared with the quantities of drugs injected. The quantities added were equivalent to 50, 100, and 150% of the amount originally presented.
Precision
To evaluate precision, 6 tests of both the drugs of 10 and 30 μg.ml−1 were injected into the column. This procedure was performed on a single day (which is also called intraday precision) as well as on three different days (which is also called intermediate precision).
Limit of detection and quantitation
The minimum concentrations of each drug which was able to produce LOD was minimum S/N of 3. The minimum quantity of each drug was quantified by this method is called LOQ.
Method applicability and system suitability
The devised method was validated by applying pharmaceutical dosage forms for the estimation of valsartan and metformin, to evaluate the system suitability. The analytical procedure of the system was carried out by performing system suitability tests. Various parameters were evaluated such as theoretical plate number (N), tailing factor, retention time, resolution, area, and % peak area were analyzed. Twenty microliters of the working standard solution of valsartan (10 μg.ml−1) and metformin (25 μg.ml−1) was injected into the column for 6 times.
Analyzed method specificity
It was monitored to achieve clear peaks for both the drugs avoiding interference (from drug impurities or solvents) by the proposed method.
Robustness
To execute the robustness of designed method, analyzed standard concentrations (n = 6), i.e., 10 μg/mL of valsartan and 30 μg/mL of metformin, were done using two different columns of the same make.
Pharmacokinetic study
Male Wistar rats were obtained from Vab Bioscience, Hyderabad, India, with the approval of Committee for the Purpose of Control and Supervision of Experiments (282/PO/RcBt/2000/CPCSEA). Starved (12 h) animals (male Wistar rats) were induced with diabetes by injecting freshly prepared streptozotocin of 0.220 to 0.250 mL (60.0 mg streptozotocin dissolved in 1 mL of 0.010 M Citrate buffer, pH 4.5) intraperitoneally amounting to dose of 60 mg.kg−1 as the final one. The animals were handled as per the approved protocol of Institutional Animal Ethical Committee. Prior to the induction of diabetes, animals were placed in optimum conditions with atmospheric humidity of 50.0% and supplemented with pellet diet and water ad libitum. The hyperglycemic condition was assessed by measuring the concentration of glucose in non-fasting serum post 48 h of induction. Total of six groups were made, i.e., four groups of individual treatment of gliclazide, metformin and valsartan (to diabetic as well as healthy rats). To the remaining groups, combination treatment is given, i.e., gliclazide and valsartan, and metformin and valsartan were administered to diabetic rats. Plasma sample segregates from blood were obtained at different time intervals (zero (0), 1, 2, 4, 6, 8, till 24 h) post drug administration.
The plasma samples were processed for HPLC analysis. All the samples were evaluated using reverse phase HPLC method developed by us. Phenformin (10 μL of 40 μg/mL) was used as an internal standard. Twenty microliter of supernatant was injected into C18 column to estimate gliclazide and valsartan individually and together. The chromatographic conditions were set with mobile phase acetonitrile (45:55); phosphate buffer pH was set at 4.80, and pressure was set at 190 to 210 kg.f/cm3; flow rate was set at one mL.min−1; procedure was performed at room temperature; and UV detector wavelength was set at 234 nm [19]. To estimate metformin and valsartan in rat plasma simultaneously, the chromatographic conditions such as mobile phase was set at phosphate buffer (pH 4), acetonitrile 60:40 v/v respectively; pressure was set at 190 to 210 kg.f/cm3; flow rate was set at 1 mL.min−1; procedure was performed at RT; UV detector was set at wavelength of 238 nm; and injection volume was 20 μL. Various concentrations such as 0.050, 0.10, 0.50, 1.0, 5.0, 10.0, 20.0, and 40.0 μg.ml−1 of metformin, gliclazide and valsartan were prepared using rat plasma for standard calibration curve. The peak area of all three drugs (metformin, gliclazide, and valsartan) was recorded for further analysis. Animals were sacrificed by deep burial, following cervical dislocation.
Statistical analysis
For analysis, the Win Nonlin® 5.1 software was used. The pharmacokinetic units such as highest plasma concentrations achieved (Cmax), tmax denotes time for achievement of maximum concentration, the area under the curve is represented by AUC, and t½ represents elimination half-life, whereas AUC0-t denotes the area the under the curve between time 0 to 24 h, while AUC0-α represents the area under the curve from time at 0 h to infinity. Pharmacokinetic and pharmacodynamic statistical comparisons between individual and in combination of anti-diabetic drugs, which were used in this study, i.e., metformin and gliclazide and antihypertensive drug valsartan, were evaluated using students paired t test. Statistical significance was considered to be P < 0.05. Mean ± S.E.M was determined to decipher the relationship between total plasma concentrations and pharmacokinetic and pharmacodynamic parameters.
Rights and permissions
Open Access This article is licensed under a Creative Commons Attribution 4.0 International License, which permits use, sharing, adaptation, distribution and reproduction in any medium or format, as long as you give appropriate credit to the original author(s) and the source, provide a link to the Creative Commons licence, and indicate if changes were made. The images or other third party material in this article are included in the article's Creative Commons licence, unless indicated otherwise in a credit line to the material. If material is not included in the article's Creative Commons licence and your intended use is not permitted by statutory regulation or exceeds the permitted use, you will need to obtain permission directly from the copyright holder. To view a copy of this licence, visit http://creativecommons.org/licenses/by/4.0/.
Disclaimer:
This article is autogenerated using RSS feeds and has not been created or edited by OA JF.

Click here for Source link (https://www.springeropen.com/)