What's in a face? The role of facial features in ratings of dominance, threat, and stereotypicality – Cognitive Research: Principles and Implications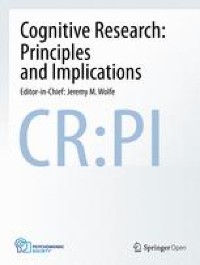 Faces judged as stereotypically Black (i.e., Afrocentric) are perceived negatively relative to less stereotypical faces, and this face-type bias influences a variety of real-world outcomes including employment and legal decisions. Dominance is a first-impression trait that is cued by facial structure and is associated with threat and criminality. In this experiment, we investigated whether facial features that are perceived as dominant and threatening, may be consistent with stereotypically Black features and thereby explain some of the biased treatment of people who have this face-type. Artificial faces were constructed to manipulate facial features to study the relations among perceived dominance, threat, and Black stereotypicality. People were shown faces with different combinations and variations, of facial features typically associated with stereotypicality; nose width, lip fullness, and variations in skin tone (here manipulated as reflectance; shadowing and texture). After presentation, people judged how well each face represented the three factors of interest (traits). Results showed that stereotypicality was related to wide nose and darker reflectance and to a lesser extent full lips; threat was associated with wide nose, thin lips, and low reflectance; dominance was mainly related to nose width. People were influenced by the facial features when making trait judgments, while the demographics of the perceiver (race, age, gender), did not change how the faces were judged. These results suggest that the extent to which people perceive dominance, threat, and stereotypicality as related, may underpin some of the sociocultural disparities in treatment of certain individuals in an applied context.
The "Barbie Bandits", two attractive teenage girls who robbed banks in Georgia (Joseph, 2009), likely were successful during their heists because they surprised bank tellers with their atypical appearance. Jeremy Meeks, the "Sexy mugshot guy" (Rayne, 2016), who was arrested for robbery and assault, gained notoriety and a modeling contract as a result of good looks, despite his criminal activity. People judge faces quickly, making first impression judgments in as little as 100 ms (Bar et al., 2006; Willis & Todorov, 2006). Speeded judgments are often biased and based on little or no information about actual behavior (Oosterhof & Todorov, 2008). Instead, people form impressions of one another and assume character traits based in part on facial structure and the extent to which facial cues support preconceived expectations for behavior (Blair et al., 2004a, 2004b; Dotsch & Todorov, 2012; Kleider-Offutt et al., 2017a, 2017b). Face judgment research finds commonalities in facial structure that lead to judgments of dominance, trustworthiness, and a variety of other trait-based assumptions (for review Oosterhof & Todorov, 2008; Zebrowitz et al., 2011,). These judgments may play a role in how people are perceived and may relate to important applied decisions, such as political elections (Todorov et al., 2005), military rank (Mazur et al., 1984; Mueller & Mazur, 1998), and court system outcomes relating to sentence severity and guilty verdicts (Blair et al., 2004a, 2004b; Kleider-Offutt et al., 2017a, 2017b; Porter et al., 2010). These face trait judgments occur for race- and gender-ambiguous faces, suggesting that susceptibility to biased assessment may be ubiquitous (Ito et al., 2011; Kaminska et al., 2020). However, in scientific research and the news media, Black faces specifically garner biased judgment (Dixon, 2017; Dixon & Azocar, 2007; Kleider-Offutt, 2019; Kleider-Offutt et al., 2017a, 2017b). The focus of the current study is to identify facial features associated with assumed behavioral traits that underpin biased judgments of Black individuals.
Black men, specifically, are vulnerable to face-type bias and assumed criminality due to associations with the Black man criminal stereotype (Kleider et al., 2012; Kleider-Offutt, 2019; Kleider-Offutt et al., 2018; Knuycky et al., 2014). Black men with stereotypically Black features are often judged more negatively and more criminal in real-world and laboratory settings than are their counterparts who possess more atypical features (Blair et al., 2004a, 2004b; Kleider et al., 2012). In addition, men with more stereotypical features are more likely to be misidentified (Flowe & Humphries, 2011; Kleider-Offutt et al., 2017a, 2017b) and given more punitive sentences (Eberhardt et al., 2006) than are Black men judged as possessing fewer stereotypical features in criminal cases. For example, Black men who were misidentified as the perpetrator in a crime, incarcerated, and later exonerated based on DNA evidence (i.e., factually innocent), were judged by an independent sample of people as being more stereotypically Black than were Black exonerates who were falsely incarcerated for reasons other than eyewitness identification error (Kleider-Offutt et al., 2017a, 2017b). These findings suggest a bias to associate certain face-types with negative (e.g., criminal) actions (Kleider-Offutt et al., 2017a, 2017b).
Discussions around what drives this bias suggest that stereotypically Black features may activate negative racial stereotypes that can result in associations with fear (Golkar et al., 2015; Olsson et al., 2005). A body of research is focused on identifying what aspects of a Black face lead to negative associations for White participants. Some studies find that darker skin tone is what drives the effect (Maddox & Gray, 2002). Alternatively, some research suggests that facial features and skin tone are used together (Deregowski et al., 1975; Livingston & Brewer, 2002), while others argue that they are used independently to inform these negative associations (see for a review, Hagiwara et al., 2012; Stepanova & Strube, 2009). Although this is important work that aims to better understand what features cue negative responses, these studies did not test the specific features, or combination of features, that compose a stereotypical Black face—which is the next step in understanding why some within-race faces are judged especially harshly. One study did test specific features to determine prototypicality for several race groups. Strom et al. (2012) tested how facial metrics (e.g., face width, feature size) and skin tone influenced judgments of prototypicality across Black, White, and Korean faces. Results for Black faces showed that facial metrics had the biggest influence on White perceivers' prototypicality ratings, while skin tone was consistently impactful for Black and Korean perceivers. Black face prototypicality was not specifically identified by metrics; however, relative to White faces, Black faces were rated as having a wider nose, thicker lips, and a wider jawline (Strom et al., 2012). Aside from this study, the bulk of the research that attributes behavioral associations to Black face-types generally suggests that stereotypicality includes some combination of a wider nose, fuller lips, and darker skin (e.g., Blair, 2006; Blair et al., 2004a, 2004b). Thus, testing and identifying what features specifically define a stereotypically Black face will inform what cues associations to criminality and negative judgments.
People have stereotypes about what makes a criminal face (MacLin & Herrera, 2006; MacLin & MacLin, 2004): they have long, shaggy, dark hair; tattoos; beady eyes; pockmarks; and scars. Faces rated high in criminality may also be identified from police lineups on appearance alone (Flowe & Humphries, 2011), and such a response is associated with Criminal face-type bias. Similarly, participants making speeded first impression judgments of convict faces revealed that criminality was determined immediately and was related to judgments of low trustworthiness and high dominance (Klatt et al., 2016). These studies focused on Caucasian faces, but similar biases occur for Black faces (e.g., Kleider et al., 2012).
How people form these judgments so quickly is a point of discussion. One idea is that people infer personality traits from the similarity of a person's facial features to emotional expressions (i.e., the Emotion Overgeneralization hypothesis; Zebrowitz, 2004). Emotionally neutral faces that look angry are perceived high in dominance, while neutral faces that appear happy are perceived as trustworthy. To test the influence of these traits on criminality, Flowe and Humphries (2011) had participants rate cropped faces, such that there was no clothing or background information available, of actors and inmates on criminality, anger, dominance, trustworthiness, and maturity (i.e., baby-facedness). Results showed that, regardless of face group, both male and female faces that were judged high in criminality were also judged as high in dominance and low in trustworthiness, with angry faces being perceived as the most dominant. This suggests that a possible cue to determining that a face is threatening (i.e., associated with fear) and also criminal, is the extent to which the face looks dominant. This relationship is born out of face trait models that show that the more dominant a face is perceived, the more threatening it is judged; and these impressions of threat are closely tied to criminal appearance (Funk et al., 2017).
To investigate the relationship between facial cues and trait assessments, Oosterhof and Todorov (2008) hypothesized a framework for face evaluation. They used a data-driven approach, based on principal components analysis of 2D facial images, wherein people made judgments of face traits and then determined which facial features mapped onto which traits. Through this computational modeling approach, they could model social perception of faces tied to facial structure that influenced a specific judgment, such as dominance or trustworthiness. Using this approach, they could modify the structure of new faces to increase or decrease how trustworthy or dominant they looked. These models have been examined in several studies (Oosterhof & Todorov, 2008; Todorov et al., 2013; Walker & Vetter, 2009), suggesting that spontaneous trait inferences made based on facial appearance are derived from valence and dominance. In Todorov et al. (2008, 2011, 2013) model of face evaluation, valence is a cue to whether a person should be approached or avoided, while dominance cues the likelihood of a person inflicting physical harm. Features of faces associated with happiness and anger (i.e., valence) are overgeneralized to determine whether a person is trustworthy and should be approached or avoided. Facial features that appear dominant (e.g., looking more masculine or mature) are used to evaluate physical strength. From an evolutionary standpoint, these findings suggest that these cues are adaptive for determining who to approach and who to avoid. In support of this idea, Todorov et al. (2013) found that assessments of threat derived from facial appearance are negatively associated with perceptions of trustworthiness and positively associated with perceptions of dominance. In a similar vein, Hehman et al. (2017) investigated the contribution of dominance, trustworthiness, and youthful-attractiveness on face judgments focusing on the different contributions of the perceiver and the stimuli. They found that trait-based factors representing character (e.g., dominance) are driven more by the perceiver than are factors based on appearance (e.g., attractiveness). The authors explained how cross-classified regression can estimate the amount of variance due to faces, raters, and error, and that trait impressions are derived from several sources.
What makes a face dominant, trustworthy, and threatening is well established; what is less clear is what features or combination of features, makes a face stereotypically Black, and how those features may relate to these other traits. Could it be that features that are consistently rated as dominant are consistent with features that are rated as stereotypically Black, and therefore threatening? The current study will take the next step in addressing this gap in the literature.
We plan to evaluate whether specific facial features, or combinations of features, considered stereotypically Black are also associated with dominance and threat. We hypothesize that Black stereotypicality, dominance, and threat will be positively related traits. To test this expectation, we will focus on three main aims: (1) to examine how lip width, nose width, and skin reflectance correspond to ratings of dominance, threat, and stereotypicality; (2) to examine the extent to which rater characteristics may affect face ratings; (3) to evaluate the extent to which ratings of dominance, threat, and stereotypicality are related to each other after accounting for the effects of facial features and rater demographics.
Together these results will help to determine whether some of the bias found in judgments of more versus less-stereotypically Black faces are underpinned by feature judgments that are afforded to all faces with these features. In addition, the participant sample used in this study is primarily Black women, while much of the research to date on face-type bias focuses on a White sample. Assessing trait judgments in a sample of people who are the target of the biased judgments, will aid in understanding not only the cultural implications of face-type bias but the ubiquitous nature of such judgments. Moreover, this work addresses the need for face perception research to extend beyond primarily White samples as the fluidity of face judgments maybe based on context and the racial group that one identifies with (Willadsen-Jensen & Ito, 2008).
Rights and permissions
Open Access This article is licensed under a Creative Commons Attribution 4.0 International License, which permits use, sharing, adaptation, distribution and reproduction in any medium or format, as long as you give appropriate credit to the original author(s) and the source, provide a link to the Creative Commons licence, and indicate if changes were made. The images or other third party material in this article are included in the article's Creative Commons licence, unless indicated otherwise in a credit line to the material. If material is not included in the article's Creative Commons licence and your intended use is not permitted by statutory regulation or exceeds the permitted use, you will need to obtain permission directly from the copyright holder. To view a copy of this licence, visit http://creativecommons.org/licenses/by/4.0/.
Disclaimer:
This article is autogenerated using RSS feeds and has not been created or edited by OA JF.

Click here for Source link (https://www.springeropen.com/)