A renal angiomyolipoma with a challenging presentation: a case report – Journal of Medical Case Reports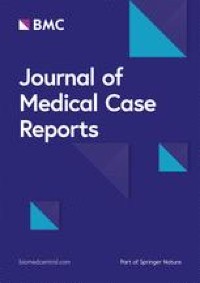 Renal angiomyolipoma is a benign mesenchymal tumor first defined in literature by Fisher in 1911; it represents 1–3% of the solid tumors [1].
The prevalence of AML is 0.28% in males and 0.6% in females [1].
Prasad et al. stated that the prevalence of renal angiomyolipoma is higher in middle-aged women [2].
A historical series demonstrates that renal angiomyolipoma affects more women than men, with a sex ratio of 2:1 [1, 3, 4].
A Japanese study that included 17,941 Japanese patients demonstrated that the female-to-male ratio was 2.5, and the mean age of the patients was 55.89 ± 14.49 years.
In literature, the classical triad of symptoms in AML is flank pain, palpable mass, and hematuria [1].
Its main complication is spontaneous hemorrhage in the retroperitoneum or the kidney collecting system, leading to a life-threatening situation [5].
Yiu et al. demonstrated in their review of 16 studies that there is no association between the tumor's size and its aggressive behavior [5].
Tan et al. deduced after examining 35 cases that the transformation into a malignant form is more likely when the tumor has an aggressive behavior [6].
The extension of a tumor into the inferior vena cava is commonly seen in renal cell carcinoma but can also rarely be seen in angiomyolipomas, depending on the tumor's dimensions. The first case of renal angiomyolipoma with an extension to the inferior vena cava was described in 1982 by Kutcher et al. [7].
Riviere et al. have reported 44 cases of AMLs with renal vein or inferior vena cava (IVC) extension in which almost all the lesions were more prominent than 4 cm [8].
The central location and the localization in the right kidney have been reported as favoring factors for venous invasion. This can be explained by the shorter route to the renal vein [9].
Venous invasion was seen in all types of AML. However, in the reported cases it was mostly associated with epithelioid type AML [10].
In most of the studied cases, the mechanism of invasion was direct invasion by the tumor [8, 10].
The differential diagnoses for macroscopic fat-containing retroperitoneum tumors are AML, lipoma, liposarcoma, teratoma, renal cell carcinoma, and adrenal myelolipoma.
Imaging plays a crucial role in characterizing the tumor as well as revealing its local extent.
On sonography, renal angiomyolipomas are intensely echogenic and may show acoustic shadowing [8].
CT scanning shows good performance in the characterization and diagnosis of angiomyolipoma lesions.
It shows areas of fat attenuation (−10 HU or lower) [9].
In his study, Helenon et al. classified the AML as a type 2 tumor. The presence on CT of fat quota into the tumor (≤ −20 UH) and the absence of calcification or necrosis confirm the tumor's benignity [11].
In 4–5% of AMLs, intralesional fat cannot be detected on CT owing to the small amount of fat within the lesion. These lesions are hyperdense on CT and enhance after contrast administration.
These AMLs represent a diagnostic challenge as they can be mistaken for renal carcinoma.
Magnetic resonance imaging (MRI) does not seem to provide any advantages over CT, except when intravenous contrast administration is contraindicated [12]. The characteristic appearances of angiomyolipomas with MRI include variable areas of high-intensity signal within the tumor on T1-weighted and T2-weighted images.
MRI can also detect fat in these tumors; it can show abnormal tumoral vessels and accurately delineate the local extent [13].
The current management options include observation, embolization, and partial and total nephrectomy.
Oesterling et al. recommended that symptomatic tumors less than 4 cm should be observed regularly with CT or ultrasound, whereas those greater than 4 cm should be studied by angiography and considered for arterial embolization or surgery [14].
The tumor's extension into the renal vein and IVC mandates tumor thrombectomy.
Rights and permissions
Open Access This article is licensed under a Creative Commons Attribution 4.0 International License, which permits use, sharing, adaptation, distribution and reproduction in any medium or format, as long as you give appropriate credit to the original author(s) and the source, provide a link to the Creative Commons licence, and indicate if changes were made. The images or other third party material in this article are included in the article's Creative Commons licence, unless indicated otherwise in a credit line to the material. If material is not included in the article's Creative Commons licence and your intended use is not permitted by statutory regulation or exceeds the permitted use, you will need to obtain permission directly from the copyright holder. To view a copy of this licence, visit http://creativecommons.org/licenses/by/4.0/. The Creative Commons Public Domain Dedication waiver (http://creativecommons.org/publicdomain/zero/1.0/) applies to the data made available in this article, unless otherwise stated in a credit line to the data.
Disclaimer:
This article is autogenerated using RSS feeds and has not been created or edited by OA JF.

Click here for Source link (https://www.biomedcentral.com/)