A retrospective comparison of two different immobilization systems for radiotherapy of extremity soft tissue sarcomas and its influence on CTV-PTV margin – Journal of the Egyptian National Cancer Institute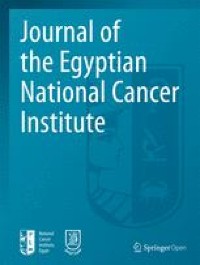 Comparison of radiotherapy setup errors among previously published studies for extremities STSs, should be taken cautiously. The practiced immobilization technique logically affects the daily setup and PTV margins required. The manufacturers of each immobilization device have their own recommendations regarding the material molding and retraction [1, 4]. To our knowledge there is limited data comparing setup errors for different immobilization devices used for extremities RT. Since, daily IGRT was not routinely used in our department; running this study is justified for determination of CTV-PTV margins.
The data retrieved from our study showed the mean translational displacements in Vac-Loc™ patient -0.1 mm, 0.3 mm, 0.4 mm vertically, longitudinally and laterally respectively, and the mean translational displacements of thermoplastic mask were 0.2 mm, 0.4 mm and 0 mm in the vertical, longitudinal and lateral direction respectively. There was no significant statistical difference between the two group of patients. However, a marginal trend of larger discrepancy among our patients treated with Vac-Loc™ was noticed. The possible reasons for comparable accuracy and reproducibility could be related to the extra set-up marks drawn by our therapists.
These set up errors were lower compared to data of Princess Margret Hospital (PMH) retrospective study by Kim et al., directed mainly to STSs of upper extremity [12]. A total of 17 patients were compared for immobilization; vacuum cradle with thermoplastic shell, vacuum cradle, and none. Mean translational displacements in the vertical, longitudinal and lateral directions were 3.2 ± 3.3 mm, 1.2 ± 2.5 mm and -0.4 ± 3.3 mm respectively for vacuum cradle with thermoplastic shell. The vacuum cradle vertical, longitudinal and lateral mean displacements were 0 ± 1.7 mm, -0.7 ± 2.2 mm, and 2.5 ± 1.0 mm. The total vector error was not measured in this study. There were significant differences in systematic error values for all translational and rotational axes between immobilization methods at PMH data in contrast to non- significant difference in our data (TVE 1.5 ± 1.0 mm for Vac-Loc™ vs 1.7 ± 0.7 mm for thermoplastic cast). However, in our study had different type of patients, with 60% of our cohort was with STSs lower limb while all patients of PMH are upper limb. Practically, the upper limb sarcoma is more challenging compared to lower limb sarcoma regarding reproducibility of setup.
The other important study showed comparable results to our data is the RTOG 0630 that enrolled 98 patients from 18 institutions [13]. Different fixation tools were used with IGRT; 45 patients were verified by KV imaging, as in our study. RTOG 0630 used 0.5 cm as CTV-PTV margin. The translational shifts reported in the 45 patients were − 0.5 ± 4.0 mm, 0.0 ± 2.3 mm and − 0.5 ± 3.2 mm in the lateral, longitudinal and vertical displacements respectively. These data from RTOG was in agreement with our study however; RTOG reported day-to-day set up errors of up to 20 mm in one or more directions in absence of IGRT [14].
CTV-to-PTV margins estimated in RTOG 0630 study is of great importance as it was measured for statistically sufficient number of patients using KV portal imaging and cone beam CT (CBCT). The RTOG used 15 mm for CTV-PTV margin if daily IGRT was not used, which was way larger than the 5 mm margin used in the protocol of daily IGRT. The impact of reduced margin on the toxicity was published by the same group with proven reduction of the late toxicity (15). Our study on the other hand set the margins of approximate 1 cm to 1.5 cm for Vac-Loc™ (0.82 cm vertically, 0.62 cm longitudinally and 1.29 cm in lateral direction) and approximate 0.5 to 1 cm for thermoplastic cast (0.71 cm, 0.49 cm and 0.67 cm in the vertical, longitudinal and lateral directions respectively).
The rotational displacement in our patients was 0.24 ± 0.73 in the Vac-Loc™ and 0.04 ± 0.54 in thermoplastic. The highest systemic and random rotational errors were in Vac-Loc patients (0.76º and 3.17º respectively). In PMH study, 18% of vacuum cradle with thermoplastic mask and 15% of vacuum cradle alone needed repositioning with rotation more than 5°. The RTOG 0630 found that most of their patients had a rotation less than 1.5° and based on these results, they justified the practice of applying the translational shift by using IGRT without proper correction of the rotational shift prior to that [12, 13].
Apart from 1.5° rotational displacement acceptability of RTOG and the 5° used in PMH, the concept of cut of value 3° angular displacement is popular, and we concur with this in our department. Reference to that our thermoplastic cast data that showed less than 3° rotation compared to the Vac-Loc ™ could by advisable specially in absence of 6-degree freedom couch capable for correction of rotational errors.
Limitations to our study were; (a) relatively smaller sample size, (b) we evaluated only interfractional displacement, but not intra-fractional shifts, (c) variation in tumor locations and (d) satisfaction survey for using immobilization devices was not conducted for treating radiation therapists.
Rights and permissions
Open Access This article is licensed under a Creative Commons Attribution 4.0 International License, which permits use, sharing, adaptation, distribution and reproduction in any medium or format, as long as you give appropriate credit to the original author(s) and the source, provide a link to the Creative Commons licence, and indicate if changes were made. The images or other third party material in this article are included in the article's Creative Commons licence, unless indicated otherwise in a credit line to the material. If material is not included in the article's Creative Commons licence and your intended use is not permitted by statutory regulation or exceeds the permitted use, you will need to obtain permission directly from the copyright holder. To view a copy of this licence, visit http://creativecommons.org/licenses/by/4.0/.
Disclaimer:
This article is autogenerated using RSS feeds and has not been created or edited by OA JF.

Click here for Source link (https://www.springeropen.com/)