Antibiotic prescription consistent with guidelines in emergency department is associated with 30-day survival in severe community-acquired pneumonia – BMC Emergency Medicine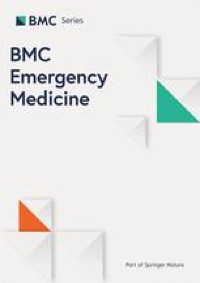 Setting and study population
This study was a retrospective analysis of adult patients with severe CAP who were hospitalized in the ED of an urban tertiary teaching hospital between September 2013 and August 2019. The inclusion criteria were adult (18 years old or older) patients who were hospitalized after the diagnosis of and treatment for CAP in the ED and met the criteria for severe CAP. Severe CAP was defined according to the criteria of the 2007 IDSA/ATS guidelines [17]. Patients who met at least one major criterion (either septic shock or respiratory failure requiring mechanical ventilation) or three or more minor criteria (respiratory rate, ≥30 breaths/min; arterial oxygen pressure/fraction of inspired oxygen [PaO2/FiO2] ratio, ≤250; multilobar infiltrates on chest X-ray or computed tomography scan; confusion or changed mental status; blood urea nitrogen level, > 20 mg/dL; leukopenia due to infection; thrombocytopenia; hypothermia; or hypotension requiring aggressive fluid resuscitation) were included.
Patients younger than 18 years of age or those who did not meet the criteria for severe CAP were excluded. Patients transferred directly from the ED to other hospitals, patients who received immunosuppressive treatment (steroids, immunosuppressive agents, or chemotherapy) within 1 month of admission, and patients who were transferred from other hospitals for pneumonia and had already received antibiotics before visiting the ED were also excluded.
The hospital has an electronic medical record and prescription system, among which antibiotics can be selected from the recommended list according to the diagnosis of infectious diseases, or antibiotics can be searched and prescribed if appropriate antibiotics are not included on the list. For CAP, these recommendations were made according to IDSA/ATS guidelines. During the period of this study, the IDSA/ATS guidelines had not been updated since 2007. Thus, the prescription of initial empirical antibiotics was judged according to the 2007 IDSA/ATS guidelines on the management of CAP in adult patients [17]. In the guidelines, for patients with severe CAP, β-lactams (cefotaxime, ceftriaxone, or ampicillin-sulbactam) plus either a macrolide or fluoroquinolone were recommended, and for patients who were allergic to penicillin, a respiratory fluoroquinolone plus aztreonam was recommended. In addition, the guidelines recommend the use of an antipseudomonal β-lactam along with azithromycin or fluoroquinolone with or without aminoglycoside due to concerns of P. aeruginosa infection, and vancomycin or linezolid is added due to concerns of MRSA infection. Thus, patients who received (non-antipseudomonal or antipseudomonal) β-lactam plus macrolide, β-lactam plus fluoroquinolone or fluoroquinolone plus aztreonam when the patients were allergic to penicillin were judged as concordant with guidelines, and other prescriptions such as β-lactam without macrolide or fluoroquinolone, fluoroquinolone without β-lactam, β-lactam plus anti-anaerobes, or carbapenem only, were judged as discordant with the guidelines.
The institutional review board of our institution approved this retrospective analysis and waived the need for informed consent (B-2101/663–108).
Data collection
Data were obtained from hospital medical records with standardized data collection forms. The data collection forms included patients' age; sex; comorbidities such as diabetes, hypertension, chronic obstructive lung disease, congestive heart failure, chronic kidney disease, chronic liver disease, neoplastic disease, and cerebrovascular disease; hemodynamic variables such as blood pressure, heart rate, respiratory rate, and body temperature; laboratory data such as complete blood count, and serum chemistry; organisms isolated from sputum and blood cultures; and initial antibiotics prescribed in the ED. It was also determined whether the patient had accompanying septic shock requiring vasopressor administration or respiratory failure requiring mechanical ventilation at the time of ED admission.
From the collected data, the pneumonia severity index (PSI) score was calculated. Data on the initial empirical antibiotics administered in the ED were collected from medical records and judged as concordant or discordant with the IDSA/ATS CAP guidelines. Data on survival at 30 days and survival duration were gathered from medical records either during hospitalization or during outpatient follow-up after discharge. The survival duration of patients who could not be confirmed through the medical record was obtained through telephone contact with the patients or surrogates.
Statistical analyses
The patients were divided into two groups according to whether they were prescribed empirical antibiotics concordant with the guidelines. Characteristics of the study subjects were summarized using the mean and standard deviation for continuous variables, and frequency and percentage for categorical variables. Multivariable Cox proportional hazard regression analysis was performed to identify the independent association between the prescription of initial empirical antibiotics concordant with the guidelines and 30-day mortality. Multivariable analysis included age, sex, and variables that differed between groups in univariable analysis.
To evaluate the effect of the prescription of guideline-concordant antibiotics by reducing selection bias, propensity score matching was used. Multivariable logistic regression analysis was used to calculate the estimated propensity score for survival at 30 days for each patient. Patient characteristics including age, sex, comorbidities, initial hemodynamic variables, laboratory results considered to be associated with disease severity or mortality such as white blood cell count, hemoglobin levels, platelet levels, blood urea nitrogen levels, creatinine levels, albumin levels, and C-reactive protein levels were included in the multivariable analysis. A propensity score analysis of 1:1 matching was performed without replacement using the nearest neighbor method with a maximum caliper of 0.4 to generate matched pairs of patients. The standardized difference was calculated to compare group differences and assess the balance of the clinical characteristics of study subjects before and after propensity score matching. To verify the survival in the matched groups, the survival curves of the two groups according to whether empirical antibiotics were administered consistent with the guidelines were plotted using the Kaplan–Meier method, and the log-rank test was performed.
All data processing and statistical analyses were performed using Stata version 15.1 (StataCorp, College Station, TX, USA). A two-tailed p value of less than 0.05 was considered statistically significant.
Rights and permissions
Open Access This article is licensed under a Creative Commons Attribution 4.0 International License, which permits use, sharing, adaptation, distribution and reproduction in any medium or format, as long as you give appropriate credit to the original author(s) and the source, provide a link to the Creative Commons licence, and indicate if changes were made. The images or other third party material in this article are included in the article's Creative Commons licence, unless indicated otherwise in a credit line to the material. If material is not included in the article's Creative Commons licence and your intended use is not permitted by statutory regulation or exceeds the permitted use, you will need to obtain permission directly from the copyright holder. To view a copy of this licence, visit http://creativecommons.org/licenses/by/4.0/. The Creative Commons Public Domain Dedication waiver (http://creativecommons.org/publicdomain/zero/1.0/) applies to the data made available in this article, unless otherwise stated in a credit line to the data.
Disclaimer:
This article is autogenerated using RSS feeds and has not been created or edited by OA JF.

Click here for Source link (https://www.biomedcentral.com/)