Breast myeloid sarcoma presenting as a palpable breast lump after allogeneic stem cell transplantation for acute myelomonocytic leukemia: a rare case report – World Journal of Surgical Oncology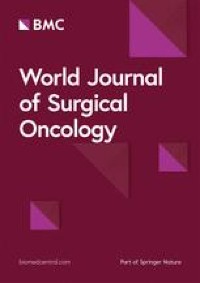 Here, we present the case of a 34-year-old female patient who was admitted to our Hematology and Bone Marrow Transplantation Center in December 2018. She had malaise, was febrile for 1 week, had no purpura or petechiae, and had no enlargement of the liver or spleen. A complete blood count (CBC) showed leukocytosis (6927/μL), anemia (hemoglobin 4.8 g/dL), and thrombocytopenia (2000/μL). In the peripheral blood smear, 56% of the cells were blasts. Bone marrow aspirate showed an excess of bone marrow primitive cells, 76% of which were blast cells, suggesting an AML myelogram. Immunophenotyping by flow cytometry revealed two leukocyte populations. A total of 68.4% of the bone marrow blast cells expressed CD13, CD117, and MPO, and some expressed HLA-DR, CD4, CD15, CD33, CD34, CD38, and CD64 and without CD61 expression. The final diagnosis was AML-M4 according to the French-American-British (FAB) AML classification, with no other description (NOS). Conventional karyotype analysis was performed on 20 metaphases, revealing that one cell had a normal karyotype (46, XX) and 19 cells had one abnormal alteration in which chromosome 16 had an interarm inversion, 46, XX, inv (16) (p13.1q22). Molecular biology testing was positive for the AML fusion gene CBFβ/MYH11 and other relevant AML genetic testing were negative including NPM1 and FLT3. According to AML risk stratification based on 2017 European LeukmiaNet (ELN), this patient is in the moderate-risk group. Then, AML induction "7+3" therapy (7 days of cytarabine (Ara-C) + 3 days of idarubicin (4-demethoxydaunorubicin)) was started, and partial remission (PR) was achieved because of minimal residual disease (MRD) of bone marrow aspiration was positive. Subsequently, the patient received one HA regimen (homoharringtonine and Ara-c) and one FLAG regimen (Flu + Ara-C + G-CSF) but still did not achieve complete remission. In July 2019, semicompatible allogeneic hematopoietic stem cell transplantation (HSCT) was performed with cells from the patient's mother, preceded by a demyeloablative regimen of BuCy (leucovorin 180 mg d-7~-5, fodarabine 50 mg d-4~-2, cyclophosphamide 1950 mg d-3~-2, anti-human T lymphocyte globulin 150 mg d-4~d-1).
In January 2020, the patient noticed multiple painless and palpable masses located in multiple quadrants of her bilateral breasts. Clinical examination showed multiple painless masses, of which one lesion was located in the left breast measuring 3.0 cm × 1.2 cm, and a large mass of approximately 2.3 cm × 1.64 cm was palpable in the right breast without enlarged lymph nodes in her axilla. Ultrasound showed multiple nodules in both breasts. The tumors were assessed as BI-RADS-3 and were not considered to be a concern by clinicians.
In March 2020, only 8 months after allogeneic HSCT, the masses in the patient's bilateral breasts developed rapidly and became large palpable tumors. The rapid growth of the tumors attracted the attention of the outpatient breast surgeon and the patient was admitted to the hospital. Laboratory tests revealed only a slight decrease in the number of white blood cells. Mammography was not performed because of discomfort caused by the patient's breast implants. No AML cells were found in the bone marrow after a bone marrow puncture.
An ultrasound revealed multiple similar well-defined hypoechoic oval lesions that were classified as BI-RADS-4a scattered throughout the breast tissue. One of the largest breast lesions was located in the left breast, measuring approximately 3.09 cm × 1.64 cm, and the smaller lesion was approximately 3.04 cm × 2.28 cm in the right breast and corresponded to the known palpable mass. In April 2020, the patient underwent a second breast ultrasound; a 4.00 cm × 1.57 cm mass was found in the left breast (Fig. 1A) and a 4.40 cm × 1.17 cm mass was found in the right breast (Fig. 1B). Additionally, hypoechoic nodules were seen in both axillae (Fig. 1C and D). A breast MRI-enhanced scan showed that all lesions were hypointense on T1-weighted images and hyperintense on T2-weighted images. After injection of gadolinium-based contrast medium, most lesions demonstrated striking enhancement and measured approximately 3-4 cm. On the other hand, the palpable bilateral breast lesions presented as enhanced masses with small patches of fluid necrosis observed in the left lesions (Fig. 1E).
An ultrasound-guided needle biopsy was performed. Microscopic examination of HE-stained slides revealed that the breast tissue was diffusely infiltrated with medium-sized malignant cells with round follicular nuclei, finely dispersed chromatin, small nucleoli, and minimal cytoplasm (Fig. 2A and B). The IHC revealed that the tumors were positive for myeloperoxidase (MPO++), CD34 (+++), CD43 (+++), CD68 (+), CD117 (+), and Ki67 (40%+), which are markers of myeloid tumors (Fig. 3A-D). Molecular biology analysis was positive for the FLTD3-ITD mutation. Histological features were consistent with extramedullary AML of both breasts. The final pathological diagnosis was MS due to extramyeloid recurrence of leukemia.
Chemotherapy was resumed, and the patient received the interleukin-2 (IL-2) + decitabine + thalidomide regimen once, the azacitidine + cytarabine + IL-2 regimen twice, the methotrexate (MTX) regimen once, the MA (MTX + cytarabine) regimen once, and 11 doses of 50 mg intrathecal cytarabine. It happened to a certain extent of the skin rejection; however, basically disappeared after the treatment of dexamethasone. MR imaging showed that the patient had significantly smaller breast masses and a significantly smaller cranial occupancy than before (Fig. 4A), with a new signal in the left frontal lobe and corpus callosum in October 2020 (Fig. 4B). MTX + venetoclax chemotherapy was given again in combination with intrathecal injections of cytarabine. The patient had a slight reduction in occupancy (Fig. 4C) in December 2020. On March 27, 2021, the patient presented at the emergency room with lethargy. A head MRI scan showed that the patient had multiple lesions in the brain parenchyma on both sides, suggesting AML invasion (Fig. 4D). On March 29, 2021, the patient died of intracranial invasion of AML, brain herniation, and respiratory failure. In order to show the patient's disease treatment process more clearly, we drew a timeframe regarding the treatment of the disease (Fig. 5).
Rights and permissions
Open Access This article is licensed under a Creative Commons Attribution 4.0 International License, which permits use, sharing, adaptation, distribution and reproduction in any medium or format, as long as you give appropriate credit to the original author(s) and the source, provide a link to the Creative Commons licence, and indicate if changes were made. The images or other third party material in this article are included in the article's Creative Commons licence, unless indicated otherwise in a credit line to the material. If material is not included in the article's Creative Commons licence and your intended use is not permitted by statutory regulation or exceeds the permitted use, you will need to obtain permission directly from the copyright holder. To view a copy of this licence, visit http://creativecommons.org/licenses/by/4.0/. The Creative Commons Public Domain Dedication waiver (http://creativecommons.org/publicdomain/zero/1.0/) applies to the data made available in this article, unless otherwise stated in a credit line to the data.
Disclaimer:
This article is autogenerated using RSS feeds and has not been created or edited by OA JF.

Click here for Source link (https://www.biomedcentral.com/)