Cannabis related side effects in otolaryngology: a scoping review – Journal of Otolaryngology – Head & Neck Surgery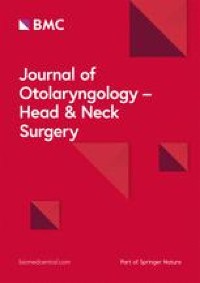 Study selection
A study flow diagram is shown in Fig. 1. The comprehensive database search identified 614 articles and 12 additional articles were identified through the hand searching of reference lists. After removal of duplicates, 521 abstracts were screened. Full-text review of 117 articles excluded a further 69 articles. In total, 48 articles met the inclusion criteria and underwent data extraction and analysis.
Characteristics of included studies
Detailed characteristics of the 48 studies included are described in Table 1. Among the included studies there were: 17 case–control studies, 14 cross-sectional studies, 6 cohort studies, 6 case series, and 5 randomized controlled trials (RCTs). There was significant heterogeneity in study design, objective, and strength of the evidence reported. Quality of the literature ranged from level two to four, as shown in Table 1. The sample size of participants in the included studies ranged from 5 to 29,195. The amount of cannabis consumption was reported by the majority of studies (33). A total of 12 studies expressed cannabis consumption in joint-years, defined as the number of joints smoked per day, multiplied by the duration in years. This ranged from < 1 to 62.1 joint-years. Studies not expressing cannabis consumption in joint-years either failed to report the amount of cannabis use or instead reported frequency or weight of cannabis consumption. A large proportion of participants in the included studies also reported tobacco use in addition to cannabis consumption, ranging from 0 to 89.1%. All included articles reported on at least one otolaryngology related side effect following cannabis exposure.
Subspecialty synthesis
A wide variety of otolaryngology subspecialties were represented (Fig. 2). Below is a synthesis of the results and highlights of themes, trends, and gaps categorized by subspecialty.
Head and neck
The most studies were published in head and neck (H&N) (n = 32), with the majority evaluating cannabis' association with H&N malignancy (n = 24) [16,17,18,19,20, 25, 26, 28,29,30, 32, 37, 39, 40, 42, 45, 46, 49, 50, 55, 59,60,61,62]. Eleven studies reported an increased risk of H&N malignancy following cannabis exposure. Conversely, 12 studies reported no change in risk and two studied reported a decreased risk of H&N cancer following cannabis use. In general, cannabis exposure (via smoking) was associated with increased risk of oropharyngeal carcinoma [30, 42, 59], while oral cavity carcinoma risk was unaffected [32, 39, 40, 42]. This effect appeared to be dose dependant in nature, where low-moderate use had a reduced effect on carcinoma development [37, 42], while higher lifetime use associated a greater risk of malignancy [30, 60].
Eight studies described an association between cannabis and H&N infection, for example, human papilloma virus (HPV) and aspergillus [24, 26, 27, 30, 35, 36, 45, 59]. Three studies reported a positive association between HPV and cannabis exposure [24, 30, 59], while three studied reported no association [26, 35, 45]. Four studies identified the effect of cannabis use on thyroid function [21, 34, 41, 47]. One study reported no association [21] and three study showed a significant association [34, 41, 47].
Overall, forming a firm conclusion on the effects of cannabis in H&N may be challenging, as many studies reported opposing findings. For example, Berthiller et al. described no association between cannabis use and the risk of H&N cancer [19]. However, Zhang et al. provided evidence for a strong dose–response pattern between cannabis use and the risk of H&N malignancy, while also reporting a synergistic effect of cannabis use and cigarette smoking on cancer risk [61]. This area was an unresolved knowledge gap in this scoping review.
Level of evidence: Mostly 4.
Otology
The second most studied subspeciality area was otology, where eight studies evaluated cannabis' association with hearing loss (n = 6), vestibular dysfunction (n = 3) and tinnitus (n = 2) [22, 31, 38, 44, 51, 52, 57, 58]. Please note that one study may have addressed several otologic side effects. Exposure to cannabis was also shown to promote changes in the auditory pathway and alter the function of outer hair cells, while chronic use of cannabis at high doses showed significant changes in vestibular function [22, 52, 57, 58]. There were several excellent basic science otology studies, however, they were excluded because the goal was to keep a clinical focus for this review. Four of the eight otology studies were randomized controlled trials, so the level of evidence was highest for this subspecialty area.
Level of Evidence: 2 and 4.
Rhinology
In rhinology, all five studies reported positive association between sinusitis (n = 4) and allergic rhinitis (n = 2) [31, 33, 53, 56, 63]. One rhinology study evaluated both diagnoses [56]. Cannabis smoking was associated with sinusitis in a large retrospective analysis of the US National Survey on Drug Use and Health database (n = 29,195), which was the largest sample size of all the studies in this scoping review [31]. Stokes et al. provided evidence to support cannabis as a clinically relevant aeroallergen on multi-test skin testing [53]. There was the least controversy in this subspecialty area.
Level of Evidence: 3 and 4.
Airway
Five studies reported cannabis and its associations with upper airway issues, including sleep apnea (n = 3) and dyspnea (n = 2) [23, 31, 48, 54, 63]. Four studies described no change in risk following cannabis exposure and one study reported an increased risk. Primary evidence supports cannabinoids as a promising and safe treatment option for OSA [48]. One of the randomized controlled trials also concluded that there was no significant difference in adverse events between patients who were treated with cannabis and placebo [23]. A recent position statement by the American Academy of Sleep Medicine, however, recommended against medical cannabis for the treatment of OSA due to unreliable delivery methods and insufficient evidence of effectiveness, tolerability, and safety [64].
Level of Evidence: 2, 3, and mostly 4.
Laryngology
Only one study in laryngology explored the effect of cannabis on the voice [43]. This older study published in 1980 reported that marijuana users did not differ perceptually from non-smokers and cigarette smokers, and objective voice analysis was also similar. Darker vocal folds were seen on laryngoscopy. This subspecialty was the weakest with the largest knowledge gap.
Level of evidence: 4.
Risk of bias assessment
Overall risk of bias for all RCTs was determined to be high, with some concerns in two studies, and low in the remaining three randomized studies ("Appendix B"). Bias in nonrandomized trials was moderate in 21 studies, serious in 12, and critical in 10 studies ("Appendix C"). The major sources of bias among serious and critical studies were due to selection bias, deviations from intended interventions, confounding and inappropriate methods to control for measured confounders. The majority of nonrandomized studies demonstrated appropriate measurement of outcomes and reporting of outcome data.
Rights and permissions
Open Access This article is licensed under a Creative Commons Attribution 4.0 International License, which permits use, sharing, adaptation, distribution and reproduction in any medium or format, as long as you give appropriate credit to the original author(s) and the source, provide a link to the Creative Commons licence, and indicate if changes were made. The images or other third party material in this article are included in the article's Creative Commons licence, unless indicated otherwise in a credit line to the material. If material is not included in the article's Creative Commons licence and your intended use is not permitted by statutory regulation or exceeds the permitted use, you will need to obtain permission directly from the copyright holder. To view a copy of this licence, visit http://creativecommons.org/licenses/by/4.0/. The Creative Commons Public Domain Dedication waiver (http://creativecommons.org/publicdomain/zero/1.0/) applies to the data made available in this article, unless otherwise stated in a credit line to the data.
Disclaimer:
This article is autogenerated using RSS feeds and has not been created or edited by OA JF.

Click here for Source link (https://www.biomedcentral.com/)