Case report: a 5-year-old with new onset nephrotic syndrome in the setting of COVID-19 infection – BMC Nephrology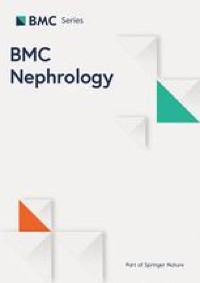 Clinical presentation
A 5-year old, previously healthy female was admitted to the hospital in December 2020 with a 2-week history of periorbital swelling, with progressive involvement of abdominal and ankle swelling. Prior to admission, the child had developed isolated left eye swelling which was not associated with any other symptoms or vision changes. A week later, evaluation at her primary care physician (PCP)'s office was notable for 4+ protein on urinalysis. The child was then referred to pediatric nephrology for further evaluation and management. In the renal clinic, on examination she was noted to have moderate abdominal swelling with ascites and pretibial edema. She had further gained 2 kg of weight since her visit to the pediatrician's office 1 week prior. The child's mother denied any recent illnesses such as fevers, chills, cough, rhinorrhea, congestion, nausea, vomiting, sore throat, gross hematuria, or diarrhea, and there were no known sick contacts. There was no known family history of kidney diseases.
Laboratory findings
Urine analysis revealed 3+ proteinuria with no blood (Table 1). Spot urine protein was greater than 2 g/dL and urine protein-to-creatinine ratio greater than 12 mg/mg, which suggested the presence of nephrotic-range proteinuria. The patient had mild hyponatremia with serum sodium of 133 mmol/L. Serum creatinine was 0.27, and BUN was 20. Serum albumin was 2 g/dL, total cholesterol elevated at 307 mg/dL, elevated triglycerides at 644 mg/dL, with normal complements C3 and C4 at 87 mg/dL and 21 mg/dL, respectively. Our patient's blood work was also notable for elevated D-dimer 2.49 (normal < 0.4 Ug/mL) and partial thromboplastin time (PTT) 39.1 (25.6–32.4) seconds. She had a mildly elevated TSH (5.6 IU/mL) with a normal free T4 (0.9 ng/dL), a low 25-hydroxy vitamin D level, and a low ferritin of 29. Of note, the surveillance COVID-19 testing (RT-PCR, performed via nasopharyngeal swab), which was performed as part of the general hospital admission process during the time of this case report, returned positive for SARS-CoV-2, and further immunoglobulin (Ig) testing was positive for both IgM and IgG antibodies. The SARS-CoV-2 RT-PCR nasopharyngeal swab test was performed using the Hologic Aptima SARS-CoV-2 Assay (approved for emergency use authorization by the US FDA), and the SARS-CoV-2 immunoglobulin testing was performed on the Abbott Architect i1000 platform (approved for emergency use authorization by the FDA).
Clinical course and outcome
The patient received intravenous 25% albumin and furosemide for diuresis, with excellent response. In addition to a fluid and sodium restriction, she started on oral vitamin D supplements and following a negative purified protein derivative (PPD) skin test, she started corticosteroid therapy at 2 mg/kg per day. Throughout her four-day hospital stay, patient remained asymptomatic from COVID-19 perspective. Her vital signs were stable throughout admission (temperature: 36.1–36.9 C, pulse: 79–107 beats per minute, respiratory rate: 14–22 breaths per minute, SpO2: 97–100% on room air). Although our patient was at an increased risk for hypercoagulability from both nephrotic syndrome and COVID-19 infection, we did not initiate anticoagulation therapy. Patient was discharged home after 4 days at only 700 g (0.7 kg) above her baseline weight, as estimated by her recent weight at a PCP visit 2 months prior to admission.
Patient was in complete remission within 3 weeks of starting corticosteroids and urine protein was still negative after 6 weeks of therapy. Her coagulation profile and thyroid studies normalized without intervention; however, she remains positive for both IgM and IgG SARS-Cov-2 antibodies. Despite these positive results, she had still remained asymptomatic from a COVID-19 perspective at her follow up visit.
Rights and permissions
Open Access This article is licensed under a Creative Commons Attribution 4.0 International License, which permits use, sharing, adaptation, distribution and reproduction in any medium or format, as long as you give appropriate credit to the original author(s) and the source, provide a link to the Creative Commons licence, and indicate if changes were made. The images or other third party material in this article are included in the article's Creative Commons licence, unless indicated otherwise in a credit line to the material. If material is not included in the article's Creative Commons licence and your intended use is not permitted by statutory regulation or exceeds the permitted use, you will need to obtain permission directly from the copyright holder. To view a copy of this licence, visit http://creativecommons.org/licenses/by/4.0/. The Creative Commons Public Domain Dedication waiver (http://creativecommons.org/publicdomain/zero/1.0/) applies to the data made available in this article, unless otherwise stated in a credit line to the data.
Disclaimer:
This article is autogenerated using RSS feeds and has not been created or edited by OA JF.

Click here for Source link (https://www.biomedcentral.com/)