Chemotherapy-triggered changes in stromal compartment drive tumor invasiveness and progression of breast cancer – Journal of Experimental & Clinical Cancer Research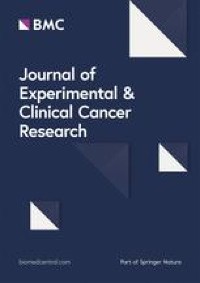 Cell Cultures
Human mammary gland adenocarcinoma cell lines MDA-MB-231 (ATCC® HTB-26™, further as MDA), JIMT-1 (DSMZ no.: ACC 589, further as JIMT) and T-47D (ATCC® HTB-133™, further as T47D) were transduced with IncuCyte® NucLight Lentivirus Reagents (Essen BioScience, Ann Arbor, MI, USA) to express a nuclear red fluorescent protein (mKate2) for visualization in co-culture experiments – except for Gap-Junctional Intercellular Communication (GJIC) evaluation described below, where parental cells were used.
MSC were isolated from the breast adipose tissue of healthy women. Biopsy samples ranging from 3–10 cm3 were obtained during plastic surgeries. All donors provided informed consent and all procedures were approved by the Ethics Committee of the Ruzinov University Hospital. MSC were isolated by plastic adherence technique and subsequently characterized as previously described in Plava et al. [19], and used before reaching the 10th passage.
Breast cancer cell lines were cultured in high-glucose (4.5 g/L) Dulbecco's modified Eagle medium (DMEM, PAA Laboratories GmbH, Pasching, Austria) supplemented with 10 % fetal bovine serum (FBS, Biochrom AG, Berlin, Germany), 2 mM glutamine (PAA Laboratories GmbH), 10 000 IU/mL penicillin (Biotica, Part. Lupca, Slovakia), 5 µg/mL streptomycin (PAA Laboratories GmbH) and 2.5 µg/mL amphotericin B (Sigma-Aldrich, Taufkirchen, Germany). After isolation, the MSC were maintained in low-glucose (1 g/L) DMEM (PAA Laboratories GmbH) supplemented with the same concentration of serum and antibiotics. All cells were maintained at 37 °C in a humidified atmosphere and 5 % CO2. If stated, MSC were exposed to DOX 50 ng/ml (DOX-MSC) or PAC 4 ng/ml (PAC-MSC) for 48 h.
Drug Sensitivity Assay
To evaluate the chemosensitivity to DOX and PAC, MSC were seeded in 96-well plates in triplicates (5 × 103 MSC/well). Twenty-four hours later, the cells were exposed to DOX (50 ng/ml; Sigma-Aldrich) or PAC (4 ng/ml; Selleck Chemicals, Houston, USA) and cultured for 48 h. Concentrations were selected based on IC50 values of breast cancer cells. Cell viability after exposure was measured using CellTiter-Glo® Luminescent Cell Viability Assay (Promega Corporation, Madison, WI, USA) according to the manufacturer´s protocol and measured on GloMax® Discover System (Promega Corporation). Values were expressed as means of replicates ± SD. Luminescence of unexposed cells served as a reference. Experiments were repeated 3x and representative results are shown.
Cytokines Determination
Secretion of human cytokines and chemokines was analyzed using the Proteome Profiler Human XL Cytokine Array Kit (for determination of MSC cytokines) or Proteome Profiler Human Cytokine Array Kit (for co-culture experiments) (both R&D Systems™, Minneapolis, MN, USA). MSC were exposed to the DOX 50 ng/ml or PAC 4 ng/ml for 48 h. Serum-free conditioned medium harvested from 2 × 105 MSC (unexposed, DOX-MSC, PAC-MSC), or in case of co-culture experiments from 2 × 105 JIMT/MDA/T47D + 1 × 105 MSC after 2 days and subsequently loaded on the membranes spotted with cytokine antibodies. Membranes were scanned on Li-Cor Oddysey Fc Imaging System (Li-Cor Corporation, USA) and quantitatively evaluated using ImageJ software (NIH, Bethesda, MD, USA).
Enzyme-Linked Immunosorbent Assay (ELISA)
Protein levels of Dkk-1 were determined using Human Dkk-1 Quantikine ELISA Kit (R&D Systems™). A serum-free conditioned culture medium obtained from 1 × 105 MSC (unexposed or exposed to DOX or PAC for 48 h) was used in the assay according to the manufacturer´s protocol. Absorbance was measured on the xMark™ Microplate Absorbance Spectrophotometer (Bio-Rad Laboratories Ltd, Watford, UK).
Gap-Junctional Intercellular Communication
GJIC between breast tumor cells and MSC was detected by a fluorescent dye transfer as described previously [20]. Stained monolayer of MSC (unexposed or exposed to DOX or PAC for 48 h) was mixed in a 1:1 ratio with stained cancer cells and seeded on a 6-well plate (500,000 cells/well) for a 24-hour co-culture. Co-cultures were washed with PBS, detached with Accutase® (Sigma-Aldrich) and the dye transfer was measured on BD FACSCanto™ II Flow cytometer (Becton Dickinson, USA) equipped with the FacsDiva program. The fresh mix of MSC and tumor cells were used as a control of GJIC formation. Data were analyzed by FCS Express Flow Cytometry Software (De Novo Software, Pasadena, CA, USA).
Evaluation of the chemotherapy-exposed MSC effect on cancer cell proliferation
Kinetic evaluation of the cancer cell proliferation in a co-culture with MSC (unexposed or exposed to DOX or PAC for 48 h)was based on the tumor cells' red nuclei counting using IncuCyte ZOOM™ kinetic imaging system (Essen BioScience). Cells were seeded together in a 2:1 ratio in quadruplicates (2 × 103 cancer cells + 1 × 103 MSC) on a 96-well plate in standard culture medium. Each well was imaged every two hours until the cells reached confluence. The tumor cell number was evaluated by IncuCyte ZOOM™ software (Essen BioScience) based on the enumeration of tumor cells' expressing nuclear red fluorescent protein by kinetic imaging scanning. The values are expressed as means of replicates ± SD.
In Vivo Experiments
Six-week-old female SCID/Beige mice (Charles River, Germany) were used in accordance with institutional guidelines and approved protocols. The animals were bilaterally subcutaneously injected with a mixture of 5 × 105 MSC (unexposed, DOX-MSC, PAC-MSC) and 1 × 106 MDA cells re-suspended in 100 µL serum-free DMEM diluted 1:1 with extracellular (ECM) gel (Sigma-Aldrich).
For both in vivo experiments, the animals were divided into four groups: (1) control group of MDA alone (n = 5 in the first experiment, and n = 6 in the second one); (2) MDA co-injected with unexposed MSC (n = 4, n = 6); (3) MDA co-injected with DOX-MSC (n = 5, n = 6); and (4) MDA co-injected with PAC-MSC (n = 5, n = 6). The animals were regularly inspected for tumor growth, and were sacrificed according to the ethical guidelines when the tumor volume exceeded 1 cm3. Throughout the experiment, the tumors were measured by a caliper, and tumor volume was calculated based on the following formula: tumor volume (mm3) = 0.52 × ((width + length)/2)3. The results were evaluated as the mean of tumor weight or tumor volume. The tumor weights were measured at the end of the experiment. The tumors were fresh frozen for molecular analysis or formalin-fixed for histological and immuno-histochemical analyses as described below.
To detect metastatic cells, excised lungs were evaluated for the red fluorescent signal emitted by MDA cells using an IVIS system (In vivo Imaging System, Caliper Life Sciences, MA, USA). Image sequences were acquired for two pairs of lungs from each tested group at 14 combinations of excitation and emission filters, at field of view B (FOV B). Spectral unmixing was performed to separate the specific fluorescent signal emitted by the fluorophore and tissue autofluorescence. All lungs were marked as separate Regions of Interest (ROIs), and the fluorescent signal was integrated over the whole ROI area and expressed as total radiant efficiency. This variable is normalized and allows the comparison between different images.
For quail chorioallantoic membrane (CAM) model fertilized Japanese quail (Coturnix japonica) eggs from a breeding colony (Laying Line 01, Institute of Animal Biochemistry and Genetics, Centre of Biosciences, Slovak Academy of Sciences) were processed as previously described in Debreova at al. [21]. The cells (1 × 106 of tumor cells + 5 × 105 unexposed/exposed MSC) were applied into a silicone ring (6 mm) placed on the CAM surface on embryonic day 7 (ED7). After 72 h, CAM images were obtained using Canon DS126291 camera. Afterward, the embryos were fixed with 4 % paraformaldehyde/2 % glutaraldehyde for 24 h at room temperature. The CAMs of fixed embryos were carefully dissected, mounted without folds onto glass slides and dried for analysis of angiogenesis.
Changes in blood vessels were quantified by the fractal analysis providing the fractal dimension (Df) estimate. The CAMs were illuminated using a transilluminator as a source of homogenous light and photographed (Canon DS126291). The subsequent image processing was performed as described in Vyboh et al. [22]. The fractal coefficient was analyzed with ImageJ software and calculated following the procedures described by Parsons-Wingerter et al. [23, 24].
Histological and Immunohistochemical (IHC) Staining
Formalin-fixed, paraffin-embedded tumor tissues were cut into 5 µm sections, processed as described previously in Plava et al. [19] and double stained with anti-human Ki-67 MIB-1 and anti-human Vimentin (FLEX, DAKO, Carpinteria, CA, USA). Ki-67 positive staining was visualized by 3,3'- Diaminobenzidine (DAB substrate-chromogen solution, DAKO) for 5 min (brown color). Vimentin positive staining was visualized by Magenta (EnVision FLEX HRP Magenta Substrate Chromogen, DAKO) for 8 min (red color). Staining patterns were analyzed with Axio Scope A1, Zeiss microscope with Axiocam 105 color.
For analysis of neural infiltration, the tumor sections were stained with hematoxylin and eosin (HE) and immunohistochemically stained with two different polyclonal antibodies identifying nerve tissue; anti-S100 protein antibody, ready for use (DAKO) and anti-PGP9.5 protein antibody (Abcam, Cambridge, UK) in 1:200 dilution. For the detection of epithelial-to-mesenchymal transition (EMT), SLUG (Santa Cruz, A-7, Santa Cruz Biotechnology) diluted 1:50 in Dako REAL antibody diluent (DAKO) and anti-vimentin RTU antibody (DAKO). Macrophages were visualized using the anti-CD68 RTU antibody (DAKO) The immuno-reactivity was visualized with En-Vision kit (DAKO) and the peroxidase reaction product was developed with diamino benzidine (DAKO). The location and intensity of the nerve tissue markers S100 and PGP9.5 expressions were evaluated in light microscope Eclipse 80i (Nikon Corporation, Tokyo, Japan).
Histological and morphometric evaluation
Infiltration extent of the tumor into surrounding adipose tissue was evaluated in the initial and the last tissue section after sectioning of slices for immunohistochemistry. The slides were stained with HE and the percentage with infiltrative interface of the whole tumor perimeter was morphometrically established (ImageJ 1.38).
Stained tumor and the adjacent adipose tissue nerve structures cross-section area up to 2 mm from the tumor surface was measured through two-dimensional picture analysis after slides digitization (ImageJ 1.38). The sum of the stained nerve areas was expressed as the percentage of the tumor section area in each experimental group.
Neutrophilic granulocytes were detected based on detection of enzymatic activity of chloracetate esterase (CHAE) with the substrate α-naphtol-AS-D-chloroacetate (Sigma-Aldrich).
Gene Expression Arrays
To analyze the expression of 84 metastasis-related genes in mice tumors, RT² Profiler™ PCR Array Human Tumor Metastasis (PAHS-028ZD) was employed (Qiagen, Hilden, Germany). RNA was isolated by RNeasy® Lipid Tissue Mini Kit (Qiagen) and reverse transcription was performed using RT2 First Strand Kit (Qiagen). Quantitative real-time PCR was performed using SYBR® Green qPCR Mastermix (Qiagen) and Bio-Rad CFX96™ Touch Real-Time PCR Detection system (Bio-Rad Laboratories Ltd). The CT cut-off was set at 35, and targets expressed at very low quantities or undetected in the control group were excluded from further analysis. The ΔCt values for each group were averaged and used for fold-change calculations. Relative quantification of gene expression by ΔΔCt method was performed using expression profile of tumors from "MDA only" group as a control. Only genes whose expression exceeded 2.5-fold are shown in the graph.
Statistical analysis
SPSS software package version 23 (IBM SPSS, Inc., Chicago, IL, US) and Graph Pad Prism 8.0.1. software (La Jolla, CA, USA) were used for statistical analysis. The normality of data distribution was assessed by the Shapiro-Wilk test. One-way analysis of variance (ANOVA) with Post-Hoc tests (Bonferroni or Dunnett T3 test) depending on assumed variances was used to compare differences in measured variables between exposed and control groups. Tukey's multiple comparisons test was applied for analysis of IHC data. The effect of individual exposures on cell viability and tumor volume over several time points was evaluated using a general linear model for repeated measures. Statistical analysis of qPCR data was performed using relative expression software tool REST (REST 2009-RG Mode, Qiagen, Hilden, Germany) developed by Pfaffl et al. [25]. The p values < 0.05 were considered to be statistically significant.
Rights and permissions
Open Access This article is licensed under a Creative Commons Attribution 4.0 International License, which permits use, sharing, adaptation, distribution and reproduction in any medium or format, as long as you give appropriate credit to the original author(s) and the source, provide a link to the Creative Commons licence, and indicate if changes were made. The images or other third party material in this article are included in the article's Creative Commons licence, unless indicated otherwise in a credit line to the material. If material is not included in the article's Creative Commons licence and your intended use is not permitted by statutory regulation or exceeds the permitted use, you will need to obtain permission directly from the copyright holder. To view a copy of this licence, visit http://creativecommons.org/licenses/by/4.0/. The Creative Commons Public Domain Dedication waiver (http://creativecommons.org/publicdomain/zero/1.0/) applies to the data made available in this article, unless otherwise stated in a credit line to the data.
Disclaimer:
This article is autogenerated using RSS feeds and has not been created or edited by OA JF.

Click here for Source link (https://www.biomedcentral.com/)