Concurrent coronary artery and subclavian arterial aneurysms in Takayasu arteritis – Egyptian Journal of Radiology and Nuclear Medicine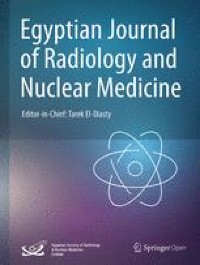 Coronary artery involvement in Takayasu arteritis has been documented in up to 10% of cases [2]. This may occur as coronary stenosis, occlusion, diffuse or focal coronary arteritis or aneurysm formation [3]. Coronary artery aneurysm formation is distinctly uncommon in aortoarteritis, with fewer than 1.5% of Takayasu arteritis cases associated with it [4].Multiple mechanisms have been postulated for aneurysm formation in this scenario, one being accelerated atherosclerosis (following Systemic hypertension and systemic inflammatory response occurring in Takayasu Arteritis) and the other due to Arteritis proper [5, 6]. The chronic inflammation involving large to medium sized arteries and related edema have also been documented to result in active vasculitis leading to coronary and vascular lesions [5]. It is believed that the majority of coronary lesions in aortoarteritis are related to the extension of chronic aortic inflammation into the coronary media and adventitia, as substantiated by predominant ostial coronary involvement. [5]It is known that coronary artery aneurysms are associated with increased mortality [6]. While in general, coronary artery aneurysms have been most commonly noted in the RCA, both the left and right have been equally implicated in coronary aneurysms in Takayasu arteritis (Fig. 2) [7, 8].
Other diseases which may present with peripheral arterial aneurysm and in the setting of coronary artery aneurysm are Kawasaki disease, atherosclerosis and polyarteritis nodosa. However, characteristic involvement of the aorta and its branches in our case clinched the diagnosis of Takayasu arteritis.
While aneurysmal involvement of the aorta is common in aortoarteritis, subclavian artery aneurysm is extremely rare [9]. The subclavian arteries generally show stenotic involvement of the proximal or middle third in aortoarteritis. In the index case, there was aneurysmal involvement of the ostioproximal left subclavian artery with short segment occlusion distal to it. Distally the subclavian artery assumed normal caliber with contribution from cervical collaterals Fig. 1c.
Identification of disease activity is also important in these situations for which MR contrast administration and T2 weighted imaging are useful. [10]. Interventions are deferred in the active phase of the disease.
Rights and permissions
Open Access This article is licensed under a Creative Commons Attribution 4.0 International License, which permits use, sharing, adaptation, distribution and reproduction in any medium or format, as long as you give appropriate credit to the original author(s) and the source, provide a link to the Creative Commons licence, and indicate if changes were made. The images or other third party material in this article are included in the article's Creative Commons licence, unless indicated otherwise in a credit line to the material. If material is not included in the article's Creative Commons licence and your intended use is not permitted by statutory regulation or exceeds the permitted use, you will need to obtain permission directly from the copyright holder. To view a copy of this licence, visit http://creativecommons.org/licenses/by/4.0/.
Disclaimer:
This article is autogenerated using RSS feeds and has not been created or edited by OA JF.

Click here for Source link (https://www.springeropen.com/)