Does overnight duty affect vascular endothelial function? – BMC Cardiovascular Disorders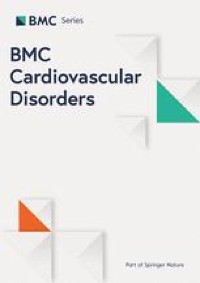 1.
Widlansky ME, Gokce N, Keaney JF, Vita JA. The clinical implications of endothelial dysfunction. J Am Coll Cardiol. 2003;42(7):1149–60.
2.
Ross R. The pathogenesis of atherosclerosis: a perspective for the 1990s. Nature. 1993;362(6423):801–9.
3.
Bonetti PO, Lerman LO, Lerman A. Endothelial dysfunction: a marker of atherosclerotic risk. Arterioscler Thromb Vasc Biol. 2003;23(2):168–75.
4.
Yeboah J, Folsom AR, Burke GL, Johnson C, Polak JF, Post W, Lima JA, Crouse JR, Herrington DM. Predictive value of brachial flow-mediated dilation for incident cardiovascular events in a population-based study: the multi-ethnic study of atherosclerosis. Circulation. 2009;120(6):502–9.
5.
Lind L, Berglund L, Larsson A, Sundström J. Endothelial function in resistance and conduit arteries and 5-year risk of cardiovascular disease. Circulation. 2011;123(14):1545–51.
6.
Tanaka A, Tomiyama H, Maruhashi T, Matsuzawa Y, Miyoshi T, Kabutoya T, Kario K, Sugiyama S, Munakata M, Ito H, et al. Physiological diagnostic criteria for vascular failure. Hypertension. 2018;72(5):1060–71.
7.
Benjamin EJ, Larson MG, Keyes MJ, Mitchell GF, Vasan RS, Keaney JF, Lehman BT, Fan S, Osypiuk E, Vita JA. Clinical correlates and heritability of flow-mediated dilation in the community: the Framingham Heart Study. Circulation. 2004;109(5):613–9.
8.
Hamburg NM, Keyes MJ, Larson MG, Vasan RS, Schnabel R, Pryde MM, Mitchell GF, Sheffy J, Vita JA, Benjamin EJ. Cross-sectional relations of digital vascular function to cardiovascular risk factors in the Framingham Heart Study. Circulation. 2008;117(19):2467–74.
9.
Schnabel RB, Schulz A, Wild PS, Sinning CR, Wilde S, Eleftheriadis M, Herkenhoff S, Zeller T, Lubos E, Lackner KJ, et al. Noninvasive vascular function measurement in the community: cross-sectional relations and comparison of methods. Circ Cardiovasc Imaging. 2011;4(4):371–80.
10.
Laurent S, Lacolley P, Brunel P, Laloux B, Pannier B, Safar M. Flow-dependent vasodilation of brachial artery in essential hypertension. Am J Physiol. 1990;258(4 Pt 2):H1004–11.
11.
Kuvin JT, Patel AR, Sliney KA, Pandian NG, Sheffy J, Schnall RP, Karas RH, Udelson JE. Assessment of peripheral vascular endothelial function with finger arterial pulse wave amplitude. Am Heart J. 2003;146(1):168–74.
12.
Rasmussen JG, Eschen RB, Aardestrup IV, Dethlefsen C, Griffin BA, Schmidt EB. Flow-mediated vasodilatation: variation and interrelationships with plasma lipids and lipoproteins. Scand J Clin Lab Invest. 2009;69(1):156–60.
13.
De Roos NM, Bots ML, Schouten EG, Katan MB. Within-subject variability of flow-mediated vasodilation of the brachial artery in healthy men and women: implications for experimental studies. Ultrasound Med Biol. 2003;29(3):401–6.
14.
Sejda T, et al. R: limitations of non-invasive endothelial function assessment by brachial artery flow-mediated dilatation. Clin Physiol Funct Imaging. 2005;25(1):58–61.
15.
Matsuzawa Y, Sugiyama S, Sumida H, Sugamura K, Nozaki T, Ohba K, Matsubara J, Kurokawa H, Fujisue K, Konishi M, et al. Peripheral endothelial function and cardiovascular events in high-risk patients. J Am Heart Assoc. 2013;2(6):e000426.
16.
Kop WJ, Appels AP, et al. Vital exhaustion predicts new cardiac events after successful coronary angioplasty. Psychosom Med. 1994;56(4):281–7.
17.
Naess H, Nyland HI, Thomassen L, Aarseth J, Myhr KM. Fatigue at long-term follow-up in young adults with cerebral infarction. Cerebrovasc Dis. 2005;20(4):245–50.
18.
Naess H, Waje-Andreassen U, Thomassen L, Nyland H, Myhr KM. Health-related quality of life among young adults with ischemic stroke on long-term follow-up. Stroke. 2006;37(5):1232–6.
19.
Alboni P, Favaron E, Paparella N, Sciammarella M, Pedaci M. Is there an association between depression and cardiovascular mortality or sudden death? J Cardiovasc Med (Hagerstown). 2008;9(4):356–62.
20.
Ketterer MW, Knysz W, Keteyian SJ, Schairer J, Jafri S, Alam M, Farha AJ, Deveshwar S. Cardiovascular symptoms in coronary-artery disease patients are strongly correlated with emotional distress. Psychosomatics. 2008;49(3):230–4.
21.
Yeo TW, Lampah DA, Gitawati R, Tjitra E, Kenangalem E, McNeil YR, Darcy CJ, Granger DL, Weinberg JB, Lopansri BK, et al. Impaired nitric oxide bioavailability and L-arginine reversible endothelial dysfunction in adults with falciparum malaria. J Exp Med. 2007;204(11):2693–704.
22.
Yinon D, Lowenstein L, Suraya S, Beloosesky R, Zmora O, Malhotra A, Pillar G. Pre-eclampsia is associated with sleep-disordered breathing and endothelial dysfunction. Eur Respir J. 2006;27(2):328–33.
23.
Bonetti PO, Barsness GW, Keelan PC, Schnell TI, Pumper GM, Kuvin JT, Schnall RP, Holmes DR, Higano ST, Lerman A. Enhanced external counterpulsation improves endothelial function in patients with symptomatic coronary artery disease. J Am Coll Cardiol. 2003;41(10):1761–8.
24.
Farinatti P, Neto SR, Dias I, Cunha FA, Bouskela E, Kraemer-Aguiar LG. Short-term resistance training attenuates cardiac autonomic dysfunction in obese adolescents. Pediatr Exerc Sci. 2016;28(3):374–80.
25.
Hasdai D, Lerman A. The assessment of endothelial function in the cardiac catheterization laboratory in patients with risk factors for atherosclerotic coronary artery disease. Herz. 1999;24(7):544–7.
26.
Pinter A, Horvath T, Sarkozi A, Kollai M. Relationship between heart rate variability and endothelial function in healthy subjects. Auton Neurosci. 2012;169(2):107–12.
27.
Carlson SH, Wyss JM. Neurohormonal regulation of the sympathetic nervous system: new insights into central mechanisms of action. Curr Hypertens Rep. 2008;10(3):233–40.
28.
Chowdhary S, Townend JN. Nitric oxide and hypertension: not just an endothelium derived relaxing factor! J Hum Hypertens. 2001;15(4):219–27.
29.
Chowdhary S, Vaile JC, Fletcher J, Ross HF, Coote JH, Townend JN. Nitric oxide and cardiac autonomic control in humans. Hypertension. 2000;36(2):264–9.
30.
Young CN, Fisher JP, Gallagher KM, Whaley-Connell A, Chaudhary K, Victor RG, Thomas GD, Fadel PJ. Inhibition of nitric oxide synthase evokes central sympatho-excitation in healthy humans. J Physiol. 2009;587(20):4977–86.
31.
Yufu K, Takahashi N, Okada N, Shinohara T, Hara M, Saikawa T, Yoshimatsu H. Influence of systolic blood pressure and cigarette smoking on endothelial function in young healthy people. Circ J. 2009;73(1):174–8.
32.
Paterick TE, Fletcher GF. Endothelial function and cardiovascular prevention: role of blood lipids, exercise, and other risk factors. Cardiol Rev. 2001;9(5):282–6.
33.
Mackey RH, Sutton-Tyrrell K, Vaitkevicius PV, Sakkinen PA, Lyles MF, Spurgeon HA, Lakatta EG, Kuller LH. Correlates of aortic stiffness in elderly individuals: a subgroup of the cardiovascular Health Study. Am J Hypertens. 2002;15(1 Pt 1):16–23.
34.
Stewart KJ, Sung J, Silber HA, Fleg JL, Kelemen MD, Turner KL, Bacher AC, Dobrosielski DA, DeRegis JR, Shapiro EP, Ouyang P. Exaggerated exercise blood pressure is related to impaired endothelial vasodilator function. Am J Hypertens. 2004;17(4):314–20.
35.
Lerman A, Burnett JC Jr. Intact and altered endothelium in regulation of vasomotion. Circulation. 1992;86(6):12–9.
36.
Hadi HA, Carr CS, Al Suwaidi J. Endothelial dysfunction: cardiovascular risk factors, therapy, and outcome. Vasc Health Risk Manag. 2005;1(3):183–98.
37.
Mullington JM, Haack M, Toth M, Serrador JM, Meier-Ewert HK. Cardiovascular, inflammatory, and metabolic consequences of sleep deprivation. Prog Cardiovasc Dis. 2009;51(4):294–302.
38.
Takase B, Akima T, Uehata A, Ohsuzu F, Kurita A. Effect of chronic stress and sleep deprivation on both flow-mediated dilation in the brachial artery and the intracellular magnesium level in humans. Clin Cardiol. 2004;27(4):223–7.
39.
Reriani MK, Flammer AJ, Jama A, Lerman LO, Lerman A. Novel functional risk factors for the prediction of cardiovascular events in vulnerable patients following acute coronary syndrome. Circ J. 2012;76(4):778–83.
40.
Melamed S, Shirom A, Toker S, Berliner S, Shapira I. Burnout and risk of cardiovascular disease: evidence, possible causal paths, and promising research directions. Psychol Bull. 2006;132(3):327–53.
41.
Soufer R, Jain H, Yoon AJ. Heart-brain interactions in mental stress-induced myocardial ischemia. Curr Cardiol Rep. 2009;11(2):133–40.
42.
Ohno Y, Hashiguchi T, Maenosono R, Yamashita H, Taira Y, Minowa K, Yamashita Y, Kato Y. Kawahara K-i, Maruyama I: The diagnostic value of endothelial function as a potential sensor of fatigue in health. Vasc Health Risk Manag. 2010;6:135–44.
43.
Etsuda H, Takase B, Uehata A, Kusano H, Hamabe A, Kuhara R, Akima T, Matsushima Y, Arakawa K, Satomura K, Kurita A, Ohsuzu F. Morning attenuation of endothelium-dependent, flow-mediated dilation in healthy young men: possible connection to morning peak of cardiac events? Clin Cardiol. 1999;22(6):417–21.
44.
Bonetti PO, Pumper GM, Higano ST, Holmes DR Jr, Kuvin JT, Lerman A. Noninvasive identification of patients with early coronary atherosclerosis by assessment of digital reactive hyperemia. J Am Coll Cardiol. 2004;44(11):2137–41.
45.
Janner JH, Godtfredsen NS, Ladelund S, Vestbo J, Prescott E. High aortic augmentation index predicts mortality and cardiovascular events in men from a general population, but not in women. Eur J Prev Cardiol. 2013;20(6):1005–12.
46.
Amir O, Alroy S, Schliamser JE, Asmir I, Shiran A, Flugelman MY, Halon DA, Lewis BS. Brachial artery endothelial function in residents and fellows working night shifts. Am J Cardiol. 2004;93(7):947–9.
47.
Tarzia P, Milo M, Di Franco A, Di Monaco A, Cosenza A, Laurito M, Lanza GA, Crea F. Effect of shift work on endothelial function in young cardiology trainees. Eur J Prev Cardiol. 2012;19(5):908–13.
48.
Wehrens SM, Hampton SM, Skene DJ: Heart rate variability and endothelial function after sleep deprivation and recovery sleep among male shift and non-shift workers. Scand J Work Environ Health 2012:171–181.
49.
Charles LE, Zhao S, Fekedulegn D, Violanti JM, Andrew ME, Burchfiel CM. Shiftwork and decline in endothelial function among police officers. Am J Ind Med. 2016;59(11):1001–8.
50.
Shimada K, Fukuda S, Maeda K, Kawasaki T, Kono Y, Jissho S, Taguchi H, Yoshiyama M, Yoshikawa J. Aromatherapy alleviates endothelial dysfunction of medical staff after night-shift work: preliminary observations. Hypertens Res. 2011;34(2):264–7.
51.
Cooper DC, Ziegler MG, Milic MS, Ancoli-Israel S, Mills PJ, Loredo JS, Von Kanel R, Dimsdale JE. Endothelial function and sleep: associations of flow-mediated dilation with perceived sleep quality and rapid eye movement (REM) sleep. J Sleep Res. 2014;23(1):84–93.
52.
Routledge FS, Dunbar SB, Higgins M, Rogers AE, Feeley C, Ioachimescu O, Euwer K, Eapen D, Quyyumi A. Insomnia symptoms are associated with abnormal endothelial function. J Cardiovasc Nurs. 2017;32(1):78–85.
53.
Herzog J, Schmidt FP, Hahad O, Mahmoudpour SH, Mangold AK, Andreo PG, Prochaska J, Koeck T, Wild PS, Sørensen M. Acute exposure to nocturnal train noise induces endothelial dysfunction and pro-thromboinflammatory changes of the plasma proteome in healthy subjects. Basic Res Cardiol. 2019;114(6):1–12.
54.
Schmidt FP, Herzog J, Schnorbus B, Ostad MA, Lasetzki L, Hahad O, Schafers G, Gori T, Sorensen M, Daiber A, et al. The impact of aircraft noise on vascular and cardiac function in relation to noise event number: a randomized trial. Cardiovasc Res. 2021;117(5):1382–90.
Rights and permissions
Open Access This article is licensed under a Creative Commons Attribution 4.0 International License, which permits use, sharing, adaptation, distribution and reproduction in any medium or format, as long as you give appropriate credit to the original author(s) and the source, provide a link to the Creative Commons licence, and indicate if changes were made. The images or other third party material in this article are included in the article's Creative Commons licence, unless indicated otherwise in a credit line to the material. If material is not included in the article's Creative Commons licence and your intended use is not permitted by statutory regulation or exceeds the permitted use, you will need to obtain permission directly from the copyright holder. To view a copy of this licence, visit http://creativecommons.org/licenses/by/4.0/. The Creative Commons Public Domain Dedication waiver (http://creativecommons.org/publicdomain/zero/1.0/) applies to the data made available in this article, unless otherwise stated in a credit line to the data.
Disclaimer:
This article is autogenerated using RSS feeds and has not been created or edited by OA JF.

Click here for Source link (https://www.biomedcentral.com/)