Effectiveness of anisodamine for the treatment of critically ill patients with septic shock: a multicentre randomized controlled trial – Critical Care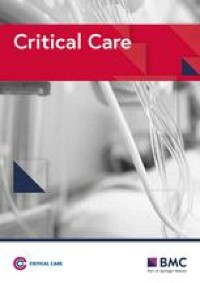 Study design and setting
This was an open-label randomized controlled trial conducted in 12 tertiary care hospitals from May 2015 to October 2020. The study protocol has been described elsewhere [18]. The study was significantly delayed due to the slow accrual of participants and the outbreak of coronavirus disease (COVID)-19 pandemic. Investigators in each participating centre screened patients with septic shock for potential eligibility. The study was reviewed and approved by the institutional review board (IRB) of each participating hospital and ethical approvals were obtained from each hospital. Informed consent was obtained from participants or their next of kin. The study was registered on the ClinicalTrials.gov website (registration No.: NCT02442440). The study was conducted in accordance with the Helsinki Declaration for clinical trials involving human subjects.
Participants
Subjects with septic shock were considered potentially eligible for the study. Sepsis was defined in accordance with the Sepsis-2.0 criteria [19]. Patients with documented/suspected infection plus systemic inflammatory response syndrome (SIRS) were eligible. SIRS was diagnosed in patients who met at least two of the following 4 criteria for a systemic inflammatory response: (1) white blood cell count > 12,000 or < 4000 or > 10% band forms; (2) body temperature > 38 °C (any route) or < 36 °C (core temperatures only, via indwelling catheter, esophageal, rectal routes); (3) heart rate (> 90 beats/min) or use of medications that slow heart rate or paced rhythm; and (4) tachypnea (> 20 breaths per minute) or an arterial partial pressure of carbon dioxide less than 4.3 kPa (32 mmHg). Suspected or documented infection of the following sites was considered: blood, lower respiratory tract, urinary tract, abdomen, skin and soft tissue, and central nervous system.
Septic shock was defined as sustained arterial hypotension with a systolic blood pressure (SBP) < 90 mmHg, mean arterial pressure (MAP) < 70 mmHg, or a decrease in SBP > 40 mmHg, despite adequate fluid resuscitation. The exclusion criteria were as follows: (1) age < 15 years; (2) moribund (expected to die within 24 h); (3) stay in the ICU exceeding 24 h at enrollment; and (4) contraindications to anisodamine, including acute phase of intracranial haemorrhage, elevated intracranial pressure, enlargement of prostate without urinary catheterization, glaucoma, and untreated bowel obstruction (surgically treated obstruction was not considered a contraindication).
Interventions
The enrolled subjects were randomly assigned to receive either anisodamine or usual care. In the treated group, a bolus of 10 mg anisodamine was given intravenously as the loading dose, followed by a dosage of 0.1–0.5 mg/kg/h via pump infusion. The maintenance dose was titrated at the discretion of the treating physician according to the patients' microcirculation status as well as side effects. For example, the infusion rate could be increased if the serum lactate level continued to increase and capillary refilling time remained prolonged. Conversely, if the use of anisodamine resulted in a significant drop in blood pressure/tachycardia, the infusion rate could be reduced. Anisodamine was discontinued after recovery from shock (vasopressor discontinuation and normalization of serum lactate), the occurrence of significant adverse events, or death. The usual care group received conventional care that did not include the use of anisodamine. Usual care for the treatment of septic shock included fluid resuscitation, use of vasopressors, early goal-directed therapy and empirical antibiotics [20].
Outcomes
The primary outcome was hospital mortality. The enrolled subjects were followed for the length of hospital stay. Mortality at hospital discharge was defined by the vital status at discharge. The secondary outcomes included the length of stay (LOS) in the hospital and ICU, temporal trends of serum lactate and C-reactive protein (CRP) and use of vasopressors (dopamine and norepinephrine). Organ dysfunction-free days, including continuous renal replacement therapy (CRRT), mechanical ventilation (MV) and vasopressor-free days at 28 days, were reported. Patients who requested to leave the hospital, gave up treatment or was transferred to another hospitals before day 28 were followed for up to 28 days.
Several major adverse events related to anisodamine administration (bowel obstruction, urine retention, tachycardia and arrythmia) were pre-specified in the case report form and were screened daily by the investigators. Other minor adverse events including but not limited to dry mouth, flushing, mild mydriasis, and blurred near vision were reported by the clinicians in charge if any of them were suspected to be associated with anisodamine use.
Randomization and blinding
Blocked randomization was performed where anisodamine or usual care was allocated at random in a ratio of 1:1 in blocks of sizes 2, 4, 6, 8, and 10 for 355 subjects. An advantage of small block sizes (such as block size = 2) is that treatment group sizes are very similar. However, the disadvantage is that it is possible to guess some allocations, thus reducing blinding in the trial. A solution is to use random sequences of block sizes so that the allocations cannot be guessed [21]. Central randomization was performed to ensure allocation concealment. After enrolment, investigators at each participating hospital contacted the allocation centre for a sequence number, and the participant was assigned to either the treatment or usual care group.
The caregivers at each hospital were aware of the treatment assignments. However, the investigators who assessed the outcomes and the technicians who performed the laboratory tests were blinded to the treatment assignments.
Statistical analysis
An asymmetric two-sided group sequential design was adopted with binding futility bounds, 6 analyses, a sample size of 355, 80% power and 5% (2-sided) type I error. The mortality rate in the usual care group was assumed to be 50%, with the new intervention reducing the mortality rate by 15%. The futility bounds were derived using a Hwang-Shih-DeCani spending function with gamma = − 2 [22]. The assumption in the study design was based on our previous work that the mortality of septic shock can be as high as 50% [1], and previous studies also showed that anisodamine could reduce mortality by more than 20% [23,24,25].
Descriptive analytics were performed with conventional approaches: skewed numeric variables were expressed as the median and the first interquartile (Q1) and third interquartile (Q3), and normally distributed data were expressed as the mean and standard deviation. Numerical variables were compared between the treated and usual care groups with the Student t test or rank-sum test, as appropriate. Categorical data were expressed as percentages and compared between groups using the χ2 test [26].
A log-rank test was performed to investigate whether there was a survival difference between the treated and usual care groups. The results were visualized with survival curves. Patients who were alive at hospital discharge were censored on the discharge day.
The differences in serum lactate and Sequential Organ Failure Assessment (SOFA) score between the treated and usual care groups through days 0–6 were compared using the Wilcoxon test, and p values were adjusted by the Bonferroni method. The requirement for any type of vasopressor, norepinephrine or dopamine was compared between the treated and usual care groups, and statistical inference was performed by univariate logistic regression models. Multiple testing for secondary outcomes was adjusted for the false discovery rate (FDR) by using the Benjamini–Hochberg method [27]. All statistical analyses were performed using R (version 4.0.1). A two-tailed p < 0.05 was considered statistically significant.
Rights and permissions
Open Access This article is licensed under a Creative Commons Attribution 4.0 International License, which permits use, sharing, adaptation, distribution and reproduction in any medium or format, as long as you give appropriate credit to the original author(s) and the source, provide a link to the Creative Commons licence, and indicate if changes were made. The images or other third party material in this article are included in the article's Creative Commons licence, unless indicated otherwise in a credit line to the material. If material is not included in the article's Creative Commons licence and your intended use is not permitted by statutory regulation or exceeds the permitted use, you will need to obtain permission directly from the copyright holder. To view a copy of this licence, visit http://creativecommons.org/licenses/by/4.0/. The Creative Commons Public Domain Dedication waiver (http://creativecommons.org/publicdomain/zero/1.0/) applies to the data made available in this article, unless otherwise stated in a credit line to the data.
Disclaimer:
This article is autogenerated using RSS feeds and has not been created or edited by OA JF.

Click here for Source link (https://www.biomedcentral.com/)