Incisional hernia repair by synthetic mesh prosthesis in patients with inflammatory bowel disease: a comparative analysis – BMC Surgery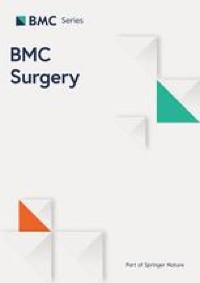 1.
Höer J, Lawong G, Klinge U, Schumpelick V. Factors influencing the development of incisional hernia. A retrospective study of 2,983 laparotomy patients over a period of 10 years. Chirurg. 2002;73(5):474–80.
2.
Wang J, Majumder A, Fayezizadeh M, Criss CN, Novitsky YW. Outcomes of retromuscular approach for abdominal wall reconstruction in patients with inflammatory bowel disease. Am Surg. 2016;82(6):565–70.
3.
Taner T, Cima RR, Larson DW, Dozois EJ, Pemberton JH, Wolff BG. The use of human acellular dermal matrix for parastomal hernia repair in patients with inflammatory bowel disease: a novel technique to repair fascial defects. Dis Colon Rectum. 2009;52(2):349–54.
4.
Solina G, Mandalà S, La Barbera C, Mandalà V. Current management of intestinal bowel disease: the role of surgery. Updat Surg. 2016;68(1):13–23.
5.
Hoffmann H, Kockerling F, Adolf D, Mayer F, Weyhe D, Reinpold W, et al. Analysis of 4,015 recurrent incisional hernia repairs from the Herniamed registry: risk factors and outcomes. Hernia. 2020. https://doi.org/10.1007/s10029-020-02263-x.
6.
Heimann TM, Swaminathan S, Greenstein AJ, Greenstein AJ, Steinhagen RM. Outcome of incisional hernia repair in patients with Inflammatory Bowel Disease. Am J Surg. 2017;214(3):468–73.
7.
Tansawet A, Numthavaj P, Techapongsatorn S, Wilasrusmee C, Attia J, Thakkinstian A. Mesh position for hernia prophylaxis after midline laparotomy: a systematic review and network meta-analysis of randomized clinical trials. Int J Surg. 2020;83:144–51.
8.
Rosen MJ, Denoto G, Itani KM, Butler C, Vargo D, Smiell J, et al. Evaluation of surgical outcomes of retro-rectus versus intraperitoneal reinforcement with bio-prosthetic mesh in the repair of contaminated ventral hernias. Hernia. 2013;17(1):31–5.
9.
Binnebosel M, Klink CD, Otto J, Conze J, Jansen PL, Anurov M, et al. Impact of mesh positioning on foreign body reaction and collagenous ingrowth in a rabbit model of open incisional hernia repair. Hernia. 2010;14(1):71–7.
10.
Losanoff JE, Richman BW, Jones JW. Entero-colocutaneous fistula: a late consequence of polypropylene mesh abdominal wall repair: case report and review of the literature. Hernia. 2002;6(3):144–7.
11.
Ott V, Groebli Y, Schneider R. Late intestinal fistula formation after incisional hernia using intraperitoneal mesh. Hernia. 2005;9(1):103–4.
12.
Maman D, Greenwald D, Kreniske J, Royston A, Powers S, Bauer J. Modified Rives-Stoppa technique for repair of complex incisional hernias in 59 patients. Ann Plast Surg. 2012;68(2):190–3.
13.
Pellino G, Keller DS, Sampietro GM, Carvello M, Celentano V, Coco C, et al. Inflammatory bowel disease position statement of the Italian Society of Colorectal Surgery (SICCR): ulcerative colitis. Tech Coloproctol. 2020;24(5):397–419.
14.
Pellino G, Keller DS, Sampietro GM, Angriman I, Carvello M, Celentano V, et al. Inflammatory bowel disease position statement of the Italian Society of Colorectal Surgery (SICCR): Crohn's disease. Tech Coloproctol. 2020;24(5):421–48.
15.
Morris-Stiff GJ, Hughes LE. The outcomes of nonabsorbable mesh placed within the abdominal cavity: literature review and clinical experience. J Am Coll Surg. 1998;186(3):352–67.
16.
Breuing K, Butler CE, Ferzoco S, Franz M, Hultman CS, Kilbridge JF, et al. Incisional ventral hernias: review of the literature and recommendations regarding the grading and technique of repair. Surgery. 2010;148(3):544–58.
17.
Shankaran V, Weber DJ, Reed RL 2nd, Luchette FA. A review of available prosthetics for ventral hernia repair. Ann Surg. 2011;253(1):16–26.
18.
Hiles M, Record Ritchie RD, Altizer AM. Are biologic grafts effective for hernia repair? A systematic review of the literature. Surg Innov. 2009;16(1):26–37.
19.
Bachman S, Ramshaw B. Prosthetic material in ventral hernia repair: how do I choose? Surg Clin North Am. 2008;88(1):101–12.
20.
Rosen MJ, Krpata DM, Ermlich B, Blatnik JA. A 5-year clinical experience with single-staged repairs of infected and contaminated abdominal wall defects utilizing biologic mesh. Ann Surg. 2013;257(6):991–6.
21.
Carbonell AM, Criss CN, Cobb WS, Novitsky YW, Rosen MJ. Outcomes of synthetic mesh in contaminated ventral hernia repairs. J Am Coll Surg. 2013;217(6):991–8.
22.
Burger JW, Luijendijk RW, Hop WC, Halm JA, Verdaasdonk EG, Jeekel J. Long-term follow-up of a randomized controlled trial of suture versus mesh repair of incisional hernia. Ann Surg. 2004;240(4):578–83.
23.
Luijendijk RW, Hop WC, van den Tol MP, de Lange DC, Braaksma MM, et al. A comparison of suture repair with mesh repair for incisional hernia. New Engl J Med. 2000;343(6):392–8.
24.
Flum DR, Horvath K, Koepsell T. Have outcomes of incisional hernia repair improved with time? A population-based analysis. Ann Surg. 2003;237(1):129–35.
25.
Köckerling F, Koch A, Lorenz R, Schug-Pass C, Stechemesser B, Reinpold W. How long do we need to follow-up our hernia patients to find the real recurrence rate? Frontiers in surgery. 2015;2:24.
26.
Sánchez-Arteaga A, Tallón-Aguilar L, Tinoco-González J, Perea Del-Pozo E, Navas-Cuellar A, Padillo-Ruíz J. Use of polyvinylidene fluoride (PVDF) meshes for ventral hernia repair in emergency surgery. Hernia. 2021;25(1):99–106.
27.
Mineccia M, Cravero F, Massucco P, Portigliotti L, Bertolino F, Daperno M, et al. Laparoscopic vs open restorative proctocolectomy with IPAA for ulcerative colitis: impact of surgical technique on creating a well functioning pouch. Int J Surg. 2018;55:201–6.
Rights and permissions
Open Access This article is licensed under a Creative Commons Attribution 4.0 International License, which permits use, sharing, adaptation, distribution and reproduction in any medium or format, as long as you give appropriate credit to the original author(s) and the source, provide a link to the Creative Commons licence, and indicate if changes were made. The images or other third party material in this article are included in the article's Creative Commons licence, unless indicated otherwise in a credit line to the material. If material is not included in the article's Creative Commons licence and your intended use is not permitted by statutory regulation or exceeds the permitted use, you will need to obtain permission directly from the copyright holder. To view a copy of this licence, visit http://creativecommons.org/licenses/by/4.0/. The Creative Commons Public Domain Dedication waiver (http://creativecommons.org/publicdomain/zero/1.0/) applies to the data made available in this article, unless otherwise stated in a credit line to the data.
Disclaimer:
This article is autogenerated using RSS feeds and has not been created or edited by OA JF.

Click here for Source link (https://www.biomedcentral.com/)