Isolation and characterization of urine microvesicles from prostate cancer patients: different approaches, different visions – BMC Urology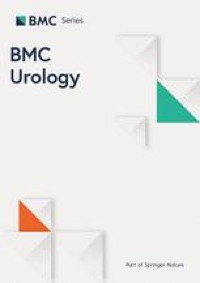 1.
Bunting PS. Screening for prostate cancer with prostate-specific antigen: beware the biases. Clin Chim Acta. 2002;315:71–97.
2.
Freedland SJ, Partin AW. Prostate-specific antigen: update 2006. Urology. 2006;67:458–60.
3.
Thompson IM, Ankerst DP, Chi C, Lucia MS, Goodman PJ, Crowley JJ, Parnes HL, Coltman CA. Operating characteristics of prostate-specific antigen in men with an initial PSA level of 3.0 Ng/ml or lower. JAMA. 2005;294:66–70.
4.
Thurtle DR, Greenberg DC, Lee LS, Huang HH, Pharoah PD, Gnanapragasam VJ. Individual prognosis at diagnosis in nonmetastatic prostate cancer: development and external validation of the PREDICT prostate multivariable model. PLoS Med. 2019;16:e1002758.
5.
Filella X, Foj L. Prostate cancer detection and prognosis: from prostate specific antigen (PSA) to exosomal biomarkers. Int J Mol Sci. 2016;17:1784.
6.
Lawson C, Vicencio JM, Yellon DM, Davidson SM. Microvesicles and exosomes: new players in metabolic and cardiovascular disease. J Endocrinol. 2016;228:R57–71.
7.
Yáñez-mó M, Siljander PR, Andreu Z, Bedina A, Borràs FE, Buzas EI, Buzas K, Casal E, Cappello F, Carvalho J, et al. Biological properties of extracellular vesicles and their physiological functions. J Extracell Vesicles. 2015;4:27066.
8.
Andreu Z, Rivas E, Sanguino-pascual A, Lamana A, Marazuela M, González-Alvaro I, Sánchez-Madrid F, de la Fuente H, Yáñez-Mó M. Comparative analysis of EV isolation procedures for miRNAs detection in serum samples. J Extracell Vesicles. 2016;5:31655.
9.
Nilsson RJA, Skog J, Nordstrand A, Baranov V, Mincheva-Nilsson L, Breakefield XO, Widmark A. Prostate cancer-derived urine exosomes: a novel approach to biomarkers for prostate cancer. Br J Cancer. 2009;100:1603–7.
10.
Emanueli C, Shearn AIU, Angelini GD, Sahoo S. Exosomes and exosomal miRNAs in cardiovascular protection and repair. Vasc Pharmacol. 2015;71:24–33.
11.
Pol EVD, Böing AN, Harrison P, Sturk A, Nieuwland R. Classification, functions, and clinical relevance of extracellular vesicles. Pharmacol Rev. 2012;64:676–705.
12.
Vader P, Breakefield XO, Wood MJA. Extracellular vesicles: emerging targets for cancer therapy. Trends Mol Med. 2015;20:385–93.
13.
Patel GK, Khan MA, Bhardwaj A, Srivastava SK, Zubair H, Patton MC, Singh S, Khushman M, Singh AP. Exosomes confer chemoresistance to pancreatic cancer cells by promoting ROS detoxification and miR-155-mediated suppression of key gemcitabine-metabolising enzyme, DCK. Br J Cancer. 2017;116:609–19.
14.
Kalluri R. The biology and function of exosomes in cancer. J Clin Investig. 2016;126:1208–15.
15.
Tai Y, Lin C, Li T, Shen T, Hsieh J, Chen BPC. The role of extracellular vesicles in prostate cancer with clinical applications. Endocr Relat Cancer. 2020;27:R133–44.
16.
Vlaeminck-Guillem V. Extracellular vesicles in prostate cancer carcinogenesis, diagnosis, and management. Front Oncol. 2018;8:222.
17.
Greening DW, Xu R, Ji H, Tauro BJ, Simpson RJ. A protocol for exosome isolation and characterization: evaluation of ultracentrifugation, density-gradient separation, and immunoaffinity capture methods. Methods Mol Biol. 2015;1295:179–209.
18.
Gould SJ, Raposo G. As we wait: coping with an imperfect nomenclature for extracellular vesicles. J Extracell Vesicles. 2013;2:10.
19.
Helwa I, Cai J, Drewry MD, Zimmerman A, Dinkins B, Khaled ML, Seremwe M, Dismuke WM, Bieberich E, Stamer WD, et al. A Comparative study of serum exosome isolation using differential ultracentrifugation and three commercial reagents. PLoS ONE. 2017;22:e0170628.
20.
Lee J, Kwon MH, Kim JA, Rhee WJ. Detection of exosome miRNAs using molecular beacons for diagnosing prostate cancer. Artif Cells Nanomed Biotechnol. 2018;46(sup3):S52–63.
21.
Royo F, Zun P, Egia A, Perez A, Loizaga A, Arceo R, Lacasa I, Rabade A, Arrieta E, Bilbao R, et al. Different EV enrichment methods suitable for clinical settings yield different subpopulations of urinary extracellular vesicles from human samples. J Extracell Vesicles. 2016;1:1–11.
22.
Lötvall J, Hill AF, Hochberg F, Buzás EI, Di D, Gardiner C, Gho YS, Kurochkin IV, Quesenberry P, Sahoo S, et al. Minimal experimental requirements for definition of extracellular vesicles and their functions: a position statement from the international society for extracellular vesicles. J Extracell Vesicles. 2014;3:26913.
23.
Szatanek R, Baran J, Siedlar M, Baj-krzyworzeka M. Isolation of extracellular vesicles: determining the correct approach (review). Int J Mol Med. 2015;36:11–7.
24.
Zhou H, Yuen PST, Pisitkun T, Gonzales PA, Yasuda H, Dear JW, Gross P, Knepper MA, Star RA. Collection, storage, preservation, and normalization of human urinary exosomes for biomarker discovery. Kidney Int. 2006;69:1471–6.
25.
Betsou F, Bilbao R, Case J, Chuaqui R, Clements JA, De Souza Y, De Wilde A, Geiger J, Grizzle W, Guadagni F, et al. Standard PREanalytical code version 3.0. Biopreserv Biobank. 2018;16:9–12.
26.
Betsou F, Lehmann S, Ashton G, Barnes M, Benson EE, Coppola D, DeSouza Y, Eliason J, Glazer B, Guadagni F, et al. Standard preanalytical coding for biospecimens: defining the sample PREanalytical code. Cancer Epidemiol Biomark Prev. 2010;19:1004–11.
27.
Lehmann S, Guadagni F, Moore H, Ashton G, Barnes M, Benson E, Clements J, Koppandi I, Coppola D, Demiroglu SY, et al. Standard preanalytical coding for biospecimens: review and implementation of the Sample PREanalytical Code (SPREC). Biopreserv Biobank. 2012;10:366–74.
28.
Kosanovic M, Jankovi M. Isolation of urinary extracellular vesicles from tamm- horsfall protein-depleted urine and their application in the development of a lectin-exosome-binding assay. Biotechniques. 2014;57:143–9.
29.
Böing AN, van der Pol E, Grootemaat AE, Coumans FAW, Sturk A, Nieuwland R. Single-step isolation of extracellular vesicles by size-exclusion chromatography. J Extracell Vesicles. 2014;3:23430–511.
30.
Théry C, Clayton A, Amigorena S, Raposo G, editors. Isolation and characterization of exosomes from cell culture supernatants and biological fluids. Hoboken: Wiley; 2006. p. 3221–32229.
31.
Love MI, Huber W, Anders S. Moderated estimation of fold change anddispersion for RNA-Seq data with DESeq2. Genome Biol. 2014;15:550.
32.
Campos-Silva C, Suarez H, Jara-Acevedo R, Linares-Espinos E, Martinez-Pineiro L, Yanez-Mo M, Vales-Gomez M. High sensitivity detection of extracellular vesicles immune-captured from urine by conventional flow cytometry. Sci Rep. 2019;9:2042–8.
33.
Mathivanan S, Ji H, Simpson RJ. Exosomes: extracellular organelles important in intercellular communication. J Proteom. 2010;73:1907–20.
34.
Yoshioka Y, Kosaka N, Konishi Y, Ohta H, Okamoto H, Sonoda H, Nonaka R, Yamamoto H, Ishii H, Mori M, et al. Ultra-sensitive liquid biopsy of circulating extracellular vesicles using ExoScreen. Nat Commun. 2014;5:3591.
35.
Braun F, Müller R. Urinary extracellular vesicles as a source of biomarkers reflecting renal cellular biology in human disease. Methods Cell Biol. 2019;154:43–65.
36.
Scherer A. Reproducibility in biomarker research and clinical development: a global challenge. Biomark Med. 2017;11:309–12.
37.
Karimi N, Cvjetkovic A, Jang SC, Crescitelli R, Hosseinpour Feizi MA, Nieuwland R, Lötvall J, Lässer C. Detailed analysis of the plasma extracellular vesicle proteome after separation from lipoproteins. Cell Mol Life Sci. 2018;75:2873–86.
38.
Bryzgunova OE, Zaripov MM, Skvortsova TE, Lekchnov EA, Grigor'eva AE, Zaporozhchenko IA, Morozkin ES, Ryabchikova EI, Yurchenko YB, Voitsitskiy VE, et al. Comparative study of extracellular vesicles from the urine of healthy individuals and prostate cancer patients. PLoS ONE. 2016;11:e0157566.
39.
Fang DY, King HW, Li JY, Gleadle JM. Exosomes and the kidney: blaming the messenger. Nephrology (Carlton). 2013;18:1–10.
40.
Murakami T, Oakes M, Ogura M, Tovar V, Yamamoto C, Mitsuhashi M. Development of glomerulus-, tubule-, and collecting duct-specific mRNA assay in human urinary exosomes and microvesicles. PLoS ONE. 2014;9:e109074.
41.
Singhto N, Vinaiphat A, Thongboonkerd V. Discrimination of urinary exosomes from microvesicles by lipidomics using thin layer liquid chromatography (TLC) coupled with MALDI-TOF mass spectrometry. Sci Rep. 2019;9:13834–911.
42.
Lozano-Ramos I, Bancu I, Oliveira-Tercero A, Armengol MP, Menezes-Neto A, Portillo HAD, Lauzurica-Valdemoros R, Borràs FE. Size-exclusion chromatography-based enrichment of extracellular vesicles from urine samples. J Extracell Vesicles. 2015;4:27369.
43.
Van der Pol E, Coumans FAW, Grootemaat AE, Gardiner C, Sargent IL, Harrison P, Sturk A, van Leeuwen TG, Nieuwland R. Particle size distribution of exosomes and microvesicles determined by transmission electron microscopy, flow cytometry, nanoparticle tracking analysis, and resistive pulse sensing. J Thromb Haemost. 2014;12:1182–92.
44.
Bachurski D, Schuldner M, Nguyen P, Malz A, Reiners KS, Grenzi PC, Babatz F, Schauss AC, Hansen HP, Hallek M, et al. Extracellular vesicle measurements with nanoparticle tracking analysis: an accuracy and repeatability comparison between NanoSight NS300 and ZetaView. J Extracell Vesicles. 2019;8:1596016.
45.
Serrano-Pertierra E, Oliveira-Rodríguez M, Matos M, Gutiérrez G, Moyano A, Salvador M, Rivas M, Blanco-López MC. Extracellular vesicles: current analytical techniques for detection and quantification. Biomolecules (Basel, Switzerland). 2020;10:824.
46.
Monguió-Tortajada M, Gálvez-Montón C, Bayes-Genis A, Roura S, Borràs FE. Extracellular vesicle isolation methods: rising impact of size-exclusion chromatography. Cell Mol Life Sci. 2019;76:2369–82.
47.
Mariscal J, Vagner T, Kim M, Zhou B, Chin A, Zandian M, Freeman MR, You S, Zijlstra A, Yang W, et al. Comprehensive palmitoyl-proteomic analysis identifies distinct protein signatures for large and small cancer-derived extracellular vesicles. J Extracell Vesicles. 2020;9:1764192.
48.
Torres Crigna A, Fricke F, Nitschke K, Worst T, Erb U, Karremann M, Buschmann D, Elvers-Hornung S, Tucher C, Schiller M, et al. Inter-laboratory comparison of extracellular vesicle isolation based on ultracentrifugation. Transfus Med Hemother. 2020;48:48–59.
49.
Bustos MA, Tran KD, Rahimzadeh N, Gross R, Lin SY, Shoji Y, Murakami T, Boley CL, Tran LT, Cole H, et al. Integrated assessment of circulating cell-free microRNA signatures in plasma of patients with melanoma brain metastasis. Cancers. 2020;12:1692.
50.
Nziza N, Jeziorski E, Delpont M, Cren M, Chevassus H, Carbasse A, Mahe P, Abassi H, Joly-Monrigal P, Schordan E, et al. Synovial-fluid miRNA signature for diagnosis of juvenile idiopathic arthritis. Cells (Basel). 2019;8:1521.
51.
Godoy PM, Barczak AJ, DeHoff P, Srinivasan S, Etheridge A, Galas D, Das S, Erle DJ, Laurent LC. Comparison of reproducibility, accuracy, sensitivity, and specificity of miRNA quantification platforms. Cell Rep. 2019;29:4212-4222.e5.
52.
Griffiths-Jones S. miRBase: microRNA sequences, targets and gene nomenclature. Nucleic Acids Res. 2006;34:D140–4.
53.
Wang H, Zhang P, Chen W, Jie D, Dan F, Jia Y, Xie L. Characterization and identification of novel serum microRNAs in sepsis patients with different outcomes. Shock. 2013;39:480–7.
54.
Barceló M, Castells M, Bassas L, Vigués F, Larriba S. Semen miRNAs contained in exosomes as non-invasive biomarkers for prostate cancer diagnosis. Sci Rep. 2019;9:13772–816.
55.
Gurunathan S, Kang M, Jeyaraj M, Qasim M, Kim J. Review of the isolation, characterization, biological function, and multifarious therapeutic approaches of exosomes. Cells. 2019;8:307.
56.
Ma C, Jiang F, Ma Y, Wang J, Li H, Zhang J. Isolation and detection technologies of extracellular vesicles and application on cancer diagnostic. Nanotechnol Microtechnol Drug Deliv Syst. 2019;17:155932581989100–1559325819891004.
57.
Xu R, Greening DW, Zhu H, Takahashi N, Simpson RJ. Extracellular vesicle isolation and characterization: toward clinical application. J Clin Invest. 2016;126:1152–62.
58.
Carraro P, Zago T, Plebani M. Exploring the initial steps of the testing process: frequency and nature of pre-preanalytic errors. Clin Chem. 2012;58:638–42.
59.
Moore HM, Compton CC, Lim MD, Vaught J, Christiansen KN, Alper J. 2009 Biospecimen research network symposium: advancing cancer research through biospecimen science. Cancer Res. 2009;69:6770–2.
Rights and permissions
Open Access This article is licensed under a Creative Commons Attribution 4.0 International License, which permits use, sharing, adaptation, distribution and reproduction in any medium or format, as long as you give appropriate credit to the original author(s) and the source, provide a link to the Creative Commons licence, and indicate if changes were made. The images or other third party material in this article are included in the article's Creative Commons licence, unless indicated otherwise in a credit line to the material. If material is not included in the article's Creative Commons licence and your intended use is not permitted by statutory regulation or exceeds the permitted use, you will need to obtain permission directly from the copyright holder. To view a copy of this licence, visit http://creativecommons.org/licenses/by/4.0/. The Creative Commons Public Domain Dedication waiver (http://creativecommons.org/publicdomain/zero/1.0/) applies to the data made available in this article, unless otherwise stated in a credit line to the data.
Disclaimer:
This article is autogenerated using RSS feeds and has not been created or edited by OA JF.

Click here for Source link (https://www.biomedcentral.com/)