Neutrophil–lymphocyte ratio for the prediction of histological chorioamnionitis in cases of preterm premature rupture of membranes: a case-control study – BMC Pregnancy and Childbirth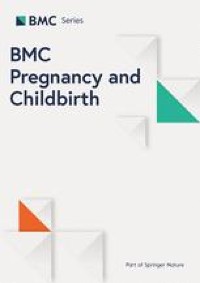 1.
DiGiulio DB, Romero R, Kusanovic JP, Gomez R, Kim CJ, Seok KS, et al. Prevalence and diversity of microbes in the amniotic fluid, the fetal inflammatory response, and pregnancy outcome in women with preterm pre-labor rupture of membranes. Am J Reprod Immunol. 2010;64:38–57.
2.
Mittendorf R, Montag AG, MacMillan W, Janeczek S, Pryde PG, Besinger RE, et al. Components of the systemic fetal inflammatory response syndrome as predictors of impaired neurologic outcomes in children. Am J Obstet Gynecol. 2003;188:1438–46.
3.
Zanardo V, Vedovato S, Cosmi E, Litta P, Cavallin F, Trevisanuto D, et al. Preterm premature rupture of membranes, chorioamnion inflammatory scores and neonatal respiratory outcome: PPROM, chorioamnionitis and neonatal respiratory outcome. BJOG Int J Obstet Gynaecol. 2010;117:94–8.
4.
Rogers EE, Hintz SR. Early neurodevelopmental outcomes of extremely preterm infants. Semin Perinatol. 2016;40:497–509
5.
Catano-Sabogal CP, Fonseca J, Garcia-Perdomo HA. Validation of Diagnostic Tests for Histologic Chorioamnionitis: Systematic Review and Meta-Analysis. Eur J Obstet Gynecol Reprod Biol. 2018;228:13–26.
6.
Trochez-Martinez RD, Smith P, Lamont RF. Use of C-reactive protein as a predictor of chorioamnionitis in preterm prelabour rupture of membranes: a systematic review. BJOG. 2007;114:796–801.
7.
Zou L, Zhang H, Zhu J, Zhu J. The value of the soluable intercellular adhesion molecule-1 levels in matermal serum for determination of occult chorioamnionitis in premature rupture of membranes. J Huazhong Univ Sci Technolog Med Sci. 2004;24:154–7.
8.
Martinez-Portilla RJ, Hawkins-Villarreal A, Alvarez-Ponce P, Chinolla-Arellano ZL, Moreno-Espinosa AL, Sandoval-Mejia AL, et al. Maternal Serum Interleukin-6: A Non-Invasive Predictor of Histological Chorioamnionitis in Women with Preterm-Prelabor Rupture of Membranes. Fetal Diagn Ther. 2019;45:168–75.
9.
Park JW, Park KH, Kook SY, Jung YM, Kim YM. Immune biomarkers in maternal plasma to identify histologic chorioamnionitis in women with preterm labor. Arch Gynecol Obstet. 2019;299:725–32.
10.
Martins EC, Silveira L da F, Viegas K, Beck AD, Fioravantti-Junior G, Cremonese RV, et al. Neutrophil-lymphocyte ratio in the early diagnosis of sepsis in an intensive care unit: a case-control study. Rev Bras Ter Intensiva. 2019;31:63–70.
11.
Ozel A, Davutoglu EA, Yurtkal A, Madazli R. How do platelet-to-lymphocyte ratio and neutrophil-to-lymphocyte ratio change in women with preterm premature rupture of membranes, and threaten preterm labour? J Obstet Gynaecol. 2020;40:195–9.
12.
Imran MM, Ahmed U, Usman U, Ali M, Shaukat A, Gul N. Neutrophil/Lymphocyte Ratio – A Marker of COVID-19 Pneumonia Severity. Int J Clin Pract. 2021;00:e13698.
13.
Khong T, Mooney Y, Ariel EE, Balmus I, Boyd NCM, Brundler TK, et al. Sampling and Definitions of Placental Lesions Amsterdam Placental Workshop Group Consensus Statement. Arch Pathol Lab Med. 2016;140:698–713.
14.
Redline RW, Faye-Petersen O, Heller D, Qureshi F, Savell V, Vogler C, Amniotic Fluid Infection Nosology Committee Society for Pediatric Pathology Perinatal Section. Amniotic infection syndrome: nosology and reproducibility of placental reaction patterns. Pediatr Dev Pathol. 2003;6:435–48.
15.
Davis JM, Albert JD, Tracy KJ, Calvano SE, Lowry SF, Shires GT, et al. Increased neutrophil mobilization and decreased chemotaxis during cortisol and epinephrine infusions. J Trauma. 1991;31:725–31.
16.
Summers C, Rankin SM, Condliffe AM, Singh N, Peters AM, Chilvers ER. Neutrophil kinetics in health and disease. Trends Immunol. 2010;31:318–24.
17.
Matalka KZ, Sidk A. Academic Stress — Influence on Leukocyte Distribution, Cortisol, and Prolactin. Lab Med. 1998;29:697–701.
18.
Kim MA, Lee YS, Seo K. Assessment of Predictive Markers for Placental Inflammatory Response in Preterm Births. PLoS One. 2014;9:e107880.
19.
Singareddy A, Lee ASE, Sweeney PL, Finkle AE, Williams HL, Buchanan PM, et al. Elevated neutrophil-lymphocyte ratios in extremely preterm neonates with histologic chorioamnionitis. J Perinatol. 2021; https://doi.org/10.1038/s41372-021-00964-4.
20.
Kim MA, Lee BS, Park YW, Seo K. Serum markers for prediction of spontaneous preterm delivery in preterm labour. European journal of clinical investigation. 2011;41:773–80.
21.
Akgun N, Namli Kalem M, Yuce E, Kalem Z, Aktas H. Correlations of maternal neutrophil to lymphocyte ratio (NLR) and platelet to lymphocyte ratio (PLR) with birth weight. The Journal of Maternal-Fetal & Neonatal Medicine. 2017;30:2086–91.
22.
Nakagawa M, Terashima T, D'yachkova Y, Bondy GP, Hogg JC, van Eeden SF. Glucocorticoid-induced granulocytosis: contribution of marrow release and demargination of intravascular granulocytes. Circulation. 1998;98:2307–13.
23.
Weber PSD, Toelboell T, Chang L-C, Tirrell JD, Saama PM, Smith GW, et al. Mechanisms of glucocorticoid-induced down-regulation of neutrophil L-selectin in cattle: evidence for effects at the gene-expression level and primarily on blood neutrophils. J Leukoc Biol. 2004;75:815–27.
24.
Liles WC, Dale DC, Klebanoff SJ. Glucocorticoids inhibit apoptosis of human neutrophils. Blood. 1995;86:3181–8.
25.
Bauer ME, Price LK, MacEachern MP, Housey M, Langen ES, Bauer ST. Maternal leukocytosis after antenatal corticosteroid administration: a systematic review and meta-analysis. J Obstet Gynaecol. 2018;38:210–6.
26.
Kurtoglu E, Kokcu A, Celik H, Tosun M, Malatyalioglu E. May ratio of neutrophil to lymphocyte be useful in predicting the risk of developing preeclampsia? A pilot study. J Matern Fetal Neonatal Med. 2015;28:97–9.
27.
Sahbaz A, Cicekler H, Aynioglu O, Isik H, Ozmen U. Comparison of the predictive value of plateletcrit with various other blood parameters in gestational diabetes development. J Obstet Gynaecol. 2016;36:589–93.
28.
Kirbas A, Biberoglu E, Daglar K, Iskender C, Erkaya S, Dede H, et al. Neutrophil-to-lymphocyte ratio as a diagnostic marker of intrahepatic cholestasis of pregnancy. Eur J Obstet Gynecol Reprod Biol. 2014;180:12–5.
29.
Orgul G, Agbal T, Celen S, Caglar AT. Neuroprotective magnesium sulfate administration increases maternal Neutrophil-to-Lymphocyte Ratio, Platelet-to-Lymphocyte Ratio and Systemic Immune-Inflammation Index. Arch Gynecol Obstet. 2020; https://doi.org/10.1007/s00404-020-05866-y.
30.
Pugni L, Pietrasanta C, Acaia B, Merlo D, Ronchi A, Ossola, MW, et al. Chorioamnionitis and neonatal outcome in preterm infants: A clinical overview. J. Matern Fetal Neonatal Med. 2016;29,1525–9.
31.
Romero R, Chaemsaithong P, Docheva N, Korzeniewski SJ, Kusanovic JP, Yoon BH, et al. Clinical chorioamnionitis at term VI: Acute chorioamnionitis and funisitis according to the presence or absence of microorganisms and inflammation in the amniotic cavity. J. Perinat Med. 2016;44,33–51.
32.
Ocheke N, Ocheke IE, Agaba PA, Imadde GE, Silas OA, Ajetunmobi OI, et al. Maternal and Neonatal Outcomes of Histological Chorioamnionitis. J West Afr Coll Surg. 2016;6,1–14.
Rights and permissions
Open Access This article is licensed under a Creative Commons Attribution 4.0 International License, which permits use, sharing, adaptation, distribution and reproduction in any medium or format, as long as you give appropriate credit to the original author(s) and the source, provide a link to the Creative Commons licence, and indicate if changes were made. The images or other third party material in this article are included in the article's Creative Commons licence, unless indicated otherwise in a credit line to the material. If material is not included in the article's Creative Commons licence and your intended use is not permitted by statutory regulation or exceeds the permitted use, you will need to obtain permission directly from the copyright holder. To view a copy of this licence, visit http://creativecommons.org/licenses/by/4.0/. The Creative Commons Public Domain Dedication waiver (http://creativecommons.org/publicdomain/zero/1.0/) applies to the data made available in this article, unless otherwise stated in a credit line to the data.
Disclaimer:
This article is autogenerated using RSS feeds and has not been created or edited by OA JF.

Click here for Source link (https://www.biomedcentral.com/)