Randomized trial of the feasibility of ED-initiated school-based asthma medication supervision (ED-SAMS) – Pilot and Feasibility Studies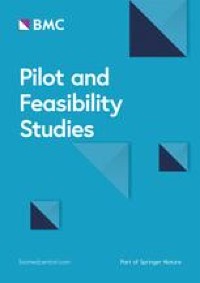 Enrolling only 13 participants in total, our recruitment effort fell far short of its 90-participant goal, 5 children per site per month. While an early medication acquisition challenge led us to shorten our recruitment window from 9 to 6 months, recruitment would have still fallen far short of our goal with the longer window. Because only 3% of 437 potentially eligible children ultimately enrolled, recruitment was the study's primary failure mode and most important obstacle to feasibility. Several factors accounted for a disproportionate share of screen failures.
Having a research coordinator present and available during the child's ED visit was a major barrier as 237 (54%) of the 437 potentially eligible participants were excluded for these two reasons. If these children could have been approached with a similar enrollment yield as those who were approached when a coordinator was available, then another 55 children might have participated. Even so, the study would have still fallen 21 participants short of its goal. Having a research coordinator present during the treatment window (i.e., visit occurred after hours) was a greater barrier than ensuring one was available to approach the child's family (i.e., coordinator engaged in other job duties), 181 versus 56 excluded participants, respectively. Ensuring 24 h, 7 days per week coverage is prohibitively expensive for all but the largest projects. Knowing this, we had hoped our pilot study could "piggyback" on each site's dedicated full-time PECARN research coordinator. The expectation was patient volume would be large enough during the coordinator's typical work hours to offset missed opportunities due to competing responsibilities. Given the financial constraints of the R34 mechanism, this challenge will be difficult to overcome without a changing to a more generous funding mechanism or modifying our recruitment strategy.
Next-day, telephone recruitment after the child's discharge could have potentially supplemented our real-time, in-person recruitment by reaching families of children who passed the initial screen but who were not subsequently approached. Undoubtedly, some eligible children might still have been missed, or some families might have declined to participate because doing so might have disrupted their already established discharge treatment plan. Nevertheless, next-day, telephone recruitment could have presented coordinators with more opportunities to recruit during normal business hours when ED volume was lower and when greater flexibility existed to avoid competing responsibilities.
Even if coordinators had been more readily available, 30% of children would have still been excluded because they attended a non-participating school district. While a lesser challenge than coordinator availability, this factor was still a significant recruitment barrier. Research linking the traditional health system (EDs) with community partners (schools) can impose unique challenges that impact study design and recruitment. One of the most important of these challenges is the regulatory measures intended to ensure the safety of human subjects. IRB approval or its equivalent is required from the university, the school district, and frequently, individual schools (e.g., consent of the principal). While necessary and appropriate, these activities are time-consuming and administratively complex as each school district has its own regulatory system.
Typically, the regulatory burdens imposed by school collaborations can be overcome with adequate time and resources, especially if researchers can leverage established relationships from past collaborations. However, this was PECARN's first school-based project so none of the clinical sites had established relationships to help them navigate the schools' regulatory processes. Knowing this, clinical sites were only required to obtain approval from the largest school district within their catchment area. Because each clinical site was located in a large metropolitan area, each could engage a large school district serving tens of thousands of students. Despite our success establishing new collaborations, aggregate student enrollment in the smaller, non-participating districts still invalidated a substantial portion of children who would have been otherwise eligible to participate.
While these regulatory burdens imperiled our research project, they would not necessarily impair real-world collaborations between EDs and schools. In clinical practice, many physicians already designate medication administration to occur at school (e.g., amphetamine treatment for attention deficit hyperactivity disorder). Existing state laws facilitate this practice by requiring schools to have protocols to safely administer prescription and over-the-counter medications to students. Accordingly, schools have standard practices for administering prescribed medications [9]. For example, most require parents, and sometimes physicians, to sign medication administration forms instructing schools on how and when to administer the medication and authorizing them do so. Assuming parents can overcome the logistical barriers inherent in obtaining medication for school use (e.g., a second inhaler just for school use), medication administration itself is feasible under most circumstances. In fact, 5% of children in the USA receive at least one prescription medication at school daily [9].
The last recruitment barrier was the study's decision to use a standardized single-drug controller regimen that was FDA-approved for once-daily use. Approximately 30% of screened children who attended a participating school were excluded because the treating ED physician judged that once-daily ICS monotherapy would result in a step-down from the child's prior controller regimen. Interestingly, only 1 in 5 children who attended a participating school were excluded because they reported using a combination inhaler (e.g., an inhaled corticosteroid plus a long-acting beta-agonist, ICS/LABA). While we considered replicating the child's usual controller regimen to expand eligibility, doing so would have increased medication acquisition costs, precluded once-daily use in many instances, and potentially confounded study outcomes owing to differing treatment regimens.
The underlying assumption justifying school-supervised asthma therapy is that higher adherence to a potentially less efficacious controller regimen at school (e.g., once-daily ICS monotherapy) is ultimately more effective than obtaining lower adherence to a potentially more efficacious controller regimen at home (e.g., twice daily ICS/LABA combination therapy). Because budesonide inhalation powder was approved by the Food and Drug Administration (FDA) for once-daily administration, it was an obvious choice for a standardized school-supervised regimen in the absence of an ICS/LABA combination with a similar FDA approval. Decisions like this one highlight the trade-offs that often occur when attempting to balance efficacy-centric designs, asking how well interventions work under ideal conditions, with effectiveness-centric designs asking how well they work under real-world conditions [10].
Because this pilot was intended to replicate real-world conditions, in our original protocol, ED physicians were expected to prescribe, not dispense, budesonide inhalation powder at discharge to control participants. However, budesonide inhalation powder was not on the Medicaid-approved drug formulary at some clinical sites so many patients would not have been able to fill their prescription. To ensure every child could obtain medication, we changed the prescribing arm to a dispensing arm and simply purchased and dispensed budesonide dry powder inhalers to everyone. This change resulted in a 3-month recruitment delay while we obtained DSMB approval of this change. In addition to creating a delay, this change may have also impaired recruitment because replicating the child's existing controller regimen would have avoided concerns related to stepping down care.
Rights and permissions
Open Access This article is licensed under a Creative Commons Attribution 4.0 International License, which permits use, sharing, adaptation, distribution and reproduction in any medium or format, as long as you give appropriate credit to the original author(s) and the source, provide a link to the Creative Commons licence, and indicate if changes were made. The images or other third party material in this article are included in the article's Creative Commons licence, unless indicated otherwise in a credit line to the material. If material is not included in the article's Creative Commons licence and your intended use is not permitted by statutory regulation or exceeds the permitted use, you will need to obtain permission directly from the copyright holder. To view a copy of this licence, visit http://creativecommons.org/licenses/by/4.0/. The Creative Commons Public Domain Dedication waiver (http://creativecommons.org/publicdomain/zero/1.0/) applies to the data made available in this article, unless otherwise stated in a credit line to the data.
Disclaimer:
This article is autogenerated using RSS feeds and has not been created or edited by OA JF.

Click here for Source link (https://www.biomedcentral.com/)