Relationship among bats, parasitic bat flies, and associated pathogens in Korea – Parasites & Vectors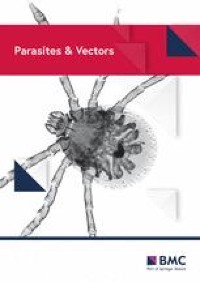 1.
Simmons, N.B. and A.L. Cirranello. 2020. Bat Species of the World: A taxonomic and geographic database. Accessed 28 June 2021.
2.
Szentivanyi T, Christe P, Glaizot O. Bat flies and their microparasites: current knowledge and distribution. Front Vet Sci. 2019;6:115.
3.
Dobson AP. What links bats to emerging infectious diseases? Science. 2005;310:628–9.
4.
Ramirez JD, Hernandez C, Montilla M, Zambrano P, Florez AC, Parra E, et al. First report of human Trypanosoma cruzi infection attributed to TcBat genotype. Zoonoses Public Health. 2014;61:477–9.
5.
Veikkolainen V, Vesterinen EJ, Lilley TM, Pulliainen AT. Bats as reservoir hosts of human bacterial pathogen, Bartonella mayotimonensis. Emerg Infect Dis. 2014;20:960–7.
6.
Reeves WK, Lloyd JE. Chapter 20—louse flies, keds, and bat flies (Hippoboscoidea). In: Mullen GR, Durden LA, editors. Medical and veterinary entomology. 3rd ed. Cambridge: Academic Press; 2019. p. 421–38.
7.
Dick CW, Patterson BD. Bat flies: obligate ectoparasites of bats. In: Morand S, Krasnov B, Poulin R, editors. Micromammals and macroparasites. Tokyo: Springer; 2006. p. 179–94.
8.
Bose R, Petersen K. Lipoptena cervi (Diptera), a potential vector of Megatrypanum trypanosomes of deer (Cervidae). Parasitol Res. 1991;77:723–5.
9.
Dehio C, Sauder U, Hiestand R. Isolation of Bartonella schoenbuchensis from Lipoptena cervi, a blood-sucking arthropod causing deer ked dermatitis. J Clin Microbiol. 2004;42:5320–3.
10.
Hornok S, de la Fuente J, Biro N, Fernandez de Mera IG, Meli ML, Elek V, , et al. First molecular evidence of Anaplasma ovis and Rickettsia spp. in keds (Diptera: Hippoboscidae) of sheep and wild ruminants. Vector Borne Zoonotic Dis. 2011;11:1319–21.
11.
Brook CE, Bai Y, Dobson AP, Osikowicz LM, Ranaivoson HC, Zhu QY, et al. Bartonella spp in fruit bats and blood-feeding ectoparasites in Madagascar. PLoS Negl Trop Dis. 2015;9:e0003532.
12.
Stuckey MJ, Chomel BB, Galvez-Romero G, Olave-Leyva J, Obregon-Morales C, Moreno-Sandoval H, et al. Bartonella infection in hematophagous, insectivorous, and phytophagous bat populations of Central Mexico and the Yucatan Peninsula. Am J Trop Med Hyg. 2017;97:413–22.
13.
Gardner RA, Molyneux DH. Polychromophilus murinus: a malarial parasite of bats: life-history and ultrastructural studies. Parasitology. 1988;96:591–605.
14.
Morse SF, Bush SE, Patterson BD, Dick CW, Gruwell ME, Dittmar K. Evolution, multiple acquisition, and localization of endosymbionts in bat flies (Diptera: Hippoboscoidea: Streblidae and Nycteribiidae). Appl Environ Microbiol. 2013;79:2952–61.
15.
de Bruin A, van Leeuwen AD, Jahfari S, Takken W, Foldvari M, Dremmel L, et al. Vertical transmission of Bartonella schoenbuchensis in Lipoptena cervi. Parasit Vectors. 2015;8:176.
16.
Heath BD, Butcher RDJ, Whitfield WGF, Hubbard SF. Horizontal transfer of Wolbachia between phylogenetically distant insect species by a naturally occurring mechanism. Curr Biol. 1999;9:313–6.
17.
Landmann F. The Wolbachia endosymbionts. Microbiol Spectr. 2019;7:BAI-0018-2019.
18.
Slatko BE, Luck AN, Dobson SL, Foster JM. Wolbachia endosymbionts and human disease control. Mol Biochem Parasitol. 2014;195:88–95.
19.
Jiyipong T, Jittapalapong S, Morand S, Raoult D, Rolain JM. Prevalence and genetic diversity of Bartonella spp. in small mammals from Southeastern Asia. Appl Environ Microbiol. 2012;78:8463–6.
20.
Hosokawa T, Nikoh N, Koga R, Sato M, Tanahashi M, Meng XY, et al. Reductive genome evolution, host-symbiont co-speciation and uterine transmission of endosymbiotic bacteria in bat flies. ISME J. 2012;6:577–87.
21.
Reeves WK, Loftis AD, Gore JA, Dasch GA. Molecular evidence for novel bartonella species in Trichobius major (Diptera: Streblidae) and Cimex adjunctus (Hemiptera: Cimicidae) from two southeastern bat caves, USA. J Vector Ecol. 2005;30:339–41.
22.
Kim KH, Yi J, Oh WS, Kim NH, Choi SJ, Choe PG, et al. Human granulocytic anaplasmosis, South Korea, 2013. Emerg Infect Dis. 2014;20:1708–11.
23.
Ko S, Kim SJ, Kang JG, Won S, Lee H, Shin NS, et al. Molecular detection of Bartonella grahamii and B. schoenbuchensis-related species in Korean water deer (Hydropotes inermis argyropus). Vector Borne Zoonotic Dis. 2013;13:415–8.
24.
Park KH, Chang WH, Schwan TG. Identification and characterization of Lyme disease spirochetes, Borrelia burgdorferi sensu lato, isolated in Korea. J Clin Microbiol. 1993;31:1831–7.
25.
Kim HC, Han SH, Dick CW, Choi YG, Chong ST, Klein TA, et al. Geographical distribution of bat flies (Diptera: Nycteribiidae and Streblidae), including two new records, Nycteribia allotopa and N. formosana, collected from bats (Chiroptera: Rhinolophidae and Vespertilionidae) in the Republic of Korea. J Vector Ecol. 2012;37:333–7.
26.
Jo YS, Baccus JT, Koprowski JL. Mammals of Korea. National Institute of Biological Resources; 2018.
27.
Yoon MH. Vertebrate fauna of Korea, vol. 5, no. 1: Bats. National Institute of Biological Resources; 2010.
28.
Szentivanyi T, Estok P, Foldvari M. Checklist of host associations of European bat flies (Diptera: Nycteribiidae, Streblidae). Zootaxa. 2016;4205:101–26.
29.
Tortosa P, Dsouli N, Gomard Y, Ramasindrazana B, Dick CW, Goodman SM. Evolutionary history of Indian Ocean Nycteribiid bat flies mirroring the ecology of their hosts. PLos ONE. 2013;8:e75215.
30.
Wilkinson DA, Duron O, Cordonin C, Gomard Y, Ramasindrazana B, Mavingui P, et al. The bacteriome of bat flies (Nycteribiidae) from the Malagasy region: a community shaped by host ecology, bacterial transmission mode, and host-vector specificity. Appl Environ Microbiol. 2016;82:1778–88.
31.
Folmer O, Black M, Hoeh W, Lutz R, Vrijenhoek R. DNA primers for amplification of mitochondrial cytochrome c oxidase subunit I from diverse metazoan invertebrates. Mol Mar Biol Biotechnol. 1994;3:294–9.
32.
Hornok S, Kontschan J, Kovats D, Kovacs R, Angyal D, Gorfol T, et al. Bat ticks revisited: Ixodes ariadnae sp. nov. and allopatric genotypes of I. vespertilionis in caves of Hungary. Parasit Vectors. 2014;7:202.
33.
Duplan F, Davies S, Filler S, Abdullah S, Keyte S, Newbury H, et al. Anaplasma phagocytophilum, Bartonella spp., haemoplasma species and Hepatozoon spp. in ticks infesting cats: a large-scale survey. Parasit Vectors. 2018;11:201.
34.
Duron O, Jourdain E, McCoy KD. Diversity and global distribution of the Coxiella intracellular bacterium in seabird ticks. Ticks Tick Borne Dis. 2014;5:557–63.
35.
Rar V, Livanova N, Tkachev S, Kaverina G, Tikunov A, Sabitova Y, et al. Detection and genetic characterization of a wide range of infectious agents in Ixodes pavlovskyi ticks in Western Siberia. Russia Parasit Vectors. 2017;10:258.
36.
Sarwar MS, Jahan N, Shahbaz F. Molecular detection and characterization of Wolbachia pipientis from Culex quinquefasciatus collected from Lahore, Pakistan. Am J Trop Med Hyg. 2018;98:154–61.
37.
Billeter SA, Hayman DT, Peel AJ, Baker K, Wood JL, Cunningham A, et al. Bartonella species in bat flies (Diptera: Nycteribiidae) from western Africa. Parasitology. 2012;139:324–9.
38.
Hall TA. BioEdit: a user-friendly biological sequence alignment editor and analysis program for Windows 95/98/NT. Nucl Acids Symp Ser. 1999;41:95–8.
39.
Kumar S, Stecher G, Tamura K. MEGA7: molecular evolutionary genetics analysis version 7.0 for bigger datasets. Mol Biol Evol. 2016;33:1870–4.
40.
Obame-Nkoghe J, Rahola N, Bourgarel M, Yangari P, Prugnolle F, Maganga GD, et al. Bat flies (Diptera: Nycteribiidae and Streblidae) infesting cave-dwelling bats in Gabon: diversity, dynamics and potential role in Polychromophilus melanipherus transmission. Parasit Vectors. 2016;9:333.
41.
Petersen FT, Meier R, Kutty SN, Wiegmann BM. The phylogeny and evolution of host choice in the Hippoboscoidea (Diptera) as reconstructed using four molecular markers. Mol Phylogenet Evol. 2007;45:111–22.
42.
Vivero RJ, Torres-Gutierrez C, Bejarano EE, Pena HC, Estrada LG, Florez F, et al. Study on natural breeding sites of sand flies (Diptera: Phlebotominae) in areas of Leishmania transmission in Colombia. Parasit Vectors. 2015;8:116.
43.
Zhang DX, Hewitt GM. Assessment of the universality and utility of a set of conserved mitochondrial COI primers in insects. Insect Mol Biol. 1997;6:143–50.
44.
Gutierrez-Lopez R, Martinez-de la Puente J, Gangoso L, Soriguer RC, Figuerola J. Comparison of manual and semi-automatic DNA extraction protocols for the barcoding characterization of hematophagous louse flies (Diptera: Hippoboscidae). J Vector Ecol. 2015;40:11–5.
45.
Park SH, Zhang Y, Piao H, Yu DH, Jeong HJ, Yoo GY, et al. Use of cytochrome c oxidase subunit I (COI) nucleotide sequences for identification of the Korean Luciliinae fly species (Diptera: Calliphoridae) in forensic investigations. J Korean Med Sci. 2009;24:1058–63.
46.
La Scola B, Zeaiter Z, Khamis A, Raoult D. Gene-sequence-based criteria for species definition in bacteriology: the Bartonella paradigm. Trends Microbiol. 2003;11:318–21.
47.
McKee CD, Kosoy MY, Bai Y, Osikowicz LM, Franka R, Gilbert AT, et al. Diversity and phylogenetic relationships among Bartonella strains from Thai bats. PLos ONE. 2017;12:e0181696.
48.
Han HJ, Wen HL, Zhao L, Liu JW, Luo LM, Zhou CM, et al. Novel Bartonella species in insectivorous bats, Northern China. PLos ONE. 2017;12:e0167915.
49.
Nabeshima K, Sato S, Kabeya H, Komine N, Nanashima R, Takano A, et al. Detection and phylogenetic analysis of Bartonella species from bat flies on eastern bent-wing bats (Miniopterus fuliginosus) in Japan. Comp Immunol Microbiol Infect Dis. 2020;73:101570.
50.
Trataris AN, Rossouw J, Arntzen L, Karstaedt A, Frean J. Bartonella spp. in human and animal populations in Gauteng South Africa, 2007 to 2009. Onderstepoort J Vet. 2012;79:452.
51.
Dietrich M, Tjale MA, Weyer J, Kearney T, Seamark ECJ, Nel LH, et al. Diversity of Bartonella and Rickettsia spp. in bats and their blood-feeding ectoparasites from South Africa and Swaziland. PLos ONE. 2016;11:e0152077.
Rights and permissions
Open Access This article is licensed under a Creative Commons Attribution 4.0 International License, which permits use, sharing, adaptation, distribution and reproduction in any medium or format, as long as you give appropriate credit to the original author(s) and the source, provide a link to the Creative Commons licence, and indicate if changes were made. The images or other third party material in this article are included in the article's Creative Commons licence, unless indicated otherwise in a credit line to the material. If material is not included in the article's Creative Commons licence and your intended use is not permitted by statutory regulation or exceeds the permitted use, you will need to obtain permission directly from the copyright holder. To view a copy of this licence, visit http://creativecommons.org/licenses/by/4.0/. The Creative Commons Public Domain Dedication waiver (http://creativecommons.org/publicdomain/zero/1.0/) applies to the data made available in this article, unless otherwise stated in a credit line to the data.
Disclaimer:
This article is autogenerated using RSS feeds and has not been created or edited by OA JF.

Click here for Source link (https://www.biomedcentral.com/)