Risk factors of prolonged ventilation after thymectomy in thymoma myasthenia gravis patients – Journal of Cardiothoracic Surgery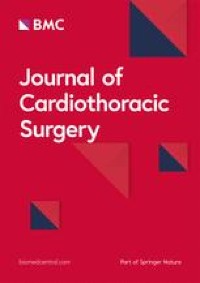 The weaning management of MG patients is a callange. Till now clinical judgment of whether extubation can be done after the operation is mostly based on clinical experience, which will result in premature or delayed extubation and increase the incidence of adverse events. So, grasping opportunity for weaning in time is meaningful. However, the need for prolonged ventilation is dependent on many factors. In this study, we integrated multiple clinical variables both the baseline clinical and the anesthesia, surgery factors to develop a logistic regression-based model to predict the need for prolonged ventilation for TAMG patients after thymectomy. We found that sex, VC, the Osserman classification of MG, the anesthesia method, and the duration of the operation were independent predictors. Not only this, but we also incorporate them into a user-friendly nomogram for predicting. Importantly, our nomogram had excellent discrimination properties, with an AUC of 83.5%.
In this study, patients were 54 ± 12.2 years old, and female was about 56.3%. Similar to the previous studies we find that prolonged postoperative ventilation is common in patients with MG patients, about 33.9% (38/112). Nearly one-third of patients (38/112, 33.9%) required postoperative ventilation, and the proportion of male patients was relatively high (60.5 vs. 36.5, p = 0.015). Furthermore, the average length of ventilation is 36.8 h. 7 patients need ventialtion for more than 7 days and 3 of them over 2 weeks. Besides, those patients who required prolonged ventilation had much longer hospital stays (Z =  − 5.490, p < 0.001).
As surgery is an inestimable challenge for MG patients, we not only focus on the preoperative factors but also analyse the possible related details of anesthesia and surgery, to explore the risk factors of postoperative ventilation. Surprisingly, the risk factors previously identified by Leventhal et al. [7] (history of pulmonary disease, duration of disease > 6 years, pyridostigmine dosage > 750 mg/day and VC < 2.9 L) were not completely consistent with our study. It may be attributed to several reasons. First, compared to the 12.5% (3/24) patients in Leventhal who had underlying chronic respiratory disease, only 8.0% (9/112) in our study. And 3 of them were tuberculosis and 2 for asthmas, emphysema and pneumonia. Additionally, we analyzed the actual pulmonary function of the patients by the pulmonary function tests before surgery and shown ventilatory reserve, maximum expiratory flow at 50% (MEF 50%), MEF 75% and MEF 25–75% are lower 89.80 (86.40, 92.90) %, but without significant destroy in both ventilation and diffusion function. But VC% were lower in prolonging ventilation group (p < 0.05). Besides, Multivariate analyses shown that VC was an independent risk factor of the need for postoperative ventilation. Second, some researchers found that the longer the preoperative course of MG, the more irreversible damage to the neuromuscular junction. And the average duration of the MG in our study was 60 (30, 80) days in our study. 63 patients with mild clinical symptoms, 49 patients were more serious with bulbar symptoms (Osserman Classification IIb). Compared with group 1, patients in group 2 have a longer duration of MG and with more severe symptoms (p = 0.001). Third, as the better knowledge of the pathology and physiology of TAMG, medical therapy strategy was more actively and standardized base on the latest clinical guideline. In our study, 55 (49.1%) patients received preoperative medicine, moreover, 12 of them use glucocorticoid in combination, 4 patients need a high dose of intravenous immune globulin and or plasma exchange and none of our patients suffered MC before surgery. But few patients were used medicine in combination therapy in previous studies. So, the value of 750 mg/day suggested by Leventhal et al. the average dose of preoperative pyridostigmine dose is much higher than 75 (0.180) mg/day in our study. Overall, the earlier diagnosis and the more effective management by use immunosuppressive in combination [14] make it easier to keep the patients in a stable state and a better outcome even after surgery.
Additionally, we thought the anesthesia and surgery could make big difference in the prognosis of patients. The univariable analysis shown total intravenous anesthesia, OT, long operation time, much blood loss, and having pulmonary wedge resection or pericardiotomy was associate with a higher risk of postoperative ventilation.
The open median sternotomyis the standard approach for thymectomy as its better visualization of the anatomical structures. However, VATS, the minimally invasive procedure, is considered for clinical stage I–II [18]. In our study, 89.3% of our patients are in clinical stage II, and all have undergone extended thymectomy. VATS is used in 96 (85.7%) patients, but significantly less in the prolonged ventilation group (p = 0.001). Besides, group 2 has a longer operation time and more blood loss (P < 0.001). We thought that surgery by VATS only follows the muscle fibers, with less damage to respiratory muscles, shooter incisions, and slighter postoperative pain, which maximal protecting the respiratory muscles by minimizing the restriction of the chest wall muscles movement and the impair of the respiratory driving force. And it has been proved that the reduction of postoperative incision is conducive to the recovery of lung function in the early postoperative period, which has a certain relationship with the protection of respiratory function [4], especially in the force of early inhalation and forceful expiration [5]. In short, as the previous studies have shown VATS has an equal if not superior oncological efficacy, better perioperative complications and survival outcomes [19, 20].
Although sedatives and volatile anesthetics can exacerbate MG, the best general anesthesia methods of MG patients in surgery have been contradictory. MG patients are more sensitive than normal to the neuromuscular depressant effects of halothane and isoflurane [21, 22]. Maddali et al. [23] reported the safety use of sevoflurane and propofol when real-time monitoring the depth of anesthesia in a small cohort of patients undergoing transthymectomy. In contrast, Nitahara et al. [24] have reported that sevoflurane inhibits neuromuscular transmission in a dose-dependent fashion. In our study, 60.7% of patients used intravenous-inhalational anesthesia by sevoflurane and propofol. And patients with total intravenous anesthesia have a lower risk of postoperative ventilation. Nondepolarizing NMBAs were used in 96.4% of patients, but there is no difference between two groups (p = 1.00). The complications of residual neuromuscular blockade of nodepolarizing NMBAs is common in MG patients. So, it is suggested that the amount given should be reduced to one-third or less, depending on the severity of MG disease. Regrettably, the type of nondepolarizing NMBAs we use varies among patients, so is incomparable between the drugs, and analysis their action, side effect in different anesthesia methods. Furthermore, we found more people received muscle relaxant antagonists in group 1 (p = 0.001). In general, the use of objective quantitative neuromuscular monitors is necessary when the NMBAs are used in MG patients, and the amount must be titrated to the individual.
Rights and permissions
Open Access This article is licensed under a Creative Commons Attribution 4.0 International License, which permits use, sharing, adaptation, distribution and reproduction in any medium or format, as long as you give appropriate credit to the original author(s) and the source, provide a link to the Creative Commons licence, and indicate if changes were made. The images or other third party material in this article are included in the article's Creative Commons licence, unless indicated otherwise in a credit line to the material. If material is not included in the article's Creative Commons licence and your intended use is not permitted by statutory regulation or exceeds the permitted use, you will need to obtain permission directly from the copyright holder. To view a copy of this licence, visit http://creativecommons.org/licenses/by/4.0/. The Creative Commons Public Domain Dedication waiver (http://creativecommons.org/publicdomain/zero/1.0/) applies to the data made available in this article, unless otherwise stated in a credit line to the data.
Disclaimer:
This article is autogenerated using RSS feeds and has not been created or edited by OA JF.

Click here for Source link (https://www.biomedcentral.com/)