Salvage endovascular embolization of the left pulmonary artery for recurrent pseudoaneurysm – Surgical Case Reports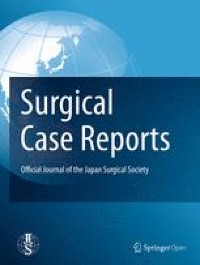 PPA following lung resection is associated with high mortality. As many as 50% of PPA are diagnosed postmortem, as there are no apparent clinical signs until massive lethal hemoptysis [3, 4]. PPA most commonly occurs after iatrogenic trauma, chest trauma, or pulmonary infection [4]. In our case, a fistula developed between the bronchial anastomosis site and the PPA, possibly caused by poor bronchial healing due to devascularization from lymph node dissection in pulmonary fibrosis and intimal damage from the clamping of the pulmonary artery. Buttressing of the anastomosis site using omentum, muscle flap, and pericardium reportedly helps preserve the blood supply and prevent bronchovascular fistula [5]; however, it is crucial to completely isolate the anastomosis site from the airway.
Radiation pneumonitis is a serious adverse event after thoracic radiotherapy. Sugimoto et al. [6] reported that radiation pneumonitis may contribute to the development of a destroyed lung after lung resection, as lungs with radiation pneumonitis do not have normal wound healing mechanisms and are susceptible to infection. Furthermore, a recent prospective study showed that extended lung resection after concurrent chemotherapy and high-dose radiation (60 Gy) is associated with increased 30- and 90-day mortality rates compared with anatomic lung resection after concurrent chemotherapy and high-dose radiation [7]. Special attention should be paid to bronchial healing, because of the bronchial blood flow impairment caused by chemotherapy and radiation therapy.
Surgical treatment for bronchovascular fistula comprises fistula resection with reconstruction of the pulmonary artery or bronchus, or simply pneumonectomy. However, the morbidity and mortality of this emergency procedure is extremely high, and its recommendation depends on the balance between underlying conditions and expected complications. Endovascular coiling effectively achieves temporary hemostasis [8]; however, for PPA, rebleeding occurs in approximately 12.5% of patients due to the lack of adventitial wall in the pulmonary artery [9]. Therefore, surgeons should consider surgical intervention if technically possible and tolerable to the patient. In the present case, considering that the blood flow in the left pulmonary artery was eventually almost eliminated and the cardiopulmonary load was probably similar to that after pneumonectomy, left completion pneumonectomy might have been possible on POD 34 when the ECMO was removed.
The long-term effect of embolization of a central pulmonary artery to cut off blood supply to an entire lung has not been reported. Therefore, our concerns before performing total pulmonary embolization included possible pulmonary hypertension, pulmonary infection due to insufficient pulmonary circulation, and exacerbation of bronchial anastomotic ischemia. However, as the left lung was already severely damaged by repeated hemoptysis and had decreased respiratory function, the risk of respiratory failure due to imbalanced ventilation and blood flow after embolization was considered minimal [10]. Regarding the bronchial blood supply, there are some reports that pulmonary sequestration totally supplied by an anomalous systemic artery supply has been successfully treated using a vascular plug, without causing severe long-term complications [11]. The low incidence of pulmonary infarction and lack of ischemic complications after embolization are likely explained by the available collateral circulation from the bronchial, intercostal, inferior phrenic, and other nearby arteries (Fig. 5). The vascular plug gradually occluded the pulmonary artery by promoting clot formation, which might have enable the patient to adapt to the gradual hemodynamic change. Our patient has not required readmission for the treatment of late pulmonary complications. However, the theoretical validity of this treatment should be carefully evaluated.
Rights and permissions
Open Access This article is licensed under a Creative Commons Attribution 4.0 International License, which permits use, sharing, adaptation, distribution and reproduction in any medium or format, as long as you give appropriate credit to the original author(s) and the source, provide a link to the Creative Commons licence, and indicate if changes were made. The images or other third party material in this article are included in the article's Creative Commons licence, unless indicated otherwise in a credit line to the material. If material is not included in the article's Creative Commons licence and your intended use is not permitted by statutory regulation or exceeds the permitted use, you will need to obtain permission directly from the copyright holder. To view a copy of this licence, visit http://creativecommons.org/licenses/by/4.0/.
Disclaimer:
This article is autogenerated using RSS feeds and has not been created or edited by OA JF.

Click here for Source link (https://www.springeropen.com/)