Serum 25-hydroxyvitamin D is negatively associated with severe periodontitis: a cross-sectional study – BMC Oral Health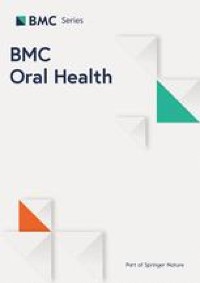 NHANES protocol approved by NCHS Research Ethics Review Board, and obtained informed consent from all participants (https://www.cdc.gov/nchs/nhanes/index.htm). The Institutional Review Board at the Shanxi Provincial People's Hospital determined the analysis used public data sets that did not constitute human subjects research, so human subjects approval was not needed.
Study design and participants
This is a cross-sectional study. The study was organized based on the list of items for the STROBE (cross-sectional studies). Trained staff conducted examinations and interviews through automated data collection where questions were sent directly to the participants or through an agent if necessary. Individuals were enrolled in NHANES data from 2013 to 2014. Inclusion criteria included participants with complete full-mouth periodontal examination (FMPE). Exclusion criteria included: (1) uncompleted with 25-hydroxyvitamin D tests; (2) aged less than 30 years old. A total of 10,175 individuals were screened, out of which 2928 individuals were sampled for the interviews.
Primary variables
Periodontal examination applied the FMPE protocol, which collects probe measurements from six sites per tooth for all teeth in NHANES. Accordingly, the CDC/AAP definitions were based on measures of AL and PD at the four interproximal sites per tooth [17] Severe periodontitis was characterized as: ≥ 2 interproximal sites with attachment loss (AL) ≥ 6 mm (not on the same tooth) and ≥ 1 interproximal site with probing depth (PD) ≥ 5 mm. Mild periodontitis, moderate periodontitis, and no periodontitis definitions were described in Additional file 1: Table S1.
Using the standard protocol, serum 25(OH)D levels were tested in blood samples collected through venipuncture at mobile examination centers (MEC). Serum 25(OH)D was measured via DiaSorin radioimmunoassay kit (Diasorin, Stillwater, MN, USA) at the National Center for Environmental Health, Center for Disease Control and Prevention. As in previous studies, the serum 25(OH)D levels were classified as normal (≥ 75 nmol/ml), insufficient (50–74.9 nmol/ml), deficient (25–49.9 nmol/ml), and severely deficient (< 25 nmol/ml) [16].
Study variables
Potential confounding factors were selected from previous studies, including gender, race, body mass index (BMI), age, education, diabetes mellitus, marital status, smoking status, hypertension, poverty-income ratio (PIR), alcohol consumption, hypercholesterolemia, triglyceride, apolipoprotein (B), health insurance, total cholesterol, low-density lipoprotein cholesterol (LDL-c), high-density lipoprotein cholesterol (HDL-c), glycohemoglobin, and fasting blood glucose. The definitions of smoking status and alcohol consumption were based on our previous study (Additional file 1) [16]. Patients were considered hypertensive based on a medical report or if they were on antihypertensive drugs. The diagnosis of hypercholesterolemia was based on cholesterol test results or if patients were on lipid-lowering drugs. The race was classified as other race, non-Hispanic white, non-Hispanic black, other Hispanic, or Mexican–American. Health insurance status was captured by the question: "Do you have health insurance or other kinds of health insurance?" As mentioned earlier, the household PIR is obtained by dividing the household income by the poverty criterion. A college degree or above, certain college or associate (AA) degrees, a high school graduation, or below 11th grade are classified based on educational levels. The marital status was categorized into married, separated, never married, living with a partner, divorced, or widowed.
Statistical analysis
Baseline characteristics were analyzed using means, standard errors (SE), median (min–max), percentages, or frequencies. Continuous variables were compared using analysis of variance (ANOVA) for normally distributed variables, and non-parametric test for not fit the normal distribution. Categorical variables were analyzed using the Chi-square test. We adjusted the p value of multiple groups testing to perform the large number of tests by Bonferroni correction. The effect of 25(OH)D on the severe periodontal disease was examined using multiple logistic regression model. Model I: no adjustment, Model II: adjusted for gender and age, and Model III: adjusted for age, BMI, hypertension, gender, marital status, alcohol consumption, education level, race/Hispanic origin, apolipoprotein (B), hypercholesterolemia, glycohemoglobin, HDL-C, health insurance, total cholesterol, triglyceride, LDL-C, and smoking status. Further, converting classification variables of 25(OH)D to continuous variables to perform tests for linear trend for robust analysis in the models. To account for 25(OH)D as a continuous variable, the effect value for severe periodontitis per increase in 25(OH)D per standard deviation (SD) was determined. a smooth curve fitting and a generalized additive model was established to address the association of severe periodontitis and 25(OH)D. When nonlinearity is detected, the recursive algorithm is first used to calculate the inflection point, and then a two-segment linear regression model is built on both sides of the inflection point. Interaction and stratified analyses were performed based on all variables outlined in Table 1. Subgroup analysis was performed to assess the potential effect of unmeasured confounding variables. R (http://www.R-project.org) and Empower-Stats were used for all analyses. Two-sided p values < 0.05 were considered statistically significant.
Rights and permissions
Open Access This article is licensed under a Creative Commons Attribution 4.0 International License, which permits use, sharing, adaptation, distribution and reproduction in any medium or format, as long as you give appropriate credit to the original author(s) and the source, provide a link to the Creative Commons licence, and indicate if changes were made. The images or other third party material in this article are included in the article's Creative Commons licence, unless indicated otherwise in a credit line to the material. If material is not included in the article's Creative Commons licence and your intended use is not permitted by statutory regulation or exceeds the permitted use, you will need to obtain permission directly from the copyright holder. To view a copy of this licence, visit http://creativecommons.org/licenses/by/4.0/. The Creative Commons Public Domain Dedication waiver (http://creativecommons.org/publicdomain/zero/1.0/) applies to the data made available in this article, unless otherwise stated in a credit line to the data.
Disclaimer:
This article is autogenerated using RSS feeds and has not been created or edited by OA JF.

Click here for Source link (https://www.biomedcentral.com/)