Smart node relocation (SNR) and connectivity restoration mechanism for wireless sensor networks – EURASIP Journal on Wireless Communications and Networking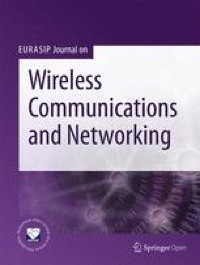 Connectivity restoration in wireless sensor networks is an area that has been thoroughly studied by researchers [8,9,10,11,12]. Some solutions are based on relocation on-demand, while other solutions rely on post-deployment relocation. The applications requiring sensor nodes to be deployed over large geographic areas use the aerial deployment of the nodes. Due to this, node density throughout is not uniform, and some areas may have a higher density of nodes than some other areas. To achieve a uniform distribution of nodes, relocation of sensor nodes is desired so that connectivity can be established between the sensor nodes and the end-user, and the coverage area can be maximized.
The connectivity aspect is thoroughly studied in the literature, and several approaches are presented [8,9,10,11,12]. Some works are more focused on maximizing the coverage of nodes without affecting connectivity. In [13], the authors considered robot networks for the process of connectivity restoration. A 2-connected network concept is introduced, meaning that there should exist a minimum of two pathways among each pair of nodes in the network. This approach achieves 2-degree connectivity. For dealing with a node's failure, the algorithm strives to achieve 2-connectivity by moving a pair of sensor nodes. In this way, connectivity is restored. In [14], the authors proposed a technique called C2AP. In this technique, post-deployment of nodes is used for improving coverage and connectivity. A hierarchical architecture is proposed by the authors called COCOLA in [15], where coverage is maximized without forwarding data path to 1-tier node by the incremental relocation of higher-tier nodes. However, both the proposed solutions, C2AP and COCOLA, are incapable of dealing with the failed nodes' implications. In [16], a solution based on the node's cascaded movement is introduced for connectivity restoration due to failed nodes. According to this technique, a nearby node replaces a failed node, which is then replaced by another node, and this process continues until finding a redundant node. In [17], the authors proposed a new method called DARA. DARA uses a scheme based on probability for detecting cut vertices and selecting an appropriate neighbor node to the failed node for relocation. The appropriateness of the neighbor is decided based on the number of communication links.
Cascade movement of nodes is observed in most recent connectivity restoration techniques, but it does not care about the sink node and load distribution role. Therefore, a sink-oriented cascade model is introduced in a Memetic Algorithm for Topology Optimization against cascading failures (MA-TOSCA) [18]. It helps wireless sensor networks to avoid cascading failures using topology optimization. A local search operator is used on this new network paired metric. As a result, it enhances the network robustness and takes less time as compared to other techniques. Furthermore, this algorithm does not consider the impact of SINR (Signal to interference plus noise ratio), which relates to communication links. Therefore, it is an unaware channel algorithm that affects its overall performance.
Energy-Aware Connectivity Restoration Mechanism for Cyber-Physical Systems of Networked Sensors and Robots [19] consists of three algorithms, i.e. CoRFL, CoRFL2, and CoRFLN. It restores connectivity while taking care of network lifetime, energy level, network lifetime, and ecological conditions. Nodes movement is controlled using a distributed algorithm based on the fuzzy logic, residual energy, node rank, and distance. CoRFL handles the issue if the most qualified node is a cut-vertex. In this case, it will not move, and it asks even any far node to move forward. CoRFL2 and CoRFLN are used to solve the movement of cut-vertex nodes. The supervisor gathers the information of partition nodes. The best recovery node is chosen by using the fuzzy logic system from the live nodes. The supervisor administers cascade movement in this way that it is connected to other partitions. A proper mechanism of coordination among the nodes is used. In CoRFLN, the nearest node is considered standby, whereas CoRFL2 attempts to find its substitute by keeping in view the distance and residual energy.
Most current research on cascading failure of WSNs deals with the single sink network, and a few use multi-sink networks. MA-MSP is a memetic algorithm that supports WSNs struggle cascading failures by using multi-sink placement optimization. In this technique, a local search operator is intended based on a new network balancing metric. This proposed cascade model adequately characterizes the process of cascading of multi-sink in the wireless sensor networks [20].
Efficient Solution for Connectivity Restoration (ESCR) [21] is an energy-efficient technique for the connectivity of wireless sensor networks. The technique restores the network with an efficient consumption of residual energy and slightest node movement. Only such nodes can participate in the network restoration process near the faulty node and have more energy. As a result, unnecessary cascade movement of the nodes during the restoration process is stopped. Moreover, it ensures that the node that participates in the network restoration process has a sufficient energy level not to be exhausted during the process. ESCR consists of two algorithms, i.e., Assigning Backup Nodes (ABN) and Connectivity Restoration Process (CPR). ABN algorithm is used to assign the backup nodes for every node according to their residual energy. This process will be done at the start of the network and repeats in any node failures. CPR is the second algorithm whose fundamental task is to restore the network. In case of any nodes failure, its backup node is moved forward to participate in this process. ESCR compared with other well-known techniques and was found better than others. It is evaluated in an environment where sensor nodes are stationary and only actor nodes can move. Its result can be varied if we consider the mobility of sensor nodes as well.
Geometric Skeleton-based Reconnection (GSR) is proposed in [22]. GSR employs a geometrical skeleton-based approach to logically partition networks into different segments. A group of nodes having maximum connectivity becomes the geometrical skeleton backbone. Each segment keeps track of all skeletal backbone nodes because it plays an important part in network partitioning. In the case of network partitioning, each segment tries to join the geometrical skeleton backbone. This process leads to the restoration of connectivity. However, GSR assumes that each node knows the locations of all other nodes in the network. Second, it is also a prerequisite that all nodes in the network must be aware of all nodes present in the geometrical skeleton backbone. These assumptions are impractical, particularly for large networks, because keeping all this information in a network with mobile nodes can cause massive overhead. Another problem that may arise during the network's operation is that the skeleton backbone may exhaust its energy soon, causing a decrease in such nodes. After a while, the lack of presence of such nodes may result in compromising the recovery mechanism.
An energy-efficient technique, Intelligent On-Demand Connectivity Restoration for wireless sensor networks (IDCRWSN) [23], has been presented that efficiently uses the sensor nodes' residual energy. IDCRWSN restores the connectivity through redundant nodes, which are managed by Slave Keeper nodes. The Slave Keeper nodes are managed and controlled by the Master Keeper nodes. The Permanent Relocation Algorithm for Centralized Actor Recovery (PRACAR) and Self-Route Recovery Algorithm (SRRA) [24] addresses the connectivity restoration of failed actor nodes. The PRACAR restores failed actor nodes' connectivity, and SRRA provides an optimal path to the relocated sensor nodes.
All the above-mentioned works do not consider connectivity, coverage, and energy efficiency collectively. Our proposed work can be distinguished from the abovementioned works because it addresses connectivity restoration, better coverage, and efficient utilization of energy in an integrated manner.
Rights and permissions
Open Access This article is licensed under a Creative Commons Attribution 4.0 International License, which permits use, sharing, adaptation, distribution and reproduction in any medium or format, as long as you give appropriate credit to the original author(s) and the source, provide a link to the Creative Commons licence, and indicate if changes were made. The images or other third party material in this article are included in the article's Creative Commons licence, unless indicated otherwise in a credit line to the material. If material is not included in the article's Creative Commons licence and your intended use is not permitted by statutory regulation or exceeds the permitted use, you will need to obtain permission directly from the copyright holder. To view a copy of this licence, visit http://creativecommons.org/licenses/by/4.0/.
Disclaimer:
This article is autogenerated using RSS feeds and has not been created or edited by OA JF.

Click here for Source link (https://www.springeropen.com/)