Synthesized HMGB1 peptide attenuates liver inflammation and suppresses fibrosis in mice – Inflammation and Regeneration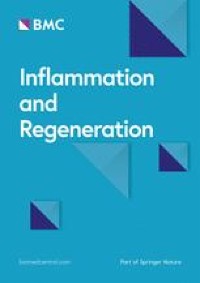 Mice
C57BL/6 male mice were purchased from Charles River (Yokohama, Japan). Animals were housed in a specific pathogen-free environment and kept under standard conditions with a 12-h day/night cycle and access to food and water ad libitum. All animal experiments were conducted in compliance with institutional regulations, ARRIVE guidelines, and the study protocols were approved by the Institutional Animal Care and Committee of Niigata University and Osaka University.
HMGB1 peptide
HMGB1 peptide (lot. no. AEF93//449-020) was provided by StemRim Inc. (Osaka, Japan) [15]. Before injection, HMGB1 peptide was dissolved in normal saline (NS, concentration: 1 mg/mL; Otsuka Pharmaceutical Co., Ltd., Tokyo, Japan).
CCl4-induced cirrhosis mouse model
To establish the CCl4-induced cirrhosis mouse model, male mice (10 weeks old) were intraperitoneally injected with 1.0 mL/kg CCl4 (FUJIFILM Wako Pure Chemical Industries Ltd., Osaka, Japan) dissolved in corn oil (FUJIFILM Wako Pure Chemical Industries Ltd.) at a 1:10 volumetric ratio twice weekly until sacrifice for analysis of cirrhosis. Eight weeks after CCl4 injection, NS (control; 5 μL/g) or HMGB1 peptide (5 μg/g) was administered via the tail vein twice a week for 1, 2, or 4 weeks. During the HMGB1 peptide injection period, CCl4 was continually administered. Three days after the final HMGB1 peptide or CCl4 administration, serum and fibrosis analysis were performed. In the one-time CCl4 injection experiment, HMGB1 peptide (5 μg/g) was injected two times (3 days prior to CCl4 injection [same dose as mentioned above] and same day of CCl4 injection). Thirty-six hours after CCl4 injection, serum and tissues were obtained.
Macrophage culture and assay
Bone-marrow cells collected from the femurs of 10-week-old male mice were cultured at 37 °C in the presence of 5% CO2 in ultra-low attachment flasks (Corning, Corning, NY, USA) and medium (Dulbecco's modified Eagle's medium/F12; Thermo Fisher Scientific) containing 20 ng/mL macrophage colony-stimulating factor-1 (Peprotech Inc., Rocky Hill, NJ, USA); the medium was changed twice weekly, as described previously [6]. After 7 days, the macrophages were harvested. The harvested macrophages were seeded in 6-well ultra-low attachment dishes (Corning) at a density of 5 × 106 cells/well. Then, 0.1 mg HMGB1 peptide (concentration: 1 mg/mL), 0.01 mg HMGB1 peptide (concentration: 0.1 mg/mL, low-dose group), or NS (control group) was added to the cultured macrophages. After 48 h, macrophages were harvested, and mRNA expression levels of genes encoding pro-inflammatory factors (e.g., interleukin-6 [Il6], tumor necrosis factor [Tnfa], monocyte chemotactic protein-1 [Mcp1], and inducible nitric oxide synthase [Inos]) and anti-inflammatory factors (e.g., Il-10, chitinase 3-like 3 [Ym1], found in inflammatory zone protein [Fizz1], and Cd206) were evaluated using real-time polymerase chain reaction (PCR).
Real-time PCR
Total RNA was obtained using an RNeasy kit (Qiagen, Venlo, Netherlands) and was reverse transcribed using a QuantiTect reverse transcription kit (Qiagen). Gene expression analysis was performed using prevalidated QuantiTect primers (Supplemental Table 1) with QuantiTect SYBR reagent (Qiagen). Real-time PCR was conducted with a Step One Plus Real-time PCR System (Applied Biosystems, Foster City, CA, USA). The results were obtained from five separate samples. The gene encoding glyceraldehyde 3-phosphate dehydrogenase was used as an internal control. The fold change in relative gene expression from the control was calculated using the ΔΔCt method.
Serum analyses
Arterial blood samples were obtained from the hearts of mice at 1, 2, and 4 weeks after starting HMGB1 peptide injection. Serum alanine aminotransferase (ALT), aspartate transaminase (AST), total bilirubin (Bil), and albumin (ALB) concentrations were determined by Oriental Yeast Co., Ltd., Nagahama LSL (Nagahama, Japan).
Sirius Red staining
To quantify fibrosis, liver tissues were collected at 1, 2, and 4 weeks after starting HMGB1 peptide injection. Tissues were fixed with 10% formalin, cut into 3-μm-thick sections, and stained with Sirius Red. Photographs were captured from each section randomly (10 fields/mouse) using a BZ-9000 microscope (Keyence, Osaka, Japan), and quantitative analysis of the fibrotic area was performed using ImageJ software (version 1.6.0 20, National Institutes of Health, Bethesda, MD, USA).
Hydroxyproline assay
The levels of hydroxyproline, a representative collagen component, were determined in the liver cirrhosis mouse model at 1, 2, and 4 weeks after starting HMGB1 peptide injection. Liver samples (20 mg) were homogenized and subjected to QuickZyme Hydroxyproline Assays (QuickZyme Bioscience, Zernikedreef, the Netherlands) according to the manufacturer's protocol. Samples were extracted, and absorbance was measured at 570 nm. Data were expressed as the amount of hydroxyproline per 1-mg liver tissue.
Immunohistochemistry
For staining the liver tissue, 10% formalin-fixed tissue was sliced into 4-μm-thick sections. Immunohistochemistry for F4/80 (ab111101; rabbit monoclonal to F4/80; Abcam, Cambridge, UK) was performed as follows. The dewaxed tissues were subjected to antigen retrieval in EDTA buffer (pH 8.0) for 20 min using a microwave. The primary antibody was applied overnight in an antibody diluent reagent solution (Thermo Fisher Scientific). The secondary antibody reaction was performed using the Vecstain ABC kit (Vector Laboratories, Burlingame, CA, USA). The sections were stained by reaction with DAB TRIS tablets (Muto Pure Chemicals, Tokyo, Japan). Photographs were captured from each section randomly (20 fields/mouse) using an OLYMPUS CX33 microscope (OLYMPUS, Tokyo, Japan).
Single-cell transcriptome analysis
To obtain single-cell suspensions from livers for single-cell RNA-sequencing, mouse livers were perfused and enzymatically digested using a liver dissociation kit (Miltenyi Biotec). Debris was removed with 70- and 40-μm filters (Corning). Nonparenchymal cells were enriched by centrifugation using 25% Percoll (GE Healthcare, Chicago, USA). The resulting cells were stained with allophycocyanin-anti-CD45 antibodies (BioLegend, San Diego, USA). Live, CD45-positive cells were sorted into 384-well plates (Eppendorf, Hamburg, Deutschland) using a BD FACSAria III instrument (Becton Dickinson; 100 μm chip) in single-cell purity mode (1 cell/well). Single-cell RNA-seq libraries were constructed based on a previous report [16] with some modifications. Briefly, cells were lysed, and RNA was reverse transcribed using barcoded oligo dT primers (5′-ACGACGCTCTTCCGATCT[Barcode]NNNNNNNNTTTTTTTTTTTTTTTTTTTTTTTTTTTTTTVN-3′, where "N" is any base and "V" is either "A", "C" or "G"; IDT). Resulting cDNA was amplified using an Accel-NGS 1S Plus DNA Library Kit (Swift Biosciences, Ann Arbor, MI, USA) and KAPA HiFi HotStart ReadyMix (KAPA Biosystems, Boston, MA, USA) with i5 primer (5′-AATGATACGGCGACCACCGAGATCTACAC[i5]ACACTCTTTCCCTACACGACGCTCTTCCGATCT-3′; IDT) and D7 primer (5′-CAAGCAGAAGACGGCATACGAGATCGAGTAATGTGACTGGAGTTCAGACGTGTGCTCTTCCGATC-3′; IDT). Amplified cDNA was further treated with Nextera TD buffer (Illumina, San Diego, CA, USA) and 5 μL Amplicon Tagment enzyme (Illumina) and then amplified with i5 primer and P7 primer (5′-CAAGCAGAAGACGGCATACGAGAT[i7]GTCTCGTGGGCTCGG-3′). Libraries were purified and sequenced on a NextSeq500 platform under the following conditions: 20 (read 1) + 8 (i7) + 8 (i5) + 51 (read 2) bases. The sequencing libraries were sequenced on a NextSeq500 platform (Illumina). The read length was set to 20 (read 1) + 8 (i7) + 8 (i5) + 51 (read 2) bases. Sequencing outputs were demultiplexed using bcl2fastq2 (https://jp.support.illumina.com/sequencing/sequencing_software/bcl2fastq-conversion-software.html). Fastq files were aligned to Mus musculus GRCm38 reference using STAR aligner (2.7.1a; https://github.com/alexdobin/STAR). STARsolo outputs were filtered using the numbers of reads, transcripts, and genes and the percentages of mitochondrial genes and mapped reads for each cell. Downstream analysis was performed using Monocle3 R package [17,18,19]. To isolate macrophages for functional analyses after HMGB1 treatment, cell clusters positive for the hepatic macrophage markers epidermal growth factor-like module-containing, mucin-like hormone receptor 1 (EMR1), CD68, and C-type lectin domain family 4 member F (CLEC4F) were reclustered twice to remove nonmacrophage cells. Macrophages were aggregated by clustering, and gene module analysis was performed on genes showing uneven distributions on the Uniform Manifold Approximation and Projection (UMAP; Moran I greater than 0 and q-value below 0.01). The expression of gene modules in each macrophage cluster was scaled to z-scores, and modules showing a difference greater than 2 standard deviations (SDs) to the mean z-score of all macrophage clusters were pooled for Gene Ontology biological process analysis with a q-value threshold of 0.01. To compare gene expression in general, cells were aggregated into groups by treatment or cluster, and expression in each group was normalized to mean expression.
Statistical analyses
Statistical analysis was performed by using GraphPad Prism8 software (GraphPad Software Inc., La Jolla, CA, USA), R (Free software by The R Foundation, Vienna, Austria), and Microsoft Excel (Microsoft, Washington, DC, USA). Data are presented as means ± SDs. The results were assessed using Welch's t-test. Differences between groups were analyzed by Welch's one-way analysis of variance. Differences with p values of less than 0.05 were considered significant.
Rights and permissions
Open Access This article is licensed under a Creative Commons Attribution 4.0 International License, which permits use, sharing, adaptation, distribution and reproduction in any medium or format, as long as you give appropriate credit to the original author(s) and the source, provide a link to the Creative Commons licence, and indicate if changes were made. The images or other third party material in this article are included in the article's Creative Commons licence, unless indicated otherwise in a credit line to the material. If material is not included in the article's Creative Commons licence and your intended use is not permitted by statutory regulation or exceeds the permitted use, you will need to obtain permission directly from the copyright holder. To view a copy of this licence, visit http://creativecommons.org/licenses/by/4.0/. The Creative Commons Public Domain Dedication waiver (http://creativecommons.org/publicdomain/zero/1.0/) applies to the data made available in this article, unless otherwise stated in a credit line to the data.
Disclaimer:
This article is autogenerated using RSS feeds and has not been created or edited by OA JF.

Click here for Source link (https://www.biomedcentral.com/)