Targeting novel coronavirus SARS-CoV-2 spike protein with phytoconstituents of Momordica charantia – Journal of Ovarian Research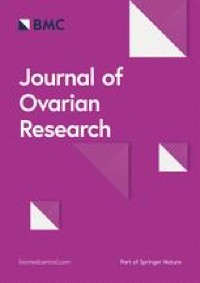 Molecular docking of phytoconstituents of bitter melon to SARS-CoV-2 S (spike protein)
Binding energy (Kcal/mol) data allow comparisons of the affinities of various ligands/compounds with their corresponding target receptor molecules. Lower binding energy indicates a higher affinity of the ligand for the receptor. The structure of the SARS-CoV-2 spike protein is shown in Fig. 1. The phytoconstituents of bitter melon (Momordica charantia) displayed low binding energies in the range of -5.82 to -5.97 kcal/mol and similar binding preferences for the S2 domain of the spike protein (Fig. 2). However, momordicine I, cycloartenol, and vicine are bound to the N-terminal of the S1 domain. Despite having a similar preference for the S2 and S1 domains, an additional hydroxyl group on the chromone ring of various constituents of bitter melon affected its hydrogen-bonding interactions with various residues of the S2 and S1 domains. As shown in Figs. 2 and 3, momordicine I interacted with the S1 spike domain through PHE374, SER373, SER371, LEU368, PHE338, GLY339, PHE342, and ASN343 residues through H-bonding and hydrophobic interactions (based on 3D views of different -OH groups forming H-bonds). Similarly, momordicine-II interacted with THR286, ASP287, ALA288, VAL289, ASP290, LEU293, ASP294, LEU296, and SER297; multiflorenol with GLN872, SER876, PRO807, LEU806, ILE788, TYR789, LYS790, THR791, and PRO793; stigmasterol with ILE788, TYR789, LYS790, THR791, PRO807, LEU806, LYS795, GLN872, and SER875; campesterol with GLY1059, HID1058, PRO1057, ALA1056, SER1055, ILE870, ASP867, LEU865, and PRO863; charine with ILE870, PHE782, THR778, VAL729, SER730, MET731, THR732, LYS733, and PRO863; cryptoxanthin with PHE856, ASN856, VAL860; PRO863, LEU865, THR866, ASP867, and ILE870; cycloartenol with VAL367, LEU368, SER371, SER373, PHE374, TRP436, ASN437, SER438, and ASN439; erythrodiol with VAL860, PRO863, ASP867, ILE870, THR732, SER730, GLY1059, PRO1057, and ALA1056; and vicine with LEU368, VAL367, TYR365, ASP364, ALA363, VAL362, CYS336, PRO337, and PHE338. Overall, the docking study disclosed two distinct sets of ligands that bind at the S1 and S2 domains of the SARS-CoV-2 spike protein.
Absorption, distribution, metabolism, and excretion (ADME) profiling of the phytoconstituents
The Lipinski rule of five [25, 26], which is often used to evaluate potential interactions between candidate drugs and target molecules, evaluates the propensity of a compound with a notable pharmacological or biological activity to be used as a potential drug. The rule serves as a filter to screen potential therapeutic agents/drugs at the program's initiation, thereby minimizing the labor and cost of exercises involving clinical drug development and, to a large extent, preventing late-stage clinical failures. The rule mainly determines the various molecular properties of a compound that are its prime characteristics to be a potential drug. Lipinski's rule states that, for any compound to be selected as a potential drug, it should have (a) a molecular mass < 500 daltons, (b) high lipophilicity (expressed as LogP < 5), (c) less than 5 hydrogen bond donors, (d) less than 10 hydrogen bond acceptors, and (e) a molar refractivity between 40–130. If a compound of interest possesses more than two of the abovementioned criteria, it is likely to be a candidate for drug development. The phytochemicals used in this study passed all five of Lipinski's criteria (Table 1). Thus, we suggest that these phytochemicals have the potential capacity to function effectively as drugs.
Identification of the erythrodiol and SARS-CoV-2 spike protein S2 interaction
Assessment of the binding kinetics and affinities between molecules is a well-established practice in drug development. Among advances in technology related to drug and receptor interaction, surface plasmon resonance (SPR) is a label-free technique that can monitor the real-time the association (kon) and dissociation (koff) rate constant) molecular interactions. SPR is also used as a tool in a wide variety of interactions of biomolecules, including small molecules, nucleic acids, carbohydrates, lipids, ligand-receptor kinetics, antibody-antigen interactions, enzyme–substrate reactions, and epitope mapping [27,28,29,30]. To confirm the binding affinity between erythrodiol and the S2 spike protein, we employed COOH sensor chip-based SPR. A typical SPR signal from experimental data at various analyte concentrations is shown in Fig. 4. Our results showed that the S2 spike protein bound to erythrodiol with a high association rate constant, ka = 1.93 × 103 M−1S−1; the dissociation rate constant was kd = 2.21 × 10–3 S−1. The binding kinetics showed an equilibrium dissociation constant (KD) value of 1.15 μM. In sum, erythrodiol displayed a strong interaction with the SARS-CoV-2 spike S2 protein.
Rights and permissions
Open Access This article is licensed under a Creative Commons Attribution 4.0 International License, which permits use, sharing, adaptation, distribution and reproduction in any medium or format, as long as you give appropriate credit to the original author(s) and the source, provide a link to the Creative Commons licence, and indicate if changes were made. The images or other third party material in this article are included in the article's Creative Commons licence, unless indicated otherwise in a credit line to the material. If material is not included in the article's Creative Commons licence and your intended use is not permitted by statutory regulation or exceeds the permitted use, you will need to obtain permission directly from the copyright holder. To view a copy of this licence, visit http://creativecommons.org/licenses/by/4.0/. The Creative Commons Public Domain Dedication waiver (http://creativecommons.org/publicdomain/zero/1.0/) applies to the data made available in this article, unless otherwise stated in a credit line to the data.
Disclaimer:
This article is autogenerated using RSS feeds and has not been created or edited by OA JF.

Click here for Source link (https://www.biomedcentral.com/)