The association between plasma furin and cardiovascular events after acute myocardial infarction – BMC Cardiovascular Disorders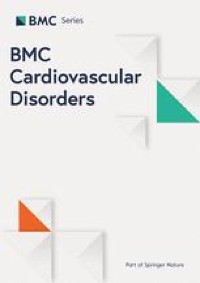 1.
Roth GA, Johnson C, Abajobir A, Abd-Allah F, Abera SF, Abyu G, Ahmed M, Aksut B, Alam T, Alam K, Alla F. Global, regional, and national burden of cardiovascular diseases for 10 causes, 1990 to 2015. J Am Coll Cardiol. 2017;70(1):1–25.
2.
Antman EM, Cohen M, Bernink PJ, McCabe CH, Horacek T, Papuchis G, Mautner B, Corbalan R, Radley D, Braunwald E. The TIMI risk score for unstable angina/non-ST elevation MI: a method for prognostication and therapeutic decision making. JAMA. 2000;284(7):835–42.
3.
Eagle KA, Lim MJ, Dabbous OH, Pieper KS, Goldberg RJ, Van de Werf F, Goodman SG, Granger CB, Steg PG, Gore JM, Budaj A. A validated prediction model for all forms of acute coronary syndrome: estimating the risk of 6-month postdischarge death in an international registry. JAMA. 2004;291(22):2727–33.
4.
Heeschen C, Hamm CW, Mitrovic V, Lantelme N, White HD. N-Terminal pro-B-type natriuretic peptide levels for dynamic risk stratification of patients with acute coronary syndromes. Circulation. 2004;110(20):3206–12.
5.
Antman EM, Tanasijevic MJ, Thompson B, Thompson C, Schactman M, McCabe CH, Cannon CP, Fischer GA, Fung AY, Wybenga D, et al. Cardiac-specific troponin I levels to predict the risk of mortality in patients with acute coronary syndromes. N Engl J Med. 1996;335(18):1342–9.
6.
Zhou X, Chen J, Zhang Q, Shao J, Du K, Xu X, Kong Y. Prognostic value of plasma soluble corin in patients with acute myocardial infarction. J Am Coll Cardiol. 2016;67(17):2008–14.
7.
Semenov AG, Tamm NN, Seferian KR, Postnikov AB, Karpova NS, Serebryanaya DV, Koshkina EV, Krasnoselsky MI, Katrukha AG. Processing of pro-B-type natriuretic peptide: furin and corin as candidate convertases2. Clin Chem. 2010;56(7):1166–76.
8.
Nakayama K. Furin: a mammalian subtilisin/Kex2p-like endoprotease involved in processing of a wide variety of precursor proteins. Biochem J. 1997;327:625–35.
9.
Ren K, Jiang T, Zheng X, Zhao G. Proprotein convertase furin/PCSK3 and atherosclerosis: new insights and potential therapeutic targets. Atherosclerosis. 2017;262:163–70.
10.
Lipari MT, Li W, Moran P, Kong-Beltran M, Sai T, Lai J, Lin SJ, Kolumam G, Zavala-Solorio J, Izrael-Tomasevic A, et al. Furin-cleaved proprotein convertase subtilisin/Kexin Type 9 (PCSK9) is active and modulates low density lipoprotein receptor and serum cholesterol levels. J Biol Chem. 2012;287(52):43482–91.
11.
Essalmani R, Susan-Resiga D, Chamberland A, Abifadel M, Creemers JW, Boileau C, Seidah NG, Prat A. In vivo evidence that furin from hepatocytes inactivates PCSK9. J Biol Chem. 2011;286(6):4257–63.
12.
Cousin C, Bracquart D, Contrepas A, Corvol P, Muller L, Nguyen G. Soluble form of the (Pro)renin receptor generated by intracellular cleavage by furin is secreted in plasma. Hypertension. 2009;53(6):1077–82.
13.
Urban D, Lorenz J, Meyborg H, Ghosh S, Kintscher U, Kaufmann J, Fleck E, Kappert K, Stawowy P. Proprotein convertase furin enhances survival and migration of vascular smooth muscle cells via processing of pro-nerve growth factor. J Biochem. 2013;153(2):197–207.
14.
Hughey RP, Bruns JB, Kinlough CL, Harkleroad KL, Tong Q, Carattino MD, Johnson JP, Stockand JD, Kleyman TR. Epithelial sodium channels are activated by furin-dependent proteolysis. J Biol Chem. 2004;279(18):18111–4.
15.
Yakala GK, Cabrera-Fuentes HA, Crespo-Avilan GE, Rattanasopa C, Burlacu A, George BL, Anand K, Mayan DC, Corlianò M, Hernández-Reséndiz S, et al. FURIN inhibition reduces vascular remodeling and atherosclerotic lesion progression in mice. Arterioscler Thromb Vasc Biol. 2019;39(3):387–401.
16.
Fathy SA, Abdel Hamid FF, Zabut BM, Jamee AF, Ali MAM, Abu Mustafa AM. Diagnostic utility of BNP, corin and furin as biomarkers for cardiovascular complications in type 2 diabetes mellitus patients. Biomarkers. 2015;20(6–7):460–9.
17.
Wang YK, Tang JN, Han L, Liu XD, Shen YL, Zhang CY, Liu XB. Elevated FURIN levels in predicting mortality and cardiovascular events in patients with acute myocardial infarction. Metabolism. 2020;111:154323.
18.
Thygesen K, Alpert JS, White HD. Universal definition of myocardial infarction. J Am Coll Cardiol. 2007;50(22):2173–95.
19.
Watts GF, Chan DC, Pang J, Ma L, Ying Q, Aggarwal S, Marcovina SM, Barrett PH. PCSK9 Inhibition with alirocumab increases the catabolism of lipoprotein(a) particles in statin-treated patients with elevated lipoprotein(a). Metab Clin Exp. 2020;107:154221.
20.
Hjelholt AJ, Søndergaard E, Pedersen SB, Møller N, Jessen N, Jørgensen JO. Growth hormone upregulates ANGPTL4 mRNA and suppresses lipoprotein lipase via fatty acids: randomized experiments in human individuals. Metab Clin Exp. 2020;105:154188.
21.
Gonzalez AA, Prieto MC. Renin and the (pro)renin receptor in the renal collecting duct: Role in the pathogenesis of hypertension. Clin Exp Pharmacol Physiol. 2015;42(1):14–21.
22.
Zachar R, Mikkelsen MK, Skjødt K, Marcussen N, Zamani R, Jensen BL, Svenningsen P. The epithelial Na channel α- and γ-subunits are cleaved at predicted furin-cleavage sites, glycosylated and membrane associated in human kidney. Pflugers Arch. 2019;471:1383–96.
23.
Li Y, Shen XZ, Li L, Zhao TV, Bernstein KE, Johnson AK, Lyden P, Fang J, Shi P. Brain transforming growth factor-β resists hypertension via regulating microglial activation. Stroke. 2017;48(9):2557–64.
24.
Baumann J, Huang SF, Gassmann M, Tsao CC, Ogunshola OO. Furin inhibition prevents hypoxic and TGFbeta-mediated blood-brain barrier disruption. Exp Cell Res. 2019;383(2):111503.
25.
Li N, Luo W, Juhong Z, Yang J, Wang H, Zhou L, Chang J. Associations between genetic variations in the FURIN gene and hypertension. BMC Med Genet. 2010;11(1):124.
26.
Turpeinen H, Seppala I, Lyytikainen LP, Raitoharju E, Hutri-Kahonen N, Levula M, Oksala N, Waldenberger M, Klopp N, Illig T, et al. A genome-wide expression quantitative trait loci analysis of proprotein convertase subtilisin/kexin enzymes identifies a novel regulatory gene variant for FURIN expression and blood pressure. Hum Genet. 2015;134(6):627–36.
27.
Fernandez C, Rysä J, Almgren P, Nilsson J, Engström G, Orho-Melander M, Ruskoaho H, Melander O. Plasma levels of the proprotein convertase furin and incidence of diabetes and mortality. J Intern Med. 2018;284(4):377–87.
28.
He Y, Ren L, Zhang Q, Zhang M, Shi J, Hu W, Peng H, Zhang Y. Serum furin as a biomarker of high blood pressure: findings from a longitudinal study in Chinese adults. Hypertens Res. 2019;42(11):1808–15.
29.
Vodovar N, Séronde M, Laribi S, Gayat E, Lassus J, Boukef R, Nouira S, Manivet P, Samuel J, Logeart D, et al. Post-translational modifications enhance NT-proBNP and BNP production in acute decompensated heart failure. Eur Heart J. 2014;35(48):3434–41.
30.
Chen Z, Lu S, Xu M, Liu P, Ren R, Ma W. Role of miR-24, furin, and transforming growth factor-β1 signal pathway in fibrosis after cardiac infarction. Med Sci Monitor. 2017;23:65–70.
31.
Sawada Y, Inoue M, Kanda T, Sakamaki T, Tanaka S, Minamino N, Nagai R, Takeuchi T. Co-elevation of brain natriuretic peptide and proprotein-processing endoprotease furin after myocardial infarction in rats. FEBS Lett. 1997;400(2):177–82.
32.
Turpeinen H, Raitoharju E, Oksanen A, Oksala N, Levula M, Lyytikäinen L, Järvinen O, Creemers JWM, Kähönen M, Laaksonen R, et al. Proprotein convertases in human atherosclerotic plaques: the overexpression of FURIN and its substrate cytokines BAFF and APRIL. Atherosclerosis. 2011;219(2):799–806.
33.
Pesu M, Muul L, Kanno Y, O'Shea JJ. Proprotein convertase furin is preferentially expressed in T helper 1 cells and regulates interferon gamma. Blood. 2006;108(3):983–5.
34.
Hipp MM, Shepherd D, Gileadi U, Aichinger MC, Kessler BM, Edelmann MJ, Essalmani R, Seidah NG, Reis E, Sousa C, Cerundolo V. Processing of human toll-like receptor 7 by furin-like proprotein convertases is required for its accumulation and activity in endosomes. Immunity. 2013;39(4):711–21.
35.
Yang X, Yang W, McVey DG, Zhao G, Hu J, Poston RN, Ren M, Willeit K, Coassin S, Willeit J, Webb TR. FURIN expression in vascular endothelial cells is modulated by a coronary artery disease-associated genetic variant and influences monocyte transendothelial migration. J Am Heart Assoc. 2020;9(4):e14333.
36.
Bourne GL, Grainger DJ. Development and characterisation of an assay for furin activity. J Immunol Methods. 2011;364:101–8.
Rights and permissions
Open Access This article is licensed under a Creative Commons Attribution 4.0 International License, which permits use, sharing, adaptation, distribution and reproduction in any medium or format, as long as you give appropriate credit to the original author(s) and the source, provide a link to the Creative Commons licence, and indicate if changes were made. The images or other third party material in this article are included in the article's Creative Commons licence, unless indicated otherwise in a credit line to the material. If material is not included in the article's Creative Commons licence and your intended use is not permitted by statutory regulation or exceeds the permitted use, you will need to obtain permission directly from the copyright holder. To view a copy of this licence, visit http://creativecommons.org/licenses/by/4.0/. The Creative Commons Public Domain Dedication waiver (http://creativecommons.org/publicdomain/zero/1.0/) applies to the data made available in this article, unless otherwise stated in a credit line to the data.
Disclaimer:
This article is autogenerated using RSS feeds and has not been created or edited by OA JF.

Click here for Source link (https://www.biomedcentral.com/)