The epidemiology and etiology of adhesive capsulitis in the U.S. Medicare population – BMC Musculoskeletal Disorders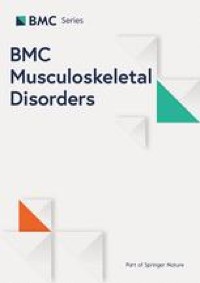 Data and sample
This study used complete Medicare Part B (fee-for-service) administrative claims data from the years 2010–2012 for all Medicare beneficiaries diagnosed with AC in 2011 (N = 92,437). The use of complete Medicare administrative data enabled patient healthcare utilization to be tracked across inpatient and outpatient settings and covered patients from all states in the United States. Participants in Medicare Part C, also known as Medicare Advantage, is a separately administered program and the data were not available for analysis. This project was reviewed by the University of South Carolina Institutional Review Board and determined to be not human research.
AC prevalence cohort
Prevalence of AC (primary or secondary) in the Medicare population was determined by identifying Medicare beneficiaries with at least one diagnosis of AC in 2011 as defined by having an International Classification of Disease, Ninth Revision, Clinical Modification (ICD-9-CM) codes: 726.00, using Medicare Part B carrier claims. To calculate the denominator for prevalence estimates, the Centers for Medicare and Medicaid Services published data were used to determine the total population of Medicare beneficiaries over age 65 (40,685,908 people) and the subset of those with fee-for-service Part B coverage (26,756,183 people) [36]. Approximately two-thirds of Medicare beneficiaries over age 65 are covered by Medicare Part B.
Primary AC cohort
As this study focuses on identifying triggers for new, primary AC diagnoses, a subset of the AC prevalence cohort representing those Medicare beneficiaries with primary AC was identified. In order to best identify those beneficiaries with primary AC, a series of clinically guided inclusion criteria were applied. First, all Medicare beneficiaries with an index (first) shoulder visit in 2011 and no previous shoulder diagnoses in the 365-days prior were identified. This included 192 ICD-9-CM shoulder related diagnosis codes, including AC and RCT. The index shoulder date was defined for each beneficiary as the first date where a shoulder diagnosis was received in 2011. Of that group, individual beneficiaries with a diagnosis of AC (ICD-9-CM codes: 726.00) within 90 days of the index shoulder visit and an x-ray or MRI within 30 days of the index shoulder visit were included. Given that diagnostic imaging is routinely used in the AC diagnosing process to rule out other clinically similar shoulder diagnoses, this inclusion requirement increased the confidence in the diagnosis of AC and the likelihood the case was receiving an initial diagnosis of AC. Following the diagnostic imaging service, beneficiaries also had to have a subsequent AC diagnosis claim within 180 days of their first AC diagnosis claim. The selection of the 30, 90, and 180 day windows was based upon expertise of the investigators and the typical pattern of care when making a new diagnosis.
Given the known direct association between mastectomy and AC diagnosis [14], any beneficiaries that had a mastectomy (CPT 85.2, 85.3, 85.4) were excluded from the analysis. Patients with fracture, dislocations, and sprains involving the shoulder were also excluded as these are known causes of secondary AC [13]. Furthermore, because rotator cuff (RC) tears were used as our control group, any AC beneficiaries who had a concurrent RC diagnosis were also excluded from the study. The presence of co-morbid chronic health conditions such as diabetes were not exclusion criteria as these factors are considered risk factors and not acute triggers. Additional inclusion criteria applied to assure complete data included (1) continuous enrollment in fee-for-service Medicare Part A and Part B from 365-days prior to 365-days after the index shoulder diagnosis and no enrollment in Medicare Part C (also known as Medicare Advantage plans) during the study period, (2) aged 66 years on the index shoulder visit, and (3) residence within the continental United States or Hawaii. The final residency criteria excludes Medicare beneficiaries who may obtain medical care outside the U.S. Medicare system and thus would have incomplete data. The minimum age criterion of 66 years was used to ensure enrollment in the Medicare system for a year prior to the index shoulder diagnosis. Complete patient inclusion criteria can be found in Fig. 1. The final primary AC case cohort included 7,232 Medicare beneficiaries.
Rotator cuff controls selection
A group of beneficiaries with a rotator cuff tear diagnosis in 2011 were selected as controls in our study. Rotator cuff tear was selected because of its similar clinical presentation but distinct etiology, and because it has been used as a control group in two studies of AC [37, 38]. Similar inclusion criteria were applied to identify the control group using Medicare Part B claims. Individual patients with a diagnosis of rotator cuff tear (ICD-9-CM codes: 727.61, 840.3, 840.4 covering partial thickness tears, bursal-sided tears, full thickness tears, massive tears) within 90 days of the index shoulder visit and an x-ray or MRI within 30 days of the index shoulder visit were included. Medicare beneficiaries also had to have a subsequent rotator cuff tear diagnosis claim within 180 days of their first rotator cuff diagnosis claim within 2011. Patients with any shoulder diagnosis in the 365-days prior to their index shoulder diagnosis in 2011 were excluded from the study. Additionally, any beneficiaries that had a concurrent diagnosis of AC were excluded from the control cohort. Additional inclusion criteria applied to assure complete data included continuous enrollment, aged 66 years on the index shoulder data, and residence within the continental United States. The final rotator cuff tear control cohort included 70,890 eligible Medicare beneficiaries.
Case–control matching process
Controls were matched to cases in a 3:1 ratio based on beneficiary age within 4 years (± 2 years) and gender. One older case was only matched to one control due to limitations in control sample at the age range. The final matched RC control group was 21,694 beneficiaries. Cases and controls were selected according to the flow chart described in Fig. 1.
Medication and vaccine measures
Medication use in the 180 days prior to index shoulder diagnosis was obtained from Medicare National Drug Code (NDC) data and translated to the World Health Organization (WHO) Anatomical Therapeutic Chemical (ATC4) classification code [39] using the cross-reference coding developed by Kury et al. [40]. An exposure period of 180-days prior to index shoulder diagnosis was chosen to allow time for initiation of the inflammatory pathway as well as account for delays between onset of AC and accessing medical care. Prior case reports indicated wide variation in time between initiation of medication and onset of AC, such as 10 days for fluoroquinolones [26] and 3 to 5 months for primidone, metalloproteinase inhibitors, and acitretin [25, 27, 30]. Six drug classes previously noted in the literature to increase the risk of AC were studied: fluoroquinolones [25], barbiturates [24], antituberculosis agents [31], protease inhibitors [28, 29], retinoids [27], and metalloproteinase inhibitors [30]. An additional class of antiviral agents was examined to serve as a potential proxy measure for exposure to a viral agent.
The hierarchical nature of the ATC4 code allowed classification into categories of medication and specific usages. The following ATC4 codes were used: J01M to capture quinolones, J04A for antimycobacterials to treat tuberculosis including isoniazid, N03AA for any barbiturate, D05BB and D10BA for retinoids for systemic use, B02AB for proteinase inhibitors, J05AE for protease inhibitors, and J05A for antivirals. Medication utilization was identified using Part D claims. Receipt of an influenza or pneumococcal vaccine in the 180 days prior to index diagnosis was determined from Healthcare Common Procedure Coding System (HCPCS) codes in Part B claims: 90,630, 90,653, 90,654, 90,655, 90,656, 90,657, 90,658, 90,660, 90,661, 90,662, 90,672, 90,673, 90,674, 90,682, 90,685, 90,686, 90,687, 90,688, 90,689, 90,756, Q2035, Q2036, Q2037, and Q2038.
Infectious diseases and trauma exposure
Diagnosis codes were examined for infectious disease and trauma diagnoses occurring 180-days prior to the index shoulder diagnosis. Categories of infectious diseases were created following prior classification systems [13, 41, 42]. The five most common infectious disease groups, occurring in at least 3% of the study population were examined in the analysis. The minimum of 3% was selected for pragmatic reasons to identify a common trigger. With an estimate of 3% exposure in cases, the study had 99.6% power to detect an odds ratio of 1.5 or higher. The infectious disease groups included mycoses (ICD-9-CM codes 110.0–118.0), upper respiratory tract infections (ICD-9-CM codes 460.X-466.X, 475.X), lower respiratory tract infections (ICD-9-CM codes 480.X-489.X, 490.X, 510.X, 513.X), infections of the kidney and urinary tract (ICD-9-CM codes 590.0–590.9, 599.0, 595–595.9, 597.X), and skin infections (ICD-9-CM codes 680.X-686.X, 695.5).
Trauma categories excluded trauma to the shoulder and were divided into fracture, dislocation, or sprains (ICD-9-CM codes 800.X-848.X) and other traumatic injuries (ICD-9-CM codes 850.X-854.X, 870.X-879.X, 880.X-887.X, 890.X-897.X, 900.X-904.X, 920.X-924.X, 925.X-929.X, 950.X-957.X, and 959.X) based upon classification used by Peterson et al. [32].
Patient characteristics and comorbid conditions
Patient demographic characteristics were measured by cross referencing the 2011 Beneficiary Summary files from Medicare. Specific patient-level variables included age, sex, race, and dual-eligibility for Medicare and Medicaid status on the index shoulder diagnosis date. General patient health was measured using Part A and B Medicare spending in the year prior to the index shoulder date, the Charlson Comorbidity Index (CCI), and the Frailty Risk Index (FRI). CCI is a validated measure of burden of disease [43,44,45]. Comorbidities are weighted from 1 to 6 for mortality risk and disease severity and then summed to form the total CCI score [43,44,45]. The FRI score is a validated instrument for assessing frailty among older persons [46]. Comorbid conditions that have been previous associated with AC were identified using ICD-9-CM codes as follows: thyroid disorder (240–246), Type 1 and Type 2 diabetes (250.XX-250.93), hyperlipidemia (272.0–272.9), hypertension (401–405), rheumatoid arthritis (714.0), and gout (274).
Statistical analysis
Descriptive statistics were calculated for determining the overall prevalence of AC and the demographics of the AC cohort. Then descriptive statistics, followed by t-tests or Chi-square tests, were used to assess the association of AC presence and the risk factors (infections, traumas, medications, and patient demographics) individually. A P-value < 0.05 was considered statistically significant. Seasonality of AC presence was assessed by estimating the proportions of new primary AC cases diagnosed per month with 95% confidence intervals, and using the intervals to identify months that were higher or lower than typical. Logistic regression models were used next to assess the association with AC and the risk factors in a combined model. Logistic regression results were presented as 95% confidence intervals for the odds ratios. A 95% confidence interval for odds ratios that excluded 1.0 was considered to be evidence of a statistically significant association. Because the case–control matching was performed on only age and gender (and thus considered to be a loose match), unconditional logistic regression was performed [47]. A conditional model was also run to verify similar results.
Rights and permissions
Open Access This article is licensed under a Creative Commons Attribution 4.0 International License, which permits use, sharing, adaptation, distribution and reproduction in any medium or format, as long as you give appropriate credit to the original author(s) and the source, provide a link to the Creative Commons licence, and indicate if changes were made. The images or other third party material in this article are included in the article's Creative Commons licence, unless indicated otherwise in a credit line to the material. If material is not included in the article's Creative Commons licence and your intended use is not permitted by statutory regulation or exceeds the permitted use, you will need to obtain permission directly from the copyright holder. To view a copy of this licence, visit http://creativecommons.org/licenses/by/4.0/. The Creative Commons Public Domain Dedication waiver (http://creativecommons.org/publicdomain/zero/1.0/) applies to the data made available in this article, unless otherwise stated in a credit line to the data.
Disclaimer:
This article is autogenerated using RSS feeds and has not been created or edited by OA JF.

Click here for Source link (https://www.biomedcentral.com/)