The impact of strict measures as a result of the COVID-19 pandemic on the spatial pattern of the demand for police: case study Antwerp (Belgium) – Crime Science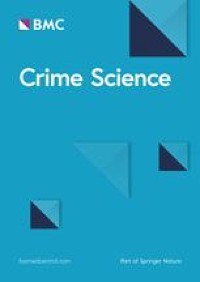 COVID-19 in the City of Antwerp
We take as case study the city of Antwerp (Flanders, Belgium). Antwerp is the second largest city of Belgium, counting 530 104 inhabitants (2020) spread over an area of 204.5 km2 (2592 people/km2), and houses one of Europe's largest seaports. At the beginning of March 2020, the number of COVID-19 cases in Belgium started to rise, pushing the Belgian National Security Council to announce the federal phase of crisis management on March 12th. Initial measures took effect on the 14th of March 2020 and involved the closure of hotels, restaurants, and bars, suspension of all educational activities, and non-essential shops had to close during the weekend. Moreover, teleworking was encouraged and sports events and cultural activities were cancelled. Hospitals did not allow visitors and all non-urgent medical procedures were postponed. A few days later, starting from March 18th, stricter regulations were enacted, ultimately resulting in a nationwide lockdown. Until May 4th, only essential movements were allowed, teleworking was mandatory (if possible), all non-essential stores were closed, and socializing with anyone else other than your household or one friend at a time (outdoors) was prohibited (Federal Public Service Internal Affairs, 2020).
Emergency call data
The Antwerp Police Department (APD), the largest local police force in Belgium, records data from calls for emergency intervention (pertaining to the police). These emergency calls are handled by the emergency response unit of the Antwerp Police. The city of Antwerp is divided in six police zones, as depicted in Fig. 1. As a rule, the port area is not policed by the APD, although they infrequently respond to calls for emergency intervention within this area. The number of cars of the police emergency unit for each zone depends on, e.g., day/night, week/weekend, and events, but on an average shift approximately 40 intervention vehicles are deployed across the six zones. At night, this number slightly drops.
Emergency call data are the most faithful and extensive source of citizen-reported crimes (Sherman et al., 1989) and are valid indicators for police demand (Davies & Bowers, 2020). They can be used to analyse the presence of the police in time and space, and to predict where police should be present in order to deter crime or at least to decrease response time (Chohlas-Wood et al., 2015; Naoum-Sawaya & Elhedhli, 2013; Rummens et al., 2017). Thus, in this paper emergency call data act as the demand for police service in time and space. In order to examine spatial patterns of police interventions in Antwerp, only emergencies for which a police unit arrived on scene are extracted from the computer aided dispatch system and included in the data set. These interventions are clustered based on their unique incident number, meaning that the sum was taken of the number of patrol units responding to the same incident. In the first half of 2020 (January until June), for example, on average 1.34 (SD: 0.98) patrol units were dispatched to the same incident. The data set contains information on the: (1) priority code of an incident, (2) the date and time of the interventions, (3) type of incident, and (4) place of the incident. The priority codes range from zero to four, with zero being highly urgent, life-threatening incidents, requiring immediate intervention. In this case, officers are allowed to use the vehicle's siren and/or flashing lights. The urgency is inversely proportional with the priority codes, with code four indicating very low urgency, e.g., graffiti spraying incidents. The date and time are necessary to define the different phases of the COVID-19 measures, and more generally to analyse spatiotemporal patterns of police demand. The data set ranges from January 2019 to June 2020. All incidents were geocoded, either by the researchers (96.1%) or by the Antwerp police (3.9%). In total, 145 167 incidents are included for analysis.
Spatial units of analysis
Since police patrol street segments, these are the appropriate spatial unit of analysis. With this underlying focus on police patrol, in total 31 156 street segments, were extracted from the Flemish Road Registry.Footnote 1 A street segment is the section of a street between two intersections, and can be, e.g., a part of a highway or an unpaved road in a park as well (Davies & Johnson, 2015). We have deliberately chosen to include all the different types of roads in the data set, because they are all part of the public domain; the working area of the police. Moreover, by focusing on such a small unit of analysis, we are able to minimize aggregation bias (Andresen & Malleson, 2013; Vandeviver & Steenbeek, 2017). The mean length of the 31 156 street segments is 93.30 m (SD = 159.78).
Method
The different periods, briefly listed in Table 1, will serve as the periods under analysis throughout this paper. The incidents of 2019 were divided into comparison periods based on the same days and months as in Table 1. During the first period (0), i.e., before the first measures, routine activities had not yet been disrupted and normal life took its course. The two lockdown phases were rather strict, followed by three exit phases, during which the strict rules became systematically less stringent.
To determine the degree of spatial concentration of emergency incidents, we compute the (generalized) Gini coefficient. This coefficient is a commonly used statistical measure of the inequality in a distribution, it ranges from 0 (perfect equality) to 1 (complete inequality) (Bernasco and Steenbeek 2017; Maio and Fernando 2007). In the current context, 0 corresponds to a uniformly distributed point pattern over all street segments, while 1 indicates perfect concentration, i.e., all the incidents are concentrated within one single street segment. The value of this coefficient indicates to what extent interventions are spatially clustered and allows to compare the degree of clustering under normal circumstances versus their pattern during the COVID-19 pandemic. Computing the generalized Gini coefficient allows us to account for having fewer events than areal units and avoid overestimating the level of concentration in our data (Bernasco and Steenbeek 2017; Vandeviver & Steenbeek, 2017).
A downside to using the Gini coefficient is that it scales with the number of incidents (Mohler et al., 2019). Since longer observation windows are likely to have more incidents and the six periods under study have different lengths (min: 4 days, max: 73 days), direct comparisons between the Gini coefficients of each period are unlikely to be meaningful. To measure the statistical relationship between the number of days and the number of incidents per phase, we compute the Pearson's correlation coefficient (R) (see Tables 1 and 2). A 0 indicates that no relationship exists, while ± 1 indicates a perfect positive (+ 1) or negative (-1) relationship (Akoglu, 2018). If both variables are correlated, direct comparisons between the Gini coefficients of the phases are not in order. A way around this is standardizing the length of all periods to comparable lengths and then estimating generalized Gini coefficients for each standardized period. We use the shortest time period, i.e. phase lockdown 1 (L1) which consists of four days, to estimate 999 random combinations of four-day periods for each phase longer than four days. For each phase, the average generalized Gini coefficients are then calculated based on the generalized Gini coefficients of each of the 999 random combinations for that phase.
To evaluate the spatial stability of emergency interventions over the different phases, we perform the spatial point pattern test (SPPT) (Andresen, 2009; Wheeler et al., 2018). This area-based nonparametric test can identify the similarity of two spatial point patterns for one phenomenon over time or between several phenomena. The SPPT consists of two levels of analysis: a local and a global level. The global index of similarity, ranging from 0 (no similarity) to 1 (perfect similarity), quantifies the degree of similarity of two point patterns for a given spatial unit of analysis, i.e., the proportion of spatial units exhibiting similar spatial patterns. An exact method to identify a threshold for the global similarity index (S-index) does not exist, but Andresen (2016) suggested a rule of thumb: two spatial point patterns can be considered to approach similarity, if the global S-index ≥ 0.80. The local similarity index calculates the similarity for each areal unit in the analysis and can be easily mapped. For this local index the proportion of incidents can be similar (0) in both data sets, or lower (1) or higher (-1) in the base data than in the test data. It is important to note that global spatial analyses can mask local spatial patterns and, therefore, it is recommended to perform both forms of analysis (Andresen, 2009, 2016).
The original method of the SPPT has two important limitations: (1) the arbitrary choice of a base and test data set, (2) the influence of zero-event street segments (areal units in general) (for a discussion, see Boivin et al., (2019) and Wheeler et al. (2018)). The sample size of the test data will have an influence on its confidence interval and, consequently, on the outcome of the test, which can result in a lower global similarity index if the test set is much larger or in more similar patterns if the test set is smaller than the base set. For areas without incidents in the test data set, the confidence interval will always range from 0 to 0% instead of being small but not zero (Wang, 2013; Wheeler et al., 2018). Therefore, we apply a modified version of the original SPPT, which measures the differences in proportions in each area (Wheeler et al., 2018). Further, because incidents are likely concentrated on a limited number of street segments, most street segments will have zero incidents, and the number of street segments will outnumber the number of emergency calls. To make sure this does not inflate the similarity of two spatial patterns, we calculate the robust S-index. This index only considers the number of areal units that have incidents occurring within either the base or test data sets, or in other words, where the events actually occur (Andresen, 2009, 2016). For the proportion test, the Chi-Square approach with Yate's N-1 continuity correction is applied (set by default in the R function sppt_diff()Footnote 2) (Steenbeek et al., 2020; Wheeler et al., 2018). All calculations are executed in R (version 4.0.1).
Rights and permissions
Open Access This article is licensed under a Creative Commons Attribution 4.0 International License, which permits use, sharing, adaptation, distribution and reproduction in any medium or format, as long as you give appropriate credit to the original author(s) and the source, provide a link to the Creative Commons licence, and indicate if changes were made. The images or other third party material in this article are included in the article's Creative Commons licence, unless indicated otherwise in a credit line to the material. If material is not included in the article's Creative Commons licence and your intended use is not permitted by statutory regulation or exceeds the permitted use, you will need to obtain permission directly from the copyright holder. To view a copy of this licence, visit http://creativecommons.org/licenses/by/4.0/. The Creative Commons Public Domain Dedication waiver (http://creativecommons.org/publicdomain/zero/1.0/) applies to the data made available in this article, unless otherwise stated in a credit line to the data.
Disclaimer:
This article is autogenerated using RSS feeds and has not been created or edited by OA JF.

Click here for Source link (https://www.biomedcentral.com/)