The intersectional effects of ethnicity/race and poverty on health among community-dwelling older adults within multi-ethnic Asian populace: a population-based study – BMC Geriatrics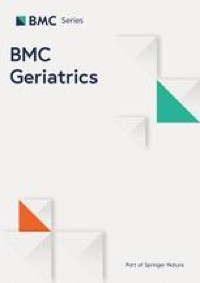 1.
Braveman P. What are health disparities and health equity? we need to be clear. Public Health Rep. 2014;129 Suppl 2:5–8.
2.
Du Y, Xu Q. Health Disparities and Delayed Health care among Older Adults in California: A Perspective from Race, Ethnicity, and Immigration. Public Health Nurs. 2016;33:383–94.
3.
Louie GH, Ward MM. Socioeconomic and ethnic differences in disease burden and disparities in physical function in older adults. Am J Public Health. 2011;101:1322–9.
4.
Banks LM, Kuper H, Polack S. Poverty and disability in low-And middleincome countries: A systematic review. PLoS One. 2017;13:e0204881.
5.
Zhang M, Gale SD, Erickson LD, Brown BL, Woody P, Hedges DW. Cognitive function in older adults according to current socioeconomic status. Aging, Neuropsychol Cogn. 2015;22:534–43.
6.
Koster A, Bosma H, Kempen GIJM, Penninx BWJH, Beekman ATF, Deeg DJH, et al. Socioeconomic differences in incident depression in older adults: The role of psychosocial factors, physical health status, and behavioral factors. J Psychosom Res. 2006;61:619–27.
7.
Pathirana TI, Jackson CA. Socioeconomic status and multimorbidity: a systematic review and meta-analysis. Aust N Z J Public Health. 2018;42:186–94.
8.
Guimarães RM, Andrade FCD. Healthy life-expectancy and multimorbidity among older adults: Do inequality and poverty matter? Arch Gerontol Geriatr. 2020;90:104157.
9.
Glass TA, McAtee MJ. Behavioral science at the crossroads in public health: Extending horizons, envisioning the future. Soc Sci Med. 2006;62:1650–71.
10.
Díaz-Venegas C, Downer B, Langa KM, Wong R. Racial and ethnic differences in cognitive function among older adults in the USA. Int J Geriatr Psychiatry. 2016;31:1004–12.
11.
Lee S, Buring JE, Cook NR, Grodstein F. The relation of education and income to cognitive function among professional women. Neuroepidemiology. 2006;26:93–101. doi:https://doi.org/10.1159/000090254.
12.
Hooker K, Phibbs S, Irvin VL, Mendez-Luck CA, Doan LN, Li T, et al. Depression among Older Adults in the United States by Disaggregated Race and Ethnicity. Gerontologist. 2019;59:886–91.
13.
Green JG, McLaughlin KA, Fillbrunn M, Fukuda M, Jackson JS, Kessler RC, et al. Barriers to Mental Health Service Use and Predictors of Treatment Drop Out: Racial/Ethnic Variation in a Population-Based Study. Adm Policy Ment Heal Ment Heal Serv Res. 2020;47:606–16.
14.
Kalgotra P, Sharda R, Croff JM. Examining multimorbidity differences across racial groups: a network analysis of electronic medical records. Sci Rep. 2020;10:13538.
15.
St Sauver JL, Boyd CM, Grossardt BR, Bobo W V, Rutten LJF, Roger VL, et al. Risk of developing multimorbidity across all ages in an historical cohort study: Differences by sex and ethnicity. BMJ Open. 2015;5:e006413.
16.
Department of Statistics Malaysia. Current Population Estimates, Malaysia, 2020. Department of Statistics Malaysia. 2020.
17.
Karim HA. The elderly in Malaysia: demographic trends. Med J Malaysia. 1997;52:206–12.
18.
Sulaiman H, Masud J. Determinants of income security of older persons in Peninsular Malaysia. Pertanika J Soc Sci Humanit. 2012;20:239–50.
19.
Masud J, Haron SA. Income differences among elderly in Malaysia: A regional comparison. Int J Consum Stud. 2008;32:335–40.
20.
Yu CP, Whynes DK, Sach TH. Equity in health care financing: The case of Malaysia. Int J Equity Health. 2008;7:15 (2008).
21.
Ministry of Health Malaysia. Malaysia National Health Accounts: Health Expendditure Report 1997–2017. Putrajaya; 2019. https://www.moh.gov.my/moh/resources/Penerbitan/Penerbitan.
22.
Bowleg L. The problem with the phrase women and minorities: Intersectionality-an important theoretical framework for public health. Am J Public Health. 2012;102:1267–73.
23.
Hankivsky O. Women's health, men's health, and gender and health: Implications of intersectionality. Soc Sci Med. 2012;74:1712–20.
24.
Shahar S, Omar A, Vanoh D, Hamid TA, Mukari SZM, Din NC, et al. Approaches in methodology for population-based longitudinal study on neuroprotective model for healthy longevity (TUA) among Malaysian Older Adults. Aging Clin Exp Res. 2016;28:1089–104.
25.
Department of Statistics Malaysia. Report of Household Income and Basic Amenities Survey 2016. 2017.
26.
Sheikh J, Yesavage J. 9/Geriatric Depression Scale (GDS) recent evidence and development of a shorter version. Clin Gerontol. 1986;5:165–73.
27.
Nasreddine ZS, Phillips NA, Bédirian V, Charbonneau S, Whitehead V, Collin I, et al. The Montreal Cognitive Assessment, MoCA: A brief screening tool for mild cognitive impairment. J Am Geriatr Soc. 2005;53:695–9. doi:https://doi.org/10.1111/j.1532-5415.2005.53221.x.
28.
Din NC, Shahar S, Zulkifli BH, Razali R, Vyrn CA, Omar A. Validation and Optimal Cut-Off Scores of the Bahasa Malaysia Version of the Montreal Cognitive Assessment (MoCA-BM) for Mild Cognitive Impairment among Community Dwelling Older Adults in Malaysia. Sains Malaysiana. 2016;45:1337–43.
29.
Foong HF, Hamid TA, Ibrahim R, Haron SA, Shahar S. Chronic condition as a mediator between metabolic syndrome and cognition among community-dwelling older adults: The moderating role of sex. Geriatr Gerontol Int. 2017;17:1914–20.
30.
Foong HF, Hamid TA, Ibrahim R, Haron SA. The association between religious orientation and life satisfaction in older adults living with morbidity and multimorbidity: a gender perspective in Malaysia. Psychogeriatrics. 2020;20:891–9.
31.
Newman DA. Missing Data: Five Practical Guidelines. Organ Res Methods. 2014;17:372–411.
32.
Thompson M Lou, Myers JE, Kriebel D. Prevalence odds ratio or prevalence ratio in the analysis of cross sectional data: What is to be done? Occup Environ Med. 1998;55:272–7.
33.
Barros AJD, Hirakata VN. Alternatives for logistic regression in cross-sectional studies: An empirical comparison of models that directly estimate the prevalence ratio. BMC Med Res Methodol. 2003;3:21.
34.
Fonseca Martinez BA, Leotti VB, Silva G de S e., Nunes LN, Machado G, Corbellini LG. Odds ratio or prevalence ratio? An overview of reported statistical methods and appropriateness of interpretations in cross-sectional studies with dichotomous outcomes in veterinary medicine. Front Vet Sci. 2017;4:193.
35.
Foong HF, Hamid TA, Ibrahim R, Haron SA, Shahar S. Predicting cognitive function of the Malaysian elderly: A structural equation modelling approach. Aging Ment Health. 2018;22:109–20. doi:https://doi.org/10.1080/13607863.2016.1231172.
36.
Hilal S, Tan CS, Xin X, Amin SM, Wong TY, Chen C, et al. Prevalence of Cognitive Impairment and Dementia in Malays – Epidemiology of Dementia in Singapore Study. Curr Alzheimer Res. 2015;14:620–7.
37.
Hamid TA, Krishnaswamy S, Abdullah SS, Momtaz YA. Sociodemographic risk factors and correlates of dementia in older Malaysians. Dement Geriatr Cogn Disord. 2011;30:533–9.
38.
Nikmat A, Hawthorne G, Al-Mashoor SHA. Dementia in Malaysia: issues and challenges. ASEAN J Psychiatry. 2011;12:95–101.
39.
Ferdous T, Cederholm T, Kabir ZN, Hamadani JD, Wahlin Å. Nutritional status and cognitive function in community-living rural bangladeshi older adults: Data from the poverty and health in ageing project. J Am Geriatr Soc. 2010;58:919–24.
40.
Agyemang-Duah W, Peprah C, Peprah P. Barriers to formal healthcare utilisation among poor older people under the livelihood empowerment against poverty programme in the Atwima Nwabiagya District of Ghana. BMC Public Health. 2019;19:1185.
41.
Subramaniam M, Abdin E, Sambasivam R, Vaingankar JA, Picco L, Pang S, et al. Prevalence of depression among older adults-results from the well-being of the Singapore elderly study. Ann Acad Med Singapore. 2016;45:123–33.
42.
Fernández-Ninõ JA, Bojorquez I, Becerra-Arias C, Astudillo-Garcia CI. Religious affiliation and major depressive episode in older adults: A cross-sectional study in six low- A nd middle-income countries. BMC Public Health. 2019;19:460.
43.
Yunus NM, Abd Manaf NH, Omar A, Juhdi N, Omar MA, Salleh M. Determinants of healthcare utilisation among the elderly in Malaysia. Institutions Econ. 2017;9:115–40.
Rights and permissions
Open Access This article is licensed under a Creative Commons Attribution 4.0 International License, which permits use, sharing, adaptation, distribution and reproduction in any medium or format, as long as you give appropriate credit to the original author(s) and the source, provide a link to the Creative Commons licence, and indicate if changes were made. The images or other third party material in this article are included in the article's Creative Commons licence, unless indicated otherwise in a credit line to the material. If material is not included in the article's Creative Commons licence and your intended use is not permitted by statutory regulation or exceeds the permitted use, you will need to obtain permission directly from the copyright holder. To view a copy of this licence, visit http://creativecommons.org/licenses/by/4.0/. The Creative Commons Public Domain Dedication waiver (http://creativecommons.org/publicdomain/zero/1.0/) applies to the data made available in this article, unless otherwise stated in a credit line to the data.
Disclaimer:
This article is autogenerated using RSS feeds and has not been created or edited by OA JF.

Click here for Source link (https://www.biomedcentral.com/)