Transcranial approaches for pituitary adenomas: current indications and clinical and radiological outcomes – Egyptian Journal of Neurosurgery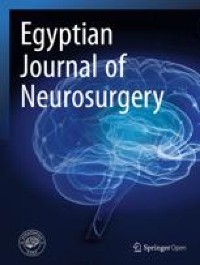 After performing retrospective analysis of the different indications for performing transcranial approaches, we found that the most common indication in our series was significant tumor extensions into the parasellar region and/or the anterior cranial fossa which constituted 37.5% of our cases. Although gross total resection was not achieved in any of these patients, subtotal resection leaving a small residual mainly in the cavernous sinus was achieved in four of these six patients (67%). A combined approach was performed in one of these patients who had significant tumor extension in the sphenoid sinus in addition to the significant intracranial tumor extension, a policy recommended also by Nishioka et al. and Ojha et al. in selected giant adenomas [12, 13]. In cases with parasellar extension, our goal was to decompress the optic apparatus and reduce the tumor burden. The residual tumor was managed by either medical treatment and/or radiosurgery or just followed up. Several studies encourage safe excision of adenomas while leaving the cavernous portion for radiosurgery [9, 10, 15] as long as an adequate margin exists between the residual tumor and the optic apparatus (> 5 mm) [16] or for medical treatment which is very effective in patients with prolactinomas. Koutourousiou et al. reported that tumors extending into the lateral cavernous sinus and the middle fossa could not be totally resected unless a transcranial approach was performed; however, they recommended managing these lesions with transsphenoidal approaches admitting that a residual might be left in the middle fossa with minimal risk. They stated that lesions with significant anterior fossa extension might need a combined endonasal and transcranial approach [8].
Another common indication was giant adenomas with large suprasellar extension obliterating the third ventricle which constituted 18.75% of our cases. In all of these patients, gross total or subtotal resection was not achieved and only debulking with partial resection was performed leaving a residual tumor in the third ventricle. One of these patients was operated upon by a combined approach due to significant sphenoid sinus extension which was adequately removed by the transsphenoidal approach before dealing with the transcranial extension few days later. Significant suprasellar extension into the third ventricle was considered as an indication for transcranial surgery by Pratheesh et al. and Buchfedler et al. [5, 9]. Koutourousiou et al. did not consider this as an indication for transcranial surgery and recommended expanded endoscopic approach for such lesions especially that it provides a direct access along the tumor axis [8]. Kassam et al., Ikeda et al., and Cappabinaca et al. reported favorable outcomes following extended transsphenoidal approaches for these lesions [4, 15, 17].
Failed previous transsphenoidal approach was the indication to perform transcranial surgery in 18.75% of the cases, mainly due to fibrous tumor consistency. Although this indication is not currently approved by some authors who perform extracapsular tumor resection using the same principles applied in transcranial surgery [17,18,19], other authors still consider it as an indication to operate transcranially [8, 9, 14]. Although dumbbell-shaped tumors with large suprasellar extension was considered as the most common current indication by several authors [8,9,10], it was the indication in only 12.5% of our patients. Another option to manage dumbbell shaped tumors with significant constriction at the diaphragm is through the transsphenoidal trans-diaphragmatic approach which needs further bony drilling and sectioning of the diaphragm with the resultant higher incidence of cerebrospinal fluid leak [19]. Doubtful diagnosis as an indication for transcranial approaches markedly declined with the high-quality MRI images that make the diagnosis of a pituitary adenoma almost certain in most of the cases nowadays. However, several authors still consider it as an indication for transcranial approach [6, 20]. The two cases with doubtful diagnosis were suspected to be meningiomas so a transcranial approach was decided. Although many surgeons operate nowadays on meningiomas through the expanded endonasal approaches with drilling of the planum sphenoidale and tuberculum sella reporting favorable results [4, 17], we did not feel comfortable to approach these cases through a transsphenoidal approach particularly with the unavailability of navigation in the operating room.
It is well known that the rate of complications and the incidence of hormonal deficiency are much lower with transsphenoidal approaches [2, 3, 21]. In our transcranial series, the mortality rate was 6.25% which is comparable to other series in the microscopic era where the reported mortality rates following transcranial resection of pituitary adenomas ranged between 0 and 8.7% [9, 22, 23]. Regarding the visual outcome, there was visual deterioration in only 6.25% of cases which is comparable to the results of Guo et al. and lower than the 13% reported by Pratheesh et al. [9, 22]. Visual improvement occurred in only 50% of cases which is much lower than the rates reported in several transsphenoidal and transcranial series [8, 9, 22, 23] and might be explained by the severe preoperative visual deterioration in the majority of our patients. Panhypopituitirism requiring replacement therapy occurred in 12.5% of cases while DI developed in 37.5% of the cases being permanent in only 12.5% of patients. Guo et al. reported hypopituitarism in 13% of cases and temporary diabetes insipidus in 80% of cases with no cases with permanent diabetes insipidus [22]. Pratheesh et al. also reported hypopituitarism in 30% of the cases and DI in 26% of the cases being permanent in only 8.7% of cases [9].
Gross total resection or near total resection were achieved in 56.25% of the cases which is similar to the results reported by Pratheesh et al. who achieved resection > 90% in 56.5% of their patients but lower than the incidence reported by Guo et al. who achieved gross total resection in 67% of cases [9, 22]. Komotar et al. in their systematic review of approaches to giant adenomas found that gross total resection was achieved in 9.6% of the cases and near total resection (> 80–90%) was achieved in 90.4% of the cases [24]. The majority of our cases were complex cases with either giant and/or invasive tumors. Near total resection was achieved in all cases with dumbbell shaped adenoma and in most of the cases with parasellar extension; however, in cases with fibrous adenomas and significant extension into the third ventricle near total resection could not be achieved.
Rights and permissions
Open Access This article is licensed under a Creative Commons Attribution 4.0 International License, which permits use, sharing, adaptation, distribution and reproduction in any medium or format, as long as you give appropriate credit to the original author(s) and the source, provide a link to the Creative Commons licence, and indicate if changes were made. The images or other third party material in this article are included in the article's Creative Commons licence, unless indicated otherwise in a credit line to the material. If material is not included in the article's Creative Commons licence and your intended use is not permitted by statutory regulation or exceeds the permitted use, you will need to obtain permission directly from the copyright holder. To view a copy of this licence, visit http://creativecommons.org/licenses/by/4.0/.
Disclaimer:
This article is autogenerated using RSS feeds and has not been created or edited by OA JF.

Click here for Source link (https://www.springeropen.com/)