Vector competence of Aedes aegypti and screening for differentially expressed microRNAs exposed to Zika virus – Parasites & Vectors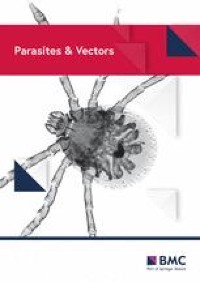 Virus strain
The viral strain used in this study was ZIKV SZ01 strain obtained from the Microbial Culture Collection Center of the Beijing Institute of Microbiology and Epidemiology. This virus was originally isolated from a patient who returned from Samoa to China in 2016 (GenBank Nos. KU866423) [24]. The virus has been maintained in the Aedes albopictus C6/36 cell lines and was passaged four times before the study.
Infection of mosquitoes
Mosquito larvae and pupae of two Ae. aegypti mosquito strains were originally collected from Jiegao (23°58′40″N, 97°53′ 24″E) and Mengding (23°33′00″N, 99°3′33″E), Yunnan Province, China, respectively, in July 2018. All larvae and pupae were reared to adult forms in the laboratory under the same conditions (26 ± 1 °C, relative humidity [RH] 75 ± 5%, a 14:10-h light/dark [L/D] photoperiod). Adult mosquitoes were provided with 10% sugar water. The fourth generation of two Ae. aegypti stains were used to perform ZIKV oral infection experiments. Detailed methods of mosquito collection and husbandry are described in our previous work [25].
ZIKV suspension mixed with mouse blood (1:1) were provided to 5-day-old female mosquitoes for oral feeding using the Hemotek membrane feeding system (Sihuan, Beijing, China) to keep the virus blood meal at 37 °C. The virus titer of the virus blood meal was determined to be 1.5 × 104 plaque-forming units (PFU)/ml at the time of feeding, using the plaque assay with the BHK-21 cell line (ATCC Number: CCL-10) . After 1 h of blood-feeding, fully engorged females were transferred to plastic cups (10–15 mosquitoes/tube) and reared at 29 ± 1 °C and 75 ± 5% RH under a 14/10-h L/D cycle. A 5% sucrose solution on cotton pads was provided to these mosquitoes.
Vector competence indices
For each mosquito examined, the midgut, salivary gland and saliva were tested separately to analyze vector competence in the two Ae. aegypti strains at 2, 4, 6, 8, 10, 14 and 20 days post-infection (dpi), and 10 mosquitoes were used per time point. The experiments were performed three times independently, except for those carried out on 20 dpi that were performed two times. The midgut and salivary gland of each mosquito were dissected and washed 3 times in phosphate-buffered saline and transferred to 1.5-ml microtubes containing 100 μl of Dulbecco's modified Eagle's medium (DMEM; GIBCO™, Invitrogen, Beijing, China) supplemented with 2% fetal bovine serum (FBS). Saliva was collected from individual mosquitoes at 2, 4, 6, 8, 10, 14 and 20 dpi using the method described by Dubrulle et al. [26]. After removing the wings and legs of each mosquito, the proboscis was inserted into a glass capillary containing 5 μl of FBS. After 30 min, the FBS containing saliva was mixed with 100 μl of DMEM in 1.5-ml microtubes.
The ZIKA RNA of these samples was extracted using the QIAamp Viral RNA Mini kit (Qiagen, Hilden, Germany) and detected using a commercial kit (Zika virus nucleic acid detection kit; Daan Gene Co. Ltd., Guangdong, China; Cat no: DA0711). The procedures are described in detail in our previous study [25].
Vector competence of the mosquitoes was evaluated by calculating the infection rate (IR; number of positive midgut/the total number of mosquitoes tested), dissemination rate (DR; number of infected salivary gland/the number of infected midgut), transmission rate (TR; number of infected saliva/the number of infected salivary gland) and transmission efficiency (TE; number of infected saliva/the total number of mosquitoes tested).
All statistical analyses were conducted using SPSS version 21.0 software (SPSS IBM Corp., Armonk, NY, USA). The IR, DR, TR and TE of two Ae. aegypti strains were compared using Fisher's exact test. Viral titers were compared with the Mann–Whitney U-test to determine differences between two strains at different times. P-values < 0.05 were considered to be significant.
Viability of ZIKV in saliva of Ae. aegypti

Saliva samples were collected from JG and MD Ae. aegypti strains (30 individuals of each strain) on 8 dpi using the method described by Dubrulle et al. [26]. In brief, wings and legs of each mosquito were removed and the proboscis was inserted into a glass capillary containing 5 μl of FBS. After 30 min of salivation, FBS containing saliva collected from 30 individual mosquitoes was mixed with 200 μl of RPMI Medium 1640 (GIBCO™, Invitrogen, Beijing, China). The mixture was then inoculated into one well of a 12-well plate covered with a single layer of C6/36 cells for 2 h. After the incubation period, the mixture was removed and 1 ml RPMI Medium 1640 (containing 2% FBS, 1% 100U/ml penicillin and 100 ug/ml streptomycin) was added into the well. The plate was maintained in a cell incubator at 28 °C and 5% CO2 for 7 days. Cells were observed by inverted microscopy every day to examine the cytopathic effect (CPE).
Sample preparation and RNA extraction
Five-day-old female mosquitoes from the two strains (JG and MD) were fed with ZIKV-infected blood meal (1.5 × 104 PFU/ml) or a blood meal devoid of ZIKV. The infection procedure was the same as described for the vector competence test. The midgut and salivary gland of approximately 100 mosquitoes from each of the groups (infected group and control group) of the two strains were collected by dissecting individual mosquitoes on 2, 4 and 6 dpi. These samples were collected separately in 1.5-ml RNase-free microcentrifuge tubes containing 500 μl TRIzol reagent (Invitrogen, Thermo Fisher Scientific, Waltham, MA USA) and stored at − 80 °C until subsequent RNA extraction. Total RNA was extracted from 24 groups using the TRIzol reagent according to the manufacturer's protocol. The quality and quantity of RNA were measured by the Agilent 2100 Bioanalyzer System (Agilent Technologies, Inc., Santa Clara, CA, USA). Each RNA sample was divided to two parts, with one used for small RNA library preparation and sequencing and the second part used for reverse transcription-quantitative PCR (RT-qPCR) analysis.
Small RNA library preparation and sequencing
The RNA extraction, library preparation and sequencing analyses were performed by the BGI Company (Shenzhen, China). Briefly, 1 µg of each pooled total RNA was used to create small RNA libraries. RNA fragments (18–30 nt) were isolated from total RNA by polyacrylamide gel electrophoresis (PAGE). Small RNA libraries were prepared in accordance with the manufacturer's instructions (Illumina, San Diego, CA, USA). Library creation uses a sequential addition of first a 3′ adapter sequence followed by a 5′ adapter sequence. A complimentary DNA (cDNA) copy was then synthesized using ProtoScript reverse transcriptase (New England Biolabs, Ipswich, MA, USA) and a primer complimentary to a segment of the 3′ adapter. The cDNA was amplified using reverse transcriptase PCR (RT-PCR) for 12–15 PCR cycles to complete the libraries. The quality of cDNA was checked using the Agilent 2100 Bioanalyzer system (Agilent Technologies Inc.). Libraries were then submitted to BGI (Shenzhen, China) for small RNA sequencing (RNA-seq) using the Illumina genomic analyzer.
Bioinformatics
The Fastx toolkit was used to remove adapter sequences and reads with low-quality scores from datasets; Bowtie2 was used to map clean reads to the reference genome and to other sRNA databases; and cmsearch was used for searching the Rfam database. After removing the adapter and low-quality sequences, all clean small RNA tags were matched with the NCBI GenBank (http://www.ncbi.nlm.gov/) ribosome RNA (rRNA), small cytoplasmic RNA (scRNA, small nucleolar RNA (snoRNA), small nuclear RNA (snRNA) and transfer RNA (tRNA) databases, and the matched tags were removed from the unlabeled tags. In order to ensure that every small RNA mapped to only one annotation, small RNA was classified and annotated according to the priority rule of all rRNA (in which GenBank > Rfam > repeat > exon > intron > known miRNA) [27]. Mature and pre-miRNA sequences of Ae. aegypti (AaegL5.0) were used as a reference miRNA from the miRBase v.21 database. The unmatched clean reads were used for the prediction of novel miRNAs by MiRDeep2 by exploring their secondary structure, information of Dicer cleavage sites and energy. RNA secondary structures were predicted by RNA-fold (http://rna.tbi.univie.ac.at/).
Expression profiling of miRNAs in response to ZIKV
An algorithm was used to identify differentially expressed miRNAs between ZIKV-infected samples and control samples. p(χ) = e−λλχ / χ!, where χ is defined as the number of reads from small RNA and λ is the real transcripts of the miRNA. The method is described in detail by Audic et al. [28]. When the false discovery rate (FDR) was < 0.001, changes in known miRNA expression between infected samples and control samples were considered to be significant. miRNAs with log2 fold change (FC) > 1 were designated as being significantly upregulated, and miRNAs with log2 FC ≤1 were designated as being significantly downregulated.
RT-qPCR analysis of miRNAs
The expression of miRNAs was validated by two-step RT-qPCR using the primers listed in Additional file 1: Table S1. The RT reaction was conducted in a mixture containing 2 μl of dNTP (2.5 mM each), 2 μl of 10× RT Buffer, 2 μl of RT primer (10 μM), 8 μl of total RNA, 1 μl of RT enzyme (10 U/ul), 1 μl of RNase inhibitor (40 u/ul) and 4 μl of RNase free water, at 16 °C for 30 min, 42 °C for 40 min and 85 °C for 5 min. All RT reagents were purchased from Invitrogen (Carlsbad, CA, USA). The resulting cDNAs were used as templates for the qPCR reaction, which contained 8 μl of 2× PCR mix (Lot: 204145; Qiagen), 0.2 μl of each forward and reverse primers (10 μM), 1 μl of template and 6.6 μl of nuclease water. Amplification reactions were performed in an ABI ViiA 7 Real-Time PCR System (Applied Biosystems, Thermo Fisher Scientific, Waltham, MA, USA) programed as follows: 1 cycle at 95 °C for 2 min; then 94 °C for 10 s and 40 cycles at 55 °C for 10 s and 72 °C for 40 s. The analysis of relative expression levels of miRNAs was performed using 2−∆∆CT method [29]. Small nuclear RNA (RNU6B) was used to normalize the FC in miRNA expression in each sample.
Target prediction of miRNAs and functional analysis
The target genes of the differentially expressed miRNA were predicted using miRanda (http://www.microrna.org/microrna/home.do) and RNAhybrid (http://bibiserv.techfak.uni-bielefeld.de/rnahybrid/). The prediction of the functions of these miRNAs or their targets based on Gene Ontology (GO; http://amigo.geneontology.org/amigo) and the Kyoto Encyclopedia of Genes and Genomes (KEGG; https://www.genome.jp/kegg/pathway.html) pathway enrichment analysis.
Rights and permissions
Open Access This article is licensed under a Creative Commons Attribution 4.0 International License, which permits use, sharing, adaptation, distribution and reproduction in any medium or format, as long as you give appropriate credit to the original author(s) and the source, provide a link to the Creative Commons licence, and indicate if changes were made. The images or other third party material in this article are included in the article's Creative Commons licence, unless indicated otherwise in a credit line to the material. If material is not included in the article's Creative Commons licence and your intended use is not permitted by statutory regulation or exceeds the permitted use, you will need to obtain permission directly from the copyright holder. To view a copy of this licence, visit http://creativecommons.org/licenses/by/4.0/. The Creative Commons Public Domain Dedication waiver (http://creativecommons.org/publicdomain/zero/1.0/) applies to the data made available in this article, unless otherwise stated in a credit line to the data.
Disclaimer:
This article is autogenerated using RSS feeds and has not been created or edited by OA JF.

Click here for Source link (https://www.biomedcentral.com/)