Visual and anatomical outcomes associated with treat-and-extend administration of intravitreal aflibercept for neovascular age-related macular degeneration – International Journal of Retina and Vitreous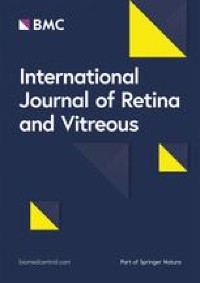 We report the 12 month functional and anatomical outcomes associated with TAE administration of intravitreal aflibercept for nvAMD in a real-world setting. To the best of our knowledge, this is the largest retrospective study to evaluate TAE aflibercept in eyes with treatment naïve nvAMD. Our findings demonstrate a mean visual improvement of 0.21 logMAR units (+  10.1 ETDRS letters) with an average of 7.4 injections amongst 213 treatment-naïve eyes with nvAMD at 12 months follow up. In addition, SD-OCT demonstrated a mean reduction of CRT by 101 μm and reduced prevalence of SRF and IRF at 12 month follow-up.
To date, the Japanese Treat and Extend Study of Aflibercept in Neovascular Age-related Macular Degeneration (ALTAIR) study is the largest prospective randomized study of TAE aflibercept administration in patients with nvAMD [19]. The study compared the outcomes associated with 2 and 4 week extensions of the injection interval in eyes with nvAMD. Amongst 246 eyes, treatment extensions of 2 and 4 weeks resulted in 9.0 and 8.4 ETDRS letter gain with 7.2 and 6.9 injections at 1-year, respectively. Similarly, DeCroos et al. [5] found that a mean of 8.0 injections of TAE aflibercept resulted in a visual gain of 7.2 letters amongst 35 eyes in a prospective trial at 1-year follow-up. Haga et al. [6] observed a more significant visual gain of 0.32 logMAR (~  15.9 letters) from 21 eyes in a randomized to TAE aflibercept injections. In contrast, Hatz et al. and Jørstad et al. [20, 21] reported stabilization of vision following 1 year of aflibercept therapy in cohorts of eyes that had a limited response to prior anti-VEGF therapy.
Real world studies of TAE aflibercept reported widely variable visual gains ranging from 4 to 15.9 letters with 4.5–8.3 injections at 1-year (Table 3). The largest study was performed by Barthelmes and associates, including 136 treatment naïve eyes treated with TAE aflibercept. The study reported a visual gain of 6.0 ETDRS letters with 13.6 injections at 2-years follow-up [7]. In our study, we observed a greater mean visual gain (+  10.1 ETDRS letters) relative to Barthelmes et al. which may be due to the relatively poorer baseline visual acuity of our study cohort (40.0 vs. 61.4 ETDRS letters). In contrast, Unsal et al. and Castro-Navarro et al. [13, 14] reported greater mean visual gains of 15.9 and 11.5 ETDRS letters with mean of 4.9 and 7.7 injections, respectively, at 1 year. However, the latter studies included a small number of eyes, making it difficult to draw firm conclusions about the expected visual gain. Recently, a study analyzing the Intelligent Research in Sight (IRIS) Registry provided the largest real world visual acuity results in patients with treatment naïve nvAMD treated with a single anti-VEGF, regardless of the treatment regimen employed (fixed, TAE, pro-re-nata) [22]. Among 4387 patients treated with aflibercept, the mean visual gain was 0.04 logMAR (+  2.0 ETDRS letter). This minimal change in VA may be explained by the better baseline VA (0.53 logMAR) of the IRIS cohort, suggesting a reduced potential to visual improvement. The TAE protocol in the current study resulted in visual outcomes that compared well with the results obtained in VIEW1 and VIEW2 clinical trials but with less frequent injections. In VIEW1 and VIEW2, intravitreal aflibercept given monthly (2q4) improved baseline vision by 10.9 and 7.6 ETDRS letters at 1-year in 304 and 309 eyes, respectively [3]. Although, inter-study comparison is limited by variability in patient characteristics, associated copathologies and lesion size, the visual gain in the current study is similar to those reported in prospective clinical trials and falls within the range reported by previous retrospective TAE aflibercept studies (Table 3).
We found worse baseline visual acuity, increased number of injections, and decreased patient age to significantly predict visual gain in our study (Table 2). Worse baseline vision was previously associated with larger changes in visual acuity in patients receiving nvAMD treatment [23].
Improvement of SRF and IRF over time is an important measure of anti-VEGF efficacy. With fixed, monthly (2q4) dosing in the VIEW1 and VIEW2 trials, the incidence of eyes with SRF or IRF declined from 100% at baseline to 35.2% and 19.7% over 1-year, respectively [3]. With TAE dosing, Jørstad et al. [21] reported a 44% decline in the prevalence of eyes with SRF or IRF over 1-year while Hatz et al. [20] reported a reduction of 44.8% over 2-years. The number of eyes with SRF or IRF in our cohort similarly declined by 47% over 12 months.
Limitations of the current study include its retrospective design, lack of comparative control group and relatively short-term follow-up. In addition, due to the retrospective nature of the study, it is challenging to determine the degree of adherence to protocol and whether all planned injections were given within the proper time frame. Furthermore, conversion of VA values from Snellen to EDTRS scoring system may affect the accuracy of the results. However, our study is strengthened by several factors. To the best of our knowledge, our cohort represents the largest sample of treatment naïve nvAMD eyes treated with TAE aflibercept in routine clinical practice. In addition, eyes were not excluded on the basis of severity of nvAMD. Our data therefore reflects real-world clinical outcomes of TAE aflibercept administration in treatment-naïve eyes at 12 months follow-up.
Rights and permissions
Open Access This article is licensed under a Creative Commons Attribution 4.0 International License, which permits use, sharing, adaptation, distribution and reproduction in any medium or format, as long as you give appropriate credit to the original author(s) and the source, provide a link to the Creative Commons licence, and indicate if changes were made. The images or other third party material in this article are included in the article's Creative Commons licence, unless indicated otherwise in a credit line to the material. If material is not included in the article's Creative Commons licence and your intended use is not permitted by statutory regulation or exceeds the permitted use, you will need to obtain permission directly from the copyright holder. To view a copy of this licence, visit http://creativecommons.org/licenses/by/4.0/. The Creative Commons Public Domain Dedication waiver (http://creativecommons.org/publicdomain/zero/1.0/) applies to the data made available in this article, unless otherwise stated in a credit line to the data.
Disclaimer:
This article is autogenerated using RSS feeds and has not been created or edited by OA JF.

Click here for Source link (https://www.biomedcentral.com/)