What can student-generated animations tell us about students' conceptions of evolution? – Evolution: Education and Outreach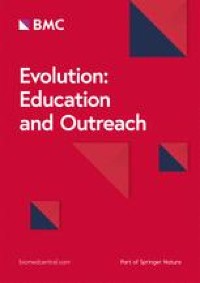 Overall, the students appeared to be stimulated by creating stop-motion animations. They did not experience it as particularly demanding (3.8) and found the session to be instructional and fun (6.7). This is a striking finding since making stop-motion animations can be tedious work. The evaluations revealed several remarks stating that the activity was different from, and more fun than, their usual science classes.
Which means of expression do students use when they seek to express their knowledge in student-generated stop-motion animations?
The length of the 18 stop-motion animations ranged between 21 and 83 s, with a mean of 45 s.
When choosing the organisms, all the groups used animals (Table 2). Fourteen animations (78%) communicated more or less realistic animals. Some of these were human-like or fictional animals. Only four groups (22%) chose to communicate symbolic (yet animal-like) organisms (Table 2). Half of the animations did either not show any generational shifts at all (6%), or only the parental or one generation of offspring (3%). Six of the animations (33%) showed three or more generations (Table 2). The represented "population" on which natural selection acted upon consisted of more than three individuals in 50% of the animations. Most of the traits to be represented were distributed between a physical (14) or a behavioural property (4), and selection pressure was represented as either an external antagonist (in 12 cases) or environmental causes (such as lack of food, 8 cases, Table 2). In two of the animations, it was not possible to detect any selection taking place at all.
The students utilized the resources that had been made available to them by the media educators. All the student groups used clay as their basic material, but this was supplemented in various ways such as paper and drawings. Some groups added thread, nails, stone, or wood shavings, and in one of the animations, Lego. In addition to the visual material mentioned above, the students added other modalities.
Some form of audio or text was added to all but one of the stop-motion animations. Of these, sound effects and music were more common than narration. Four of the stop-motion animations included written text, either directly or in speech bubbles. One animation included music, sound effects, narration, and written text (see Table 3). Using speech bubbles, dramatic sound and sometimes also speech, these multimodal expressions contributed a humour aspect to the animations. All design features of the student generated animations are summarized in Table 3.
What concepts are students able to represent in stop-motion animations?
This section describes the key-, alternative conceptions and spatial and temporal dimensions (E1–E5, A1–A3 and T1–T2) as they are represented in the stop-motion animations.
Key concepts
We consider several individuals in each generation with different properties as individual variation (E1). The decision to make simple models allowed the group that made the organisms with different body sizes (Fig. 2, left panel) to generate a larger population than the group who made realistic giraffes with differences in neck-length (Fig. 2, right panel).
Variation in the animations is shown in two different ways: (1) Most often only one individual with a different characteristic is shown, such as camouflage or the ability to jump, making it more a variation of a type (Zabel and Gropengiesser 2011), and (2) Less frequently, several individuals had different properties (Fig. 3).
The origin of variation (E2) was only shown in one of the animations (Fig. 4). This group indicated the mutation leading to variation in phenotype through narration in combination with a visible arrow to indicate the occurring mutations.
Inheritance (including reproduction) (E3) is represented in a substantial proportion of the animations (39%: 7 out of 18). In four of the cases, it is illustrated by mating, and in three by organisms dividing (Fig. 5). Several groups added a humorous touch to their animations when indicating that animals were mating, for example by using strange noises and rustling in the shrubbery to guide the viewer's imagination. In the purple-men animation we detected indications of the mixing of traits that occurs in sexual reproduction (Fig. 4).
Differential survival (E4) is represented in various ways in the stop-motion animations. In most cases the population of a prey species is shown to vary. Diverse traits are represented in the animations, including long legs, the ability to bounce, spikes, or spots that aid in evading predation. Given that the medium is visual, the students had to think about traits that would be easy to visualize. Consequently, most variations were morphological or visual, such as differences in camouflage, the length of legs or necks, or body size. In a few animations the survivors had traits related to behaviour that were not expressed by other members of the population, such as greater intelligence or cooperation skills (Fig. 6).
The represented selection pressure is generally predation or lack of food (in 12 and 8 cases respectively). In one animation environmental change was shown to divide populations and introduces differences in selection pressures in the separate environments. In two cases, both predation and food limitation are illustrated (Fig. 3). In five cases a population of predators displayed variation in a trait that led them to become better hunters (Table 2). An example of this is shown in Fig. 7 where the chameleon got a longer tongue in the succeeding generation and thereby become a better hunter.
In one case the presented storyline is more complex, with selection affecting both prey and predator populations, in a valley divided by a stream (Fig. 3). The valley is populated with symbolic animals in the form of balls of varying size. Food is plentiful on one side of the stream and scarce on the other. Food shortages causes the death of the larger prey individuals on the barren side, while on the rich side of the valley they thrive and avoid being eaten due to their size. Hence, the predators starve on the fertile side of the stream but thrive on the barren side.
In the student-generated stop-motion animations, the animated populations are generally very small, which makes it difficult to judge change in population (E5). In this study we consider the "initial population" as a group of more than three individuals. This is based on the results of a previous study based on video recordings of the animation process (Orraryd 2013) where the students express that the time-limitation made them compromise the population size. Using the criteria above, the concept change in population was represented in nine of the animations. Furthermore, the variation in this population is usually limited to two variants, of which one is beneficial. In other words, the random variation in the original population is missing. In addition, after selection the change in the population in most cases occurred instantaneously or after one to three generations. In other words, the accumulation of changes is not represented.
Alternative conceptions
From a science education perspective, it is easy to observe an anthropomorphic aspect, when a represented organism appears to have human-like self-awareness. Displays of anthropomorphism include animals using weapons, living in houses, or wearing clothes (Fig. 8).
However, these displays were not categorized as intentional, and they are easier to attribute to a pure aesthetic style rather than a representation of design based on intentions (Kampourakis 2020).
Intentionality (A1) as a basis for selection was illustrated in seven animations). One animation showed a mammal adapting to life in the water by a process of metamorphosis (Fig. 9), and one used the theme of the evolution of man (Fig. 10). The students who produced these animations seemed more focused on providing a historical description of the changes in a species rather than exploring the mechanism responsible for these changes. Representing evolution as a process that is goal-directed, striving upwards or at least onwards (into the sea), is a typical expression of teleology.
A feature that these animations have in common is that they do not show any variation. One individual undergoes morphological development to be more human-like (Fig. 10) or able to swim in the sea (Fig. 9).
Previous research has pointed out that essentialism is a major alternative conception (Coley and Tanner 2015). Surprisingly, essentialism (A2) was only manifested in one animation (Fig. 2, right panel) in which the necks of all the giraffes grow (after the individual with the shortest neck has died). The necks of the remaining giraffes grew before our eyes (during their lifetime). However, the dolphin (Fig. 9) and the march towards man (Fig. 10) examples above, might be interpreted as depicting an essentialist evolution if the individual is assumed to represent the evolving essence of a population. This is not in line with our definition, so they were not included in this category.
Furthermore, evidence of the alternative conception natural selection as an event (A3) was detected in 14 of the animations where the animation in Fig. 11 provides a good example. In this regard, one either has good camouflage, or not, and in the latter case, one gets eaten. The one survivor in this animation wins a jackpot of opportunities to mate and reproduce (Fig. 8).
Connections between organizational levels and time
By connection between different organizational levels, we mean that students are able to link genetic variation to individual variation and/or individual variation to population level. This could have been done with text or through a cut or change of scene in the animation. Only one animation includes the genetic level (Fig. 4) shown both visually and by narration, while nine depict individual and population level (e g., Fig. 2).
Most substantial changes in the traits within populations take a long time and involve many generations (although some traits may become fixed in a single generation under intense selection pressure). The idea of time or generations passing, was indicated in six (33%) of the animations (Fig. 12a). For example, time was indicated, for example, by mating in one to three generations, or by text ("many generations later"), or alternatively by showing the sun or moon rising and setting, or the earth spinning (Table 4).
How do the conceptions expressed in the stop-motion animations relate to written explanations of evolutionary change and previous research literature?
To investigate whether our student group was comparable to the students in the research literature we also asked participants to write a response to a test item. The written responses were analysed in relation to key -concepts, and alternative concepts (Fig. 12). The results indicate that the answers given by this student group resemble the results reported in previous research (Andrews et al. 2011; Göransson et al. 2020) (Fig. 12a, b). In addition, we also analysed the connections between organizational levels (T1) and the explicit compression or expansion of time (T2).
In the corresponding analysis of the animations, we could see both similarities and differences between the results from the animations and the results in the literature.
With the exception of the origin of variation, the occurrence of key -concepts was very similar in the students stop-motion animations as well as in their written explanations (Andrews et al. 2011; Göransson et al. 2020). However, the origin of variation was mentioned more often in the written responses. Eighteen of the students (38%) mentioned DNA, genes, or mutation in their written responses but only five (11%) did so in an appropriate and correct context. As mentioned previously only one animation indicated the origin of variation.
The most salient result was found regarding the alternative conceptions. Intentionality was somewhat less common in the stop-motion animations, and essentialism was shown in only one of them. On the other hand, natural selection represented as a single event was almost four time as common in the animations as in the written responses.
Connections between organizational levels are similar (20–30%) in the animations and the written responses, while the connection between different temporal aspects of the process was about twice as common in the written responses (60%) than in the animations (33%).
Rights and permissions
Open Access This article is licensed under a Creative Commons Attribution 4.0 International License, which permits use, sharing, adaptation, distribution and reproduction in any medium or format, as long as you give appropriate credit to the original author(s) and the source, provide a link to the Creative Commons licence, and indicate if changes were made. The images or other third party material in this article are included in the article's Creative Commons licence, unless indicated otherwise in a credit line to the material. If material is not included in the article's Creative Commons licence and your intended use is not permitted by statutory regulation or exceeds the permitted use, you will need to obtain permission directly from the copyright holder. To view a copy of this licence, visit http://creativecommons.org/licenses/by/4.0/. The Creative Commons Public Domain Dedication waiver (http://creativecommons.org/publicdomain/zero/1.0/) applies to the data made available in this article, unless otherwise stated in a credit line to the data.
Disclaimer:
This article is autogenerated using RSS feeds and has not been created or edited by OA JF.

Click here for Source link (https://www.biomedcentral.com/)