Adult onset Still's disease in a patient with scleroderma: case report – BMC Rheumatology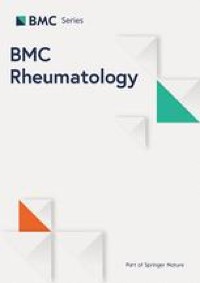 Our patient had a history of limited scleroderma that was confirmed with positive ANA in a speckled and nucleolar pattern. She was taking pancrealipase for pancreatitis, diltiazem for Raynaud's, celecoxib for arthralgia, and omeprazole due to her history of peptic ulcer disease. Regarding the patient's chronic idiopathic pancreatitis, a thorough work up including abdominal imaging, tissue biopsy with histological analysis, and serum IgG levels had been completed at a prior date. There was no evidence to suggest a separate etiology, autoimmune or otherwise, to her recurrent pancreatitis.
The patient's scleroderma had been controlled when she presented to the hospital with fever, sore throat, myalgias, arthralgias, and evanescent rash. Her symptoms began spontaneously with no preceding febrile illnesses, sick contacts, travel, or outdoor exposures. While AOSD primarily remains a diagnosis of exclusion, most studies utilize the Yamaguchi criteria due to its high sensitivity and specificity [11]. The criteria are fulfilled when a patient demonstrates at least five out of nine possible diagnostic features, with at least two being major criteria. Our patient's symptoms (arthralgia, non-pruritic rash, and leukocytosis) fulfilled three major criteria per Yamaguchi. Her sore throat, lymphadenopathy, splenomegaly, and elevated liver function tests fulfilled four minor criteria. An important caveat to these criteria however, is that the presence of any infection, malignancy, or rheumatic disorder known to mimic AOSD precludes a diagnosis. Our patient's workup was negative for infectious and malignant etiologies. Furthermore, she did not possess a diagnosis of any rheumatic disease known to mimic AOSD, such as rheumatoid arthritis, reactive arthritis, systemic lupus erythematosus, dermatomyositis, polymyositis, or vasculitis. In instances where AOSD is suspected to co-occur with one of these aforementioned disorders, it is important for the clinician to be aware that the Yamaguchi Criteria are not definitive in their ability to rule in or out AOSD. Therefore, physician intuition and special attention to clinical and biochemical clues will be paramount when making an accurate diagnosis.
Management of AOSD has been empirical, with data on treatment efficacy obtained from case reports and retrospective studies. Treatment varies according to disease severity [12]. Mild disease is managed with trial of NSAIDs to control fever and arthralgia. Management for moderate to severe disease is centered on glucocorticoids, with addition of anakinra or tocilizumab once the disease is controlled. Methotrexate can be used in patients with predominantly joint disease.
Development of systemic sclerosis is believed to occur in several distinct phases. The first of these phases is defined by immune mediated damage to vascular endothelial cells, particularly in arterioles [13, 14]. This damage leads to phase two, which is characterized by release of reactive oxygen species and monocytic infiltrate through gaps in endothelial cells into the perivascular space. Macrophages then release IL-8 and TGF-β that promote recruitment of fibroblasts as well as apoptosis of vascular smooth muscle cells [13, 15]. Th2 lymphocytes and CD20 positive B cells stimulate the release of IL-6 [1]. The cumulative effect of these processes leads to phase three, which consists of myofibroblast proliferation and eventual tissue hypoxia.
Less is known regarding the pathophysiology of AOSD. However, the process is thought to occur when a molecular signal, such as a pathogen or malignancy, activates a dysregulated inflammasome [4]. The inflammasome then releases IL-1 and IL-18. IL-18 leads to production of IFNγ, which in turn, increases macrophage activation. Simultaneously, IL-1 serves to recruit neutrophils and additional cytokines (such as IL-8, IL-6, and TNF-α) thereby creating a repetitive cycle of inflammation [4].
Although the clinical manifestations of limited cutaneous systemic sclerosis and AOSD are quite dissimilar, both conditions feature over activation of the innate immune system. In systemic sclerosis, macrophage dependent release of cytokines such as IL-6 and IL-8 contributes to a dysregulated inflammatory cascade that results in fibrosis. In AOSD, overproduction of many of these same cytokines leads to an inflammatory loop that produces symptoms of fever, rash, and joint pain.
In this report, we describe the first documented case of AOSD superimposed upon well-controlled scleroderma in a postmenopausal patient. Our patient presented with a known diagnosis of scleroderma and met seven of the Yamaguchi Criteria for AOSD (including three major criteria). She obtained prompt resolution of her symptoms with the use of glucocorticoids and methotrexate. It is unclear, however, why these two exceedingly rare conditions occurred together in the same individual, though it may suggest a heightened propensity for immune mediated inflammatory diseases in a subset of patients. Future studies may evaluate the potential for shared genetic foci between these, and other autoimmune conditions, with the hope of increasing diagnostic and therapeutic capabilities.
Rights and permissions
Open Access This article is licensed under a Creative Commons Attribution 4.0 International License, which permits use, sharing, adaptation, distribution and reproduction in any medium or format, as long as you give appropriate credit to the original author(s) and the source, provide a link to the Creative Commons licence, and indicate if changes were made. The images or other third party material in this article are included in the article's Creative Commons licence, unless indicated otherwise in a credit line to the material. If material is not included in the article's Creative Commons licence and your intended use is not permitted by statutory regulation or exceeds the permitted use, you will need to obtain permission directly from the copyright holder. To view a copy of this licence, visit http://creativecommons.org/licenses/by/4.0/. The Creative Commons Public Domain Dedication waiver (http://creativecommons.org/publicdomain/zero/1.0/) applies to the data made available in this article, unless otherwise stated in a credit line to the data.
Disclaimer:
This article is autogenerated using RSS feeds and has not been created or edited by OA JF.

Click here for Source link (https://www.biomedcentral.com/)