Challenge of coexisting type 2 diabetes mellitus and insulinoma: a case report – Journal of Medical Case Reports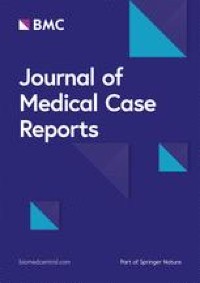 We present our patient with type 2 diabetes mellitus, significant family history of type 2 diabetes, and recent onset of recurrent symptomatic hypoglycemia due to an insulinoma. The insulinoma most certainly modified his diabetic control, such that he did not need either oral hypoglycemic agents or insulin.
The association between diabetes and insulinoma is rare. In a retrospective study from the Mayo Clinic comprising 313 cases of confirmed insulinoma between 1927 and 1992, there was only one patient with pre-existing diabetes [4]. A Japanese review of 443 cases of insulinoma between 1976 and 1990 identified only one patient who had concurrent diabetes and insulinoma [5]. In a review from Taiwan of 23 cases of insulinoma spanning 22 years, only one patient had type 2 diabetes [5]. There are a few case reports of insulinoma in patients with type 1 diabetes. Insulinoma may mask the existence of type 1 diabetes or cause recurrent hypoglycemia and decreased insulin requirement in a type 1 diabetic patient [6, 7].
In 1962, a report suggested an association between insulinoma and a family history of diabetes [7], and about 30% of patients with insulinoma had a family history of diabetes in a series of the Mayo Clinic [8]. A possible explanation for a positive family history of diabetes may be insulin resistance and, consequently, exuberant elaboration of insulin. The increase in insulin secretion can theoretically result in hyperplasia of islet of Langerhans cells, which maintains a relative normoglycemic state. However, it is conceivable that without appropriate control mechanisms and a degree of autonomy, an insulin-secreting beta cell tumor could develop [9].
An insulinoma may also mask diabetes. In some case reports of insulinoma with concurrent diabetes mellitus, the diabetes was only diagnosed after the tumor was resected [5, 9]. There are also case reports where insulinomas were only diagnosed on postmortem examination of diabetes patients [3]. Overall, the coexistence of diabetes mellitus and insulinoma is rare, and there are no reported cases in South Africa. We recommend examining patients for primary or secondary hypoadrenalism, IGF-1, C-peptide, ketones, sulfonylurea concentrations, and in some instances insulin in cases of unprovoked hypoglycemia in a diabetic.
The occurrence of persistent hyperglycemia following surgical removal of the insulinoma suggests underlying diabetes, bearing in mind the possibility of damage to the pancreas during the surgical procedure and giving rise to diabetes, rather than a prior diagnosis of diabetes. In cases of coexistent type 1 diabetes mellitus, the blood tests reveal low levels of serum C-peptide and high titers of anti-glutamic acid decarboxylase antibody; histological examination of the resected specimen may reveal insulitis in non-tumorous pancreatic tissue in which beta cells had already disappeared [6]. In addition, there was infiltration of the insulinoma by inflammatory cells, as if it were insulitis of type 1 diabetes, suggesting the existence of anti-islet autoimmunity [6]. The absence of both proven autoimmunity and inflammatory infiltration together with adequate glycemic control on oral hypoglycemic agents suggests type 2 diabetes mellitus. A prolonged supervised fast is a gold standard test to evoke hypoglycemic episodes and is also useful in patients with diabetes mellitus [10]. This was not performed in our patient, as he manifested with unprovoked hypoglycemia. Considering their relative accuracy, continuous glucose monitoring devices may replace the prolonged fast in the near future. As expected in benign insulinoma, we did not encounter local tumor effects (local, regional organ or vascular compression), as these are described very rarely.
The majority of insulinomas are benign, whereas between 5 and 12% are malignant [9]. Only 22 cases have been published demonstrating the association between malignant insulinoma and diabetes [11]. There is no difference in the pattern of recurrence of hypoglycemia at presentation of patients with benign versus malignant insulinoma. However, we expect hypoglycemia to be more frequent and severe in the presence of malignant insulinoma depending on the size of the tumor and presence of metastases. A case report demonstrated paradoxical weight gain in a subject who had both type 2 diabetes mellitus and malignant insulinoma, and the explanation for the weight gain lies in recurrent eating to avoid hypoglycemia [10]. Distinction between malignant and benign tumors can only be made by the presence of metastasis, as there are no specific morphologic, biochemical, or genetic features distinguishing them. Histologically, insulinomas are epithelial neoplasms associated with strong and diffuse immunohistochemical expression of neuroendocrine markers such as synaptophysin and chromogranin. Most patients with malignant insulinoma have lymph node or liver metastases and, rarely, bone involvement [10].
It has been proposed that the insulin-producing cells in a malignant insulinoma and type 1 diabetes suggest that the insulin-producing malignant cells must have escaped autoimmune attack that otherwise had completely destroyed the beta cells of the patient [6]. No evidence of an inflammatory response in the resected tumor or normal pancreatic tissue could be identified [6]. It is speculated that a lack of auto-antigen expression in the insulinoma cells or their ability to escape immune surveillance in other ways accounts for an absence of inflammatory response, particularly in coexisting type 1 diabetes mellitus.
In our case and most of the available case reports of associated insulinoma and diabetes, hypoglycemia was successfully treated on diazoxide, and the surgical resection of the tumor was curative [9]. In instances where malignant insulinomas did not respond to surgical resection, alternative therapies such as peptide receptor radionuclide therapy (PRRT), after failure of everolimus and chemotherapy (streptozocin and capecitabine), have been used to achieve remission. On the other hand, there are reported cases of malignant insulinoma refractory to diazoxide and long-acting somatostatin analog using lanreotide [12]. By contrast, pasireotide, a multi-receptor-targeted somatostatin analog, exhibits a strong inhibitory effect of insulin secretion, and this has been documented to be effective in medical management of insulinoma [12].
Malignant insulinomas confer a truncated life expectancy after diagnosis, and substantially shorter if there are metastases. The major sites of metastasis or recurrence are the liver and regional lymph nodes [10]. The coexistence of diabetes mellitus and malignant insulinoma may result in a delay in diagnosis, but there is no evidence to suggest that it worsens the prognosis.
Rights and permissions
Open Access This article is licensed under a Creative Commons Attribution 4.0 International License, which permits use, sharing, adaptation, distribution and reproduction in any medium or format, as long as you give appropriate credit to the original author(s) and the source, provide a link to the Creative Commons licence, and indicate if changes were made. The images or other third party material in this article are included in the article's Creative Commons licence, unless indicated otherwise in a credit line to the material. If material is not included in the article's Creative Commons licence and your intended use is not permitted by statutory regulation or exceeds the permitted use, you will need to obtain permission directly from the copyright holder. To view a copy of this licence, visit http://creativecommons.org/licenses/by/4.0/. The Creative Commons Public Domain Dedication waiver (http://creativecommons.org/publicdomain/zero/1.0/) applies to the data made available in this article, unless otherwise stated in a credit line to the data.
Disclaimer:
This article is autogenerated using RSS feeds and has not been created or edited by OA JF.

Click here for Source link (https://www.biomedcentral.com/)