Cytogenetic and molecular analysis of distal 4q duplication with distinctive phenotype using single-nucleotide polymorphism array – Molecular Cytogenetics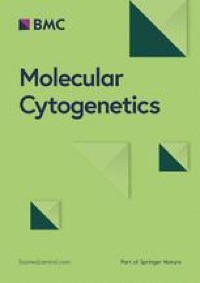 1.
Hoehn H, Sander C, Sander LZ. Aneusomie de recombinaison: rearrangement between paternal chromosomes 4 and 18 yielding offspring with features of the 18q- syndrome. Ann Genet. 1971;14(3):187–92.
2.
Cernakova I, Kvasnicova M, Lovasova Z, et al. A duplication dup(4)(q28q35.2) de novo in a newborn. Biomed Pap Med Fac Univ Palacky Olomouc Czech Repub. 2006;150(1):113–6.
3.
Elghezal H, Sendi HS, Monastiri K, et al. Large duplication 4q25-q34 with mild clinical effect. Ann Genet. 2004;47:419–22.
4.
Zhang YL, Dai Y, Tu ZG, Li QY. "Pure" partial trisomy 4q26–>q35.2 resulting from a familial unbalanced translocation t(4;10)(q26;q26). Cytogenet Genome Res. 2009;127(1):67–72.
5.
Ritscher D, Schinzel A, Boltshauser E, Briner J, Arbenz U, Sigg P. Dandy-Walker(like) malformation, atrio-ventricular septal defect and a similar pattern of minor anomalies in 2 sisters: a new syndrome? Am J Med Genet. 1987;26(2):481–91.
6.
Pavone P, Marino SD, Corsello G, et al. Cerebral white matter lesions and dysmorphisms: signs suggestive of 6p25 Deletion syndrome-literature review. J Pediatr Genet. 2019;8(4):205–11.
7.
DeScipio C. The 6p subtelomere deletion syndrome. Am J Med Genet C Semin Med Genet. 2007;145C(4):377–82.
8.
de Vos IJ, Stegmann AP, Webers CA, Stumpel CT. The 6p25 deletion syndrome: an update on a rare neurocristopathy. Ophthalmic Genet. 2017;38(2):101–7.
9.
Lehmann OJ, Sowden JC, Carlsson P, Jordan T, Bhattacharya SS. Fox's in development and disease. Trends Genet. 2003;19(6):339–44.
10.
Tachdjian G, Perreaux F, Aboura A, et al. Molecular cytogenetic analysis of a Xp21.3-pter deletion in a family with normal and short stature. Clin Genet. 2002;61(2):163–5.
11.
Binder G, Rappold GA. 2005 SHOX Deficiency Disorders. In: Adam MP, Ardinger HH, Pagon RA, et al., (eds) GeneReviews®. Seattle (WA): University of Washington, Seattle; December 12
12.
Sitek JC, Kulseth MA, Rypdal KB, Skodje T, Sheng Y, Retterstøl L. Whole-exome sequencing for diagnosis of hereditary ichthyosis. J Eur Acad Dermatol Venereol. 2018;32(6):1022–7.
13.
Taylor KM, Francke U, Brown MG, George DL, Kaufhold M. Inverted tandem ("mirror") duplications in human chromosomes: -nv dup 8p, 4q, 22q. Am J Med Genet. 1977;1(1):3–19.
14.
Stoll C, Roth MP. Partial 4q duplication due to inherited der(13), t(4;13)(q26;q34)mat in a girl with a deficiency of factor X. Hum Genet. 1980;53(3):303–4.
15.
Mikelsaar RV, Lurie IW, Ilus TE. "Pure" partial trisomy 4q25-qter owing to a de novo 4;22 translocation. J Med Genet. 1996;33(4):344–5.
16.
Lundin C, Zech L, Sjörs K, Wadelius C, Annerén G. Trisomy 4q syndrome: presentation of a new case and review of the literature. Ann Genet. 2002;45(2):53–7.
17.
Rinaldi R, De Bernardo C, Assumma M, et al. Cytogenetic and molecular characterization of a de novo 4q24qter duplication and correlation to the associated phenotype. Am J Med Genet A. 2003;118A(2):122–6.
18.
Lin S, Kirk EP, McKenzie F, Francis C, Shalhoub C, Turner AM. De novo interstitial duplication 4(q28.1q35) associated with choanal atresia. J Paediatr Child Health. 2004;40(7):401–3.
19.
Egritas O, Cavdarli B, Dalgic B, et al. Duplication 4q associated with chronic cholestatic changes in liver biopsy. Eur J Med Genet. 2010;53(6):411–4.
20.
Velinov M, Gu H, Yeboa K, et al. Hypoplastic left heart in a female infant with partial trisomy 4q due to de novo 4;21 translocation. Am J Med Genet. 2002;107(4):330–3.
21.
Cakmak-Genc G, Karakas-Celik S, Dursun A, Piskin İE. Partial trisomy 4q and partial monosomy 9p in a girl with choanal atresia and various dysmorphic findings. Gene. 2015;568(2):211–4.
22.
White WM, Willard HF, Van Dyke DL, Wolff DJ. The spreading of X inactivation into autosomal material of an x;autosome translocation: evidence for a difference between autosomal and X-chromosomal DNA [published correction appears in Am J Hum Genet 1998 Oct; 63(4):1252]. Am J Hum Genet. 1998;63(1):20–8.
23.
Kearney HM, Thorland EC, Brown KK, Quintero-Rivera F, South ST, Working Group of the American College of Medical Genetics Laboratory Quality Assurance Committee. American College of Medical Genetics standards and guidelines for interpretation and reporting of postnatal constitutional copy number variants. Genet Med. 2011;13(7):680–5.
24.
Celle L, Lee L, Rintoul N, et al. Duplication of chromosome region 4q28.3-qter in monozygotic twins with discordant phenotypes. Am J Med Genet. 2000;94(2):125–40.
25.
Thapa M, Asamoah A, Gowans GC, et al. Molecular characterization of distal 4q duplication in two patients using oligonucleotide array-based comparative genomic hybridization (oaCGH) analysis. Am J Med Genet A. 2014;164A(4):1069–74.
26.
Zollino M, Zampino G, Torrioli G, Pomponi MG, Neri G. Further contribution to the description of phenotypes associated with partial 4q duplication. Am J Med Genet. 1995;57(1):69–73.
27.
Otsuka T, Fujinaka H, Imamura M, Tanaka Y, Hayakawa H, Tomizawa S. Duplication of chromosome 4q: renal pathology of two siblings. Am J Med Genet A. 2005;134(3):330–3.
28.
Yue F, Jiang Y, Yu Y, et al. Clinical, cytogenetic, and molecular findings in a fetus with ultrasonic multiple malformations, 4q duplication, and 7q deletion: a case report and literature review. Medicine (Baltimore). 2018;97(45):e13094.
29.
Caselli R, Mencarelli MA, Papa FT, et al. Delineation of the phenotype associated with 7q36.1q36.2 deletion: long QT syndrome, renal hypoplasia and intellectual disability. Am J Med Genet A. 2008;146(9):1195–9.
30.
Clark TG, Conway SJ, Scott IC, et al. The mammalian Tolloid-like 1 gene, Tll1, is necessary for normal septation and positioning of the heart. Development. 1999;126(12):2631–42.
31.
Linhares ND, Svartman M, Rodrigues TC, Rosenberg C, Valadares ER. Subtelomeric 6p25 deletion/duplication: Report of a patient with new clinical findings and genotype-phenotype correlations. Eur J Med Genet. 2015;58(5):310–8.
32.
Papoulidis I, Vetro A, Paspaliaris V, et al. A Girl with 10 Mb Distal Xp deletion arising from maternal pericentric inversion: clinical data and molecular characterization. Curr Genomics. 2018;19(3):240–6.
33.
Elias PM, Williams ML, Choi EH, Feingold KR. Role of cholesterol sulfate in epidermal structure and function: lessons from X-linked ichthyosis. Biochim Biophys Acta. 2014;1841(3):353–61.
34.
Nagtzaam IF, Stegmann AP, Steijlen PM, et al. Clinically manifest X-linked recessive ichthyosis in a female due to a homozygous interstitial 1 6-Mb deletion of Xp22.31. Br J Dermatol. 2012;166(4):905–7.
35.
Elias PM, Williams ML, Crumrine D, Schmuth M. Inherited clinical disorders of lipid metabolism. Curr Probl Dermatol. 2010;39:30–88.
36.
Chen S, Lau TK, Zhang C, et al. A method for noninvasive detection of fetal large deletions/duplications by low coverage massively parallel sequencing. Prenat Diagn. 2013;33(6):584–90.
Rights and permissions
Open Access This article is licensed under a Creative Commons Attribution 4.0 International License, which permits use, sharing, adaptation, distribution and reproduction in any medium or format, as long as you give appropriate credit to the original author(s) and the source, provide a link to the Creative Commons licence, and indicate if changes were made. The images or other third party material in this article are included in the article's Creative Commons licence, unless indicated otherwise in a credit line to the material. If material is not included in the article's Creative Commons licence and your intended use is not permitted by statutory regulation or exceeds the permitted use, you will need to obtain permission directly from the copyright holder. To view a copy of this licence, visit http://creativecommons.org/licenses/by/4.0/. The Creative Commons Public Domain Dedication waiver (http://creativecommons.org/publicdomain/zero/1.0/) applies to the data made available in this article, unless otherwise stated in a credit line to the data.
Disclaimer:
This article is autogenerated using RSS feeds and has not been created or edited by OA JF.

Click here for Source link (https://www.biomedcentral.com/)