Early ART-initiation and longer ART duration reduces HIV-1 proviral DNA levels in children from the CHER trial – AIDS Research and Therapy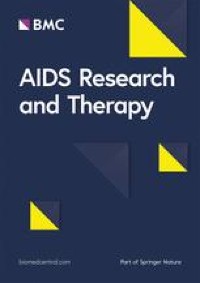 1.
UNAIDS. UNAIDS report on the global AIDS epidemic. UNAIDS/10.11E | JC1958E. Globalreport. Documents. 2010. http://www.unaids.org. Accessed 8 July 2016.
2.
Maartens G, Celum C, Lewin SR. HIV infection: epidemiology, pathogenesis, treatment, and prevention. Lancet. 2014;384(9939):258–71.
3.
Cotton MF, et al. Early time-limited antiretroviral therapy versus deferred therapy in South African infants infected with HIV: results from the children with HIV early antiretroviral (CHER) randomised trial. Lancet. 2013;382(9904):1555–63.
4.
Violari A, Cotton M, Gibb DM, Babiker AG, Steyn J, Madhi SA, Jean-Philippe P, McIntyre JA. Early antiretroviral therapy and mortality among HIV-infected infants. N Engl J Med. 2008;359(21):11.
5.
Lewis J, et al. Age and CD4 count at initiation of antiretroviral therapy in HIV-infected children: effects on long-term T-cell reconstitution. J Infect Dis. 2012;205(4):548–56.
6.
Suspene R, Meyerhans A. Quantification of unintegrated HIV-1 DNA at the single cell level in vivo. PloS ONE. 2012;7(5):e36246.
7.
De Rossi A, et al. Quantitative HIV-1 proviral DNA detection: a multicentre analysis. New Microbiol. 2010;33(4):293–302.
8.
Zhao Y, et al. Quantification of human immunodeficiency virus type 1 proviral DNA by using TaqMan technology. J Clin Microbiol. 2002;40(2):675–8.
9.
Finzi D, et al. Identification of a reservoir for HIV-1 in patients on highly active antiretroviral therapy. Science. 1997;278(5341):1295–300.
10.
Sleasman JW, et al. CD4+ memory T cells are the predominant population of HIV-1-infected lymphocytes in neonates and children. AIDS. 1996;10(13):1477–84.
11.
Alexaki A, Liu Y, Wigdahl B. Cellular reservoirs of HIV-1 and their role in viral persistence. Curr HIV Res. 2008;6(5):388–400.
12.
Chomont N, et al. HIV reservoir size and persistence are driven by T cell survival and homeostatic proliferation. Nat Med. 2009;15(8):893–900.
13.
Saez-Cirion A, et al. Post-treatment HIV-1 controllers with a long-term virological remission after the interruption of early initiated antiretroviral therapy ANRS VISCONTI Study. PLoS Pathog. 2013;9(3):e1003211.
14.
Luzuriaga K, et al. Viremic relapse after HIV-1 remission in a perinatally infected child. N Engl J Med. 2015;372(8):786–8.
15.
Persaud D, Luzuriaga K. Absence of HIV-1 after treatment cessation in an infant. N Engl J Med. 2014;370(7):678.
16.
Violari A, et al. A child with perinatal HIV infection and long-term sustained virological control following antiretroviral treatment cessation. Nat Commun. 2019;10(1):412.
17.
Frange P, et al. HIV-1 virological remission lasting more than 12 years after interruption of early antiretroviral therapy in a perinatally infected teenager enrolled in the French ANRS EPF-CO10 paediatric cohort: a case report. Lancet HIV. 2016;3(1):e49-54.
18.
Battistini A, Sgarbanti M. HIV-1 latency: an update of molecular mechanisms and therapeutic strategies. Viruses. 2014;6(4):1715–58.
19.
Archin NM, et al. Expression of latent HIV induced by the potent HDAC inhibitor suberoylanilide hydroxamic acid. AIDS Res Hum Retroviruses. 2009;25(2):207–12.
20.
Chun TW, et al. Rebound of plasma viremia following cessation of antiretroviral therapy despite profoundly low levels of HIV reservoir: implications for eradication. AIDS. 2010;24(18):2803–8.
21.
Chun TW, et al. Presence of an inducible HIV-1 latent reservoir during highly active antiretroviral therapy. Proc Natl Acad Sci USA. 1997;94:13193–7.
22.
Palmer S, et al. Low-level viremia persists for at least 7 years in patients on suppressive antiretroviral therapy. Proc Natl Acad Sci USA. 2008;105:3879–84.
23.
Natarajan V, et al. HIV-1 replication in patients with undetectable plasma virus receiving HAART. Highly active antiretroviral therapy. Lancet. 1999;353(9147):119–20.
24.
Ramratnam B, et al. The decay of the latent reservoir of replication-competent HIV-1 is inversely correlated with the extent of residual viral replication during prolonged anti-retroviral therapy. Nat Med. 2000;6(1):82–5.
25.
Hatano H, et al. Increase in 2-long terminal repeat circles and decrease in D-dimer after raltegravir intensification in patients with treated HIV infection: a randomized, placebo-controlled trial. J Infect Dis. 2013;208(9):1436–42.
26.
Persaud D, et al. Influence of age at virologic control on peripheral blood human immunodeficiency virus reservoir size and serostatus in perinatally infected adolescents. JAMA Pediatr. 2014. https://doi.org/10.1001/jamapediatrics.2014.1560.
27.
Bitnun A, et al. Clinical correlates of human immunodeficiency virus-1 (HIV-1) DNA and inducible HIV-1 RNA reservoirs in peripheral blood in children with perinatally acquired HIV-1 infection with sustained virologic suppression for at least 5 years. Clin Infect Dis. 2020;70(5):859–66.
28.
Moragas M, et al. Impact of the time to achieve viral control on the dynamics of circulating HIV-1 reservoir in vertically infected children with long-term sustained virological suppression: a longitudinal study. PLoS ONE. 2018;13(10):e0205579.
29.
Zanchetta M, et al. Early therapy in HIV-1-infected children: effect on HIV-1 dynamics and HIV-1-specific immune response. Antivir Ther. 2008;13(1):47–55.
30.
Murray JM, et al. Integrated HIV DNA accumulates prior to treatment while episomal HIV DNA records ongoing transmission afterwards. AIDS. 2012;26(5):543–50.
31.
Payne H, et al. Reactivity of routine HIV antibody tests in children who initiated antiretroviral therapy in early infancy as part of the children with HIV early antiretroviral therapy (CHER) trial: a retrospective analysis. Lancet Infect Dis. 2015. https://doi.org/10.1016/S1473-3099(15)00087-0.
32.
Smith NM, et al. Proof-of-principle for immune control of global HIV-1 reactivation in vivo. Clin Infect Dis Off Publ Infect Dis Soc Am. 2015;61(1):120–8.
33.
Folks TM, et al. Biological and biochemical characterization of a cloned Leu-3-cell surviving infection with the acquired immune deficiency syndrome retrovirus. J Exp Med. 1986;164(1):280–90.
34.
Ananworanich J, et al. Reduced markers of HIV persistence and restricted HIV-specific immune responses after early antiretroviral therapy in children. AIDS. 2014;28(7):1015–20.
35.
Luzuriaga K, et al. Reduced HIV reservoirs after early treatment HIV-1 proviral reservoirs decay continously under sustained virologic control in early-treated HIV-1-infected children. J Infect Dis. 2014. https://doi.org/10.1093/infdis/jiu297.
36.
Persaud D, et al. Dynamics of the resting CD4(+) T-cell latent HIV reservoir in infants initiating HAART less than 6 months of age. AIDS. 2012;26(12):1483–90.
37.
Martinez-Bonet M, et al. Establishment and replenishment of the viral reservoir in perinatally HIV-1-infected children initiating very early antiretroviral therapy. Clin Infect Dis Off Publ Infect Dis Soc Am. 2015;61(7):1169–78.
38.
Tagarro A, Chan M, Zangari P, Ferns B, Foster C, Rossi A, Nastouli E, Muñoz-Fernández M, Gibb D, Rossi P, Giaquinto C, Babiker A, Fortuny C, Freguja R, Cotugno N, Judd A, Noguera-Julian A, Navarro ML, Mellado MJ, Klein N, Palma P, Rojo P. Early and highly suppressive antiretroviral therapy are main factors associated with low viral reservoir in European perinatally HIV-infected children. J Acquir Immune Defic Syndr. 2018;79(2):269–76. https://doi.org/10.1097/QAI.0000000000001789.
39.
Kuhn L, Paximadis M, Da Costa-Dias B, Loubser S, Strehlau R, Patel F, Shiau S, Coovadia A, Abrams EJ, Tiemessen CT. Age at antiretroviral therapy initiation and cell-associated HIV-1 DNA levels in HIV-1-infected children. Plos ONE. 2018;13(4):e0195514.
40.
Foster C, Pace M, Kaye S, Hopkins E, Jones M, Robinson N, Mant C, Cason J, Fidler S, Frater J, CHERUB Investigators. Early antiretroviral therapy reduces HIV DNA following perinatal HIV infection. AIDS. 2017;31(13):1847–51.
41.
van Zyl GU, et al. Early antiretroviral therapy in South African children reduces HIV-1-infected cells and cell-associated HIV-1 RNA in blood mononuclear cells. J Infect Dis. 2015;212(1):39–43.
42.
Pankau MD, Wamalwa D, Benki-Nugent S, Tapia K, Ngugi E, Langat A, Otieno V, Moraa H, Maleche-Obimbo E, Overbaugh J, John-Stewart GC, Lehman DA. Decay of HIV DNA in the reservoir and the impact of short treatment interruption in Kenyan infants. Open Forum Infect Dis. 2017;5(1):268.
43.
Veldsman KA, et al. HIV-1 DNA decay is faster in children who initiate ART shortly after birth than later. J Int AIDS Soc. 2019;22(8):e25368.
44.
Veldsman KA, et al. Rapid decline of HIV-1 DNA and RNA in infants starting very early antiretroviral therapy may pose a diagnostic challenge. AIDS. 2018;32(5):629–34.
45.
Massanella M, et al. Continuous prophylactic antiretrovirals/antiretroviral therapy since birth reduces seeding and persistence of the viral reservoir in children vertically infected with human immunodeficiency virus. Clin Infect Dis. 2021;73(3):427–38.
46.
McManus M, et al. Early combination antiretroviral therapy limits exposure to HIV-1 replication and cell-associated HIV-1 DNA levels in infants. PLoS ONE. 2016;11(4):e0154391.
47.
Rocca S, et al. Human immunodeficiency virus (HIV)-antibody repertoire estimates reservoir size and time of antiretroviral therapy initiation in virally suppressed perinatally HIV-infected children. J Pediatr Infect Dis Soc. 2019;8(5):433–8.
48.
Zanchetta M, et al. Long-term decay of the HIV-1 reservoir in HIV-1-infected children treated with highly active antiretroviral therapy. J Infect Dis. 2006;193(12):1718–27.
49.
Palma P, et al. The HIV-1 antibody response: a footprint of the viral reservoir in children vertically infected with HIV. Lancet HIV. 2020;7(5):e359–65.
50.
Bosque A, et al. Homeostatic proliferation fails to efficiently reactivate HIV-1 latently infected central memory CD4+ T cells. PLoS Pathog. 2011;7(10):e1002288.
51.
Reeves DB, Duke ER, Wagner TA, Palmer SE, Spivak AM, Schiffer JT. A majority of HIV persistence during antiretroviral therapy is due to infected cell proliferation. Nature Commun. 2018;9(1):4811.
52.
Van Zyl GU, et al. No evidence of HIV replication in children on antiretroviral therapy. J Clin Invest. 2017;127(10):3827–34.
53.
Eckard AR, et al. Neurocognitive dysfunction in HIV-infected youth: investigating the relationship with immune activation. Antivir Ther. 2017;22(8):669–80.
54.
Eckard AR, et al. Increased immune activation and exhaustion in HIV-infected youth. Pediatr Infect Dis J. 2016;35(12):e370–7.
55.
Sung JM, David M. HIV persistence on antiretroviral therapy and barriers to a cure. Adv Exp Med Biol. 2018;1075:165–85.
56.
Bronnimann MP, Skinner PJ, Connick E. The B-cell follicle in HIV infection: barrier to a cure. Front Immunol. 2018;9:20.
57.
Burbelo PD, et al. HIV antibody characterization as a method to quantify reservoir size during curative interventions. J Infect Dis. 2014;209(10):1613–7.
58.
Adland E, Hill M, Lavandier N, Csala A, Edwards A, Chen F, Radkowski M, Kowalska JD, Paraskevis D, Hatzakis A, Valenzuela-Ponce H, Pfafferott K, Williams I, Pellegrino P, Borrow P, Mori M, Rockstroh J, Prado JG, Mothe B, Dalmau J, Martinez-Picado J, Tudor-Williams G, Frater J, Stryhn A, Buus S, Teran GR, Mallal S, John M, Buchbinder S, Kirk G, Martin J, Michael N, Fellay J, Deeks S, Walker B, Avila-Rios S, Cole D, Brander C, Carrington M, Goulder P. Differential immunodominance hierarchy of CD8+ T-cell responses in HLA-B*27:05- and -B*27:02-mediated control of HIV-1 infection. J Virol. 2018;30:92.
Rights and permissions
Open Access This article is licensed under a Creative Commons Attribution 4.0 International License, which permits use, sharing, adaptation, distribution and reproduction in any medium or format, as long as you give appropriate credit to the original author(s) and the source, provide a link to the Creative Commons licence, and indicate if changes were made. The images or other third party material in this article are included in the article's Creative Commons licence, unless indicated otherwise in a credit line to the material. If material is not included in the article's Creative Commons licence and your intended use is not permitted by statutory regulation or exceeds the permitted use, you will need to obtain permission directly from the copyright holder. To view a copy of this licence, visit http://creativecommons.org/licenses/by/4.0/. The Creative Commons Public Domain Dedication waiver (http://creativecommons.org/publicdomain/zero/1.0/) applies to the data made available in this article, unless otherwise stated in a credit line to the data.
Disclaimer:
This article is autogenerated using RSS feeds and has not been created or edited by OA JF.

Click here for Source link (https://www.biomedcentral.com/)