Identification and functional analysis of novel SLC25A19 variants causing thiamine metabolism dysfunction syndrome 4 – Orphanet Journal of Rare Diseases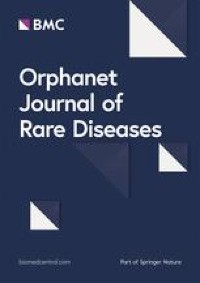 Clinical description
Patient 1 was a boy aged 4 years and 3 months presenting with normal birth history, growth, and development (height, 115 cm; weight, 18 kg; body surface area, 0.73 m2; and head circumference, 50 cm). He showed normal facial features, physical development, and nutrition condition. Nine months after birth, the patient showed somnolence and right upper-limb shaking. Brain MRI showed probable metabolic encephalopathy. Mitochondrial DNA testing was negative. His condition improved after orally taking vitamins B1 and B2, and he had no subsequent developmental delay. At 4 years of age, he was referred to PICU at the Beijing Children's Hospital for viral infection-induced lethargy, decreased muscle strength and limb tension, diaphragmatic weakness, and expiratory dyspnea; he had to undergo tracheal cannulation and mechanical ventilation for 8 days. Brain MRI showed abnormal signals in the bilateral basal ganglia, thalamus margin, hippocampus, midline frontal lobe, and temporal cortex. Diffusion-weighted imaging was limited (Fig. 1a), and the lactic acid levels in the cerebrospinal fluid (CSF) was normal. Muscle biopsy showed no abnormalities in mitochondrial respiratory chain enzyme activity. Combined with previous medical history, a diagnosis of aggravation of metabolic encephalopathy induced by infection was considered, but the possibility of necrotizing encephalopathy could not be ruled out. During treatment, immunotherapy for necrotizing encephalopathy and vitamin cocktail therapy for metabolic encephalopathy were given along with vitamin B1 (3.33 mg/kg/day) and vitamin B2 (1.67 mg/kg/day). Trio-exome sequencing was performed during his hospitalization. The patient's condition did not deteriorate further; he was transferred to the local hospital PICU for treatment for another 10 days and was taken off the ventilator. Later, the consciousness of the patient cleared and muscle strength recovered; however, low muscle tone, incomplete deep tendon reflex, and extrapyramidal symptoms remained. One-year follow-up showed that the patient survived, exhibiting normal intelligence and behavioral development, but muscle tone and tendon reflex were still decreased.
Patient 2 was a boy aged 2 years and 7 months. He presented with normal birth history and physical and mental development. He had influenza A virus infection-induced febrile illness, became convulsed, and fell into a deep coma. He was admitted to PICU. During the disease, the coma progressively worsened and limb paroxysmal tremors, shaking, and muscle tone increased with passive extension. In the initial stage, the possibility of ANE was suspected. Immunoglobin and methylprednisolone were administered. Vitamin treatment was not given during hospitalization. Brain MRI revealed multiple signal abnormalities in the bilateral basal ganglia, thalamus margin, and brainstem (Fig. 1b). However, the lactic acid levels in the CSF were normal. In the late stage of treatment, he and his parents' blood were collected for genetic testing in the Center for Medical Genetics of Beijing Children's Hospital. Four weeks after intubation, he was taken off the invasive ventilator and spontaneous breathing was maintained; however, cough and swallowing reflexes were weak.
Patient 3 was the younger sister of patient 2 aged 1 year and 7 months. She was admitted to local hospital with a deep coma after Influenza A virus infection. She presented many of the same symptoms as her brother, and exome sequencing was performed. Her brain MRI showed pathological changes in the basal ganglia and thalamus edge. Furthermore, the white matter around the bilateral lateral ventricles was demyelinated, the supratentorial ventricles were enlarged, and the sulci were deepened (Fig. 1c). In the recovery process of spontaneous breathing, the clinical symptoms of Patients 2 and 3 were more serious, and they required a longer recovery time for spontaneous breathing than Patient 1. Perhaps, the differences in medical treatment led to the more serious symptoms than those seen for Patient 1. Patients 2 and 3 were discharged from the hospital before obtaining the genetic examination results. Their family members were informed of the results via telephone. They were informed to provide oral vitamin B1 treatment to the patients and followed up at the local Department of Neurology. One month after discharge, Patients 2 and 3 still showed high muscle tone, passive extension of limbs, painful response to external sound stimulation, and ineffectual speak or gaze. At a 3-month follow-up, high muscle tone and passive extension of the limbs had not improved in both patients; they showed a painful reaction to external sound stimulation and were unable to speak but occasionally gazed at the sound source.
Genetic variation analysis
Trio-exome sequencing was performed using peripheral blood DNA of all three patients and their respective parents. We identified two novel compound heterozygous variants of SLC25A19 in Patient 1, c.169G>A (p.Ala57Thr) and c.383C>T (p.Ala128Val), and two compound heterozygous variants in Patients 2 and 3, c.76G>A (p.Gly26Arg) and c.745T>A (p.Phe249Ile). Subsequent Sanger sequencing confirmed that these variations were inherited from their parents (Fig. 2a–d). These variants have not been reported in HGMD and ClinVar and have a low population frequency (Table 3). All variations were predicted to be pathogenic in silico using prediction tools, such as SIFT, Polyphen-2, MutationTaster, and CADD (Table 4). Sequence alignment indicated that the variants were conserved among most species (Fig. 3a).
Functional experiments
Based on Phyre2 analysis, SLC25A19 is predicted to contain six transmembrane domains, and the variation sites are distributed in either the transmembrane helixes or mitochondrial matrix (Fig. 3b). To further confirm the pathogenicity of these variants, functional studies were performed. We cloned SLC25A19 and its variants into a flag-tagged pCMV-Tag2B vector using site-directed mutagenesis. Two additional SLC25A19 mutants, p.G177A and p.I33A, were used as positive controls, and empty flag-tagged pCMV-Tag2B was used as a negative control. Control plasmids, wild-type, and constructs carrying SLC25A19 variations were transfected into HEK 293 cells and seeded for mitochondrial isolation. There were no significant differences in the protein expression levels of the wild-type and mutated SLC25A19 protein (Fig. 4a, b). Next, we conducted MS to evaluate TPP levels in isolated mitochondria and post-mitochondrial supernatant to evaluate the thiamine transport abilities of wild-type and mutated SLC25A19 proteins. Mitochondria and post-mitochondrial fractions from HEK 293 cells were isolated after transfection with controls, wild-type SLC25A19, and SLC25A19 mutants. TPP levels were assayed using MS and normalized with total protein. Significantly higher levels of TPP were detected in the mitochondrial fraction of wild-type SLC25A19 than in mutants and controls (Fig. 4c). In contrast, the detected TPP levels in post-mitochondrial supernatant of wild-type SLC25A19 were significantly lower than those of other variants and controls (Fig. 4d). Thus, changes in TPP levels in mitochondria and post-mitochondrial fractions indicated the loss of SLC25A19 transportability in these genetic variants. According to ACMG guidelines, these variants were classified as likely pathogenic (PS3 + PM2 + PP3).
Rights and permissions
Open Access This article is licensed under a Creative Commons Attribution 4.0 International License, which permits use, sharing, adaptation, distribution and reproduction in any medium or format, as long as you give appropriate credit to the original author(s) and the source, provide a link to the Creative Commons licence, and indicate if changes were made. The images or other third party material in this article are included in the article's Creative Commons licence, unless indicated otherwise in a credit line to the material. If material is not included in the article's Creative Commons licence and your intended use is not permitted by statutory regulation or exceeds the permitted use, you will need to obtain permission directly from the copyright holder. To view a copy of this licence, visit http://creativecommons.org/licenses/by/4.0/. The Creative Commons Public Domain Dedication waiver (http://creativecommons.org/publicdomain/zero/1.0/) applies to the data made available in this article, unless otherwise stated in a credit line to the data.
Disclaimer:
This article is autogenerated using RSS feeds and has not been created or edited by OA JF.

Click here for Source link (https://www.biomedcentral.com/)