Identification and validation of pivotal genes related to age-related meniscus degeneration based on gene expression profiling analysis and in vivo and in vitro models detection – BMC Medical Genomics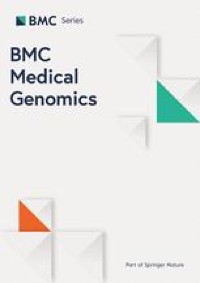 Chemicals and reagents
IL-1β was purchased from PeproTech Co., Ltd (Rocky, USA). The dulbecco's modified eagle medium-F12 (DMEM/F12) and phosphate buffer saline (PBS) were obtained from HyClone Co. (Logan, USA), while fetal bovine serum (FBS) was ordered from Gibco Co. (Detroit, USA). The TRIzol reagent was purchased from Invitrogen Co. (Carlsbad, USA). The SYBR Green dye and reverse transcription kits were purchased from Servicebio Co., Ltd (Wuhan, China). The antibodies for ribonucleotide reductase regulatory subunit M2 (RRM2, A5255), tissue inhibitor of metalloproteinases 1(TIMP1, A1389), and cyclin dependent kinase 1(CDK1, A0220) were ordered from ABclonal Technology Co., Ltd. (Wuhan, China). The aurora kinase B (AURKB, ab2254) and tissue inhibitor of metalloproteinases 1(TIMP1, ab216432) were purchased from Abcam plc. (Cambridge, UK). The SA-β-gal staining kits were obtained from Beyotime Co., Ltd. (Shanghai, China). The Annexin V-FITC/7-ADD apoptosis detection kits (Catalog Number: APK10448-F) were ordered from Sino Biological Co., Ltd. (Beijing, China). All primers were Tianyi Biotech Co., Ltd. (Wuhan, China).
Data collection
The GSE45233 dataset in Gene Expression Omnibus was downloaded for subsequent analysis. GSE45233 based on GPL10558 platform (Illumina HumanHT-12 V4.0 expression beadchip; Microarrays, Inc., San Diego, CA, USA) was demarcated by the age of 40, including 6 elderly meniscus samples and 6 younger meniscus samples, which were obtained from patients undergoing arthroscopic partial meniscectomy [14, 15].
Identification of DEGs in elderly and younger samples
We used the robust multiarray average algorithm to perform background correction and quartile data normalization on the GSE45233 dataset, and then identified DEGs associated with age by means of the Limma package in R language (version3.6.3). P value < 0.05 and log2 fold change (log2FC) <  − 1.5 or log2FC > 1.5 were defined as the cutoff standard. The volcano plot and heatmap were completed in virtue of Ggplot2 and Pheatmap packages.
KEGG and GO analysis annotate the functions of DEGs
DAVID (version 6.8; https://david.ncifcrf.gov/) is an online bioinformatics database that integrates biological data and analysis tools to provide systematic and comprehensive biological annotation information for extensive lists of genes and proteins. The concept of Gene Ontology (GO) is widely used in the field of bioinformatics, which contains three notions of functional information: biological processes (BP), cellular components (CC), and molecular functions (MF). Currently, Kyoto Encyclopedia of Genes and Genomes (KEGG; https://www.kegg.jp/) is a database that integrates genomic, chemical, and system functional information for signaling pathway analysis. We employed the DAVID online tool to perform GO and KEGG analysis of DEGs.
Construction of the PPI network
STRING (Version11.0; https://string-db.org/), a search tool for interacting genes/proteins, was applied for predicting the PPI network and discovering the possible relationships. Cytoscape (version 3.8.0; https://cytoscape.org/), a powerful network building software, was used to establish the PPI network.
Identification and analysis of significant hub genes
The hub genes were screened through the PPI network utilizing the Cytoscape plugin cytoHubba. Since the singlular algorithm is sometimes biased, we employed a four-fold algorithm to collectively recognize hub genes, and these algorithms were adopted respectively. The algorithms used to recognize hub genes include Edge Percolated Component (EPC), Degree, Maximal Clique Centrality (MCC), and Maximum Neighborhood Component (MNC). Then the common hub genes were obtained through the intersection of Venn diagram websites (http://bioinformatics.psb.ugent.be/webtools/Venn). Metascape, as a forceful gene function analysis and annotation tools, was applied for batch enrichment analysis and network construction of genes and proteins to understand their functions. The common hub genes were further analysed through Metascape analysis.
Construction of lncRNA–miRNA–mRNA network
miRWalk (http://mirwalk.umm.uni-heidelberg.de/), as a bioinformatics suit to forecast miRNA–mRNA interactions, could predict miRNAs of the common Hub gene and then obtain the miRNA–mRNA interaction pairs with the score > 0.9 [16]. The DIANA-miRPath (https://www.microrna.gr/miRPathv3) is an online tool dedicated to assessing the regulatory role of miRNAs and forecasting relevant regulation pathways. The DIANA-LncBase (http://carolina.imis.athena-innovation.gr/diana_tools/) was conducted to search the lncRNAs targeting at miRNAs. In the end, a lncRNA–miRNA–mRNA regulatory network was accomplished by means of Cytoscape software.
Human/mouse meniscus tissues from normal and aging knees
Human meniscus tissues were obtained from 12 patients undergoing arthroscopic partial meniscectomy, including 6 patients older than 40 years and 6 patients younger than 40 years. This human research protocol was authorized by the Medical Ethics Committees (approval number: 2019K-K011). All patients have signed informed consent. Animal protocols used in this study were approved by the Animal Welfare Committee (License number: 14016). Mouse meniscus tissues were collected from specific pathogen free (SPF) C57BL/6 J male mice [NO.2020-0018, license number: SCXK (Hubei), certification number:42000600040335] purchasing from the Experimental Center of the Hubei Medical Scientific Academy (Wuhan, China) of two different ages, namely 3 months old (n = 6) and 18 months old (n = 6). All animals in this experiment were housed in a clean environment under a 12 h light/dark cycle for 1 week, where standard laboratory chow and water were freely consumed. Then, after the mice were anesthetized by intraperitoneal injection of 1% pentobarbital (60 mg/kg), the mice were euthanatized by spinal dislocation and the femurs were collected for subsequent detection.
Histological analysis in the meniscus tissues
After fixation with 4% paraformaldehyde for 2 days, the entire mouse knee joints and human meniscus were decalcified, dehydrated and embedded in paraffin. The sections of mouse knee joints were stained with Safranin-O Fast Green and Toloniumchloride Blue to observe histopathological changes.
For immunohistochemistry analysis, knee joint sections were deparaffinized, hydrated, antigen retrieval, and blocked in 3% BSA (Servicebio, Wuhan, China) at room temperature for 1 h. Then, the sections incubated with primary antibodies for AURKB (1:200, dilution), CDK1 (1:100, dilution), RRM2 (1:100, dilution), and TIMP1(1:250, dilution, Abcam) overnight at 4 °C, followed by incubating with biotinylated secondary antibody (1:100 dilution). Finally, after the sections incubating with an avidin‐biotinylated HRP complex solution, these were immersed in diaminobenzidine (DAB) to reveal peroxidase activity. Observations and photographs were taken under the Photo Imaging System (Nikon H550S, Japan). For immunohistochemical-negative controls, the primary antibodies were replaced by non-immunized IgG in immunostaining. Then, we measured the mean optical density (MOD) of 5 random fields in each section using Image Pro-plus (version 6.0) to determine the dyeing intensity. The percentage of positive cells in each field was the ratio of the number of positive cells to the total number of meniscus cells in the corresponding region.
SA-β-gal staining
The mouse meniscus cells were derived from meniscus tissues of SPF 3-month-old C57BL/6J mice. In brief, the full thickness meniscus tissues were cut into pieces, and digested with serum-free DMEM/antibiotics containing collagenase D (Roche, Basel, Switzerland) for 6 h at 37 °C [17]. The meniscal cells were cultured on DMEM containing 10% FBS and inoculated in 12-well plates. Then, treatment of the cells was conducted with IL-1β (10 ng/ml) for 2d to achieve the induction of cell senescence injury by inflammatory factors [18]. The meniscus cells were fixed at room temperature for 15 min, after washing three times with PBS, and stained with β-galactosidase staining solution for 12 h at 37 °C without CO2 environment. After that, these were rinsed again with PBS and were observed via an inverted microscope (Nikon, Japan).
Apoptosis assay
For apoptosis analysis, the meniscus cells treated with IL-1β (10 ng/ml) for 2 days. After cells resuspended with 100 μL1x binding buffer, 5 μL Annexin V-FITC and 5 μL 7-ADD were added and incubated at room temperature for 15 min without light. The apoptosis rate was detected by using a FACS Aria III Flow cytometry (BD Biosciences, USA).
Cell immunofluorescence analysis
For immunofluorescence staining, the meniscus cells were treated with IL-1β (10 ng/ml) for 2 days, and then the cells were fixed in 4% paraformaldehyde for 15 min at room temperature. After washing with PBS, the cells were permeabilized with 0.3% Triton X-100 for 15 min and blocked with 3%BSA at room temperature for 40 min. Then, the cells were washed with PBS and incubated with primary antibodies of CDK1(1:200, dilution), AURKB (1:200, dilution), RRM2 (1:100, dilution), and TIMP1(1:150, dilution, Abclonal) at 4℃ overnight. The meniscus cells were rinsed three times with PBS and incubated with secondary antibodies (1:100; ThermoFisher, USA) for 1 h at room temperature the next day. In the end, we stained the nuclei with 4′,6-diamidino-2-phenylindole (DAPI, Thermo Fisher, USA) for 5 min. All of the images were captured under the fluorescence microscope (Nikon, Japan).
qRT-PCR confirmation of the hub genes
Total RNA from meniscus tissue was extracted with TRIzol reagent following the manufacturer's protocol. After the purity and concentration of isolated RNA were determined by the nano-drop-2000 nucleic acid analyzer (ThermoFisher, USA), the RNA reverse transcription kits were devoted to reverse transcribe total RNA into cDNA. Quantitative real-time PCR (qRT-PCR) was performed with the ABI StepOnePlus cycler (Applied Biosystems, USA) in a 10-μl reaction system. To accurately quantify the gene expression levels, mRNA levels of the internal reference gene glyceraldehyde phosphate dehydrogenase (GAPDH) was normalized by the 2−ΔΔCT method. The primer sequences of genes applied in this study were listed in the Table 1.
Statistical analysis
The expression levels of hub genes that were differentially expressed between young and aging tissues or cells were determined by implementing Student's t-test with Prism 6.0 (GraphPad Software, USA), and the data of the experimental results were presented as mean ± standard error of mean (SEM). In addition, for GO functional annotation, DAVID calculated the P value of the false discovery and enrichment rate via Benjamini correction. The P < 0.05 was considered to be statistically significant difference.
Rights and permissions
Open Access This article is licensed under a Creative Commons Attribution 4.0 International License, which permits use, sharing, adaptation, distribution and reproduction in any medium or format, as long as you give appropriate credit to the original author(s) and the source, provide a link to the Creative Commons licence, and indicate if changes were made. The images or other third party material in this article are included in the article's Creative Commons licence, unless indicated otherwise in a credit line to the material. If material is not included in the article's Creative Commons licence and your intended use is not permitted by statutory regulation or exceeds the permitted use, you will need to obtain permission directly from the copyright holder. To view a copy of this licence, visit http://creativecommons.org/licenses/by/4.0/. The Creative Commons Public Domain Dedication waiver (http://creativecommons.org/publicdomain/zero/1.0/) applies to the data made available in this article, unless otherwise stated in a credit line to the data.
Disclaimer:
This article is autogenerated using RSS feeds and has not been created or edited by OA JF.

Click here for Source link (https://www.biomedcentral.com/)