Inequalities in catastrophic health expenditures in conflict-affected areas and the Colombian peace agreement: an oaxaca-blinder change decomposition analysis – International Journal for Equity in Health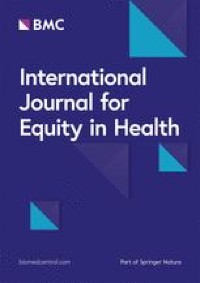 Main conclusions
Inequalities in catastrophic expenditures increased from a concentration index of -0.152 in 2014 to -0.232 in 2018, meaning that, in both years but more sharply in 2018, it is the population groups at lower socioeconomic levels that are experiencing catastrophic health expenditures more frequently. Our results show that changes in catastrophic expenditure inequalities over the period 2014-2018 are mostly explained by changes in the importance of specific sociodemographic determinants over the same period and, to a much lesser extent, by changes in inequalities in socioeconomic factors. For both years, people living in rural areas, at middle or older age ranges, with health disabilities, being previously sick, or living in conflict-affected municipalities were more prone to experience catastrophic health expenditures than other groups.
Comparison with Colombian and international studies
Few international studies have explored changes in catastrophic expenditure inequalities in (post-)conflict settings. Edoka et al. [17] analyze changes in catastrophic health expenditures after the end of the eleven-year civil armed conflict in Sierra Leone for the years 2003 to 2011. In contrast to our study, where catastrophic expenditure incidence increased from 29.3 to 30.7% during the pre/post-conflict period examined, Edoka et al. [17] found a decrease from 50 to 32% in the incidence of catastrophic expenditures, which the authors attribute to higher use of regional health facilities instead of NGO health services, a reduction of ill-health, and relocation of households to areas with better living conditions. Nevertheless, post-conflict levels of catastrophic expenditures are similar in both countries (30.7 and 32%). Differences may be attributed to the more severe impairment (to virtual collapse) of health services and infrastructure during the armed conflict in Sierra Leone in comparison to Colombia. This post-conflict recovery of the most basic health services in Sierra Leone from their nearly inexistence, may have contributed to the significant drop in catastrophic expenditure levels in this country . The longer time frame of the Sierra Leone analysis (almost eight years) may further explain the different conclusions of our study, as a consequence of the more extended recovery period for health services. As indicated by our results, major contributors to health inequalities and catastrophic expenditures in Colombia are much more related to individual characteristics (age, mental and physical disabilities, for example) than health service provision or insurance affiliation. These contextual differences may require health policies to be targeted at specific populations to achieve reductions in the overall levels of catastrophic expenditures in Colombia.
Even though catastrophic expenditures remained almost constant (29.3 and 30.7%), and inequalities increased, our results do not necessarily indicate negative outcomes after the Colombian peace treaty. As in Edoka et al. [17], results show how area-related factors (urban/rural household location and conflict incidence) were key for determining changes in health expenditure patterns. Results show higher chances of catastrophic expenditures in highly affected territories only for 2018. Conflict-deescalation and the peace agreement may have facilitated lower-income groups' access to health services, especially in territories highly impacted by conflict. This, consequently, may have led to higher levels of out-of-pocket expenditures and, therefore, to higher chances of experiencing catastrophic expenditures for this population. Also, conflict de-escalation in post-conflict scenarios may lead, at least in the short run, to a reduction in violent actions and, consequently, facilitate the recovery (or even establishment) of healthcare services in the region.
Consequently, this may lead to quality improvements and favor the provision of healthcare supplies and operation of health professionals in areas where only humanitarian brigades used to provide some healthcare. Simultaneously, conflict de-escalation may facilitate economic recovery in conflict-affected regions, which may improve household income for some populations , reduce financial vulnerability, and, therefore, explain the drop in catastrophic expenditures in 2018 for some of the highest income groups (Quntile 4). Both mechanisms leave levels of catastrophic expenditures inaltered and increase inequality but, ultimately, reflect improvements in health care utilization. Therefore, in conflict-affected territories, two health policy priorities become especially important: first, guarantee the recovery, provision, and maintenance of adequate and permanent health services over time and, second, design better insurance and financial protection policies that guarantee continuous health care utilization at low costs to the most vulnerable groups.
It is noteworthy that the incidence of catastrophic expenditures in the conflict-affected region that we examine (30.7%) is much higher than the average incidence figures for Colombia reported in other studies. Recent estimates from national household surveys point to an incidence of catastrophic spending between 2.2 and 8.2% for Colombia in 2016, depending on the threshold adopted [34]. Amaya-Lara [24] estimates an average incidence of catastrophic health expenditures of 9.6% for a 20% threshold. The importance of the level of conflict violence for explaining health inequalities, found through our decomposition approach, shows how different areas may be exposed to different circumstances that increase households' risk of incurring catastrophic health payments. This highlights the perils of relying on average figures to set priorities for national health policy, under the risk of masking important inequities against vulnerable groups that deserve urgent attention. The higher chances of catastrophic expenditures to occur in conflict-affected regions and rural areas may be explained by higher difficulties in providing sustained health services in these areas, which may lead to higher care provision costs and limited service capacity, all of which may increase the costs of medical care to families, reality that calls for remedial policies targeted explicitly to these population groups.
Main contribution, strengths, and limitations of the study
Even though our results apply primarily to the region of Meta, Colombia, this research is based on a large-scale survey that is representative of rural and urban areas exposed to different levels of conflict intensity. This characteristic allows us to draw more general insights about the relationship between inequalities in catastrophic health expenditures and the distribution of socioeconomic characteristics in conflict-affected settings. Crucially, our data's panel structure allows us to estimate changes right before and after one of the most critical episodes in the history of Colombian armed conflict: the signing of the Peace Accord with the FARC guerilla group in 2016. Our research contributes to understanding changes in catastrophic expenditures in post-conflict scenarios, shedding light also into the influence of conflict violence patterns to explain changes in health expenditure inequalities. Rather than establishing causal links between catastrophic expenditure inequalities and the Colombian Peace Agreement, our research focuses on offering more general insights that can assist with designing relevant health policies in a post-conflict period.
Access to health expenditure and other detailed representative data for more than 1000 households has enabled us to perform more fine-grained analyses of the relationship between conflict and catastrophic expenditures, compared to the previous studies focused on specific population groups or cities. Unfortunately, we do not have information on health expenditures for our study population before 2014, which would have been informative to determine how household expenditures evolved during earlier stages of the Colombian conflict. Our analysis is also not geared towards allowing firm conclusions to be drawn about the causal effect of the peace agreement on catastrophic expenditures in Meta, or about long-run trends in health expenditures, due to our methodological strategy and the relatively short period covered by our data. The Oaxaca decomposition method does not allow us to identify when health inequalities started to increase or the role of other unobserved contributing factors that may explain changes in these inequalities, such as personal preferences or risk attitudes.
We found that our quantitative estimates of the distributional effects are robust to changes in the threshold of catastrophic expenditures but less so for the coefficient effects. This may be due in part to possible measurement errors in health expenditures due to recall bias. Even though the survey expenditure questions referring to 2014 and 2018 were the same, longer recall periods may lead to imprecisions in total expenditure figures reported and, usually, will lead to an underestimation of health expenses and/or overestimation of other everyday expenses, like food expenditures, which may, in turn, lead to some imprecision in the estimation of catastrophic expenditures (Beegle et al. 2010). Therefore, these differences may lead to certain imprecisions in the estimation of the concentration indexes, and similarly, in the differences of these indexes between 2014 and 2018 and of inequalities between 2014 and 2018. Further studies, therefore, should analyze the evolution of health expenses during subsequent years to confirm if these expenses continues to rise, or, on the contrary, catastrophic expenditures diminish once health services strengthen in these regions, leading to reduced costs in health provision.
Nevertheless, our catastrophic spending results do seem consistent with those from previous studies (e.g. Edoka et al. [17]), although it must be noted that such studies have generally faced the same limitations in applying a similar estimation methodology to ours, thus highlighting the fact that recall and measurement bias are likely to be present in any analyses of self-reported health expenditures. Due to the specific characteristics and particularities of armed conflicts in several regions of the world, and the state of development of health care systems in territories impacted by conflict, some others variables may be relevant for explaining inequalities in catastrophic expenditures. Therefore, additional studies should be conducted in conflict affected regions to extend our knowledge on the factors that may lead to improvements in the distribution of health care costs among conflict affected populations.
Rights and permissions
Open Access This article is licensed under a Creative Commons Attribution 4.0 International License, which permits use, sharing, adaptation, distribution and reproduction in any medium or format, as long as you give appropriate credit to the original author(s) and the source, provide a link to the Creative Commons licence, and indicate if changes were made. The images or other third party material in this article are included in the article's Creative Commons licence, unless indicated otherwise in a credit line to the material. If material is not included in the article's Creative Commons licence and your intended use is not permitted by statutory regulation or exceeds the permitted use, you will need to obtain permission directly from the copyright holder. To view a copy of this licence, visit http://creativecommons.org/licenses/by/4.0/. The Creative Commons Public Domain Dedication waiver (http://creativecommons.org/publicdomain/zero/1.0/) applies to the data made available in this article, unless otherwise stated in a credit line to the data.
Disclaimer:
This article is autogenerated using RSS feeds and has not been created or edited by OA JF.

Click here for Source link (https://www.biomedcentral.com/)