Interprofessional survey on communication skills in veterinary and veterinary-related education in Germany – BMC Medical Education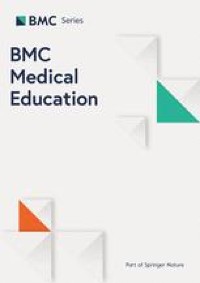 In this study, we explored German veterinary students', veterinary assistant trainees' and animal keeper trainees' perceptions of the value of communication skills. Furthermore, we tested their basic knowledge and asked them to assess their own communication skills and interest in interprofessional communication skills training.
The relevance of communication skills was ranked highly by most of the respondents, supporting research on communication as a core clinical skill in veterinary medicine [1, 3, 22, 23]. Underlining the findings of McDermott et al. [24], many veterinary students agreed that communication skills were equally important for their everyday work as clinical knowledge. This statement can be extended to the veterinary assistant trainees and the animal keeper trainees. Furthermore, the study revealed that many respondents had already experienced conflict situations in a professional context that had been triggered by a lack of communication skills. This confirms that a lack of effective communication is a frequent problem in veterinary medicine, often resulting in complaints against veterinarians [11,12,13,14] and all members of the veterinary team [10]. Furthermore, this result shows that participants were aware of their communication skills at least to the extent of recognising problems. In this study, the relevance of communication skills was ranked higher by veterinary students and veterinary assistant trainees than by animal keeper trainees. This difference between the professions may be due to different roles, assigned tasks and varying curricula. Furthermore, male participants rated communication skills as less important for their everyday professional life. This is consistent with the findings of a previous study, demonstrating that female veterinary students and graduates value professional skills more highly [25].
Even when veterinary students show a stronger theoretical knowledge, no difference can be determined regarding the self-assessment of their own communication skills between the different professional groups. Similar to the results of the survey of Meehan and Menniti, participants felt most confident when recognising how bonded a client is with his animal, building rapport, showing empathy and listening actively to a client [21]. Nevertheless, most participants admitted having problems with communication in their daily work, with veterinary students most frequently, and most expressed a demand for skills improvement. This difference could be due to the differing curricula in Germany. Consistent with findings from previous studies, respondents in this study defined situations such as discussing finances, dealing with demanding clients or communicating in emotional situations like euthanasia as difficult and challenging [21, 25, 26].
A significantly lower proportion of respondents with previous education stated that they had problems when communicating in their everyday working life. In contrast, participants from higher age groups as well as those with previous education were equally likely to state that their communication skills needed to be improved. Therefore, the factors of previous education or age have a positive influence on communication skills, but the persons concerned still need to improve these skills. Additionally, no significant difference between self-assessment of participants from different age groups or previous professional training concerning their own communication skills and their knowledge of communication strategies could be found. These findings underline that formal training during the veterinary studies or veterinary assistant and animal keeper training programmes helps to improve skills and increases confidence [14, 27]. In the worst case scenario, learning communication skills based on experience alone can even lead to reinforcing bad habits. Due to the lack of distinction between effective and poor communication, counterproductive communication can unconsciously become routine [14, 27]. This result underlines the importance of teaching effective communication skills even before entering the veterinary profession [14].
Although teaching of communication skills is currently part of the hidden curriculum in veterinary medicine in Germany, about half of the questioned participants had already taken part in communication training. Despite this fact, respondents felt poorly prepared for entering their profession and more than half of the participants responded that their training had not helped them sufficiently to improve their communication skills. These findings support previous research, showing that the majority of veterinary graduates do not feel competent in communication when completing their studies [22, 24, 28]. As a difference between the professional groups, it can be noted that veterinary students felt the least prepared by their training programmes for embarking on their professional career. This can possibly be attributed to the fact that communication theory is already an integral part of training programmes for veterinary assistants and animal keepers. Significantly fewer animal keeper trainees had already taken part in communication training compared to the other two groups. This result is surprising, as the teaching of communication skills is an integral part of animal keeper training programmes in Germany, in contrast to undergraduate veterinary medical training. At the same time, this result shows that a clear definition of the different professional groups' role distributions and qualifications is of central importance for the implementation or adaptation of communication skills training.
The term of interprofessional communication was familiar to only 38.12% (n = 178) of participants and 62.74% did not feel sufficiently informed about the training contents of their future colleagues, echoing the results of previous research that interprofessional education is lacking in the veterinary medical field [5, 13]. Despite the fact that veterinary students answered significantly more often in the multiple-choice test that they were familiar with the term of interprofessional communication, a significantly higher proportion of veterinary students felt poorly informed about the training contents of their future colleagues from other professional groups.
Identified learners` great interest is consistent with findings of a previous study, demonstrating veterinary and veterinary nursing students' interest in interprofessional education and their willingness to learn collaboratively [13]. In this survey, veterinary students showed the greatest and animal keeper trainees the least interest. This may be explained by the fact that veterinary students felt that they were inadequately informed about the training content of their future colleagues.
Due to the highly perceived value of communication skills, participants' difficulties in different challenging situations, the pronounced wish skills improvements and the great interest in training, the findings of this study underline the need for implementation the teaching of interprofessional communication skills in veterinary medicine in Germany. The veterinary curriculum should include communication training and the curricula for veterinary assistants and animal keepers should be adapted to allow veterinary students and trainees to improve their communication skills to successfully enter their profession, to deal with challenging situations and to effectively collaborate in a veterinary team. All professions may benefit from clearer learning objectives and definitions of roles and division of responsibilities by learning together in an interprofessional training setting, which better reflects the real world. The need for implementing communication skills in the veterinary curriculum has been previously demonstrated by several studies [14, 16, 23, 25, 29,30,31] and should explicitly be implemented in German veterinary curricula with longitudinally increasing depth [32]. Even one-off communication training using role-playing can significantly improve students' communication skills [33]. In order to enable optimal learning outcomes through experiential learning as well as lifelong learning, repeated training should be provided for veterinary students, trainees and recent graduates.
In particular at institutions in which training of all addressed groups is maintained, interprofessional education courses should be established. Students and trainees show great interest in participating in an interprofessional communication training with their future colleagues. Interprofessional education can potentially reduce hierarchical structures, perceived misconceptions about other professions, develop students' awareness of the importance of effective communication in the veterinary team and reduce professional isolation [13]. Furthermore, effective interprofessional communication will have a positive influence on the clients' satisfaction with the veterinarian services and their pet's healthcare [31]. Although more research is needed to verify its effectiveness [6], the potential of interprofessional education is considered very high [34]. To implement an interprofessional training concept, the development of an overall curricular concept and the definition of common learning objectives and interprofessional competences are needed [18, 34]. In order to determine goals and the framework conditions in more detail, further studies are needed that are specifically dedicated to interprofessional issues in the veterinary workplace in Germany.
As a limitation of this study, it must be mentioned that the response rate for the survey could not be determined due to lack of information on the number of trainees at different schools. Moreover, while all five veterinary higher educational institutions forwarded the completed survey, it was not possible to reach all schools offering training for veterinary assistants and animal keepers. Some of the survey questions were related more to veterinarians, as other occupation-specific surveys were used as a basis for the creation. However, due to the lack of clarity about the distribution of roles in veterinary practices and the frequent confrontation of veterinary assistants and animal keepers with challenging situations in communicating with clients, these questions were deliberately sent to all professional groups. Despite these facts, the collected data provides sufficient overview to draw conclusions concerning the current status and potential future trends regarding all three professional groups. Furthermore, the evaluation of the theoretical knowledge of respondents regarding the multiple-choice test must be viewed critically. It is uncertain whether the participants used sources of information when answering the questions, that could have falsified the results. In addition, the use of self-assessment can be an inaccurate indicator of real performance [35]. Nevertheless, the results can be considered as a valuable first impression of participants' strengths and weaknesses regarding their communication skills to identify important aspects for implementing communication skills training.
Rights and permissions
Open Access This article is licensed under a Creative Commons Attribution 4.0 International License, which permits use, sharing, adaptation, distribution and reproduction in any medium or format, as long as you give appropriate credit to the original author(s) and the source, provide a link to the Creative Commons licence, and indicate if changes were made. The images or other third party material in this article are included in the article's Creative Commons licence, unless indicated otherwise in a credit line to the material. If material is not included in the article's Creative Commons licence and your intended use is not permitted by statutory regulation or exceeds the permitted use, you will need to obtain permission directly from the copyright holder. To view a copy of this licence, visit http://creativecommons.org/licenses/by/4.0/. The Creative Commons Public Domain Dedication waiver (http://creativecommons.org/publicdomain/zero/1.0/) applies to the data made available in this article, unless otherwise stated in a credit line to the data.
Disclaimer:
This article is autogenerated using RSS feeds and has not been created or edited by OA JF.

Click here for Source link (https://www.biomedcentral.com/)