Olfactory impairment in patients with primary Sjogren's syndrome and its correlation with organ involvement and immunological abnormalities – Arthritis Research & Therapy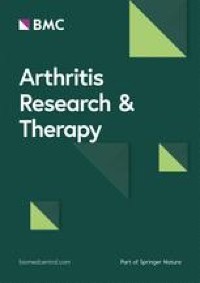 In this study, we present the first investigation that combined a detailed testing of the olfactory threshold, identification, and memory with a comprehensive rheumatological assessment of disease activity in a cohort of 52 pSS patients. Four major results were obtained: (1) pSS patients exhibit significantly deteriorated olfactory function, with 13.5% of subjects suffering from anosmia and 19.2% suffering from hyposmia. (2) ESSDAI and ESSPRI had negative impact on olfactory function and impaired smell function were associated with several organ involvement and autoantibodies. (3) The proportion of dysosmia in patients evaluated by subjective assessment was higher than determined by objective examination. (4) Olfactory function was not significantly affected by pSS treatment. Together, these data collectively highlight the reduction of olfactory function in pSS patients correlate with disease activity and could have useful value in diagnosis of primary SS.
Peripheral olfactory function is to some degree represented by threshold scores and involvement of the olfactory receptor cells, whereas smell identification and memory reflect higher central nervous processing of odors, which requires complex skills including cognitive and verbal process [15]. Therefore, for full assessment of olfaction, all 3 stages of the smell test are important. Each stage is directed at a different ability and impairment and may help identify specific problems among diseases. In the literature, previous studies have only analyzed olfactory threshold or olfactory identification in pSS patients using Sniffin' Sticks, University of Pennsylvania Smell Identification test, or other methods. We choose to use the OLFACT-C™ computerized test due to its ability in identifying different aspects of smell dysfunction and regulating the duration and concentration of odor steadily, and thus, this instrument can provide reliable and valid data [16]. Our findings are in line with previous research in which the impairment of smell function in patients with pSS has been reported [5,6,7,8, 17] and contradictory to two studies [9, 10]. A possible reason behind the contradiction may be related to the difference in methods of assessing smell function and sample size of patients. In the current study, changes in three subtests might indicate that not only peripheral olfactory system but also central nervous olfactory organ were impaired. The olfactory function deficits can be attributed directly or indirectly to many reasons. Lymphocytic infiltration of nasal glands can lead to atrophy, decreased secretion, and nasal dryness, which may be the major reason for the olfactory impairment. But nasal airway inflammation, which can cause edema, thickening of nasal mucosa, and damage of nerve fibers, may affect contact between odor molecules and olfactory receptor cells, rendering them less sensitive to stimuli. Unfortunately, few studies concerning the effects of nasal mucosal dryness on impaired olfactory function have been reported. Recently, a study showed that pSS patients exhibited nasal cavity dryness; however, this did not affect olfactory function [18].
ESSDAI and ESSPRI are two disease activity indexes developed by the European League Against Rheumatism (EULAR) SS task force. Concerning symptoms, we found an inverse association between olfactory function and ESSPRI scores. Saliva and nasal mucus are important for maintaining the normal function of taste buds and patients with reduced salivary secretion are known to have olfactory function abnormalities [9]. Dryness accounts for a large proportion of the ESSPRI scoring system. ESSDAI measures 12 organ-specific domains and was widely used to assess disease activity of pSS. In the present study, negative correlation between olfactory function and ESSPRI were found. This result suggested that dysosmia may be one of the manifestations of active pSS. Both innate and adaptive immune systems are upregulated in pSS patients, resulting in the production of several pro-inflammatory cytokines and autoantibodies [19, 20]. Increased levels of pro-inflammatory cytokines such as interleukin 6 [21], interferon-γ [22], tumor necrosis factor-α [23], and interleukin 1β [24] reduce hippocampi and amygdalae neurogenesis and impair the proliferation of olfactory neurons. Several other studies have shown an association between inflammation and decreased olfactory impairment [25]. Therefore, the reduced central nervous olfactory function might be explained by the active systemic inflammation and neuroinflammation in the central nervous system (CNS). More studies at the molecular level, investigating the inflammatory activity in patients with pSS and its effect on the peripheral or central smell organs, are necessary to understand the occurrence of the disorder in patients with pSS.
Furthermore, olfactory function scores were significantly reduced in patients with thyroid involvement or hypocomplementemia, compared to those without organ involvement. Hypocomplementemia and hypothyroidism are important characteristic of the disease. Olfactory impairment is known to be influenced by thyroid function, as adult hypothyroid humans and mice can lose their sense of smell [26, 27]. FT3 levels have been found to have a more important association with olfactory parameters than TSH or FT4 levels. Study showed that adult mice become hypothyroid with propylthiouracil with olfactory impairment [28]. This effect was prevented by daily administration of T4. Because T4 is essential for the normal maturation of the nervous system, it may also be essential for the proliferation of new olfactory receptor neurons. In a prospective randomized interventional study enrolled with 32 primary hypothyroid patients and 31 controls, significant improvement in smell and taste functions were demonstrated in comparison of scores at the third month of treatment and before treatment of hypothyroid patients [29]. Thus, the authors suggest that the future workup of patients with smell/taste loss should include investigations for thyroid functions. Besides, some of the researchers hypothesized that olfaction disorders reduce olfactory stimulation and diminished olfactory stimulus may trigger hypothyroidism [30]. Here, we also demonstrated impairment of olfactory function in pSS patients with hypothyroidism, which confirmed the association of hypothyroidism with olfactory impairment. Complement activation may play a role in the formation of C5b-9 terminal complex promoting demyelination that could lead to smell impairment [31]. Previously, patients with hereditary angioedema (HAE), similar to SLE, which is characterized by the activation of the classical complement pathway with C4 consumption, had demonstrated impaired sense of smell associated with C4 levels [32]. Here, in our study, olfactory impairment was also found in our pSS patients with hypocomplementemia, supporting the role of complement activation in promoting smell impairment in pSS patients, but the exact mechanism requires further investigation in the near future.
In addition, impaired smell function was also found to be correlated with various immunological parameters in pSS patients, including the presence of ANA and anti-SSA antibody. It is reported that some antibodies are capable of binding and penetrating neuronal cells of the limbic areas (hippocampus and amygdala) that are associated with olfaction [33]. Reduction of the sense of smell could be induced in lupus animal models by passive transfer of anti-ribosomal P antibodies into the CNS [34, 35]. In addition, antibodies directed against N-methyl-D-aspartate receptor subtype NR2 (anti-NR2) could cause neuronal death manifested as reduced hippocampal gray matter in pSS patients [36]. Thus, antibodies can interfere with central olfactory organ, which suggested autoimmune mediated mechanisms may play a role in the pathogenesis of olfactory dysfunction.
The pSS group had significantly lower self-reported olfactory scores and showed strong associations with objective smell function, which was consistent with pioneer reports [37]. This indicated that the olfactory disorder is somatic in nature and consistent with the patients' own experiences. Moreover, the proportion of dysosmia in patients evaluated by subjective assessment (55.76%) was higher than determined by objective examination (32.69%). Since loss of smell in pSS patients and particularly its impact on quality of life has tended to be overlooked in the past, our results suggest that olfactory function testing should be part of the routine assessment of patients with pSS and physicians should be aware of these abnormalities and should inform their patients about these manifestations and about possibilities to increase olfactory sensations to increase quality of life.
Most of the medications used in our cohort, including corticosteroid, hydroxychloroquine, cyclophosphamide, and methotrexate, have been reported to be associated with impaired olfactory functions [38]. We found there were no significant differences regarding the smell THD, ID, ME, or TIM scores when comparing the different medications used in patients. However, there was a tendency for THR scores to be slightly lower in pSS patients taking corticosteroid, which possibly indicated that the patients who needed additional steroids therapy had a higher disease activity and therefore had limitations in their olfactory function caused by the ongoing systemic autoimmune response.
To our best knowledge, this is the first study to utilize olfactory memory test to evaluate the ability of pSS patients to remember odors that were previously presented. In the smell assessment task B, after each odor presentation, the participant was asked to identify the odor (semantic memory) and then indicate whether it was old or new (episodic memory). Our results showed that both semantic memory and episodic memory were impaired in pSS patients (Table 2), which suggested that these patients had potential cognitive dysfunction. Extraglandular manifestations are commonly reported in pSS, including peripheral or central nervous system involvement [39]. CNS manifestations associated with pSS include focal central lesions, encephalitis, movement disorders, and problems with memory, cognition, and depression [40]. In pSS, the incidence rate of cognitive disorders is not uniform and varies across literature from 11 to 100% [41]. Mechanism of cognition and memory dysfunction in pSS is explained by immune-mediated inflammatory small-vessel disease or direct infiltration of the brain tissue with chronic inflammatory cells [42]. In some instances, olfactory impairment can precede cognitive dysfunction by several years and have been associated with anxiety, depression, and other neuropsychiatric manifestations [43, 44]. Despite the large subclinical of pSS-associated cognitive dysfunction, there are no guidelines for screening for cognitive disorder nor is there consensus regarding criteria for the diagnosis of cognitive impairment in patients. Therefore, the olfactory test could be used as an indicator to predict whether cognitive impairment occurs.
The current study provides evidence of olfactory impairment in pSS patients. However, there are some limitations of the study. First, due to time and cost constraints, intranasal Schirmer test was not used to evaluate nasal cavity dryness. Another limitation is the small sample size. However, we believe the current study provides preliminary support for designing a larger, more focused effort. Finally, the patients and controls did not undergo repeat olfactory behavior tests to determine whether the olfactory deficits have improved before and after effective treatment. Further investigation should be performed using larger samples, longitudinal assessment, cognitive evaluations, and a combination of odor-induced functional MRI measurements and smell test for this population.
Rights and permissions
Open Access This article is licensed under a Creative Commons Attribution 4.0 International License, which permits use, sharing, adaptation, distribution and reproduction in any medium or format, as long as you give appropriate credit to the original author(s) and the source, provide a link to the Creative Commons licence, and indicate if changes were made. The images or other third party material in this article are included in the article's Creative Commons licence, unless indicated otherwise in a credit line to the material. If material is not included in the article's Creative Commons licence and your intended use is not permitted by statutory regulation or exceeds the permitted use, you will need to obtain permission directly from the copyright holder. To view a copy of this licence, visit http://creativecommons.org/licenses/by/4.0/. The Creative Commons Public Domain Dedication waiver (http://creativecommons.org/publicdomain/zero/1.0/) applies to the data made available in this article, unless otherwise stated in a credit line to the data.
Disclaimer:
This article is autogenerated using RSS feeds and has not been created or edited by OA JF.

Click here for Source link (https://www.biomedcentral.com/)