Predominant role of gut-vagus-brain neuronal pathway in postoperative nausea and vomiting: evidence from an observational cohort study – BMC Anesthesiology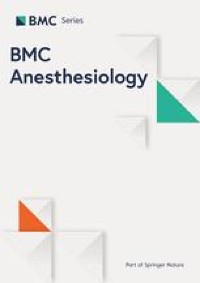 1.
Apfel C, Heidrich F, Jukar-Rao S, Jalota L, Hornuss C, Whelan R, et al. Evidence-based analysis of risk factors for postoperative nausea and vomiting. Br J Anaesth. 2012;109(5):742–53.
2.
Apfel C, Kranke P, Katz M, Goepfert C, Papenfuss T, Rauch S, et al. Volatile anaesthetics may be the main cause of early but not delayed postoperative vomiting: a randomized controlled trial of factorial design. Br J Anaesth. 2002;88(5):659–68.
3.
Hofer C, Zollinger A, Büchi S, Klaghofer R, Serafino D, Bühlmann S, et al. Patient well-being after general anaesthesia: a prospective, randomized, controlled multi-centre trial comparing intravenous and inhalation anaesthesia. Br J Anaesth. 2003;91(5):631–7.
4.
Moore J, Elliott R, Payne K, Moore E, St Leger A, Harper N, et al. The effect of anaesthetic agents on induction, recovery and patient preferences in adult day case surgery: a 7-day follow-up randomized controlled trial. Eur J Anaesthesiol. 2008;25(11):876–83.
5.
Raeder J, Gupta A, Pedersen FM. Recovery characteristics of sevoflurane-or propofol-based anaesthesia for day-care surgery. Acta Anaesthesiol Scand. 1997;41(8):988–94.
6.
Vari A, Gazzanelli S, Cavallaro G, De Toma G, Tarquini S, Guerra C, et al. Post-operative nausea and vomiting (PONV) after thyroid surgery: a prospective, randomized study comparing totally intravenous versus inhalational anesthetics. Am Surg. 2010;76(3):325–8.
7.
Watcha MF, White PF. Postoperative nausea and vomitingits etiology, treatment, and prevention. Anesthesiology. 1992;77(1):162–84.
8.
Woodhouse A, Mather LE. Nausea and vomiting in the postoperative patient-controlled analgesia environment. Anaesthesia. 1997;52(8):770–5.
9.
Andrews PL, Horn CC. Signals for nausea and emesis: Implications for models of upper gastrointestinal diseases. Auton Neurosci. 2006;125(1-2):100–15.
10.
Stoops S, Kovac A. New insights into the pathophysiology and risk factors for PONV. Best Pract Res Clin Anaesthesiol. 2020;34(4):667–79.
11.
Gan TJ. Postoperative nausea and vomiting—can it be eliminated? JAMA. 2002;287(10):1233–6.
12.
Hou X, Rong C, Wang F, Liu X, Sun Y, Zhang HT. GABAergic system in stress: implications of GABAergic neuron subpopulations and the gut-vagus-brain pathway. Neural Plast. 2020:8858415. https://doi.org/10.1155/2020/8858415.
13.
Hu DL, Zhu G, Mori F, Omoe K, Okada M, Wakabayashi K, et al. Staphylococcal enterotoxin induces emesis through increasing serotonin release in intestine and it is downregulated by cannabinoid receptor 1. Cell Microbiol. 2007;9(9):2267–77.
14.
Minami M, Endo T, Hirafuji M, Hamaue N, Liu Y, Hiroshige T, et al. Pharmacological aspects of anticancer drug-induced emesis with emphasis on serotonin release and vagal nerve activity. Pharmacol Ther. 2003;99(2):149–65.
15.
De Winter BY, van den Wijngaard RM, de Jonge WJ. Intestinal mast cells in gut inflammation and motility disturbances. Biochim Biophys Acta. 2012;1822(1):66–73.
16.
Yates B, Grelot L, Kerman I, Balaban C, Jakus J, Miller AD. Organization of vestibular inputs to nucleus tractus solitarius and adjacent structures in cat brain stem. Am J Physiol. 1994;267(4):R974–83.
17.
Yates B, Miller A, Lucot B. Physiological basis and pharmacology of motion sickness: an update. Brain Res Bull. 1998;47(5):395–406.
18.
Jovanović-Mićić D, Štrbac M, Krstić S, Japundžić N, Samardžić R, Beleslin D. Ablation of the area postrema and emesis. Metab Brain Dis. 1989;4(1):55–60.
19.
Beleslin D, Rezvani AH, Myers RD. Rostral hypothalamus: a new neuroanatomical site of neurochemically-induced emesis in the cat. Brain Res Bull. 1987;19(2):239–44.
20.
Bashashati M, McCallum RW. Neurochemical mechanisms and pharmacologic strategies in managing nausea and vomiting related to cyclic vomiting syndrome and other gastrointestinal disorders. Eur J Pharmacol. 2014;722:79–94.
21.
Chen JD, Qian L, Ouyang H, Yin J. Gastric electrical stimulation with short pulses reduces vomiting but not dysrhythmias in dogs. Gastroenterology. 2003;124(2):401–9.
22.
Gupta RG, Schafer C, Ramaroson Y, Sciullo MG, Horn CC. Role of the abdominal vagus and hindbrain in inhalational anesthesia-induced vomiting. Auton Neurosci. 2017;202:114–21.
23.
Gan TJ, Belani KG, Bergese S, Chung F, Diemunsch P, Habib AS, et al. Fourth consensus guidelines for the management of postoperative nausea and vomiting. Anesth Analg. 2020;131(2):411–48.
24.
Gan TJ, Diemunsch P, Habib AS, Kovac A, Kranke P, Meyer TA, et al. Consensus guidelines for the management of postoperative nausea and vomiting. Anesth Analg. 2014;118(1):85–113.
25.
Zhu X, Chen L, Zheng S, Pan L. Comparison of ED95 of Butorphanol and Sufentanil for gastrointestinal endoscopy sedation: a randomized controlled trial. BMC Anesthesiol. 2020;20:1–7.
26.
Haviland A, Nagin DS, Rosenbaum PR. Combining propensity score matching and group-based trajectory analysis in an observational study. Psychol Methods. 2007;12(3):247.
27.
Kim MS, Chey WD, Owyang C, Hasler WL. Role of plasma vasopressin as a mediator of nausea and gastric slow wave dysrhythmias in motion sickness. Am J Physiol. 1997;272(4):G853–62.
28.
Percie du Sert N, Chu KM, Wai MK, Rudd JA, Andrews PL. Telemetry in a motion-sickness model implicates the abdominal vagus in motion-induced gastric dysrhythmia. Exp Physiol. 2010;95(7):768–73.
29.
Viscusi ER, Gan TJ, Leslie JB, Foss JF, Talon MD, Du W, et al. Peripherally acting mu-opioid receptor antagonists and postoperative ileus: mechanisms of action and clinical applicability. Anesth Analg. 2009;108(6):1811–22.
30.
Mutoh T, Tsubone H, Nishimura R, Sasaki N. Effects of volatile anesthetics on vagal C-fiber activities and their reflexes in anesthetized dogs. Respir Physiol. 1998;112(3):253–64.
31.
Spiller R. Serotonin and GI clinical disorders. Neuropharmacology. 2008;55(6):1072–80.
32.
Parker RM, Bentley KR, Barnes NM. Allosteric modulation of 5-HT3 receptors: focus on alcohols and anaesthetic agents. Trends Pharmacol Sci. 1996;17(3):95–9.
33.
Rogers R, Hermann G, Travagli R. Brainstem pathways responsible for oesophageal control of gastric motility and tone in the rat. J Physiol. 1999;514(2):369–83.
34.
Turan A, Dalton JE, Kasuya Y, Akça O, Sessler DI, Rauch S. Correlation between bispectral index, observational sedation scale, and lower esophageal sphincter pressure in volunteers using dexmedetomidine or propofol. Med Sci Monit. 2012;18(10):CR593.
35.
Horn CC. Why is the neurobiology of nausea and vomiting so important? Appetite. 2008;50(2-3):430–4.
36.
Shintani T, Mori R, Yates BJ. Locations of neurons with respiratory-related activity in the ferret brainstem. Brain Res. 2003;974(1-2):236–42.
37.
Hornby PJ. Central neurocircuitry associated with emesis. Am J Med. 2001;111(8):106–12.
38.
Napadow V, Sheehan JD, Kim J, LaCount LT, Park K, Kaptchuk TJ, et al. The brain circuitry underlying the temporal evolution of nausea in humans. Cereb Cortex. 2013;23(4):806–13.
39.
Andrews P, Davis C, Bingham S, Davidson H, Hawthorn J, Maskell L. The abdominal visceral innervation and the emetic reflex: pathways, pharmacology, and plasticity. Can J Physiol Pharmacol. 1990;68(2):325–45.
Rights and permissions
Open Access This article is licensed under a Creative Commons Attribution 4.0 International License, which permits use, sharing, adaptation, distribution and reproduction in any medium or format, as long as you give appropriate credit to the original author(s) and the source, provide a link to the Creative Commons licence, and indicate if changes were made. The images or other third party material in this article are included in the article's Creative Commons licence, unless indicated otherwise in a credit line to the material. If material is not included in the article's Creative Commons licence and your intended use is not permitted by statutory regulation or exceeds the permitted use, you will need to obtain permission directly from the copyright holder. To view a copy of this licence, visit http://creativecommons.org/licenses/by/4.0/. The Creative Commons Public Domain Dedication waiver (http://creativecommons.org/publicdomain/zero/1.0/) applies to the data made available in this article, unless otherwise stated in a credit line to the data.
Disclaimer:
This article is autogenerated using RSS feeds and has not been created or edited by OA JF.

Click here for Source link (https://www.biomedcentral.com/)