The efficacy of insecticide-treated window screens and eaves against Anopheles mosquitoes: a scoping review – Malaria Journal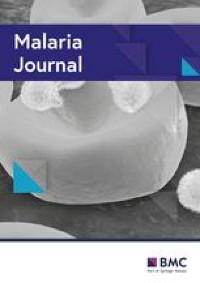 Out of 2180 results, 282 duplicates were removed and 1834 studies excluded after assessing their titles and abstracts. Thirteen final articles were identified out of the remaining 64 studies that met all the inclusion criteria (Fig. 1) [10,11,12,13,14,15,16,17,18,19,20,21,22]. These 13 articles assessed interventions based on their overall effect on biting incidence, protective efficacy, mosquito entry and density, mosquito mortality, and participant attitudes toward the mosquito control interventions. All articles were of high quality based on their appropriate appraisal checklist (Table 2).
Characteristics of studies
Population demographics of all articles varied widely, particularly in the Anopheles species that researchers studied (Table 3). Three interventions utilized RCT study designs and the remaining 10 used case–control release-recapture, wild mosquito recruitment, and/or experimental hut studies (Table 3). Studies using experimental huts first reconstructed West African-style homes. These homes were modified to include multiple eave tubes at eave level. Other reports identified as village studies, as they incorporated housing units already present in a community. To collect mosquitoes, the overnight release-recapture method or the recruitment of wild mosquitoes was used. With the release-recapture method, laboratory-reared mosquitoes were released into the experimental enclosure and later captured to record their position and status. The recruitment of wild mosquitoes, conversely, involved the capture of mosquitoes that were not raised in a controlled setting.
Most studies (n = 10) reported on treated eave inserts, while three studies investigated both window screens and eaves. All data were collected in African countries: four studies took place in Tanzania, whereas three articles were aggregated in Côte d'Ivoire and three in Kenya. All other studies produced results from Mozambique, Bénin, and Zambia.
All reports (n = 13) indicated that their studies included human volunteers. Of the 13 articles, eight involved adult participants, one involved children, and four did not identify participant ages. Five studies comprised all male volunteers and the eight remaining studies did not provide information on the gender of their volunteers. Insect samples ranged from 90 to 11,362 released or collected mosquitoes. Twelve studies re-evaluated the intervention at least twice, while one design did not clearly state whether treatment replication took place (Table 2).
Biting incidence and protective efficacy
Five of the 13 studies indicated the intervention effects on mosquito-biting incidence and protective efficacy (Table 4). Three of these reports utilized transfluthrin insecticide against mosquito vectors, of which one study found that eave ribbons treated with insecticide concentrations of 0.2% led to 100% reductions in indoor and outdoor biting with zero average nightly mosquito catches (95% CI 0.00–0.00; p < 0.001) [10]. In this report, volunteers assigned to houses with eaves covered in 10 times less transfluthrin (0.02%) still experienced 77.2% protection indoors with three average nightly catches (95% CI 0.32–5.18; p < 0.001) and 56.2% protection outdoors with 46 average nightly catches (95% CI 23.5–68.6; p < 0.001).
Mmbando et al. indicated that eaves treated with transfluthrin afforded 96% indoor and 84% outdoor protection against Anopheles arabiensis [10]. Drastically lower, though, were the treatment results on Anopheles funestus, as volunteers experienced only 42% protection indoors and 40% outdoor protection [10]. As a form of community defence, one study reported that if 80% of households installed transfluthrin-eaves, an entire community would experience a state of herd immunity [8].
Mwanga et al. [11] found that eave ribbons treated with transfluthrin protected participants who slept under a net at 83% efficacy indoors and 62% outdoors. Conversely, volunteers who did not sleep under a net experienced 57% protection indoors and 48% outdoors against An. arabiensis mosquitoes [11]. Volunteers who slept under nets and with treated eaves had constant levels of protection, whereas those who did not sleep under a net experienced increased levels of protection when eave ribbons were added to the mix [11].
Mosquito entry and density
Seven studies reported the intervention outcomes on mosquito entry and indoor density (Table 4). In Barreaux et al.'s [12] report, inserts treated with 10% beta-cyfluthrin and placed in eave tubes using the In2Care tool resulted in 0–0.4% of mosquitoes entering houses with closed windows. This method is known as the Lethal House Lure. The control hut had around 50–80% of mosquitoes entering the structure when eaves were untreated [12].
Snetselaar et al. [13] reported that directly applying bendiocarb to eaves produced an average recapture rate of 21% for both Anopheles gambiae s.s. (95% CI 18–25%) and An. arabiensis (95% CI 14–27%). Similarly, another report found that bendiocarb-eaves resulted in 50–70% lower recapture rates than their controls [14]. These treated eaves also performed as well as long-lasting insecticidal netting (LLIN) and open eaves together [14]. When Snetselaar et al. [13] experimented with deltamethrin, they found it allowed 18% more An. gambiae s.s. (95% CI 26–51%) and 1% more An. arabiensis (95% CI 18–25%) into houses compared to bendiocarb. Microscopically, Gouissi et al. [15] found that covering eaves and windows with Olyset Nets (impregnated with permethrin) reduced Plasmodium parasite density in participant blood by two times compared to the control.
Mosquito mortality
In addition to outcomes related to mosquito entry behaviour, seven of the included studies generated reports based on mosquito mortality (Table 4). These interventions utilized the In2Care insert (n = 2), transfluthrin (n = 2), beta-cyfluthrin (n = 1), bendiocarb (n = 1), and pirimiphos-methyl (PM) insecticides (n = 1). Barreaux et al. [12] found that the In2Care tool differentially killed 25% more mosquitoes per day compared to the control hut in which 2–4% daily deaths occurred.
In another report, 11 insecticides were tested for their toxicity, wherein beta-cyfluthrin remained the most durable and potent of them all [16]. Beta-cyfluthrin was observed to maintain 100% mortality rates up to one month of use [16]. This team found that the insecticide killed 55% of mosquitoes that came into contact with treated eaves (an average of 44% of released mosquitoes) by the following morning; then, after 24 h of exposure, 64% of mosquitoes died, although not at a significant difference (p > 0.05). Within the untreated control hut, less than 5% of mosquitoes died that came into contact with untreated eaves [16].
Along with beta-cyfluthrin eaves, two interventions focused on mosquito mortality from transfluthrin-treated eaves. Eaves covered with transfluthrin were reported to result in high mortality rates. In one report, around 99.5% of all mosquitoes died upon exposure to houses protected by treated eaves [10]. Moreover, Mwanga et al. [11] found that, after exposing caged mosquitoes to treated eave ribbons, all mosquitoes reportedly died.
Chinula et al. [17] investigated the wash resistance of window screens and eave baffles (WSEBs) treated with pirimiphos-methyl (PM) insecticide and polyacrylate-binding agents (BA). Exposed mosquitoes died at rates equal to that of LLIN and continued to die at 94% after 20 washes (95% CI 0.74–0.98; p < 0.001) [17]. When BA was removed, all mosquitoes died after zero washes; however, after 10 washes, less than 10% of all mosquitoes died [17]. Likewise, when the PM insecticide was removed, less than 5% of mosquitoes died after 0, 5, 10, and 20 washes whether or not BA was present [17].
Participant needs and attitudes
Only two articles discussed volunteer attitudes toward treated eaves or window screens (Table 4). Mmbando et al. [18] reported that participants had overall positive outlooks toward prototype windows because of their ventilation and attraction. A positive regard for these devices was demonstrated over 10 weeks by the doubling of male residents from four to eight in houses newly installed with prototype windows. Eventually, new inhabitants displayed housing comfort, redecorating 10 out of the 20 housing units with new curtains and floors [18]. Relative to bed nets, which can generally accommodate two people, eave ribbons treated with transfluthrin could accommodate four residents [10].
Rights and permissions
Open Access This article is licensed under a Creative Commons Attribution 4.0 International License, which permits use, sharing, adaptation, distribution and reproduction in any medium or format, as long as you give appropriate credit to the original author(s) and the source, provide a link to the Creative Commons licence, and indicate if changes were made. The images or other third party material in this article are included in the article's Creative Commons licence, unless indicated otherwise in a credit line to the material. If material is not included in the article's Creative Commons licence and your intended use is not permitted by statutory regulation or exceeds the permitted use, you will need to obtain permission directly from the copyright holder. To view a copy of this licence, visit http://creativecommons.org/licenses/by/4.0/. The Creative Commons Public Domain Dedication waiver (http://creativecommons.org/publicdomain/zero/1.0/) applies to the data made available in this article, unless otherwise stated in a credit line to the data.
Disclaimer:
This article is autogenerated using RSS feeds and has not been created or edited by OA JF.

Click here for Source link (https://www.biomedcentral.com/)