Determinants of adolescent pregnancy in indigenous communities from the Peruvian central jungle: a case–control study – Reproductive Health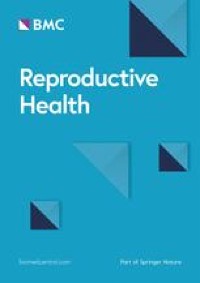 In this study, we report that being 15 to 19 years old, having an elementary educational level, and sexual and reproductive health communication with parents are determinants of adolescent pregnancy in female indigenous adolescents from the Peruvian Central Jungle. In addition, a marginal statistical significance was found between having five to six siblings and adolescent pregnancy.
In the Peruvian context, these results are relevant due to adolescent pregnancy prevalence raised from 2016 (12.7%) to 2017 (13.4%), with higher values in jungle regions [29]. Furthermore, it was mainly distributed in rural areas, with 23% of female adolescents aged 15 to 19 years old in 2017 [30, 31]. Our results focus on a specific population from rural areas of the Peruvian Central jungle, which lack scientific data related to factors associated with adolescent pregnancy.
We report that late adolescence (15 to 19 years old) has a six-fold increase risk of adolescent pregnancy. Around the world, different studies have reported that the frequency of adolescent pregnancy was higher in the late adolescence group [21, 32,33,34,35]. Nevertheless, no significant difference between age groups was found in two African studies [9, 36], a discrepancy that may be linked with the sparse number of adolescents in the early adolescence group.Therefore, family planning interventions should be focused on female indigenous adolescents aged 15 to 19 years old to diminish the risk of adolescent pregnancy, without neglecting the early adolescence group.
In our study, an elementary educational level increased five times the risk of adolescent pregnancy. These results are similar to studies conducted in Asia [32, 37, 38] and Africa [36, 39], considering the higher educational component as a protective factor of repeated adolescent pregnancy [40]. In Latin America, a Colombian case–control study revealed that six out of ten pregnant adolescents coursed less than nine years of education, which was a lower time of education compared with controls. However, the educational level was not associated with adolescent pregnancy in the multivariate analysis [21]. A systematic review in low- and middle-income countries showed that elementary-level education was a common risk factor, especially in African countries [41]. The empowerment of women through education should be an effective strategy to avoid adolescent pregnancy since education seems to be a cornerstone of cultural development in different settings [42].
We found a marginal statistical significance between having five to six siblings and adolescent pregnancy. This variable needs further revision since we attribute this finding to our sample size that did not reach an adequate statistical power in the post hoc analysis. Some studiesreported similar results, although they have used a different approach to evaluate the number of siblings. For example, a study conducted in rural areas of South Africa, where the population on average had six members in their household, found that 44.4% of female adolescents had a history of pregnancy [43]. Similarly, a Canadian study reported that the history of adolescent pregnancy of an older daughter increased three times the risk of adolescent pregnancy in a younger sister [7]. Further research is needed to clarify the influence of this variable on adolescent pregnancy.
Unlikely other studies [34, 37,38,39], no significant association was found between the socioeconomic status and adolescent pregnancy, despite their higher vulnerability and geographic limitation. A South Asian systematic review showed that the incidence of adolescent pregnancy was significantly higher in households with low wealth index [44]. Similarly, an African study stated that this factor increased the risk of adolescent pregnancy up to two times than in those who came from more favored contexts [39]. Our results may be attributed to the similar socioeconomic condition of the studied population, with only four adolescents in A-B and C socioeconomic status.
Parents of seven out of ten cases did not talk about sexual and reproductive health with their daughters. This could be related to the fact that sexual and reproductive health communication with parents was a protective factor, diminishing in 83% the risk of adolescent pregnancy in our study. An African systematic review found similar results reporting that the lack of sexual and reproductive health communication increased two times the risk of adolescent pregnancy [45]. Cultural taboos may influence the restriction of sexual and reproductive health communication [35], a gap that schools should fill. However, the indigenous setting represents a challenge due to sexism and the lack of choice to become pregnant. Sexual health education should be reformulated, focusing on cultural barriers within indigenous communities [46]. This would contribute to indigenous women empowerment to overcome cultural barriers, guide sexual decision-making, and enhance the quality of life [47]. Further qualitative studies must address this topic in the Peruvian central jungle.
We inform that most female indigenous adolescents opposed to sexual intercourse at an early age. Also, they denoted that adolescent pregnancy may carry different consequences, especially within the family, socioeconomic, health, and educational environment. Nonetheless, they tend to have no choice related to pregnancy due to sexism and lack of empowerment, a subject that was out of the scope of this study. An Argentinean qualitative study that explored this topic reported that adolescents considered their age as an incorrect time for motherhood [46]. Likewise, Thai pregnant refugees and migrant adolescents considered 20 years old as the best age to have a child; however, they had been not completely able to choose when to conceive [48].
In our study, education was one of the most common issues reported as a problem of adolescent pregnancy. School abandonment was distinguished as one of the most common social consequences of adolescent pregnancy in different settings. For instance, a Colombian study found that six out of ten adolescent mothers considered school dropout as the main effect of adolescent pregnancy [49]. Furthermore, studies conducted in refugees and migrants setting [40], outpatient clinical setting [50], and African urban areas [51] reported that school abandonment was common among pregnant adolescents.
Finally, health consequences related to adolescent pregnancy are well reported in medical literature, with severe adverse events on newborn and maternal health [39, 45]. Female indigenous adolescents' disagreement with the early onset of sexual intercourse and knowledge about the major consequences of adolescent pregnancy is an initial step to focus interventions. Nonetheless, cultural barriers should be faced carefully to make male indigenous people aware of these issues. Studies related to cultural factors and social consequences of adolescent pregnancy in indigenous communities are needed to direct interventions.
Some limitations must be highlighted. First, it was hard to apply a randomization technique due to the lack of official registries of adolescents within these communities and their constant absence because of farm work. Second, we had a small sample size, which is why we used a penalized likelihood approach in our regression model. Third, we were at risk of desirability bias; nevertheless, a team of female interviewers who explained the relevancy of this topic, the importance of their honest answers, and the anonymity of data aid to overcome this limitation. Likewise, amphoras helped to adolescents' participation and confidence. Fourth, the native language; however, we had the participation of a translator, whose role was only needed in the farthest community (Boca Sanibeni) with five participants. Finally, our results could not be extrapolated to indigenous communities of different regions due to the broad intercultural differences that exist between them. Nevertheless, this study could represent an important approximation to the reality of indigenous communities from jungle regions in Peru.
Rights and permissions
Open Access This article is licensed under a Creative Commons Attribution 4.0 International License, which permits use, sharing, adaptation, distribution and reproduction in any medium or format, as long as you give appropriate credit to the original author(s) and the source, provide a link to the Creative Commons licence, and indicate if changes were made. The images or other third party material in this article are included in the article's Creative Commons licence, unless indicated otherwise in a credit line to the material. If material is not included in the article's Creative Commons licence and your intended use is not permitted by statutory regulation or exceeds the permitted use, you will need to obtain permission directly from the copyright holder. To view a copy of this licence, visit http://creativecommons.org/licenses/by/4.0/. The Creative Commons Public Domain Dedication waiver (http://creativecommons.org/publicdomain/zero/1.0/) applies to the data made available in this article, unless otherwise stated in a credit line to the data.
Disclaimer:
This article is autogenerated using RSS feeds and has not been created or edited by OA JF.

Click here for Source link (https://www.biomedcentral.com/)