EF24 exerts cytotoxicity against NSCLC via inducing ROS accumulation – Cancer Cell International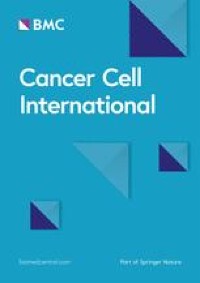 Pharmacological agents and antibodies
EF24 was purchased from Sigma-Aldrich (E8409-5 mg, US) and dissolved in Dimethyl Sulphoxide (DMSO, Sigma-Aldrich, D2650, Shanghai, China) to make stock solutions of 40 mM. ROS scavengers, Catalase (CAT, C1345) and N-acetyl-L-cysteine (NAC, A7250) were purchased from Sigma-Aldrich (Shanghai, China). Stock solutions of all drugs were stored at −20 °C. In all cases of cell treatment, the final DMSO concentration in the culture medium never exceeded 0.1%. Anti-bodies include LC3B (#3868), SQSTM1(#5141), Caspase3 (#2723), cleaved-Caspase3 (#9661), Cytochrome c (#11940), ACTB (#4970) and anti-rabbit IgG (#7074) were obtained from Cell Signaling Technology (Danvers, MA, USA). BAX (Cat No.50599-2-Ig) and COX-IV (Cat No.11242-1-AP) were bought from Proteintech Group (Wuhan, China).
Cell culture
Human non-small cell lung cancer (NSCLC) derived cell lines A549, SPC-A1, H460 and H520 were purchased from American Type Culture Collection (Manassas, VA, USA) and China Center for Type Culture Collection (Wuhan, China). All these cells were cultured in DMEM (Gibco/Invitrogen, 11965084, USA) or RPMI 1640 (Gibco/Invitrogen, 31870082, USA) supplemented with 10% fetal bovine serum (Gibco/Invitrogen, 10100139C) and antibiotics (penicillin/streptomycin, 100 U/ml, 15070063, Gibco/Invitrogen) at 37 °C in 5% CO2.
Cell viability assay
For cell growth/viability (MTT) assays, four cell lines were seeded in standard 96-well plates with 4000 cells per well and allowed to grow for 24 h to ensure attachment. The growth medium was then replaced with a medium that contained EF24 at the final concentration of 0 μM, 0.5 μM, 1 μM, 2 μM, 4 μM, 8 μM and 16 μM. After treatment for 24 h or 48 h, MTT assay was conducted through the addition of 3-(4,5-dimethylthiazol-2-yl)-2,5-diphenyltetrazolium bromide (Beyotime, ST316, Beijing, China) solution (made by adding 5 mg/mL in PBS) at 10 μL per well, followed by incubation at 37 °C in 5% CO2 for 4 h. Formazan crystals that formed were solubilized with 100 μL of acidified (0.01 M HCl) 10% SDS (sodium dodecyl sulfate). Bio-Rad 680 microplate reader (Bio-Rad 680, Bio-Rad Laboratories, Hercules, USA) was used to measure the absorbance at 570 nm.
Colony formation assay
The growth ability of cells under EF24 treatment was evaluated by the colony formation assay. Depending on the cell line, 200 cells (A549, H460 and H520 cell lines) or 400 cells (SPC-A1 cell lines) were seeded into each well of a 6-well plate. EF24 was prepared for different concentrations (0, 1, 2, 4 μM) and added into the wells for 48 h, then the culture medium with EF24 were taken out and incubating with normal culture medium for 7–14 days. When the colony exceeded 50 cells, the cells were fixed with acetic acid–methanol (1:4) and stained with diluted crystal violet (1:30), and the number of colonies was counted. The colony formation efficiency was calculated with the following formula: Survival Fraction = Clones/Cell numbers × 100%.
Apoptosis analysis
Apoptosis was evaluated by using the Annexin V-FITC Apoptosis Detection Kit (BD Biosciences Pharmingen, 556547, San Diego, USA) following the manufacturer's instructions. In short, 1.5 × 105 cancer cells of the four cell lines grown overnight in a 6-well plate were treated with the indicated concentration of EF24 (0, 1, 2, 4 μM) for 48 h. After that, the cells were stained with FITC-Annexin V and PI for 15–30 min in the dark, and then the fluorescence signal was detected using a FACS Calibur instrument (Becton Dickinson, Bedford, MA, USA). Data were analyzed using FlowJo Software 7.6 and three independent experiments were carried out.
Measurement of ROS generation
Cellular ROS accumulation following treatment was measured using the DCFH-DA kit (Beyotime, S0033S, Beijing, China) according to the manufacturer's protocol. Briefly, cells grown in 6-well plates were washed twice with serum free medium and subsequently incubated for 20 min with DCF-DA (20 μM, diluted in serum free DMED) at 37 °C. After the incubation and resuspension, fluorescence was measured by a FACS Calibur instrument (Becton Dickinson, USA) with the excitation source at 488 nm and emission at 525 nm.
Analysis of mitochondrial morphology
Fluorescent immunocytochemistry (ICC) analysis of the mitochondrial network in A549 was carried out after treatment with different concentration of EF24. Cells were fixed in 4% paraformaldehyde (PFA) and permeabilized in 0.1% Triton X-100. After blocking with 3% BSA for 1 h at 25 °C, cells were incubated overnight with anti-COX-IV (1:200) at 4 °C, followed by incubation for 1 h at 25 °C with the appropriate fluorescently tagged secondary antibody. In this assay, 300 nM DAPI was used for nuclear staining (3 min at 25 °C in the dark). Finally, the mitochondrial morphology was observed on a confocal laser microscope (LSM800, Carle Zeiss, Germany).
Western blots
First, 105 cells per well were seeded into a 6-well plate. EF24 was prepared for different concentrations (0, 1, 2, 4 μM) and treated the cells for 48 h. Then, the cells were lysed with a lysis buffer (Beyotime, P0013J, Shanghai, China) added with a protease inhibitor (Beyotime, P1005, Shanghai, China). After centrifuging at 4 °C for 15 min, the protein concentrations were detected by a BCA kit (Thermo Fisher Scientific, 23225, Waltham, MA, USA). The subsequent western blot analysis was carried out in accordance with the routine procedure [19]. The primary antibodies dilution as follows: Cyto C (1:1000), BAX (1:1000) LC3B (1:1000), SQSTM1 (1:1000), Caspase3 (1:1000), cleaved-Caspase3 (1:500) and ACTB (1:2000) Anti-rabbit IgG was diluted at a ratio of 1:2000. Primary antibody was incubated overnight and secondary antibody was incubated for 1 h. The results were visualized using ECL substrate reagent kit (Thermo Fisher Scientific, 32209, Waltham, MA, USA) or detected by exposure to a film.
Transmission electron microscope (TEM)
First, A549 and H520 cells were treated with control or EF24 (2 μM, 4 μM). Next, cells were fixed with 2.5% glutaraldehyde in 0.2 M HEPES overnight at 4 °C. The cells were then post-fixed in 1% OsO4 at room temperature for 60 min, stained with 1% uranyl acetate, dehydrated through graded acetone solutions, and embedded in polyed 812 resin (90529-77-4, SPI). Areas containing cells were block-mounted and cut into 70 nm sections and examined using an electron microscope (HT7700, HITACHI).
In-vivo xenograft model
Four to six weeks-old female BALB/c nude mice were purchased from Beijing Huafukang Bioscience Co. Ltd. (Beijing, China). Mice were housed and handled in laminar flow cabinets under specific pathogen-free conditions with temperature at 25 °C ± 2 °C and a relative humidity of 70% ± 5% according to institutional guidelines and experimental procedures approved by the Institutional Animal Care and Use Committee of Shandong Cancer Hospital affiliated Shandong First Medical University. For constructing the model, 5 × 106 A549 cells suspending in 100 μl PBS was injected into the left flank of nude mice. When the tumors reached approximately 100 mm3 in size, mice were randomly divided into four groups, and treated at the indicated dose [20] (EF24 5 mg/kg, 10 mg/kg or 20 mg/kg) intraperitoneally once a day for 17 days. The control group was treated with a solution containing DMSO. All animals were examined daily for general signs of distress and complications. The volume of local tumors was calculated by measuring two perpendicular diameters (length and width) every two days using a caliper. The mouse body weight was measured every two days using an electronic scale. The volume was calculated following the formula: tumor volume (mm3) = 1/2 × (length × square width). On the 17th day, mice were sacrificed according to the 2020 AVMA Guidelines on Euthanasia state. In short, the mice were anesthetized by intraperitoneal injection of 0.1 mL of 1% phenobarbital sodium, and then the spinal cord was disconnected from the brain with force and speed. After that, tumors were dissected and weighted.
Immunohistochemistry and H&E staining
After the mice were sacrificed, their tumors, hearts, livers, spleens, lungs and kidneys were resected and immediately fixed in 10% formalin. The slides were sequentially subjected to the steps of dewaxing, hematoxylin staining, eosin staining, washing, dehydration, and fixing. Then, the specimen goes through the following procedures: antigen incubation, blocking, goat serum pre-incubation, hematoxylin–eosin staining, and incubation with, anti-cleaved-Caspase3 (1:500, GB11532, Servicebio Technology) or anti-Ki-67 (1:500, GB111141, Servicebio Technology). Secondary staining was carried out with HRP-conjugated anti-rabbit IgG and DAB peroxidase substrate. The IHC kit was purchased from ZSGB-BIO (PV-9000).
Statistical analysis
Statistical significance was evaluated with data from at least three independent experiments. GraphPad Prism 6.02 (GraphPad Software, San Diego, CA, USA) was used for data analysis. Statistical analysis was carried out using student t-test. Data are presented as the mean ± SD. For all statistical tests, significance was established at P < 0.05.
Rights and permissions
Open Access This article is licensed under a Creative Commons Attribution 4.0 International License, which permits use, sharing, adaptation, distribution and reproduction in any medium or format, as long as you give appropriate credit to the original author(s) and the source, provide a link to the Creative Commons licence, and indicate if changes were made. The images or other third party material in this article are included in the article's Creative Commons licence, unless indicated otherwise in a credit line to the material. If material is not included in the article's Creative Commons licence and your intended use is not permitted by statutory regulation or exceeds the permitted use, you will need to obtain permission directly from the copyright holder. To view a copy of this licence, visit http://creativecommons.org/licenses/by/4.0/. The Creative Commons Public Domain Dedication waiver (http://creativecommons.org/publicdomain/zero/1.0/) applies to the data made available in this article, unless otherwise stated in a credit line to the data.
Disclaimer:
This article is autogenerated using RSS feeds and has not been created or edited by OA JF.

Click here for Source link (https://www.biomedcentral.com/)